Cleveland Indians Grades for Every Player in August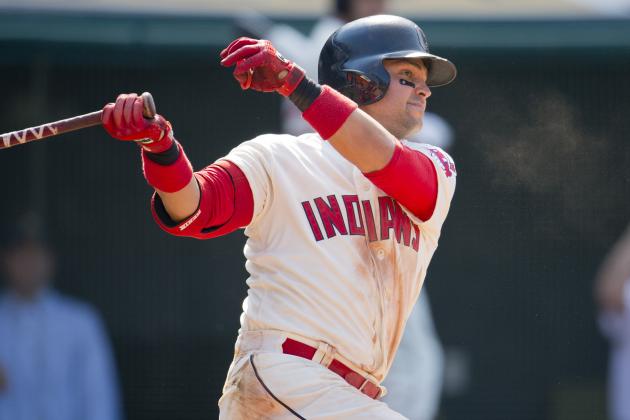 Jason Miller/Getty Images

The Cleveland Indians sputtered through the month of August. Most of the team's players had below-average to downright disappointing months, and that shows in their 12-16 record over the month.
The Tribe finished the month on a five-game losing streak, yet they somehow sit just 3.5 games back of the fifth and final playoff spot in the American League.
In this article, we'll take a look at each player on the active roster—as of August 31—and assign their performance a grade. That means this list will include Jason Kubel and Matt Carson—we'll analyze Kubel's month with the Diamondbacks and Carson's month in Triple-A.
So, without further adieu, here are August grades for the Cleveland Indians 25-man roster.
All stats come courtesy of Baseball-Reference.com unless otherwise noted and are current through play on Aug. 31, 2013.
Active roster courtesy of Clevelandindians.com. List does not include those added to the 40-man roster after rosters expanded on Sept. 1, 2013.
Begin Slideshow

»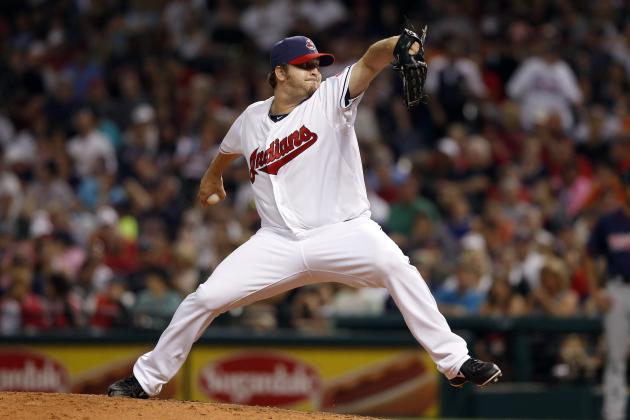 David Maxwell/Getty Images

August was a disappointing month for Matt Albers. After working to a stellar 2.75 ERA over the season's first four months, Albers followed up with his worst statistical month of the season.
The 30-year-old appeared in 12 games last month, going 1-0 with a 6.39 ERA, a 1.67 WHIP and per-nine ratios of 3.5 K/9, 2.1 BB/9 and 12.8 H/9. The statistic that stands out the most here though is Albers' .383 BABIP which looks to be the underlying culprit for his struggles in August.
Beyond his egregiously high BABIP, Albers' poor month is largely the result of one poor appearance—his first of the month—back on Aug. 2. In said appearance, the right-hander went one inning allowing five earned runs on seven hits.
Outside of that one appearance, Albers was solid, allowing a 3.09 ERA over 11 appearances, so his grade reflects that.
Grade: C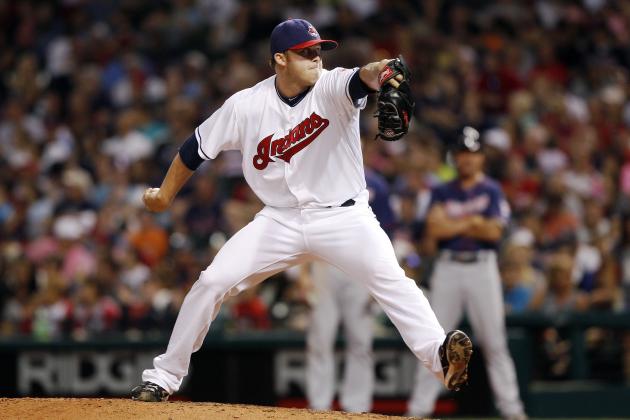 David Maxwell/Getty Images

Cody Allen has put forth a stellar effort over the 2013 season. Over 61 appearances, the young righty owns a 5-1 record with a 2.47 ERA, a 1.25 WHIP and per-nine ratios of 11.4 K/9, 3.7 BB/9 and 7.6 H/9.
At just 24 years old, Allen has been one of the steadiest producers in the Indians' bullpen.
Allen followed suit in August allowing just three earned runs over 14.1 innings pitched. In his 15 appearances over the month, Allen worked to a 1.88 ERA with some solid ratios including a 1.39 WHIP, 10.7 K/9, 5.7 BB/9, 1.88 K/BB and 6.9 H/9.
Though you'd like to see a few less walks from a reliever of Allen's caliber, it's hard to complain given his performance this season.
Grade: A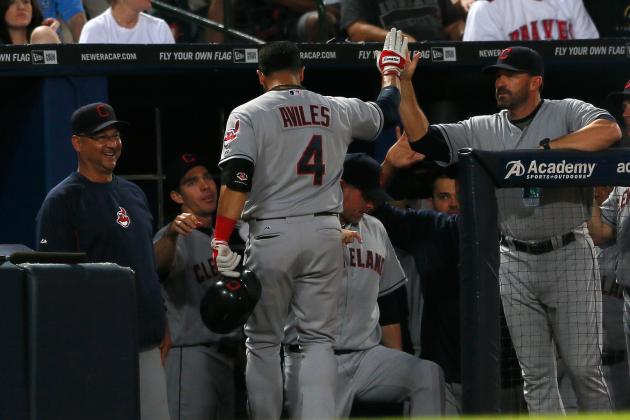 Kevin C. Cox/Getty Images

If Asdrubal Cabrera wasn't owed so much money this season—$6.5 million—Mike Aviles may have supplanted him as the everyday shortstop in Cleveland. That's not as much a testament to Aviles' play this season as much as it is about Cabrera and his having fallen off this season.
In any event, Aviles has had is own issues in 2013. He's served as a super-utility man this season playing shortstop, third base, second base and left field.
In 102 games, the 32-year-old owns a disappointing .262/.286/.381 slash line with eight home runs, 35 RBI, 48 runs scored and eight stolen bases.
Aviles appeared in 21 games this past month. Over said games, Aviles slashed .250/.246/.375 with two home runs, six RBI and six runs scored.
All three components of Aviles' triple slash clocked in below his season average, and that alone is cause for concern. Working in his favor though are the two home runs that he clobbered in the month.
Aviles' season has't been great but neither was his month of August.
Grade: C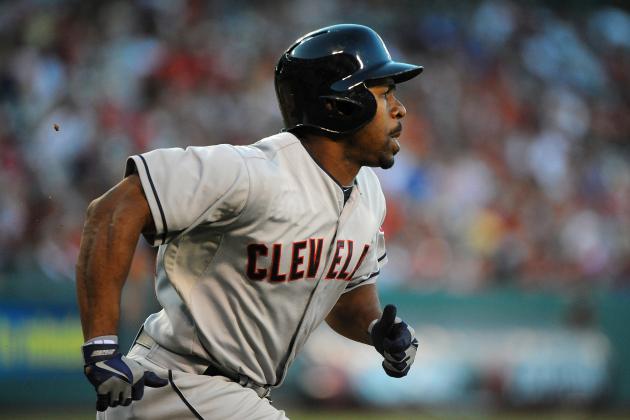 Lisa Blumenfeld/Getty Images

Michael Bourn's season hasn't quite been what he, fans or the organization thought it would be when the Indians inked him to a four-year, $48 million deal this past offseason. He's still been a productive player—slashing .267/.320/.353—but not the player we're accustomed to seeing.
Bourn's stolen base production is down... way down. Over 106 games played, the 30-year-old has swiped just 20 bases—down from 42 last season.
In August, Bourn continued his trend of weak hitting—he batted .219 over the month—however, he did steal seven bases and score 15 runs. What's troubling about Bourn's month though is the continuation of a particular trend in which he strikes out a lot and walks very little.
On the year, Bourn owns a 108:32 K/BB ratio—3.38 K/BB. In August, that same rate jumped all the way to 32:8—4.00 K/BB. The once prolific base stealer is getting on base at a .320 clip on the year, but that percentage has been plummeting since the first month of the year—.375 OBP in March/April.
August was Bourn's worst month of the season, and it's a big reason why the Indians went just 12-16 over 28 games that month.
Grade: D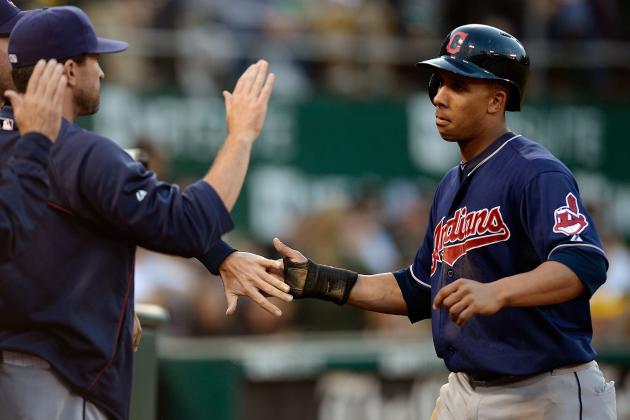 Thearon W. Henderson/Getty Images

Michael Brantley has been a mainstay in the Indians starting lineup now since the start of the 2012 season. Since the beginning of 2012, Brantley boasts a .281/.338/.394 slash line with 14 home runs, 119 RBI, 121 runs scored and 26 stolen bases over 278 games played.
Brantley offers a decent mix of speed and power, but what's most impressive about his game is his ability to limit his strikeouts.
Over his 492-game career, Brantley's posted a 242:154 K/BB ratio. However, over the past two seasons, the 26-year-old has seen that rate improve to 90:109.
Unfortunately for Brantley, his track record for success didn't translate well in the month of August. Over 27 games—112 plate appearances—the young outfielder worked to a slash line of .233/.279/.330 with one home run, seven RBI and seven runs scored.
Brantley has certainly had better months with the Indians, and he'll need to improve in September if the Indians are going to have any chance at a postseason berth.
Grade: C-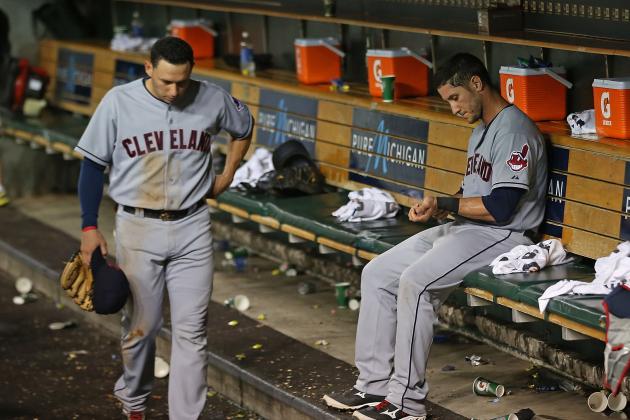 Leon Halip/Getty Images

As I mentioned previously—on Mike Aviles' slide—Asdrubal Cabrera has been absolutely dreadful in 2013. In 109 games played, Cabrera slashed .242/.297/.388 with nine home runs, 30 doubles, 47 RBI and 52 runs scored.
The 27-year-old was a top trade target heading into the 2012-13 offseason, but his value has plummeted this season, and the month of August did very little to ease his struggles.
Over 26 games played, Cabrera worked to a paltry .221/.272/.337 slash line with one home run, seven RBI and three runs scored. In addition to the already disappointing numbers listed above, Cabrera's inability to limit his strikeouts and expand his walk totals, led to a 18:6 K/BB ratio over the month of August.
Cabrera's becoming an albatross on the Indians roster. He isn't helping his team in the way of production on the field, and his trade value has never been lower.
Outside of a miracle month of September, the young shortstop is likely to toil away in mediocrity until Francisco Lindor is ready for a promotion next year.
Grade: D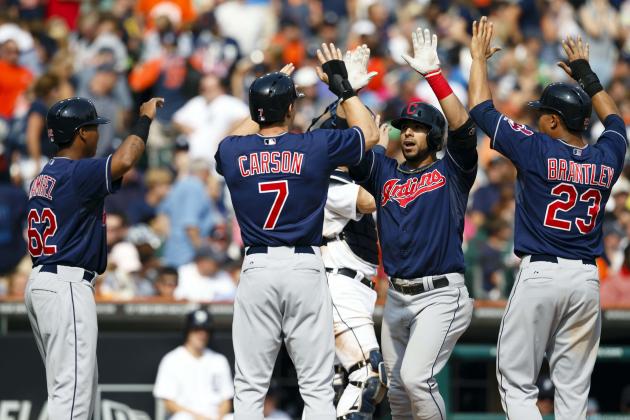 Rick Osentoski-USA TODAY Sports

Matt Carson joined the team for just one game in August, but seeing as he'll be with the team for the foreseeable future, we'll take a look at what he did in the minors this past month.
Carson has been a bit of a journeyman. Over the course of his 12-year MLB career, Carson has played for five different organizations—mostly in the minor leagues—with very little in the way of actual success.
At 32 years old, Carson earned himself a call-up to Cleveland on the back of a very strong month of August with Triple-A Columbus. In 21 games, Carson slashed .314/.368/.500 with three home runs, 11 RBI and 10 runs scored.
Though he's unlikely to make any significant impact on the field, the veteran outfielder provides depth in the outfield.
Grade: A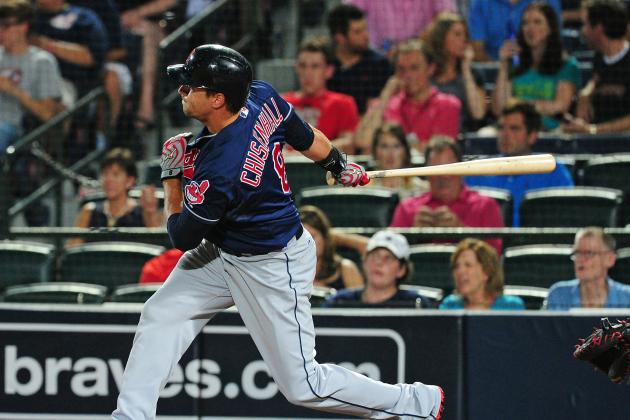 Scott Cunningham/Getty Images

Lonnie Chisenhall was supposed to be the Indians' everyday third baseman; however, he's hardly played like it in 2013. Through 80 games, the 24-year-old has been arguably the most disappointing player on the team, slashing .218/.262/.369 with eight home runs, 29 RBI and 24 runs scored.
Chisenhall was an absolute stud in the minors, and prior to the 2011 season, reached No. 25 on Baseball America's Top 100 prospects list. Unfortunately for both he and the Tribe, the young third baseman has yet to realize much of that potential.
In August, Chisenhall had arguably the worst month of his season and slashed .145/.185/.274 with two home runs, four RBI and four runs scored.
The big problem with Chisenhall's month though is the fact that he was almost completely unable to draw a walk. Over 24 games, he drew just three walks compared to a whopping 16 strikeouts.
Grade: D-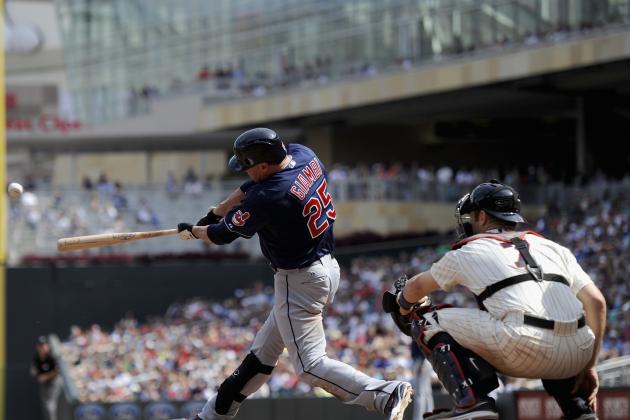 Hannah Foslien/Getty Images

At 42 years old, we may be witnessing the last games of Jason Giambi's career. Depending on what side of the PED debate you stand, this may be a joyous occasion, but either way the numbers are rather impressive.
Over 2224 career games, Giambi is the owner of an MVP award and 437 home runs. If not for some injury-ridden seasons between 2011 and 2013, the aging DH would have a good case for the Hall of Fame.
In any event. Giambi's stock has fallen over the past three seasons and even more so in 2013.
In 61 games with the Tribe, the former MVP owns a .187/.277/.380 slash line with eight home runs, 29 RBI and 19 runs scored.
In August, Giambi has shown even more signs of wear than in previous seasons. In 14 August games, Giambi mustered just a .154/.171/.282 slash line with one home run and a startling 11:1 K/BB ratio.
Giambi is struggling with age and the deteriorating skills that come along with that age. His inability to get around on pitches that he used to deposit into the right-field bleachers has clearly caught up with him, and it's looking more and more like 2013 will be his final season.
Grade: D-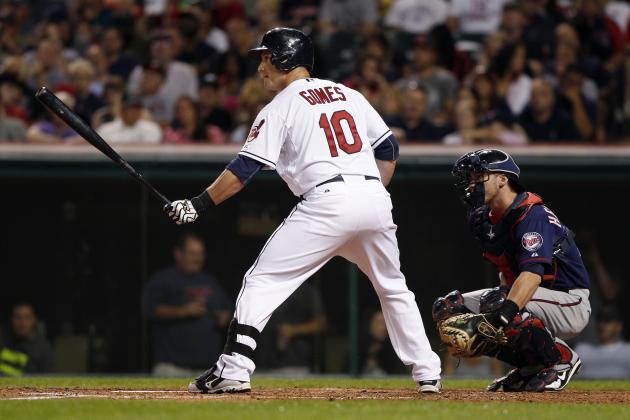 David Maxwell/Getty Images

The Indians snagged Yan Gomes and Mike Aviles from the Blue Jays in exchange for Esmil Rogers. Though the Mike Aviles side of the deal hasn't turned out to be anything special, Yan Gomes has looked like an absolute steal.
Gomes has been outstanding this season appearing in 65 games, mostly at catcher—but also first base and DH. Over those 65 games, Gomes has done a wonderful job managing the pitching staff.
In fact, the team pitches better with Gomes behind the plate than they do with Santana. Cleveland's pitchers boast a solid 3.74 ERA when Gomes is catching. Comparatively, when Santana is behind the plate, those same pitchers have worked to a 4.13 ERA.
The 25-year-old has likely earned the No. 1 spot on the Indians' depth chart come 2014, and he continued to prove his worth in August.
Over 19 games played, the young backstop worked to a .281/.361/.422 triple slash with two home runs, three RBI, six runs scored and a 12:4 K/BB ratio.
Gomes will never be the offensive threat that Carlos Santana is; however, he will be a solid option for the Tribe moving forward.
Grade: A-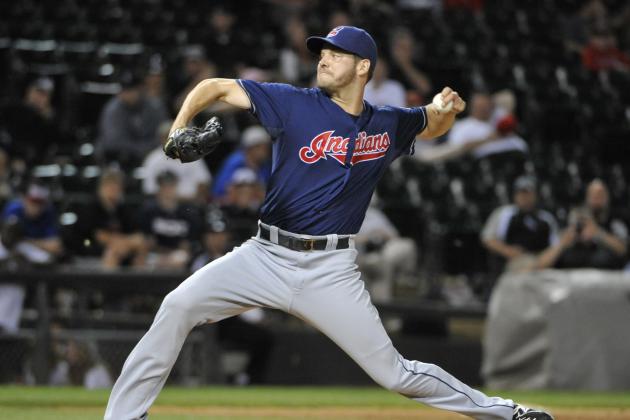 David Banks/Getty Images

If not for a lack of depth in the Indians bullpen, Rich Hill might have lost his job. Hill has been downright dreadful this season and owns a 6.19 ERA over 56 appearances.
Hill once showed promise as a starting pitcher, but those days are long gone. In 2012, Hill showed some great ability as a reliever, allowing a 1.83 ERA over 25 appearances. However, even this seems like a distant memory given his performance in 2013.
In addition to a disappointing ERA, the 33-year-old walks batters at an alarming rate—6.4 BB/9—along with a massive 1.65 WHIP.
Hill was equally bad over his 13 appearances in August. In that time, the veteran lefty pitched to a 5.63 ERA with a 2.00 WHIP and ratios including 11.2 K/9, 9.0 BB/9, 1.25 K/BB and 9.0 H/9.
Hill may not have lost any games this month, but he's likely to lose his job if he continues at this pace.
Grade: D-
David Maxwell/Getty Images

Remember when the deal to bring Ubaldo Jiménez to Cleveland looked like an absolute bust? Well, something has happened over the last four months, causing Jiménez to pitch more like a No. 1 pitcher and less like a back-of-the-rotation starter for the Miami Marlins.
Since May 6, Jiménez is the owner of a surprising stat line, featuring a low 3.30 ERA, a 1.44 WHIP and ratios of 9.5 K/9, 4.6 BB/9, 2.06 K/BB and 8.4 H/9.
In August, Jiménez was on top of his game. Over five starts, the 29-year-old worked to a 3.10 ERA with a 1.38 WHIP. The right-hander averaged 11.5 K/9 while allowing four walks and 8.4 hits per nine innings pitched.
Jimenez never allowed more than three runs in any single outing and failed to record a quality start in just one of his five starts.
He'll need to limit his walks if he's going to keep up his current level of play, but things are finally looking up for the once-struggling right-hander.
Grade: A-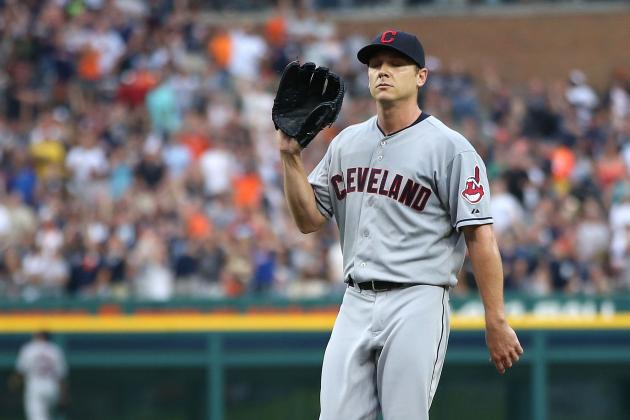 Leon Halip/Getty Images

August was rather unkind to Scott Kazmir. After lowering his ERA all the way to 3.96 on July 24, Kazmir has struggled to maintain that same level of success in his last six starts—five of those last six starts came in August.
Kazmir had a rough month, but his season for the most part has been a surprising success. Over 24 starts, the right-hander owns a 7-7 record with a 4.36 ERA and a 1.35 WHIP. After nearly two seasons on the shelf, Kazmir has defied the odds and become a viable option at the back end of the Tribe rotation.
With all that said, the 29-year-old struggled to find his stride in his five August starts. Over said starts, Kazmir allowed a 5.40 ERA and a 1.60 WHIP to go along with ratios including 9.4 K/9, 2.9 BB/9, 3.25 K/BB and 11.5 H/9.
Some of Kazmir's struggles can be directly linked to a high BAbip, .378 to be exact. However, it doesn't excuse the fact that his five starts resulted in a 2-3 record for the Indians and a 1-3 record for Kazmir.
Grade: D-
Jason Miller/Getty Images

Jason Kipnis has quietly become one of the best second basemen in all of baseball. The 26-year-old boasts a stellar .281/.365/.461 triple slash with 16 home runs, 31 doubles, 75 RBI and 68 runs scored.
As far as his play in Cleveland goes, he's been the most consistent offensive threat on the team. Kipnis leads all Indians regulars in batting average, slugging percentage, RBI, stolen bases, hits and runs scored.
August was a bit of a down month for Kipnis, but he was still productive. The young second baseman finished the month with a .250/.345/.337 slash line, one home run, six doubles, 10 RBI and 11 runs scored in 27 games played.
Kipnis has been an important part of the Indians' success this season, but he'll need to be even better moving forward if the Indians hope to make a run at one of the two AL wild-card spots.
Grade: B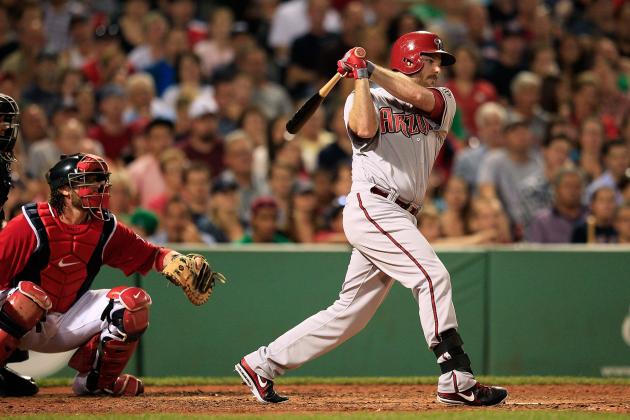 Gail Oskin/Getty Images

Let's be frank here. Jason Kubel hasn't been the same player he was last year, or in years prior. Over the past five seasons, Kubel boasts a strong .269/.337/.478 slash line and 162-game averages of 27 home runs, 32 doubles, 102 RBI and 80 runs scored.
This year, the 31-year-old owns a .221/.292/.324 slash line with five home runs, 32 RBI and 21 runs scored.
Needless to say, it's been a disappointing season for the once-feared outfielder. Either way, the Indians brought him to Cleveland on Sept. 1 in exchange for prospect Matt Langwell.
Kubel played the month of August as a member of the Arizona Diamondbacks, but we'll discuss those games nevertheless.
In 18 games with the D'Backs, Kubel slashed a paltry .152/.152/.152 with five RBI and two runs scored. The veteran slugger failed to log an extra-base hit in the month and finished with a startlingly bad 17:0 K/BB ratio.
The move to bring in Kubel was somewhat confusing given his lack of production at the plate this season. However, the team isn't out much in the way of prospects or money, so if Kubel turns things around, it could turn into a steal.
Grade: F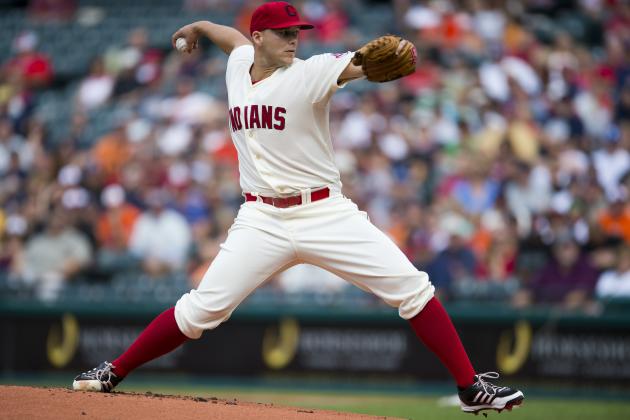 Jason Miller/Getty Images

As you may have heard, Justin Masterson left Monday's start with soreness in his rib cage (per CBSSports.com). Associated Press (via Sports Illustrated.com) reported Masterson will miss at least one start due to a strained left oblique. This is a big blow to the Indians because the 28-year-old has been at his absolute best this season.
Over 28 starts, Masterson worked to a 3.49 ERA, a 1.21 WHIP and ratios including 9.0 K/9, 3.5 BB/9, 2.54 K/BB and 7.4 H/9. In addition to impressive metrics, Masterson leads the AL in shutouts—three—and earned his first All-Star Game nomination.
Compared to the rest of his season, Masterson was a bit below average in August. The right-hander finished the month with a 2-2 record, a 3.76 ERA and per-nine ratios including 8.2 K/9, 4.5 BB/9 and 8.5 H/9.
Masterson may have lagged slightly in the month of August; however, he was well on his way to arguably his best season as a big leaguer prior to the recent rib injury. With any luck, he'll be able to resume throwing and help the Indians to their first postseason berth since 2007.
Grade: B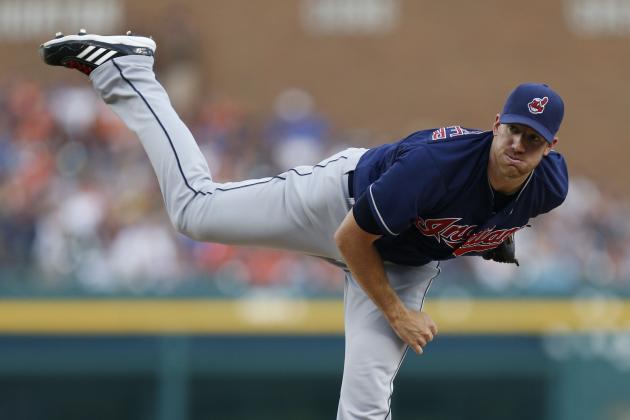 Gregory Shamus/Getty Images

Zach McAllister has taken a step forward in each of his three seasons as a big leaguer. In 2013, he's worked his ERA down to 3.81 with the team winning 11 of his 19 starts.
McAllister has been a solid part of the Indians rotation, but August was hardly what he had in mind. Over six starts, the 25-year-old worked to a 3-2 record with a 4.65 ERA, a 1.29 WHIP and ratios of 8.7 K/9, 4.1 BB/9, 2.14 K/BB and 7.6 H/9.
McAllister struck out more batters than his season average—6.8 K/9—however, he also walked more batters—4.1 up from his season average of 3.3.
The young righty was able to limit the damage though and came out of the month with three wins and some decent metrics—1.29 WHIP, 8.7 K/9, 7.6 H/9.
Grade: C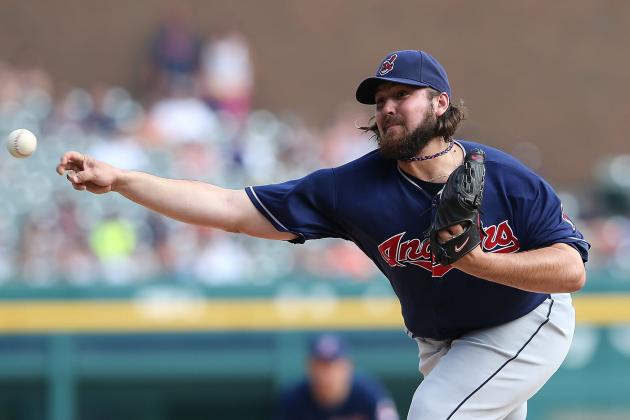 Leon Halip/Getty Images

By most accounts, Chris Perez has had a good season. The 28-year-old boasts a solid 3.15 ERA to go along with an 84 percent save rate.
Unfortunately for Perez though, his strikeout rate is declining, as is the velocity in his fastball. The former All-Star has seen his strikeout rate drop from 24.4 percent, down to 20.8 percent, while his average fastball velocity has dropped from 95.21 miles per hour last August, all the way to 93.23 miles per hour this August (via Brooksbaseball.net).
The downturn in velocity is likely to blame for his declining strikeout rate and his rising walk and hit rates.
In August, most of the negative trends in Perez's season hit in full force. Perez allowed a whopping 9.8 hits per nine innings pitched, including a 50 percent extra-base hit rate.
The blow-up in hits allowed, and especially the rate at which he allowed extra-base hits, led Perez to blow two of his eight save attempts. In addition to that though, he had a startlingly high 5.73 ERA over the month.
Two blown saves is huge at this point in the season. The Indians are currently 3.5 games back of the final AL wild-card spot, and the difference between 3.5 games and 1.5 games is immeasurable as the season continues to heat up.
Grade: D-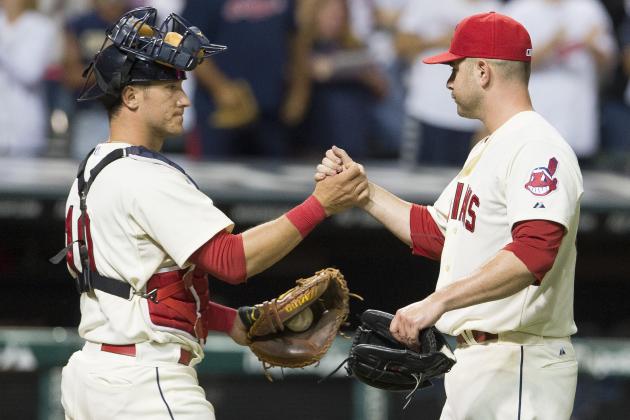 Jason Miller/Getty Images

Marc Rzepczynski has been fantastic in his 14 appearances with the Cleveland Indians. The left-hander owns a 1.42 ERA with a 0.947 WHIP and ratios of 7.1 K/9, 2.8 BB/9, 2.50 K/BB, 0.7 HR/9 and 5.7 H/9.
In every facet of the game, Rzepczynski has been a better pitcher than he was with the St. Louis Cardinals. It's been an astonishing transformation for the 27-year-old, who I completely wrote off upon his acquisition.
In August, Rzepczynski was nearly untouchable. Over 13 appearances, he logged 11.2 innings allowing zero earned runs, with a 0.86 ERA and ratios including 7.7 K/9, 3.1 BB/9, 2.50 K/BB and 4.6 H/9.
Whether or not Rzepczynski continues on his current hot streak has yet to be seen, but he did start off September with a one-inning performance in which he allowed two runs and two hits, one being a home run.
Grade: A+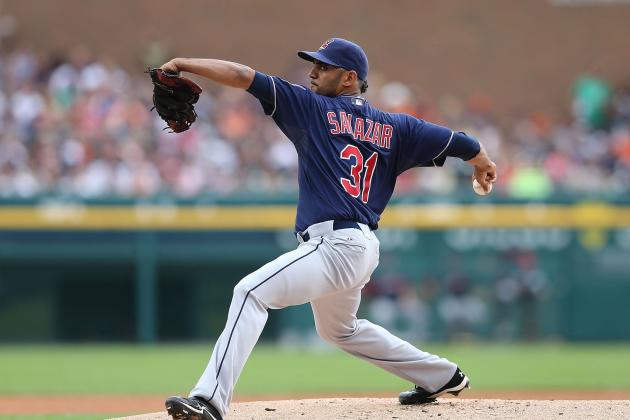 Leon Halip/Getty Images

In his short time with the big league club, Danny Salazar has been an outstanding addition to the middle of the Indians starting rotation. The 23-year-old is quickly becoming one of the more dominant pitchers on the team and could earn himself a spot on the team's playoff roster should the opportunity arise.
Over six starts with the team, Salazar pairs a 3.00 ERA and a 1.00 WHIP with some even more impressive ratios including 10.1 K/9, 2.5 BB/9, 4.11 K/BB and 6.5 H/9. He does allow 1.4 HR/9, which could come back to bite him in the future, but to this point, he's been able to overcome it.
With that said, the young right-hander had a down month when compared to his full-season measurables. Over four games, Salazar logged 21 innings with a 4.29 ERA and a 1.14 WHIP while averaging 10.7 K/9, 3.4 BB/9, 3.13 K/BB and 6.9 H/9.
By all accounts, it wasn't Salazar's best effort. He was still serviceable, however, and had it not been for some shaky run support, the Indians would have won three of his four August starts.
Grade: B-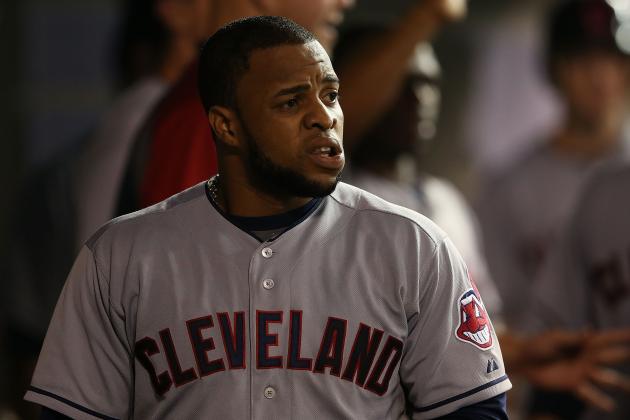 Leon Halip/Getty Images

Outside of Jason Kipnis, Carlos Santana has been the biggest all-around threat in the Indians lineup. The 27-year-old catcher/DH/first baseman has appeared in the second most games of any position player—two fewer than Michael Brantley's 131.
Over his 129 games played, the young backstop owns a .263/.370/.451 slash line with 17 home runs, 32 doubles, 60 RBI and 59 runs scored. Santana also shows an impressive approach at the plate, as evidenced by his 24 percent line-drive rate and 93:74 K/BB ratio.
Much like many of the team's other players, August was a disappointing month for Santana. In 27 games during the month, Santana slashed .240/.354/.448 with five home runs, five doubles, 12 RBI and 12 runs scored and an impressive 18:15 K/BB ratio.
Much like Kipnis, even Santana's worst month is still productive. His 12 RBI still led the team in August, and if not for a .247 BAbip, it could have been a great month for Santana.
Grade: B+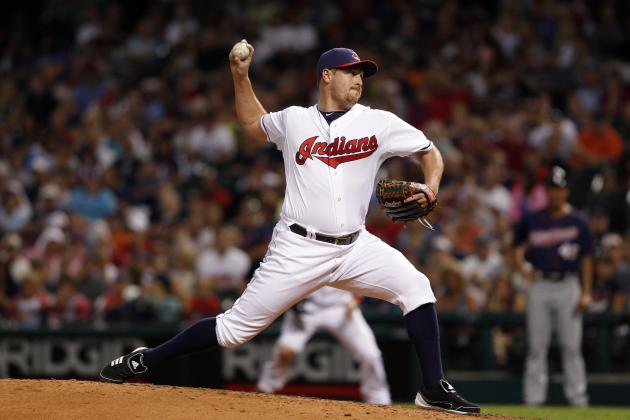 David Maxwell/Getty Images

Bryan Shaw's season is a bit of a mixed bag. His 4.01 ERA suggests that he's a middle-of-the-road reliever. However, the rest of his metrics compare very favorably to other members within the Indians bullpen.
Over 58 appearances, the 25-year-old owns a 1.32 WHIP and some other impressive ratios including 8.8 K/9, 3.9 BB/9, 2.27 K/BB and 8.0 H/9. Although his line-drive rate is up to 24 percent, he's decreased his extra-base hit percentage while increasing his strikeout rate.
The numbers don't quite add up for Shaw, but in August it all caught up to him. In 14 appearances this past month, the young righty amassed 14.2 innings with a 4.30 ERA, a 1.23 WHIP and per-nine ratios including 11.0 K/9, 4.9 BB/9 and 6.1 H/9.
Shaw was able to strike batters out at a rate that far exceeded his season average, but his 4.9 BB/9 was hardly ideal. The control struggles led to an 0-1 record and just three holds on the month.
Grade: C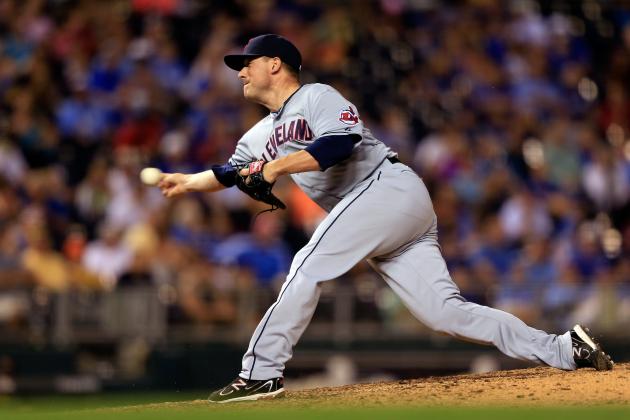 Jamie Squire/Getty Images

Joe Smith has been the model of consistency in the Indians bullpen for the entire 2013 season. Over 58 appearances, Smith is the owner of a solid 6-2 record, a 2.56 ERA and a 1.29 WHIP.
Smith ranks second on the team in ERA, and to this point has recorded 19 holds, all while allowing just 25 percent of his inherited runners to score.
Unlike many members of this list who struggled greatly in August, Smith actually had what will likely amount to his best month of the season. In 13 appearances, the 29-year-old allowed just one run en route to a 0.68 ERA.
Although he allowed an abnormally high number of hits, Smith was able to limit the damage, thanks largely in part to superb control—2.7 BB/9 in August.
Smith's only earned run resulted in an unfortunate loss at the hands of the Atlanta Braves; however, he also managed a win and seven holds over the month and was the best right-handed option out of the bullpen in August.
Grade: A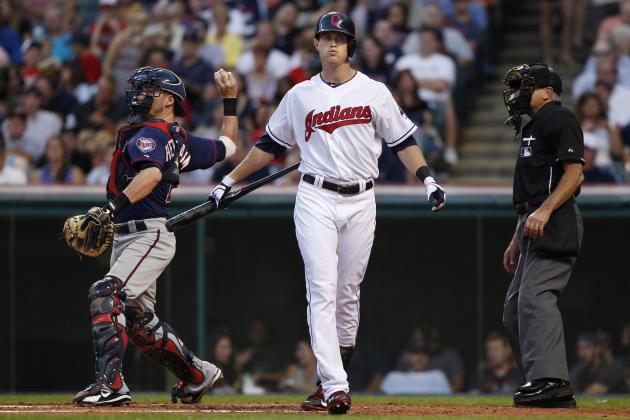 David Maxwell/Getty Images

Drew Stubbs has been slightly better than he was last season with the Cincinnati Reds. In 128 games, the speedy outfielder has seen his batting average, on-base percentage, slugging percentage and RBI totals increase over 2012; however, he isn't stealing as many bases as he did in seasons past, nor is he displaying the power that once made him a viable 20-20 threat, or 30-30 prospect.
Stubbs' problems stem largely from his inability to take a walk, combined with his free-swinging nature. The 28-year-old owns a 122:37 K/BB ratio and continues to disappoint in the OBP department—.306 on the year.
In August, Stubbs was right in line with his season averages. Over 24 games played, Stubbs mustered just a .235/.342/.368 slash line. In addition to that slash line, Stubbs contributed two home runs, four RBI and 10 runs scored.
He was able to get on base at a solid clip, but a .368 slugging percentage is lackluster given the ability he's shown to hit for power. Stubbs continued to strike out at a high rate though—27.8 percent and, if not for a .318 BAbip, his month could have been severely worse.
Grade: C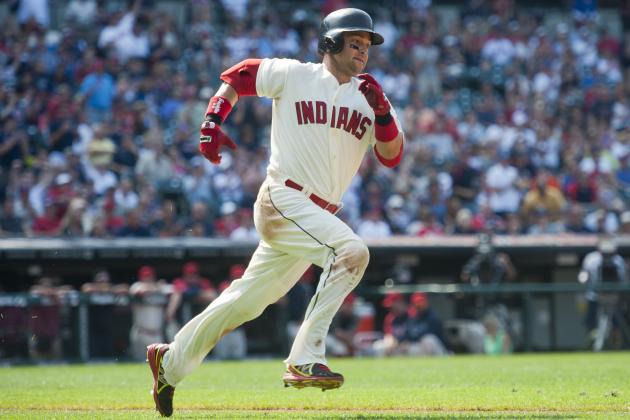 Jason Miller/Getty Images

A common misconception surrounding Swisher is that because of his rather large contract, he would carry the Indians to the playoffs. Swisher is never going to be the focal point of an offense; however, he can play an important role as an outfielder/first baseman with above-average power and on-base skills.
This assessment of Swisher has proven true again this season. In 122 games played, the 32-year-old owns a disappointing batting average—.239 on the year—however, he gets on base at a solid .334 clip and has contributed 15 home runs and 23 doubles to the cause.
The true disappointment in Swisher's season is the fact that he's driven in just 46 runs this season, due largely in part to a lackluster.229 batting average with runners in scoring position.
In August, Swisher continued to see his triple slash drop. At the end of play on July 31, Swisher sat with a .242/.349/.404 slash line. By the end of August, that dropped to .242/.338/.402. Swisher did add four home runs and 13 RBI, but the decline in his triple slash this late in the season is troubling.
Overall, Swisher finished the month with a .225/.301/.396 slash line, four home runs, 13 RBI and 11 runs scored.
Swisher may not have the ability to single handedly bring the Indians to a playoff berth, but a strong September will go a long way toward helping them realize that goal.
Grade: C-