Cincinnati Bengals 2013 Team Roster: Report Card Grades for Every Position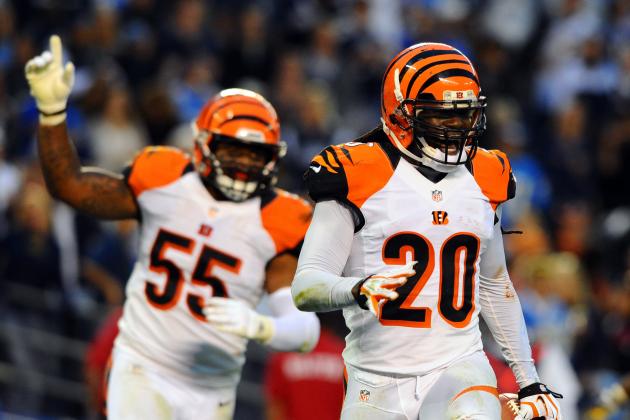 Christopher Hanewinckel-USA TODAY Sports

The final Cincinnati Bengals 53-man roster has been assembled, and as expected, the grueling decision-making process has given fans some serious surprises.
All is not set in stone as the Bengals will peruse the fresh free-agent market and place injured players such as Andrew Hawkins on reserve lists, but for now we are free to dive into the 53-player roster the team has crafted to meet league requirements.
Yet again on paper the Bengals have one of the deepest teams, but we'll take a dive into each unit in the following slideshow and examine who missed out, how the groups look and how they should fare in the upcoming season.
Begin Slideshow

»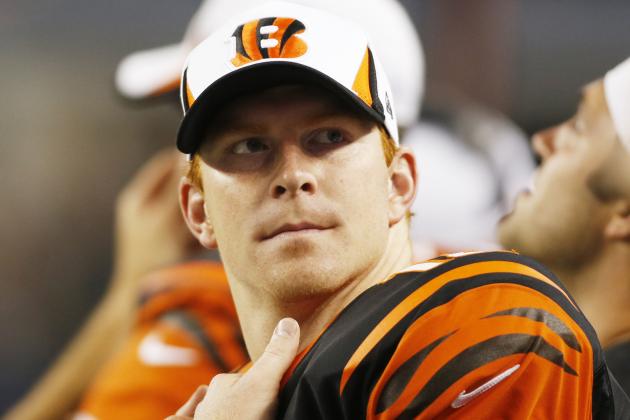 Tim Heitman-USA TODAY Sports

No surprises here for Cincinnati. Third-year quarterback Andy Dalton is the starter entering a year that will define his career. He has seen his statistics jump every year while leading the team to back-to-back playoff appearances but now—with so much talent littered around the depth chart—even more is expected
Josh Johnson is an interesting backup to Dalton. He beat out former Arizona starter John Skelton for the spot.
Johnson spent time with coordinator Jay Gruden in Tampa Bay a few years ago so he's familiar with the offense. This preseason Johnson was electric on the ground, keeping plays alive.
Versatility and a change-of-pace is the name of the game with Johnson at quarterback. He was the right choice and can lead the roster to a few wins if necessary.
Dalton needs to take the next step, but other than that the position is rock solid.
Position Grade: B+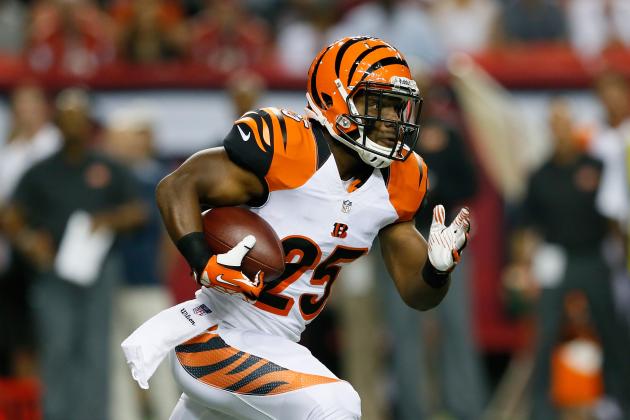 Kevin C. Cox/Getty Images

| | |
| --- | --- |
| Depth | Player |
| No. 1 | BenJarvus Green-Ellis |
| No. 2 | Giovani Bernard |
| No. 3 | Cedric Peerman |
| No. 4 | Rex Burkhead |
| No. 5 | Orson Charles |
Running back is one position Cincinnati went out of its way to improve this offseason with the addition of rookie Giovani Bernard.
He'll join veteran bruiser BenJarvus Green-Ellis in a timeshare approach with Green-Ellis handling the majority of the work and short-yardage scenarios while Bernard will catch passes out of the backfield and even line up at wide receiver.
The depth is just as impressive for Cincinnati. Cedric Peerman makes the final cut as one of their best special teams players and an explosive runner in space.
Rookie Rex Burkhead made the team over second-year back Daniel Herron. He'll be asked to contribute on special teams and in some passing scenarios. The sixth-round rookie put together a nice preseason to win the spot.
Rounding out the bunch is the versatile Orson Charles, who was asked to switch positions this offseason after the addition of Tyler Eifert. Charles will play as an H-back and act as a fullback as well as split out wide like a tight end for passes.
As far as depth goes, this is one of the deepest and most versatile positions in Cincinnati.
Position Grade: A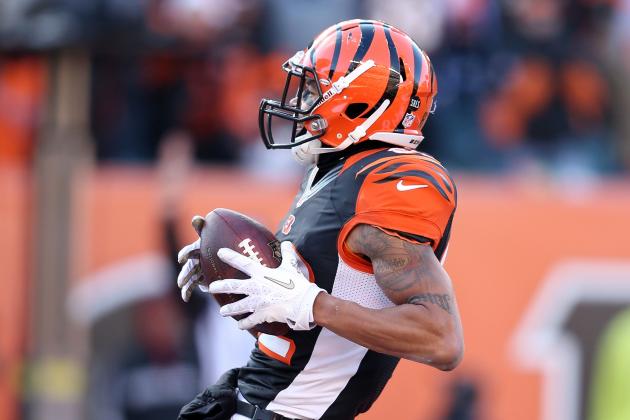 Andy Lyons/Getty Images

| | |
| --- | --- |
| Depth | Player |
| No. 1 | A.J. Green |
| No. 2 | Mohamed Sanu |
| No. 3 | Marvin Jones |
| No. 4 | Andrew Hawkins |
| No. 5 | Brandon Tate |
| No. 6 | Dane Sanzenbacher |
| No. 7 | Ryan Whalen |
Speaking of deep positions in Cincinnati, the unit headed up by A.J. Green is pretty solid as well. Green is well known as a top five receiver in football, but the depth below him continues to grow.
Second-year receivers Mohamed Sanu and Marvin Jones should have no issues holding down the fort as quality second options if they can keep their health.
Jones is a pure outside receiver with great speed while Sanu is versatile enough to play in or out, but is more natural in the slot and will move the chains in a fashion that will give fans flashbacks to the days of T.J. Houshmandzadeh.
Andrew Hawkins is an electric slot option and gadget player who can eat up major amounts of yardage after the catch, but he'll be sidelined as a member of the short-term IR.
Rounding out the depth chart is the trio of Brandon Tate, Ryan Whalen and Dane Sanzenbacher.
Tate is a quality kick returner who redeemed himself this preseason with a kick return for a touchdown in Dallas.
Whalen and Sanzenbacher are quality targets; the latter eared his spot this preseason with quality special teams and offensive snaps, making it simple for the team to move on from rookie receiver Cobi Hamilton (who could stick on the practice squad).
Cincinnati continues to bolster the position with talent to better counter the injury woes than plagued it last year behind Green. The quality is staggering and should keep the Bengals competitive should the worst occur.
Position Grade: A+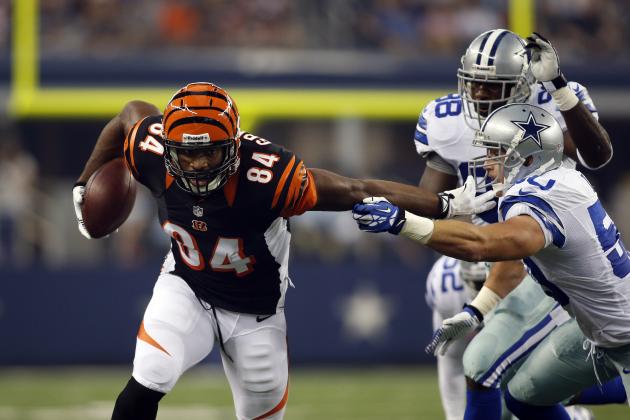 Tim Heitman-USA TODAY Sports

| | |
| --- | --- |
| Depth | Player |
| No. 1 | Jermaine Gresham |
| No. 2 | Tyler Eifert |
| No. 3 | Alex Smith |
As expected Pro Bowler Jermaine Gresham leads the way at tight end with first-round rookie sitting at No. 2.
Interestingly enough, the addition of Eifert means a major shift in philosophy on offense as the team moves toward more two-tight ends sets in order to keep both talented playmakers on the field.
Gresham is a known commodity at 6'5" and 260 pounds who has struggled in the past with dropped passes. That said, he remains one of the NFL's best blockers at the position. Eifert is a similar product with a massive catch radius and the size to create mismatches at 6'6" 251 pounds.
The only surprise here is the coaching staff electing to keep free-agent acquisition Alex Smith, who was a force all preseason as a blocker. As the third tight end that is all he will be asked to do unless injuries hit the position.
Position Grade: A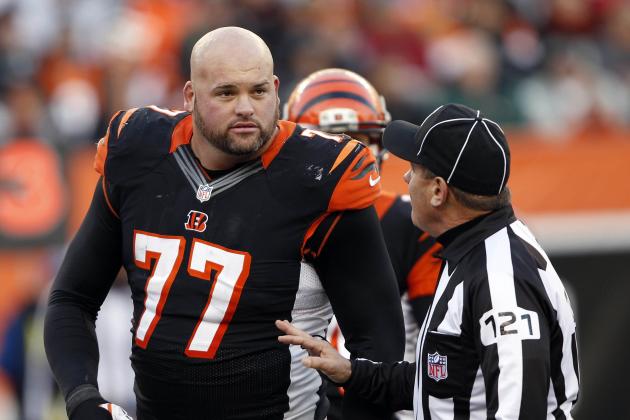 Frank Victores-USA TODAY Sports

| | |
| --- | --- |
| Depth | Player |
| No. 1 | Andrew Whitworth |
| No. 2 | Andre Smith |
| No. 3 | Anthony Collins |
| No. 4 | Tanner Hawkinson |
2013 sees Cincinnati returning two of the top offensive tackles in the NFL.
Left tackle Andrew Whitworth, who ranked as the No. 13 overall tackle in the NFL last year according to ProFootballFocus (subscription required).
Mauling right tackle Andre Smith is back after inking a new deal and was ranked at No. 5 last year.
Anthony Collins is back and remains one of the better backup swing tackles in the league, meaning he can start at either right or left tackle. Joining him in a backup role is the versatile fifth-round rookie Tanner Hawkinson, who can take snaps on the outside or the interior of the line.
An interesting note here is the team electing to waive seventh-round rookie Reid Fragel out of Ohio State despite his versatility in a pass-catching role as a tight end.
Cincinnati in years past has utilized unbalanced lines with an extra lineman eligible to go out and catch passes. Fragel was the perfect candidate in that role as a former tight end. The man who used to be used in that capacity, Dennis Roland, ends up not making the final roster either.
Collins makes the strong position deeper than most teams are fortunate enough to have, so great job by the font office here finding talent to keep the quarterback off his back.
Position Grade: A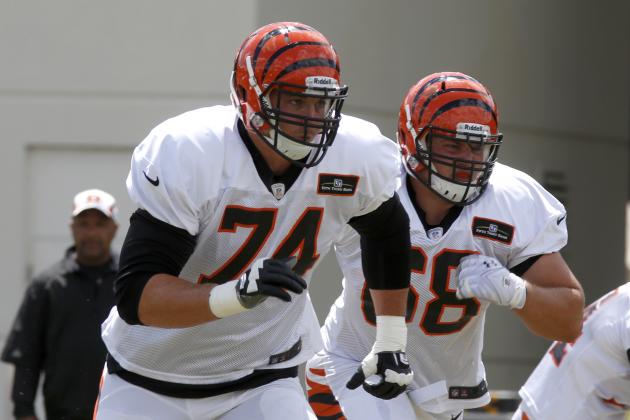 David Kohl-USA TODAY Sports

| | |
| --- | --- |
| Depth | Player |
| No. 1 | Kevin Zeitler |
| No. 2 | Clint Boling |
| No. 3 | Mike Pollak |
Offensive guard is a Jekyll and Hyde position for Cincinnati that returns both starters from last season. Second year player Kevin Zeitler—who ranked as the No. 13 overall guard in the NFL last year as a rookie according to ProFootballFocus (subscription required)—resumes his excellent play at right guard next to Andre Smith.
Clint Boling is back at left guard and was one of the weaker links along the line last season.
He'll attempt to take strides in his third season, but the team clearly had a lack of better options with only veteran journeyman Mike Pollack and rookie Hawkinson acting as backups, while backup center Trevor Robinson can slide over in emergency situations.
Not Cincinnati's best position, which is unfortunate because Zeitler is already one of the better players at his position. At the very least, right guard is secure.
Position Grade: B-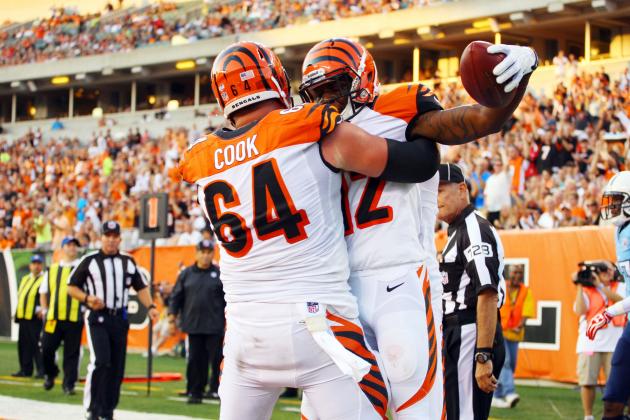 Brian Spurlock-USA TODAY Sports

| | |
| --- | --- |
| Depth | Player |
| No. 1 | Kyle Cook |
| No. 2 | Trevor Robinson |
Perhaps the weakest position on the Bengals roster, center is manned by the duo of Kyle Cook and Trevor Robinson for the second consecutive season.
Cook has looked solid in the preseason, but it's hard to forget the past two years of mostly lackluster performances when healthy. Time will tell if he has turned over a new leaf.
As an undrafted free agent last year, Robinson was a nice surprise as he entered for an injured Cook and upheld the quality of the line play overall. He was nothing special by any means, but a second year of development while Cook starts could do wonders for the youngster.
Position Grade: C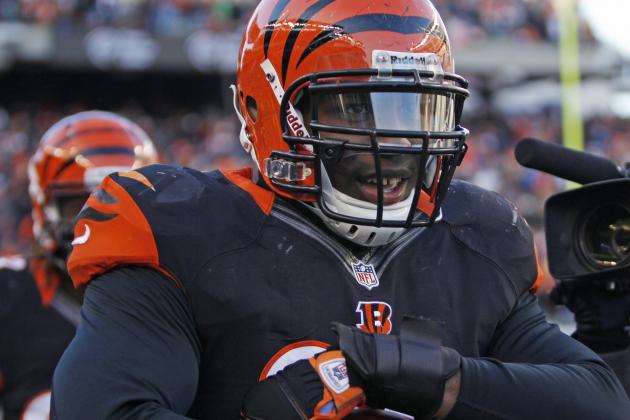 Frank Victores-USA TODAY Sports

| | |
| --- | --- |
| Depth | Player |
| No. 1 | Carlos Dunlap |
| No. 2 | Michael Johnson |
| No. 3 | Robert Geathers |
| No. 4 | Wallace Gilberry |
| No. 5 | Margus Hunt |
What is there to say about the defensive line as a whole in Cincinnati other than it is the best unit in the NFL?
Defensive ends Carlos Dunlap and Michael Johnson are a big part of that. The former was just brought back on a six-year deal and the latter was hit with the franchise tag and will play for a new contract.
Dunlap, owner of seven sacks in 2012, has spent time the past few years rotating with veteran Robert Geathers because of his lack of effectiveness against the run. That won't have to change right away this season now that Geathers was brought back on an three-year deal.
Johnson bulked up last offseason to better prepare himself for run-stopping duty and responded with a 11.5 sack, 53 total tackle campaign that saw him ranked as the No. 13 overall player at defensive end in the NFL last season according to ProFootballFoucs (subscription required).
Wallace Gilberry was a nice surprise last season with 6.5 sacks and returns in a rotational role.
He'll continue to produce, as Mike Zimmer's scheme tends to do that for ends, like it did for Jonathan Fanene in 2009 and 2011 with sixth sacks before exiting the NFL one year later.
The newcomer to the group is second-round rookie Margus Hunt, a newcomer to football who has only played for a few years.
There may not be a more athletic player on the team, but from a football technique standpoint, he is as raw as it gets. He'll see duty on special teams in the hopes he can block kicks and punts at 6'8" and 277 pounds.
All in all, the line remains the deepest and most productive unit in Cincinnati for another year.
Position Grade: A+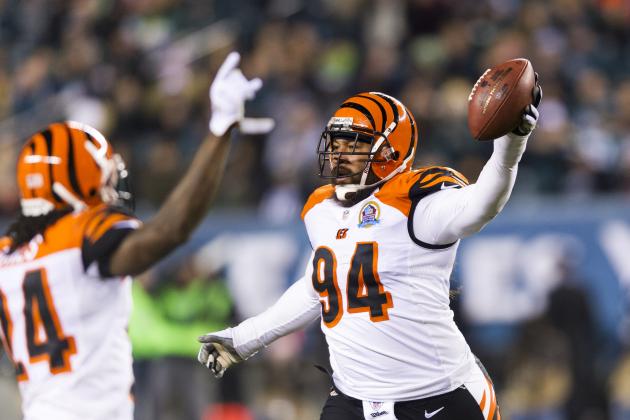 USA TODAY Sports

| | |
| --- | --- |
| Depth | Player |
| No. 1 | Geno Atkins |
| No. 2 | Domata Peko |
| No. 3 | Brandon Thompson |
| No. 4 | Devon Still |
It's hard to justify keeping many players at defensive tackle when Geno Atkins is so productive on every snap.
Far and away the best defensive tackle in the NFL, if not the best overall defensive player, Atkins recorded 12.5 sacks last season and 54 total tackles while ranking as the best at the position, according to ProFootballFocus (subscription required), by a margin of 53.7 points.
Next to Atkins, eighth-year veteran and run-stuffing specialist Domata Peko returns. Peko has his naysayers among the fan base, but his effectiveness against the run and ability to absorb blockers is profound and gives the linebackers space to work.
Behind the starting duo wait second-year players Devon Still and Brandon Thompson.
Still is more of a pass-rusher in the mold of Atkins, while Thompson will be used in a role similar to that of the departed Pat Sims (free agency). Both played well in the preseason and can contribute if necessary, but obviously there is a serious drop off in talent from the starters.
Position Grade: A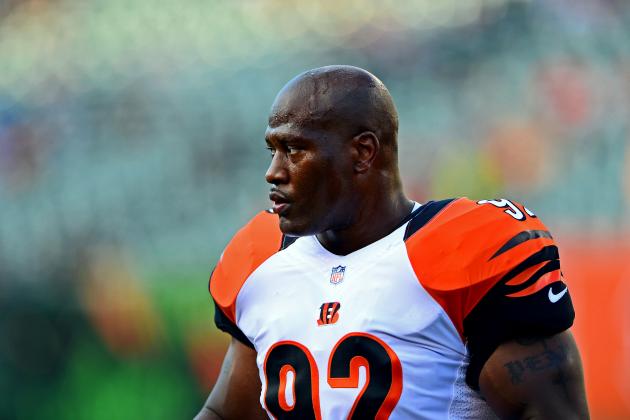 Andrew Weber-USA TODAY Sports

| | |
| --- | --- |
| Depth | Player |
| No. 1 | James Harrison |
| No. 2 | Rey Maualuga |
| No. 3 | Vontaze Burfict |
| No. 4 | Vincent Ray |
| No. 5 | Jayson DiManche |
When the Bengals released their first official copy of the final roster, many were shocked to see the team only kept five linebackers. That's not entirely outlandish for a 4-3 scheme, but with the wealth of talent on the roster it was unexpected.
The outside linebackers, as expected, are newcomer James Harrison on the strong side and Vontaze Burfict on the weak side.
They'll resume starting roles with promising undrafted free agent Jayson DiManche acting as the backup.
Rey Maualuga resumes his role as the starter in the middle after being brought back via free agency and putting together a magnificent preseason. He'll be backed up by special-teams ace Vincent Rey to round out the group.
The unit as a whole took a major hit when backup linebacker Emmanuel Lamur went down for the season in Week 4 of the preseason.
The unit also served as the position with the most surprise cuts, including fan favorite J.K. Schaffer.
Linebacker is yet another strength for the team, with the name of the game being versatility. Harrison can rush from multiple spots, Maualuga has played multiple positions in the NFL and Burfict is athletic enough to make any transition.
Position Grade: B+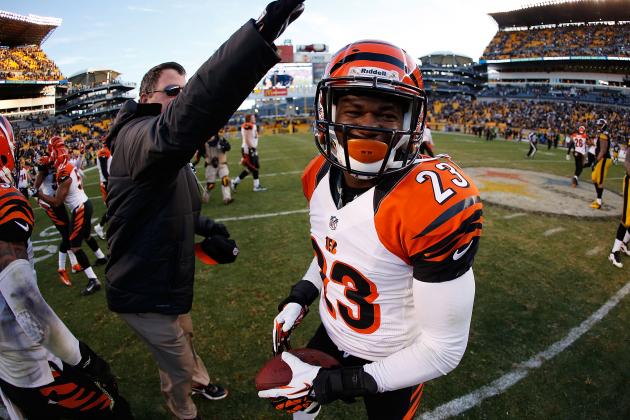 Gregory Shamus/Getty Images

| | |
| --- | --- |
| Depth | Player |
| No. 1 | Leon Hall |
| No. 2 | Terence Newman |
| No. 3 | Adam Jones |
| No. 4 | Dre Kirkpatrick |
| No. 5 | Brandon Ghee |
Cincinnati elected to play it safe at cornerback and keep familiar names after not doing much to address the position in the offseason.
Leon Hall and Terence Newman are the veteran starters on the outside, with one of the NFL's best slot corners, Adam Jones, lining up on the inside. The three ranked impressively in ProFootballFocus' (subscription required) rankings last year—Hall was the No. 18 corner, Newman was No. 14 and Jones was No. 13.
That's the same lineup Cincinnati rolled with last year to good results.
Last year's first-round rookie Dre Kirkpatick is now healthy, and while he's struggled in the preseason, Kirkpatrick will have the change to contribute on special teams after missing most of his rookie season.
Promising corner Brandon Ghee rounds out the group, but he's going to need to keep his health in order to contribute and fight for playing time.
Corner was a shaky unit overall in the preseason, but expect the returning veterans to iron things out as the season gets rolling.
Position Grade: B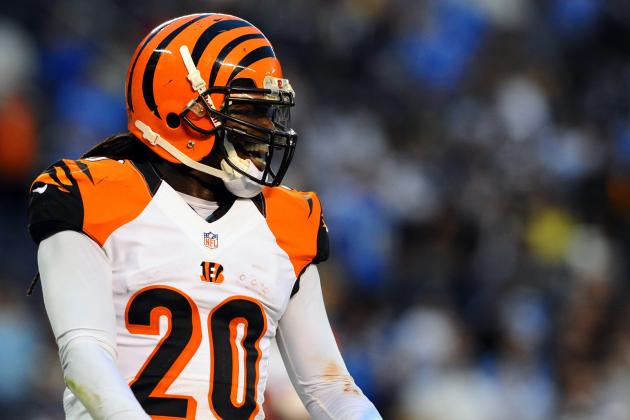 Christopher Hanewinckel-USA TODAY Sports

| | |
| --- | --- |
| Depth | Player |
| No. 1 | Reggie Nelson |
| No. 2 | George Iloka |
| No. 3 | Shawn Williams |
| No. 4 | Taylor Mays |
| No. 5 | Jeromy Miles |
In a mild surprise, Cincinnati wound up keeping five cornerbacks and five safeties, when conventional wisdom said corner would be six deep because of the injury woes at the position in recent years.
That ends up not being the case as Cincinnati has too much talent at safety.
A three way battle between rookie Shawn Williams, Taylor Mays and George Iloka for the starting strong safety spot will rage the entire season, with all three making a significant impact on special teams in the process.
Free safety is in much more stable condition with starter Reggie Nelson holding things down. Nelson is backed by Jeromy Miles, yet another impact player on special teams.
The outlook could be better on the strong side, but the chance for a true playmaker to emerge still exists.
Position Grade: B-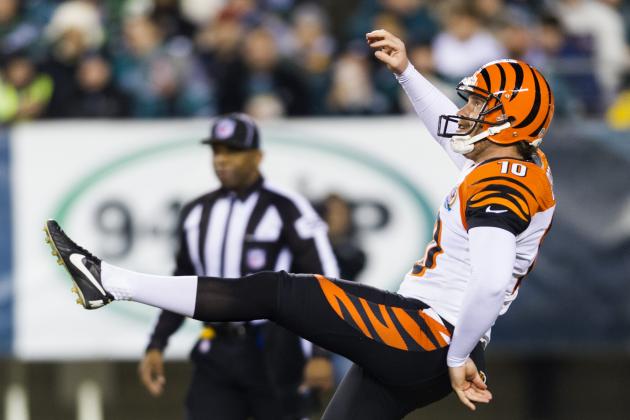 USA TODAY Sports

| | |
| --- | --- |
| Depth | Player |
| K | Mike Nugent |
| P | Kevin Huber |
| LS | Clark Harris |
No surprises here. Mike Nugent retains his starting spot at kicker now that he is back to full strength. Punter Kevin Huber returns after a solid season and long-time specialist Clark Harris will continue to act as the long-snapper.
Barring another injury to Nugent, the unit will be as stable as ever when called upon.
Position Grade: A
Follow B/R's Chris Roling on Twitter for more news and analysis @Chris_Roling