Central Michigan vs. Michigan: 10 Things We Learned from Wolverines' Win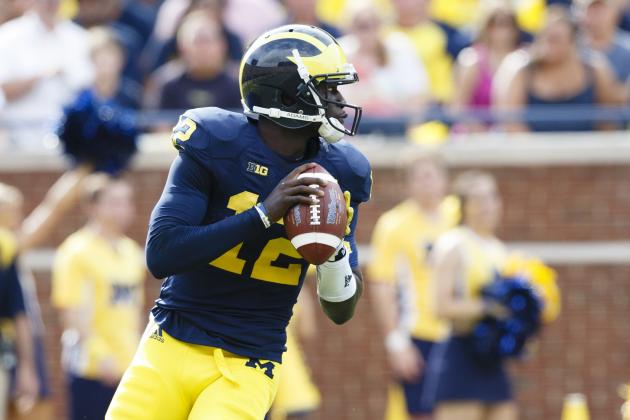 Rick Osentoski-USA TODAY Sports
Devin Gardner had trouble getting started Saturday, but he made up for mistakes with big plays.
Entering a new phase of football, Michigan will continuously learn about itself each week.
Most importantly, it'll carry those lessons into Week 2, one of the most important transition points of the fall.
In a resounding 59-9 victory Saturday over Central Michigan at The Big House, the Wolverines flexed their muscle, showing the rest of the Big Ten that they indeed have firepower on offense, with or without Denard Robinson.
Devin Gardner made his sixth collegiate start at quarterback. He channeled his inner Shoelace during a few plays; he had two interceptions, but he also made incredible things happen while on his feet.
In this slideshow, the most important takeaways from Week 1 will be examined and evaluated.
Begin Slideshow

»
Rick Osentoski-USA TODAY Sports
Fitz Toussaint averaged 4.1 YPC Saturday.
Bouncing back from leg surgery, senior Fitz Toussaint has a lot to prove in terms of recovery and performance.
Will he return to his 1,000-yard rushing ways, or will he continue to backpedal, a trend started in 2012 with lackluster showings?
He wasn't great Saturday against the Chippewas, but he wasn't exactly ineffective, either. Toussaint ran hard, clearly showing that he wants to remain atop the running backs depth chart and be the main option for offensive coordinator Al Borges.
Toussaint ran with a quick tempo, hitting holes quickly and making necessary adjustments in order to gain those ever-important yards after contact. He finished with 57 yards on the ground, highlighted by two touchdowns.
It was a respectable return for a back who's been through the wringer.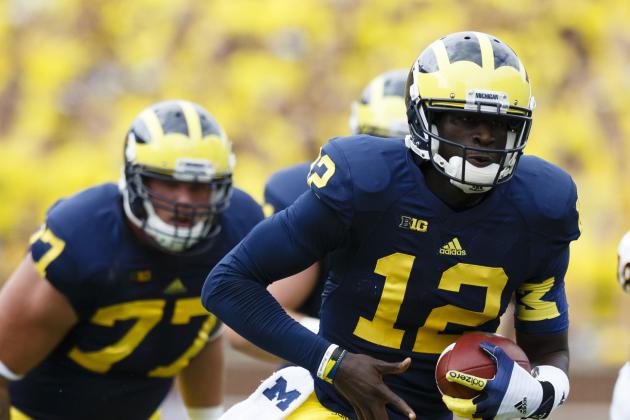 Rick Osentoski-USA TODAY Sports
Devin Gardner went 8-for-13 for 162 yards, 2 INT and 1 TD Saturday.
During the days of Kirk Cousins and Denard Robinson, Spartans and Wolverines fans debated on which team had the better quarterback.
A pro-styler, Cousins led Michigan State's stretch of domination over his in-state foe. Robinson, a run-first quarterback, put up huge numbers but couldn't get Michigan over the hump. Cousins got a Big Ten title, while Robinson was often criticized for his lack of an arm and one-dimensional game.
Those days are gone.
Now it's clear that Michigan has the better starting quarterback after Andrew Maxwell floundered in Michigan State's 26-13 season-opening win Friday over Western Michigan.
Far from an elite performance, Gardner completed 10 of 15 passes and threw for 162 yards, two picks and a touchdown. Even Shane Morris, the Wolverines' freshman No. 2, looked better than Maxwell.
As the fire rages on and Nov. 2 draws closer, Michigan fans should have taken away this feeling from Week 1: Gardner is leagues ahead of Maxwell.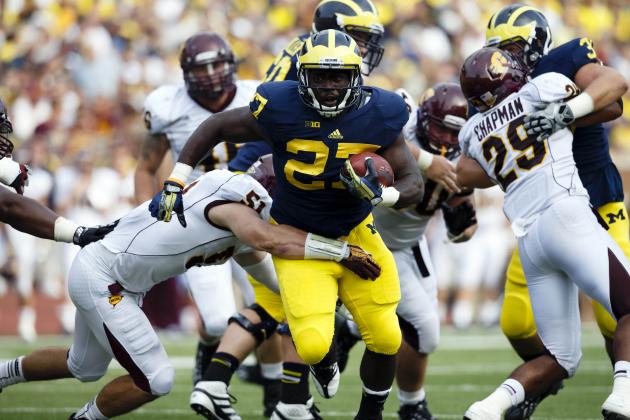 Rick Osentoski-USA TODAY Sports
Derrick Green showed why he was a top RB of 2013 on Saturday.
During fall camp, Derrick Green's physical condition prompted concerns.
His weight shot up from 220 to 240 pounds and he injured his ankle, raising questions about his readiness for the opener.
He responded by rushing for a team-high 58 yards on 11 carries. Ripping six carries for 42 yards, Green capped a late-game drive with a one-yard punch-in, putting Michigan up 48-6 in the fourth quarter.
DeVeon Smith played a big part in the drive. He allowed Green to rest and kept the Chippewas guessing. Like Green, Smith is a powerful freshman with a great deal of potential. He finished with seven carries for 12 yards. While not impressive on paper, he ran with force and looked ready for the Big Ten.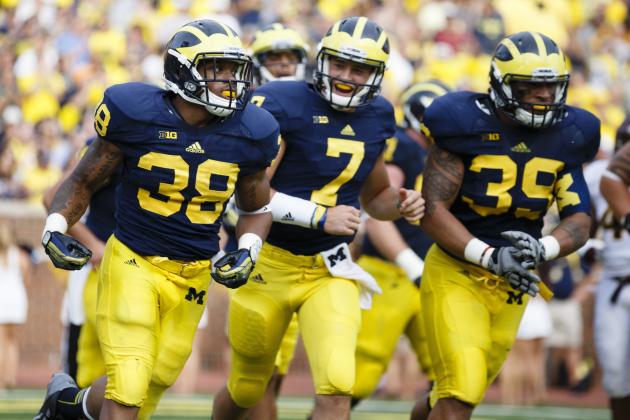 Rick Osentoski-USA TODAY Sports
Shane Morris (No. 7) did well on his first day.
In January, Shane Morris appeared average at best during the 2013 Under Armour All-America Game.
But he may have changed some minds Saturday by going 4-of-6 for 59 yards. Despite an interception, his delivery was on-point and accurate. If he had jitters, he didn't have them for long. For a true freshman, Morris carried himself with poise and confidence.
That's a great sign for the future of the position.
Michigan didn't groom an understudy while Robinson romped his way through The Big House. By playing Morris early this season, it's clear that Hoke wants to give his No. 2 as many meaningful reps as possible.
He's one play away from being the starter. That's pressure.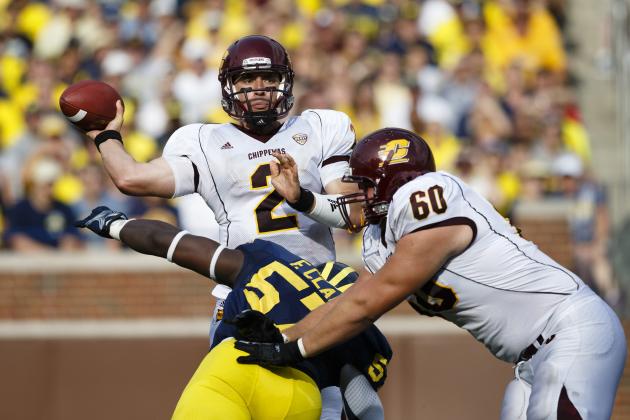 Rick Osentoski-USA TODAY Sports
CMU's Cody Kater was ousted after six attempts.
OK, so the Chippewas lost Eric Fisher at left tackle. That alone creates issues for an offensive line. Not having the No. 1 pick of the 2013 NFL draft hurts.
Michigan took advantage of that Saturday by forcing first-time starter Cody Kater out of the game after only six attempts. Kater, formerly of Cincinnati, was shaken up early and hardly had time to breath, let alone throw the ball.
Frank Clark, Quinton Washington and Keith Heitzman pressured the quarterback steadily during their productive shifts. Although coordinator Greg Mattison experimented with other combos, it's clear that Clark, Washington and Heitzman are great at pressuring passers.
Now, they'll get a real test next week. But for Week 1, limiting a team to just 200 yards of total offense serves as something to build upon.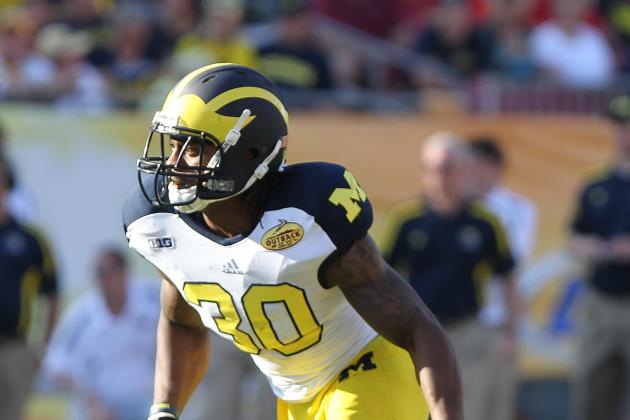 Kim Klement-USA TODAY Sports
Captain Thomas Gordon was suspended Saturday.
He's a senior.
He's a captain.
He's respected by teammates.
But Thomas Gordon didn't play Saturday; he served a one-game suspension for violation of team rules instead.
Hoke said the following in a release, according to Chantel Jennings of ESPN's Wolverine Nation:
It is important that our 115 sons represent this university and program to the high standards we hold. But at times, like in society, our kids make poor decisions, and when they do, it breaks your heart. With those choices come consequences. Thomas was not accountable to his teammates, and he has learned a valuable lesson from this situation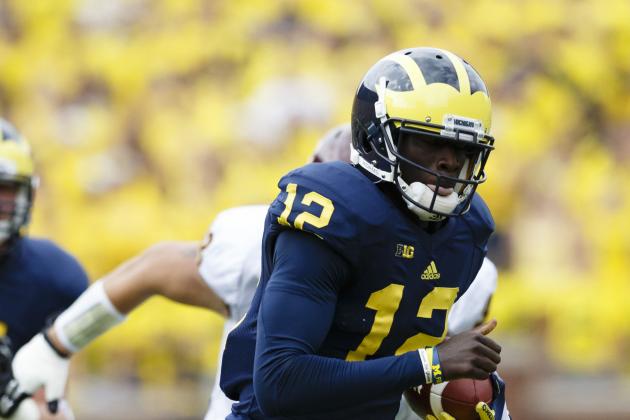 Rick Osentoski-USA TODAY Sports
Gardner was on the run in the first half.
For a couple of brief moments, it looked like Michigan had a bigger Robinson playing quarterback.
Instead of throwing deep down the field, Gardner, Robinson's heir, threw short passes and relied on his feet. This year was supposed to be the change to the pro-style offense, right?
Well, it will be. But Michigan will still keep elements of the spread in its playbook, evident by Gardner's rollouts. And for the record, Gardner looked good on the ground: He rushed for 52 yards and two touchdowns on seven carries.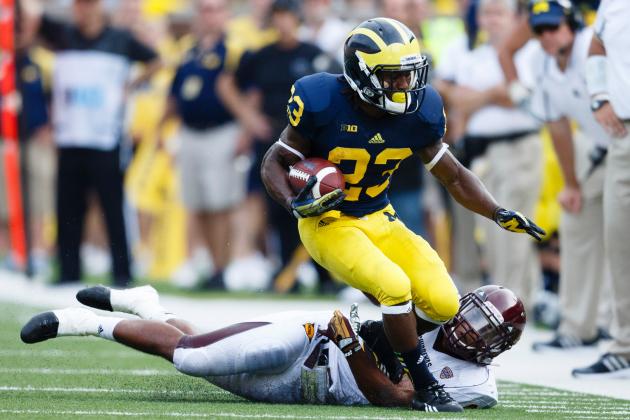 Rick Osentoski-USA TODAY Sports
Dennis Norfleet has wings.
Since last season, Michigan fans have waited for Dennis Norfleet to break a huge touchdown run on a return. This year, he could do it as a receiver; he's tabbed to play the slot.
Saturday, he had four returns for 106 yards. He was faster than ever it seemed. And that's fast. He reported a 4.4-second 40-yard dash prior to joining Michigan.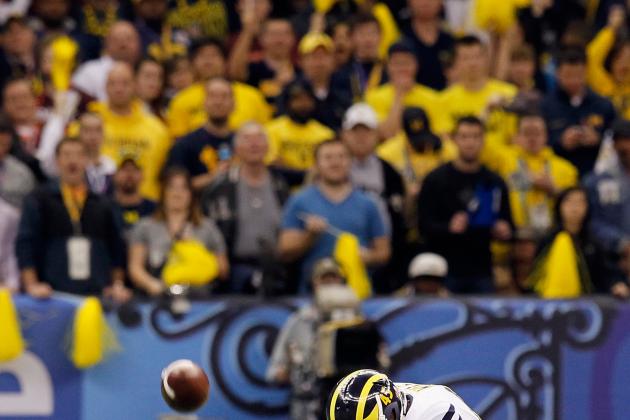 Kevin C. Cox/Getty Images
Matt Wile (pictured) and Kenny Allen are heavy-footed punters.
Matt Wile is a suitable replacement for Will Hagerup, who is available for practice only due to a suspension.
During warm-ups, MLive.com's Wolverines beat writer Nick Baumgardner tweeted that Wile punted a ball 70 yards to Dennis Norfleet. That's a kick.
However, Wile didn't punt in the game Saturday. Redshirt freshman Kenny Allen did. The former Fenton star kicker/punter booted a ball for 51 yards during the 59-9 win, Michigan's only punt of the day.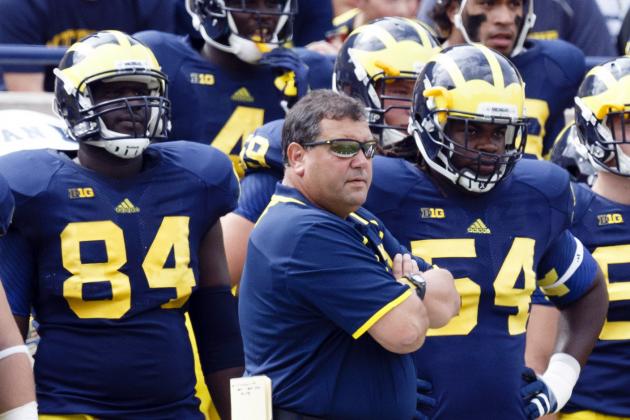 Rick Osentoski-USA TODAY Sports
Michigan hasn't been beat at home under Hoke.
Since taking over at Michigan, coach Brady Hoke hasn't lost a game at Michigan Stadium in Ann Arbor—or The Big House, for short.
His 59-9 slapping of Central Michigan further proved just how much it means for the Wolverines to win at home, now a perfect 15-0 under Hoke, their third-year coach.
Michigan controlled the tempo of the game from the start with heavy hits, sturdy tackling and fair execution. During a live televised interview on the Big Ten Network, Hoke said that he wasn't happy with turnovers and penalties, the signs of an undisciplined team.
He expects more than what he was given: seven penalties for 55 yards and three interceptions.
But he was satisfied with getting a victory at home. Don't let the tough talk fool you.
Follow Bleacher Report's Michigan Wolverines football writer Adam Biggers on Twitter @AdamBiggers81.