Frank Mir vs. Josh Barnett Round-by-Round Recap and Analysis
Ron Chenoy-USA TODAY Sports
Josh Barnett's return to the UFC is marred by a controversial stoppage.
After buckling Mir with a gargantuan knee to the dome early in Round 1, Barnett's work was done, as referee Rob Hinds halted the action to Mir's chagrin.
The longtime UFC heavyweight standout immediately rose to his feet and protested the stoppage, but the call remained, and "The Warmaster" was awarded the TKO victory.
Winner: Josh Barnett via TKO (knee), Round 1
Round 1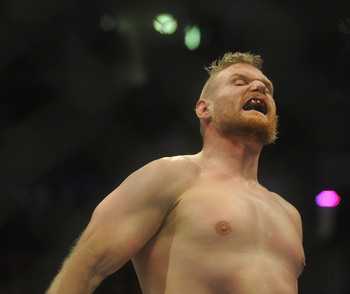 USA TODAY Sports
Recap
Well, that was quick.
Barnett crushed Mir with a huge knee from the clinch two minutes into the round, crumpling his foe into a heap of tattooed muscle and bone and forcing the referee to intervene without any follow-up strikes.
"The Warmaster" reigns supreme.
Analysis
The impressive stoppage comes with a catch: Mir looked fine immediately after the fight was called, and he vehemently protested the loss.
While the stoppage may have been a bit premature, Barnett was annihilating Mir in the clinch to that point with a variety of punches, elbows and knees.
Barnett looked incredible, and Mir was never able to get rolling before the final blow.
For Mir, this is a crippling loss, but a rematch is a distinct possibility due to the controversial nature of the stoppage.
I, for one, would like to see these two run it back for part two.
Keep Reading