Penn State vs. Syracuse: 10 Things We Learned from Nittany Lions' Win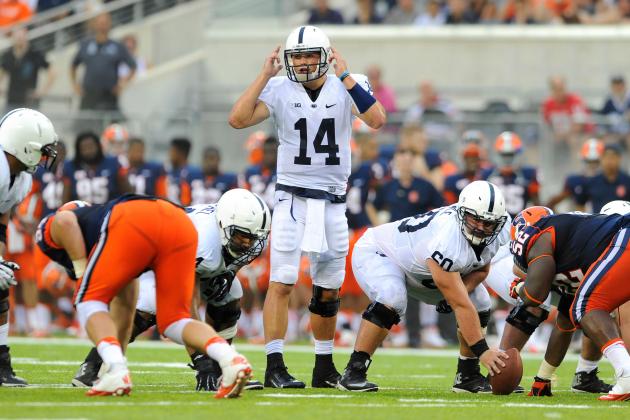 Rich Barnes-USA TODAY Sports
Christian Hackenberg made an impressive debut for Penn State.
Season openers always allow fans to take away some meaningful lessons about their team. The Penn State Nittany Lions' 23-17 win over the Syracuse Orange provided plenty of these learning moments.
A quarterback battle ended shortly before the game and may have been officially closed by the time this one was decided. Injuries are already piling up for Penn State, but some are more concerning than others.
These and plenty of other lessons were learned in an afternoon showdown at MetLife Stadium in East Rutherford, N.J. Most of what we found out about the Nittany Lions were good things, though.
Begin Slideshow

»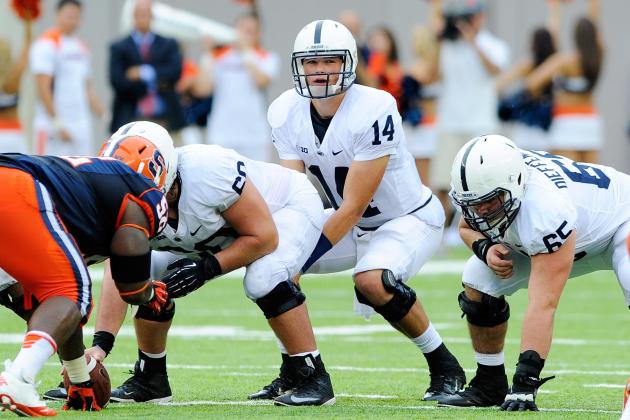 Rich Barnes-USA TODAY Sports
Christian Hackenberg put an end to the Penn State quarterback battle.
Any debate about whether or not Bill O'Brien made the right decision to start true freshman quarterback Christian Hackenberg came to an end quickly.
On Penn State's third drive of the game, Tyler Ferguson, the man Hackenberg beat out for the starting spot, came in. One play after completing a 20-yard strike to Matt Zanellato, Ferguson fumbled. No one touched him. Ferguson simply let the ball slip out of his hands as he started to wind up. He never came back into the game.
Despite making a few poor decisions, Hackenberg impressed in his career debut. The Rivals 5-star prospect completed 22 of 31 attempts for 278 yards, two touchdowns and two interceptions.
The frosh flashed a big arm and decent athleticism. Roll-outs and bootlegs resulted in some of Hackenberg's best plays of the day.
Given O'Brien's history of developing quarterbacks, the future certainly looks bright for Hackenberg and the Nittany Lions.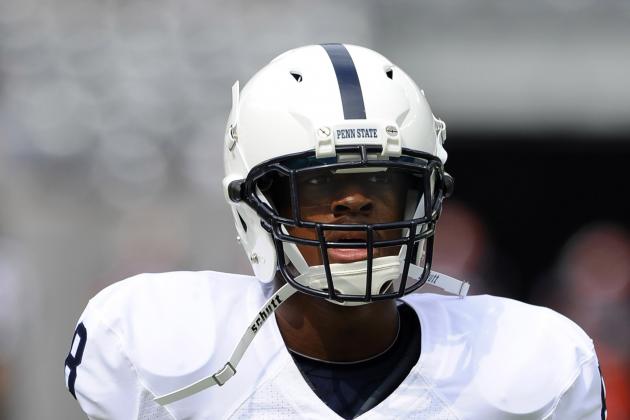 Rich Barnes-USA TODAY Sports
Allen Robinson exploded in the second half.
Despite only playing half of the season opener, Allen Robinson proved he is one of the best wide receivers in the Big Ten Conference. In fact, his performance is going to put him on the radar for All-American voters down the line.
Robinson was the Big Ten's leading receiver last season with 1,018 yards. As everyone found out on Saturday, this was no anomaly.
The junior wideout made seven receptions for 133 yards and one touchdown. The timing of Robinson's return could not have been better either.
O'Brien sat his star receiver down for the first half, but once Robinson returned, it did not take long to see what Penn State's offense had been missing. Robinson caught a screen and took it 25 yards on his first reception of the 2013 season. On the ensuing play, Hackenberg found his No. 1 receiver deep down the field for a 51-yard touchdown reception.
As long as Robinson is on the field, the Nittany Lions offense is good enough to compete with anyone in the Big Ten.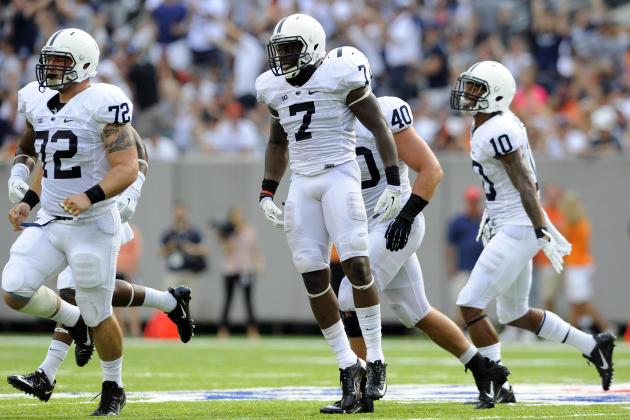 Rich Barnes-USA TODAY Sports
Penn State's defense will help it win some big games this season.
Penn State's offense may have been shaky at times, but its defense did not have any problems shutting down the Syracuse Orange.
Running backs Jerome Smith and Prince-Tyson Gulley combined for over 2,000 yards and 12 touchdowns last season. On Saturday, the duo only managed to rush for 96 yards and two touchdowns. Overall, the Orange had 66 rushing yards.
Defensive linemen DaQuan Jones and Deion Barnes made life hell for quarterback Drew Allen. The Nittany Lions entire front seven also racked up several pass deflections.
There is no doubt Penn State's greatest asset is its defense. Hopefully, it can carry the Nittany Lions to another winning season. Regardless, it will be one of the Big Ten's best units.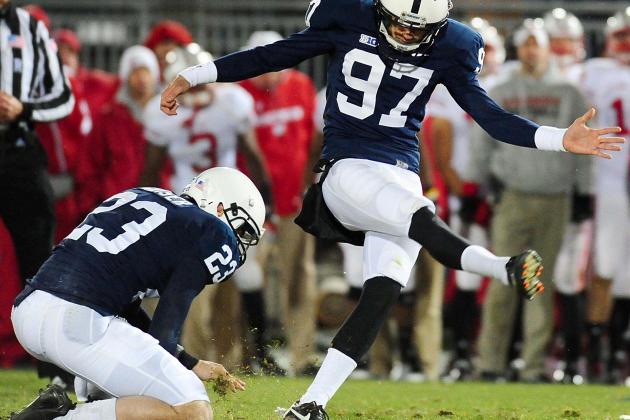 Evan Habeeb-USA TODAY Sports
Sam Ficken has made 13 straight field goals.
Sam Ficken's kicking career could not have started any worse. The Valparaiso, Ind. native missed four field goals in a one-point loss to the Virginia Cavaliers last September. As the 2012 season went on, though, Ficken became more reliable and even made his final 10 field goals of the year.
The streak continued at MetLife Stadium. Three times Penn State called for Ficken to get it three points. Each attempt, Ficken came through.
With field goals of 35, 36 and 46 yards, the junior extended his streak to 13 straight kicks without a miss. Any concerns the Blue and White faithful had about Ficken in the past have been put to rest.
If Penn State needs an important field goal, do not expect to see any hesitation or doubt on the face of O'Brien anymore.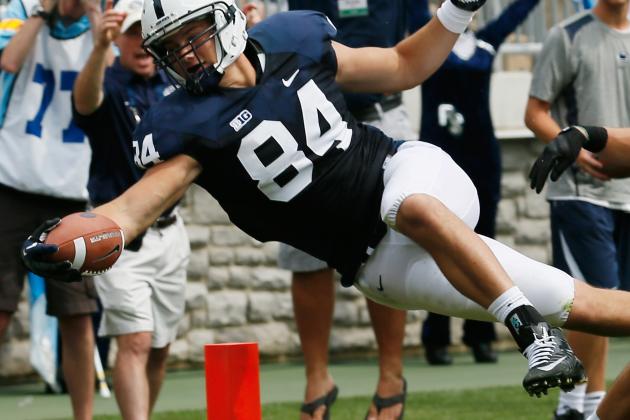 Rob Carr/Getty Images
Matt Lehman's leg injury is not good for the Nittany Lions.
Although tight end is one of Penn State's deepest positions, the loss of Matt Lehman should not be overlooked. Lehman exited the game after suffering a non-contact injury.
If the 6'6", 262-pounder is ruled out for an extended period of time, it will be a huge loss for the Nittany Lions. In spite of the fact Penn State returned three tight ends with 200-plus receiving yards a year ago, only two caught passes in the season opener.
Lehman had a pair of receptions for 17 yards before leaving. Reserve tight end Jesse James hauled in two passes for 10 yards.
This position is an important part of Bill O'Brien's offense. Losing arguably the top player at that spot is not good news for the Nittany Lions.
Either James, Kyle Carter or Adam Breneman will have to emerge as a go-to tight end for Hackenberg. Otherwise, the potential loss of Lehman could continue to sting as the 2013 campaign goes on.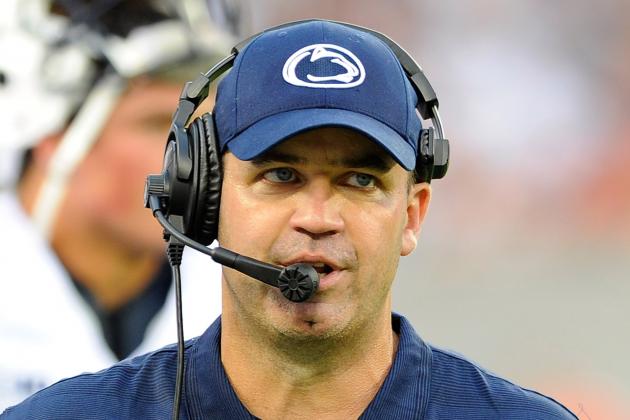 Rich Barnes-USA TODAY Sports
Bill O'Brien is undoubtedly excited about Geno Lewis' performance.
Once Hackenberg gets settled in O'Brien's offense, Penn State will begin to take more shots down the field. This should result in more big-play opportunities for redshirt freshman wide receiver Geno Lewis.
The Wilkes Barre, Pa. product hauled in a bomb from Hackenberg in the fourth quarter. With the Nittany Lions leading 16-10, Lewis beat a Syracuse defensive back one-on-one and hauled in a 54-yard touchdown reception.
Lewis caught one other pass for eight yards in the win.
Opposing defenses will have to devote a lot of attention to covering Robinson. This will create plenty of chances for Lewis to make plays.
Keep an eye out for this up-and-coming receiver this season.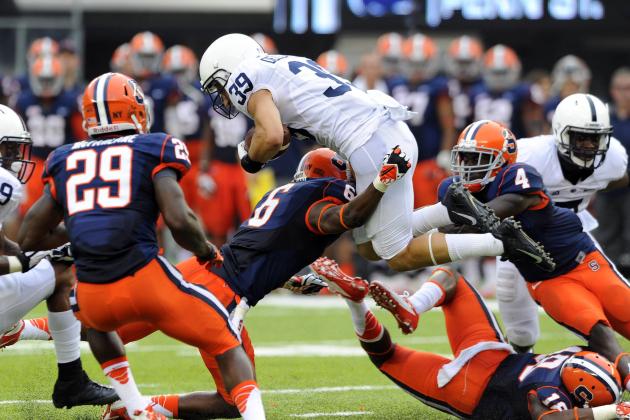 Rich Barnes-USA TODAY Sports
Four turnovers is never a good sign.
Piling up giveaways is a great recipe for a subpar season. After watching Penn State turn the ball over four times, there has to be a bit of a concern about how well it can take care of the rock.
Hackenberg is inevitably going to make mistakes. All freshmen quarterbacks do. Limiting those errors and avoiding interceptions is what Hackenberg must do, though, in order for the Nittany Lions to be successful.
The highly touted quarterback recruit tossed two interceptions in his debut. Syracuse also exposed Hackenberg's lack of development when it came to dealing with blitzes. Opponents will undoubtedly look at this game film and use similar tactics to force the young signal-caller into turnovers.
A fumble by Robinson was a discouraging sign as well.
For Penn State to have another successful campaign, it must do a better job of winning the turnover battle.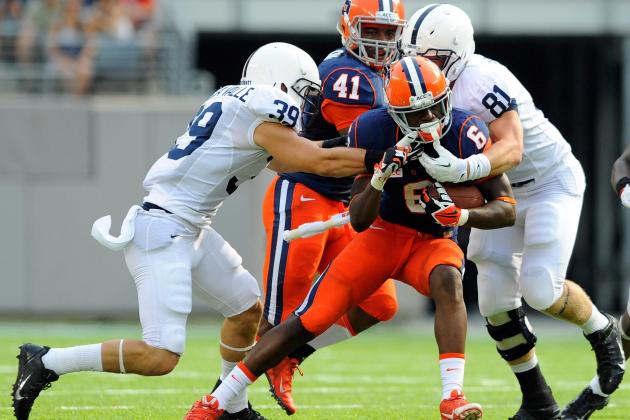 Rich Barnes-USA TODAY Sports
Penn State has plenty of serviceable linebackers.
Starting outside linebacker Mike Hull went to the locker room early in the first half, which would have been a cause for concern for most college football teams. Fortunately for Penn State, it is called "Linebacker U" for a reason.
Reserve Ben Kline filled in valiantly for Hull. There did not appear to be much of a drop-off with Hull on the bench for the remainder of the game with a knee injury.
Penn State's linebackers had a big hand in shutting down Syracuse's rushing attack. The Nittany Lions only yielded 66 yards on the ground against an Orange team with a pair of dynamic running backs.
Glenn Carson played well, too, at middle linebacker.
Hopefully, Hull will make a speedy recovery and add to the depth Penn State has at the position. Do not worry, Nittany Lions fans, your most famous moniker is not going anywhere anytime soon.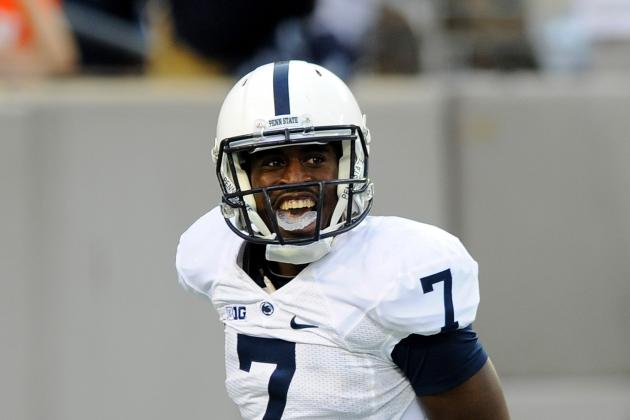 Rich Barnes-USA TODAY Sports
Penn State has an All-Big Ten candidate in the secondary.
By far the best performance by a Penn State defender in the 23-17 victory came from senior safety Stephen Obeng-Agyapong. The veteran recorded eight tackles, forced a fumbled, recovered a fumble and notched an interception.
Talk about a good way to start the season.
The 5'10", 205-pounder was solid in coverage and came up to make several plays near the line of scrimmage. The All-Big Ten voters should be keeping an eye on this young man after the performance he turned in against Syracuse.
The Nittany Lions already have one of the best front sevens in the Big Ten. Opposing teams will be itching to test Penn State's secondary, though. All of them better watch out for Obeng-Agyapong.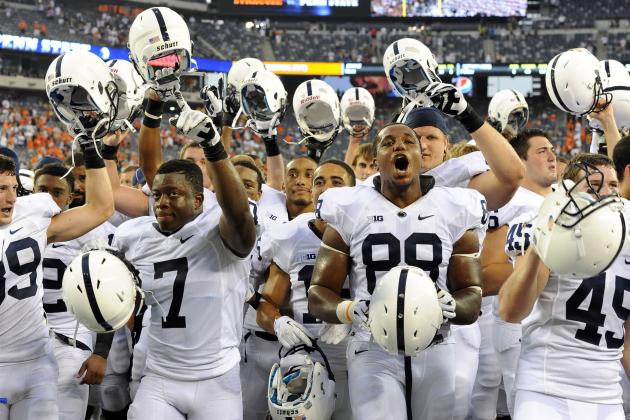 Rich Barnes-USA TODAY Sports
Penn State is going to pull off a big upset this season.
None of the Big Ten teams should be overlooking Penn State after everything it showed in its 23-17 win over Syracuse. The conference heavyweights should be very wary of the Nittany Lions, especially those who have to travel to Beaver Stadium.
The Michigan Wolverines and Nebraska Cornhuskers both face Penn State on the road. The Nittany Lions leave the friendly confines to face Wisconsin and Ohio State. Expect the Blue and White to win one of those games.
The defense is good enough to keep Penn State in any game. It will simply be a matter of which team cannot handle Robinson, or pressure Hackenberg.
Out of those four teams, the most likely candidate to be upset is Nebraska. The Cornhuskers are rebuilding on defense and will be overreliant on their offense to win games. A raucous environment in Happy Valley should give Penn State the edge it needs.