Atlanta Falcons 2013 Team Roster: Report Card Grades for Every Position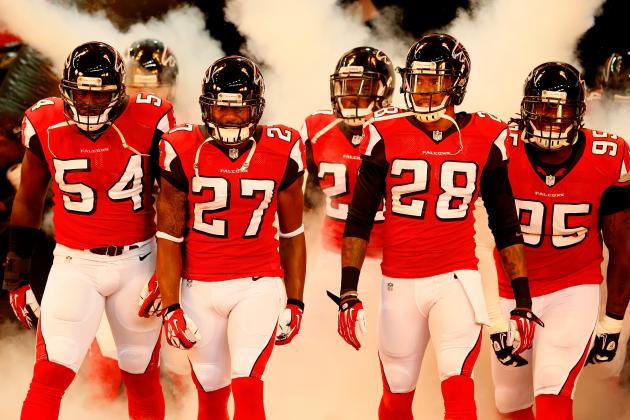 Kevin C. Cox/Getty Images

The 2013 Atlanta Falcons announced their final round of camp cuts today, so there's no better to time for us to check out each position group on the team's initial 53-man roster—the Falcons could still add a player who was cut by another team—to see where Atlanta stands heading into its Week 1 showdown in New Orleans.
As we visit each position group, we'll analyze the players and give each unit a grade based on Atlanta's depth at the specific positions and the overall talent of players who comprise the groups.
Let's dive right in with a look at Atlanta's updated situation at quarterback.
Begin Slideshow

»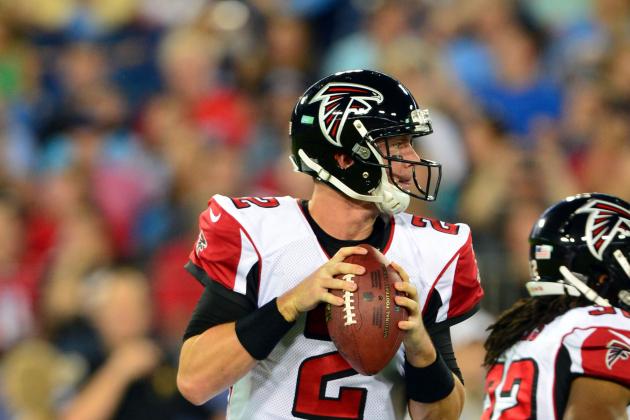 Don McPeak-USA TODAY Sports

1. Matt Ryan
2. Dominique Davis
Analysis
Pro Bowl quarterback Matt Ryan nets the Falcons a high grade here, but Dominique Davis' inconsistent play in the preseason could lead the team to look to a veteran backup like David Carr from the waiver wire.
Ryan has only missed two starts due to injury since he became Atlanta's starter in 2008, but it should be noted that the year Ryan missed those starts was the only year the Falcons missed the playoffs during his tenure (2009).
Dominique Davis has flashed some ability, but can he be effective enough to enable Atlanta to steal a game or two and remain in contention if he's called into action for a couple of games due to an injury to Matt Ryan?
That open question makes this grade an "A-" instead of an "A" or an "A+."
Grade: A-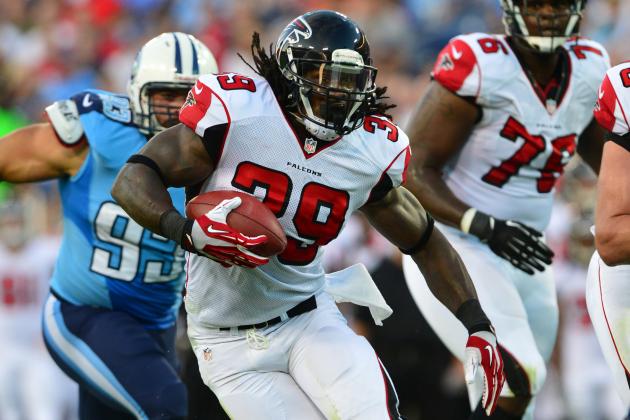 Don McPeak-USA TODAY Sports

Running Backs
2. Jacquizz Rodgers
3. Jason Snelling
4. Antone Smith
5. Josh Vaughn
Fullback
1. Bradie Ewing
Analysis
Steven Jackson provides a more versatile option as the primary running back, while Jacquizz Rodgers is always a threat to make something happen with the ball in his hands. Jason Snelling is an old-school utility back who has reliable hands and the ability to play both running back and fullback.
Antone Smith and Josh Vaughan have some ability, but there probably won't be enough carries to go around for either one of them to be more than a special teams contributor. There's still a possibility that Smith or Vaughan could be released for waiver-wire addition prior to next week.
Bradie Ewing has returned from his injury and demonstrated the ability to be the thumper that Steven Jackson and Jacquizz Rodgers need to clear the path in front of them.
The only thing that keeps this unit from earning an "A" is the lack of a speedy, home run threat. (Yes, I saw Josh Vaughan's run against the Jaguars in the last preseason game. I'm not anointing him yet.)
Grade: B+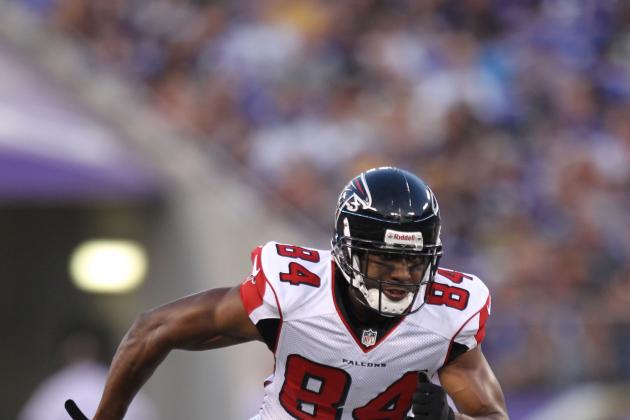 Mitch Stringer-USA TODAY Sports

1. Roddy White
2. Julio Jones
3. Harry Douglas
4. Kevin Cone
5. Drew Davis
Analysis
Roddy White and Julio Jones give the Falcons a rare combination of physicality, speed and athleticism on the outside. Jones should only improve as he enters his third year in the league. Harry Douglas has consistently left plenty of fans wanting more, but he has shown the ability to make timely catches when his number is called.
Kevin Cone and Drew Davis have earned their stripes on special teams in the past since the Falcons don't use a lot four and five wide receiver sets. Cone may have moved ahead of Davis in the rotation after Davis had a few drops in the preseason.
Roddy White and Julio Jones make this highest-rated position group on the team.
Grade: A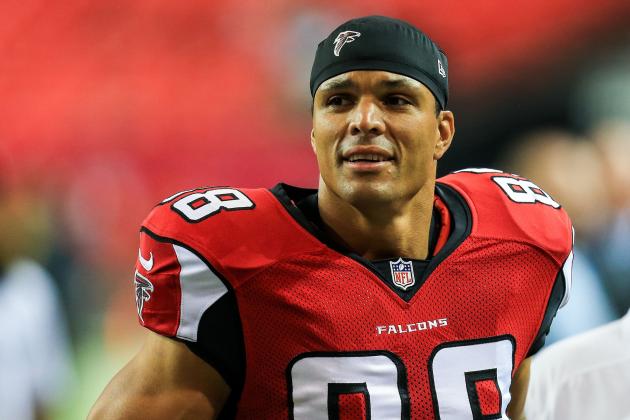 Daniel Shirey-USA TODAY Sports

1. Tony Gonzalez
2. Chase Coffman
3. Levine Toilolo
Analysis
The Falcons convinced future Hall of Famer Tony Gonzalez to return for one more season, and as long as he's around Atlanta's tight end group will rate high. Chase Coffman appears to be becoming the tight end many draft observers believed he would be when he was drafted in the third round by the Bengals in 2009.
Levine Toilolo is a solid developmental prospect.
Grade: A-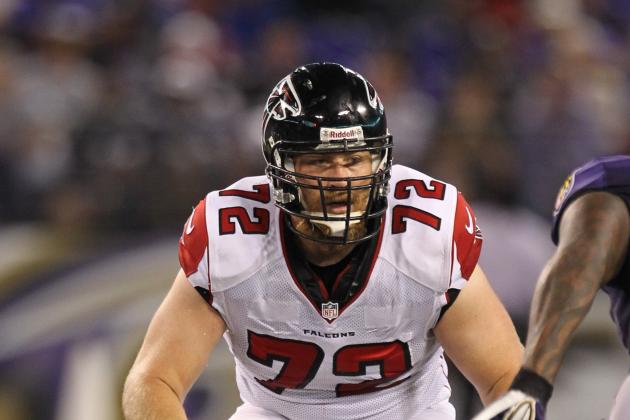 Mitch Stringer-USA TODAY Sports

1. Sam Baker
2. Lamar Holmes
3. Ryan Schraeder
4. Jeremy Trueblood
Analysis
Sam Baker has been on a bit of a rollercoaster in Atlanta since he was drafted in 2008. After a poor showing in 2011, few observers would've been surprised if the Falcons released him. Two years later, Baker is probably the best tackle on the roster.
The injury to Mike Johnson hurts the depth at this position, but in spite of Lamar Holmes' inconsistent play in the preseason, the Falcons should be able to function with him starting at right tackle. Holmes primarily struggled with speed-rushers (Elvis Dumervil, Derrick Morgan) and stunts (Tennessee, Jacksonville games)—issues that plenty of inexperienced NFL tackles struggle with early on.
Undrafted free agents Ryan Schraeder and Terren Jones both have potential, but don't be shocked if the team releases one of them in favor of a veteran tackle who can provide experienced insurance behind Lamar Holmes.
UPDATE: The Falcons have released Terren Jones and signed veteran offensive tackle Jeremy Trueblood.
Grade: C+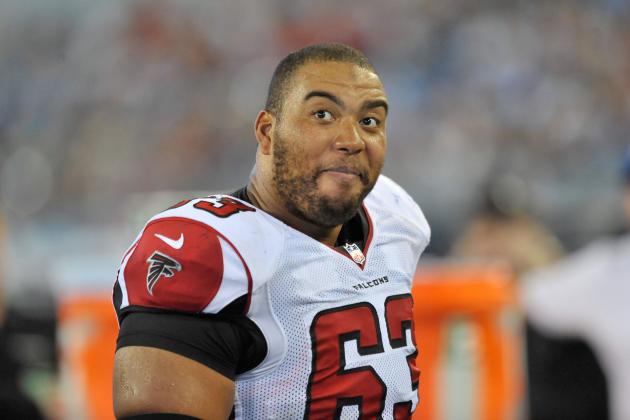 Jim Brown-USA TODAY Sports

1. Justin Blalock
2. Garrett Reynolds
3. Harland Gunn
Analysis
Justin Blalock has long been considered to be Atlanta's best offensive lineman by many fans, but now he may have a legitimate challenger in the new and improved Sam Baker. Garrett Reynolds has done an adequate job at closing what had been a bit of a revolving door at right guard since Harvey Dahl left for St. Louis in 2011.
2012 undrafted free agent Harland Gunn has earned a roster spot for the time being, but don't forget that Joe Hawley (listed at center) can play guard as well.
There are no spectacular players here, but no one who's likely to hold Atlanta's offense back either.
Grade: B-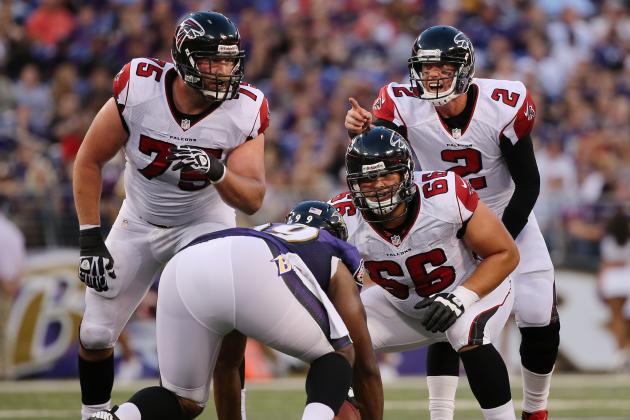 Rob Carr/Getty Images

1. Peter Konz
2. Joe Hawley
Analysis
Peter Konz experienced some growing pains last season when he started 10 games at right guard, but a return to his natural center position should help him solidify his role on the offensive line.
In 2012, the knock on Konz going into the draft was his perceived lack of upper-body strength. Konz validated that criticism by struggling with bull rushes last year. Moving over to center should keep Konz away from a lot of the kind of blocking matchups where he'd be vulnerable to those kind of overpowering rushers.
Utility man Joe Hawley is a reliable backup at center and guard who can play well in spots.
Grade: B-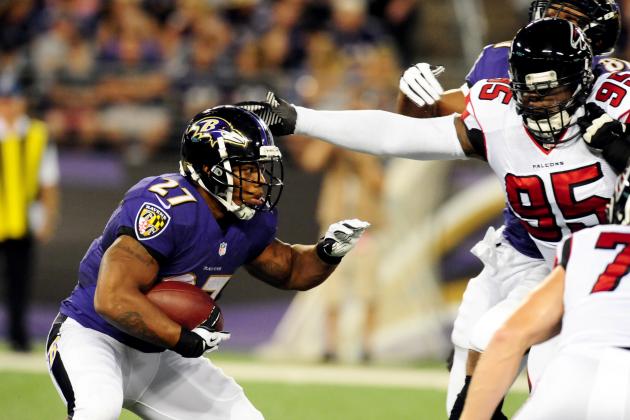 Evan Habeeb-USA TODAY Sports

1. Jonathan Babineaux
2. Corey Peters
3. Peria Jerry
4. Travian Robertson
Analysis
Jonathan Babineaux is probably the team's most underappreciated player: He and fellow 2005 draftee Roddy White will almost certainly be in the Falcons' Ring of Honor one day. Corey Peters will look to rebound from a quiet 2012 campaign, while disappointing 2009 first-round pick Peria Jerry returns to the rotation as the third defensive tackle.
Travian Roberson plays even bigger than his 6'4", 302-pound frame. The Falcons could use another big body to clog up the middle, but a beefed up defensive end Cliff Matthews could see some time on the inside behind Babineaux and Peters.
Grade: B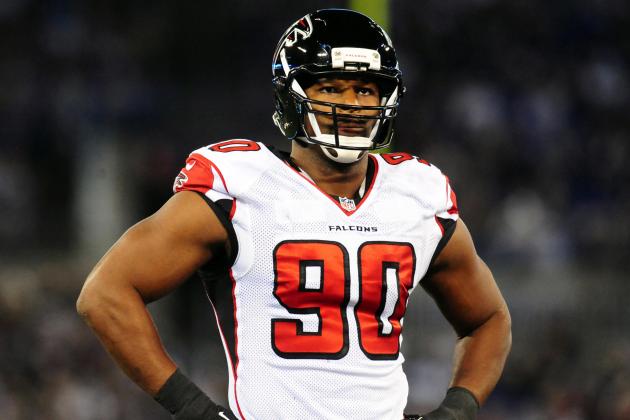 Evan Habeeb-USA TODAY Sports

1. Osi Umenyiora
2. Kroy Biermann
3. Jonathan Massaquoi
4. Cliff Matthews
5. Malliciah Goodman
6. Stansly Maponga
Analysis
Osi Umenyiora figures to be the team's No. 1 edge-rusher, but Kroy Biermann had a decent showing this preseason as did Jonathan Massaquoi.
With Umenyiora, Biermann and Massaquoi likely to lead the way, rookie defensive ends Malliciah Goodman and Stansly Maponga may see most of their time on special teams.
Cliff Matthews has shown the ability to play inside at defensive tackle, and he got a nice push on a rush early on against the Jaguars in Week 5 of the preseason.
Grade: B-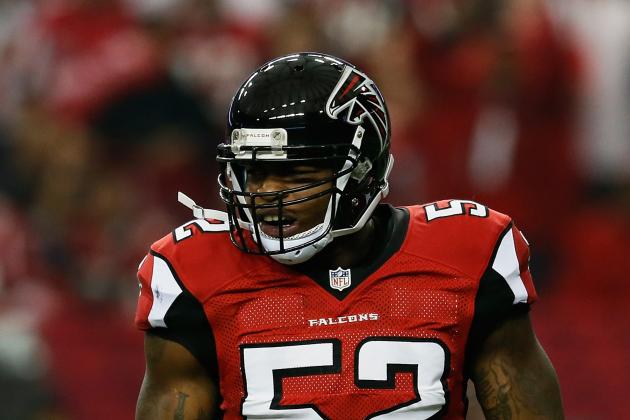 Kevin C. Cox/Getty Images

1. Sean Weatherspoon
2. Stephen Nicholas
3. Akeem Dent
4. Joplo Bartu
5. Paul Worrilow
Analysis
Atlanta's top three linebackers remain the same, but the stories here are Joplo Bartu and Paul Worrilow. Neither Bartu or Worrilow were drafted in April, but each player got noticed in the preseason by consistently making plays.
The Falcons play a lot of nickel defense, so Sean Weatherspoon and Stephen Nicholas will probably get more defensive snaps than the rest of this group.
Grade: B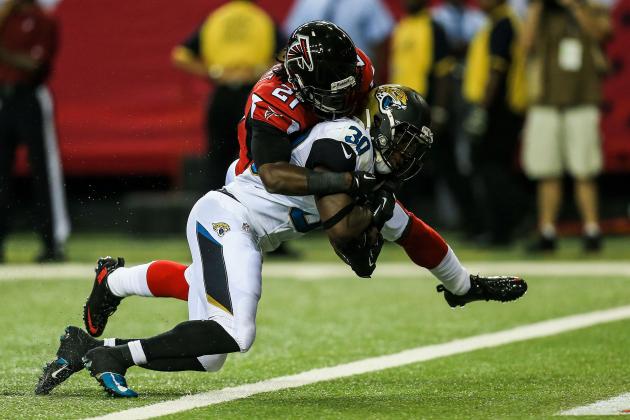 Daniel Shirey-USA TODAY Sports

1. Asante Samuel
2. Desmond Trufant
3. Robert McClain
4. Robert Alford
5. Dominique Franks
Analysis
Asante Samuel and Robert McClain welcome rookies Desmond Trufant and Robert Alford into the defensive backfield as Atlanta prepares to face some of the best quarterbacks in the league on its 2013 schedule.
Desmond Trufant intercepted his first pass in the fourth preseason game against the Jaguars, while Robert Alford added another interception to his preseason resume as well.
What this group lacks in familiarity with coverage schemes, it makes up for with speed, athleticism and awareness.
Grade: B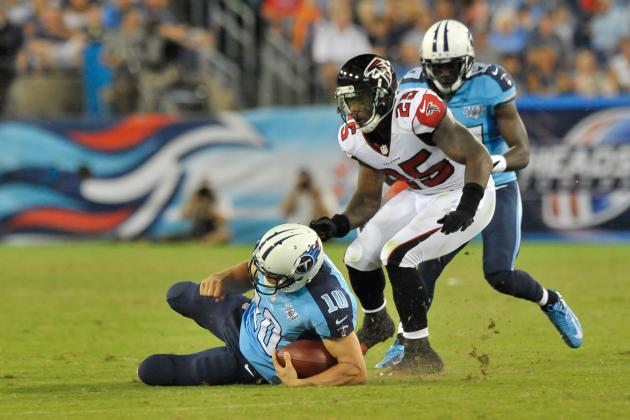 Jim Brown-USA TODAY Sports

1. William Moore
2. Thomas DeCoud
3. Shann Schillinger
4. Zeke Motta
5. Kemal Ishmael
Analysis
Pro Bowl safeties William Moore and Thomas DeCoud return to anchor the secondary, while Schillinger, Motta and Ishmael are primed to serve as short-term backups. This is another spot where one or two players who survived this weekend's cuts could still be let go in favor of a veteran. I don't see the Falcons keeping five safeties unless defensive coordinator Mike Nolan has other yet-to-be revealed plans.
William Moore is a real thumper on the back end, but the team will need Thomas DeCoud to return to his ball-hawking ways if it wants to improve last year's defense.
Grade: B+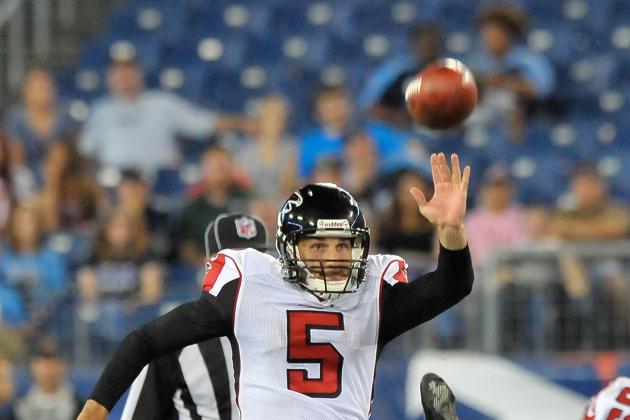 Jim Brown-USA TODAY Sports

1. Matt Bryant, Kicker
2. Matt Bosher, Punter
3. Josh Harris, Long Snapper
4. Jacquizz Rodgers, Kick Returner
5. Dominique Franks, Punt Returner
5. Harry Douglas, Punt Returner
Analysis
Matt Bryant and Matt Bosher form a solid kicker-punter duo, while Jacquizz Rodgers and Dominique Franks are listed as the team's top returners. Don't be surprised if Robert Alford gets a look on punt returns at some point as well.
Matt Bryant's reliability should keep the Falcons scoring high marks in this category.
Grade: B