Baltimore Ravens Team Roster: Report Card Grades for Every Position
Patrick McDermott/Getty Images
John Harbaugh and Ozzie Newsome have spent a lot of time together finalizing the 53-man roster.
The final cuts have been made and the Baltimore Ravens now know their roster for the 2013 season. General manager Ozzie Newsome won't hesitate to make any more moves if he needs to, but all the important pieces are in place.
What follows is a slideshow revealing the breakdown of the 53-man roster by position, with each position group getting a letter grade.
The grade is heavily weighted to the players who get most of the playing time. For example, the quarterback grade is mostly based on Joe Flacco since Tyrod Taylor has never had to play in any meaningful games.
That said, the depth of the position does factor into the grade, so they aren't purely reflective of the starters.
**NOTE: A membership is required to view all the ProFootballFocus stats**
Begin Slideshow

»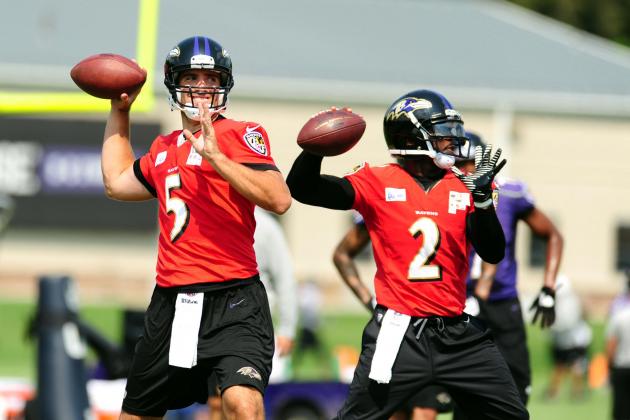 Evan Habeeb-USA TODAY Sports

| | |
| --- | --- |
| Player | Depth Chart |
| Joe Flacco | No. 1 |
| Tyrod Taylor | No. 2 |
As they have for the past two seasons, the Ravens kept only two quarterbacks. This is mostly due to Joe Flacco's ironman qualities.
Flacco has never missed a start, and his durability means that Tyrod Taylor hasn't had to play much. Taylor played well in the preseason, but it's hard to say that the Ravens have anything more than an average backup QB until we see him in real game action.
Flacco turned it on down the stretch of last season, and if that form continues, this grade will rise.
Position Grade: B+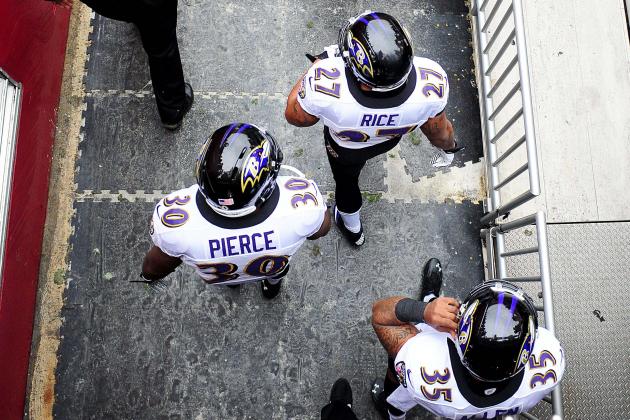 Evan Habeeb-USA TODAY Sports

| | |
| --- | --- |
| Player | Depth Chart |
| Ray Rice | No. 1 |
| Bernard Pierce | No. 2 |
In a somewhat surprising move, the Ravens cut Anthony Allen, Bobby Rainey and Delone Carter, leaving them with only two running backs on the roster.
Luckily, those two backs are pretty darn good.
Ray Rice is one of the most versatile backs in the NFL. He is an elusive runner, a phenomenal receiver and a good pass protector. He is the engine that makes the Ravens offense run, and if he stays healthy this season, he should overtake Jamaal Lewis to become the franchise leader in all-purpose yards.
Bernard Pierce came on very strong to end the year, and he made full use of the increased workload he saw under Jim Caldwell.
He's a powerful runner who chooses to run through defenders instead of around them. According to ProFootballFocus, he finished third in the NFL with an average of 3.4 yards after contact per carry.
The fact that they're only carrying two running backs is a little concerning since the position takes a lot of punishment, but they have one of the best running backs in the league as their starter and one of the best backups to spell him.
Position Grade: A+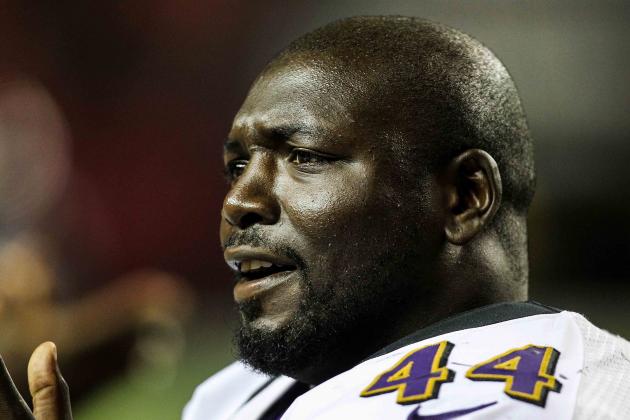 Daniel Shirey-USA TODAY Sports

| | |
| --- | --- |
| Player | Depth Chart |
| Vonta Leach | No. 1 |
| Kyle Juszczyk | No. 2 |
Not many teams rely on one fullback anymore, let alone two. But that's what the Ravens chose to do, and you can't fault their selection.
Vonta Leach has unquestionably been the best fullback in the NFL in recent history, earning Pro Bowl and All-Pro honors in each of the last three seasons. As a blocker, there is nobody in the business that's better than him.
Baltimore also drafted a fullback in the fourth round of the 2013 NFL Draft amid concerns that Leach might be a salary cap casualty. Juszczyk needs to learn the ropes of blocking in the NFL, but thankfully he has the best mentor he could possibly ask for.
Juszczyk brings an exciting and versatile dimension to the fullback position. He was a tight end and H-back at Harvard, leading the Crimson in receiving yards in his senior year.
Position Grade: A+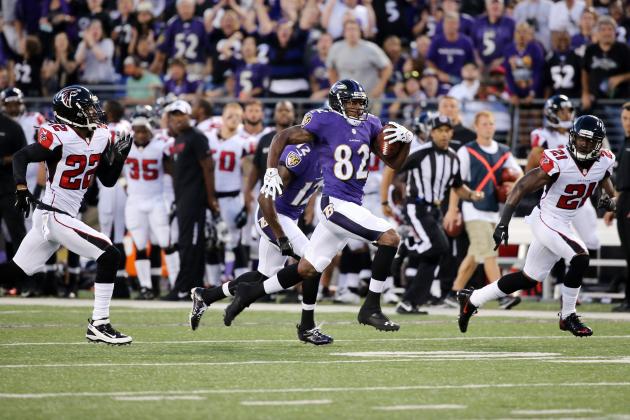 Rob Carr/Getty Images

| | |
| --- | --- |
| Player | Depth Chart |
| Torrey Smith | No. 1 |
| Jacoby Jones | No. 2 |
| Brandon Stokley | No. 3 |
| Marlon Brown | No. 4 |
| Deonte Thompson | No. 5 |
| Aaron Mellette | No. 6 |
| LaQuan Williams | No. 7 |
Due to the uncertainty of the position, the Ravens chose to keep seven receivers on the roster, which is more than they've kept in the past two years. There is a good mix of playing styles in the receiving corps, but everybody besides Torrey Smith has a lot to prove.
Smith has all the tools to be an elite NFL receiver, but he needs to show the world those talents this year as the only established receiving threat.
Jacoby Jones is a burner that can take the top off opposing defenses and has a knack for making huge plays. But his hands are questionable, he isn't a great route runner and most of his value comes on special teams.
Brandon Stokley seems to have adjusted well to his new team. He is a veteran with excellent hands. At 37 years old, he no longer has the speed or ability to get consistent separation, but he makes plays with his refined route running.
He should be the go-to slot receiver this season, a role that suited him well last season. ProFootballFocus calculated that only Michael Crabtree had a higher catch percentage than Stokley out of the slot.
The two rookies, Aaron Mellette and Marlon Brown, turned excellent preseasons into roster spots. Both of them have size and have shown the ability to run with the first-teamers. Brown in particular has demonstrated phenomenal chemistry with Joe Flacco in limited action.
Deonte Thompson has drawn praise from the coaching staff but has missed every practice since the first preseason game due to a foot injury.
LaQuan Williams made the team on the merits of his special teams value. He's a gunner on punts and a good tackler in return coverage.
The wide receiver position is a weakness only in terms of the starters. There is excellent depth on the roster, so if one of the young receivers becomes a good starter (my money's on Marlon Brown), this grade could jump up to a B.
Position Grade: C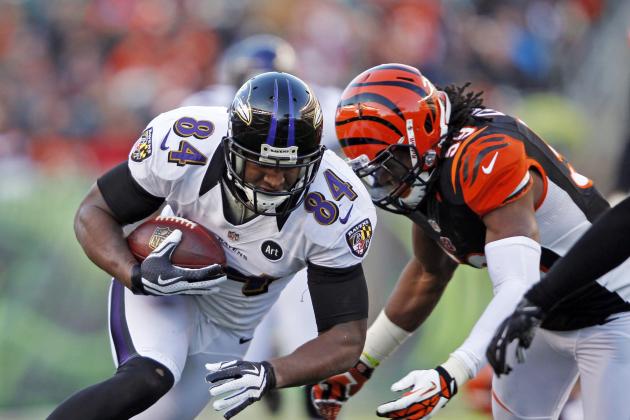 Frank Victores-USA TODAY Sports

| | |
| --- | --- |
| Player | Depth Chart |
| Ed Dickson | No. 1 |
| Dallas Clark | No. 2 |
| Billy Bajema | No. 3 |
Baltimore isn't allowed to move Dennis Pitta to the Injured Reserve—Designated to Return list until Tuesday, so he's technically on the 53-man roster and Billy Bajema was released.
According to the Baltimore Sun, the Ravens have already talked about bringing Bajema back before the season opener, so I'm including him in this analysis.
Dickson is a good blocker and a serviceable receiver. His hands and route running aren't great, but he is very effective as a downfield weapon and has the size and athleticism to win jumpballs and make tough catches.
Dallas Clark did not seem comfortable in the preseason, but he was one of Peyton Manning's prized targets for many years.
If he picks up the offense quickly, he is a nice complement to Dickson in that he's better at intermediate routes and is very sure-handed (he had a lower drop rate than Pitta and Dickson last year, according to ProFootballFocus).
Baltimore likes using their third tight end as a blocker in jumbo formations, and Bajema is very good in that role (despite being a non-factor as a receiver).
Given the hamstring issue that has kept Dickson out of the entire preseason, it was a possibility that the Ravens kept a better receiving tight end like Matt Furstenburg, as their No. 3, but they'll look to sign him to their practice squad if he clears waivers.
Position Grade: B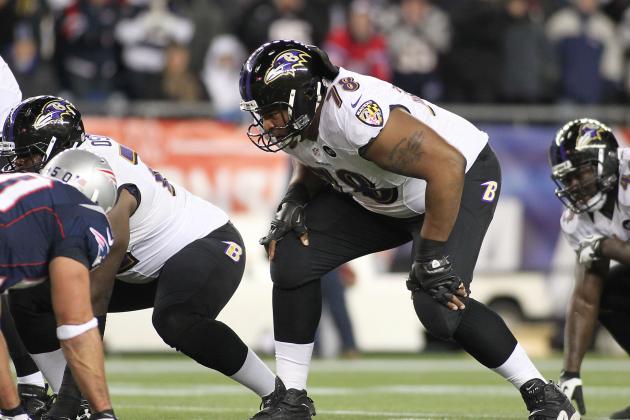 Stew Milne-USA TODAY Sports

| | |
| --- | --- |
| Player | Position |
| Bryant McKinnie | LT |
| Michael Oher | RT |
| Rick Wagner | LT/RT |
McKinnie is a gifted tackle, blessed with enormous size and the fleetness of foot to stay in front of the NFL's best speed rushers. That talent was on display when he single-handedly dealt with Dwight Freeney, Von Miller, Chandler Jones and Aldon Smith during the playoffs.
McKinnie has struggled with weight and conditioning problems in back-to-back offseasons, but he was the best offensive player on the Ravens for the preseason, according to ProFootballFocus.
Michael Oher has struggled to find any continuity after flip-flopping between the right and left tackle spots. While the line as a whole was strong during the playoff run, Oher actually graded out as ProFootballFocus' worst tackle of the playoffs.
Rick Wagner is going to be the backup swing tackle, capable of filling in for either McKinnie or Oher. The Wisconsin product comes from an offensive linemen factory and looks like he could develop into a starter in a couple of years.
He fared well during training camp going up against two of the better pass-rushers in the NFL: Terrell Suggs and Elvis Dumervil.
Position Grade: B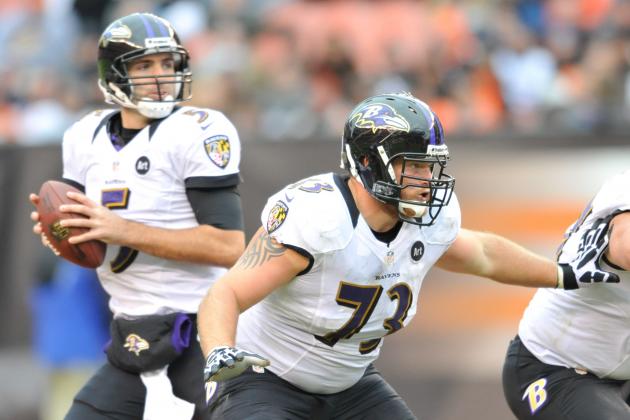 David Richard-USA TODAY Sports

| | |
| --- | --- |
| Player | Depth Chart |
| Marshal Yanda | RG |
| Kelechi Osemele | LG |
| Jah Reid | RG/LG/RT |
The starters could end the year as the best guard duo in the NFL.
Marshal Yanda is one of the best linemen in the league. Last year he finished as ProFootballFocus' second-best guard. In 2011, he finished third, and the year before that he was the fourth-best tackle in the league.
The Ravens know what they will get from Marshal Yanda: excellence.
The question is how good Kelechi Osemele can be. He started every game in his rookie year but seemed to love playing guard.
According to CSNBaltimore, the expectations are very high for Osemele this season. The coaches aren't thinking about whether he'll be a decent starter; they're thinking Pro Bowl.
Jah Reid was starting at left guard until a toe injury kept him out of the playoffs. Unfortunately for him, this allowed Osemele to impress at his position, relegating Reid to backup status. He can play tackle and guard, and is a solid backup with starting experience.
Position Grade: A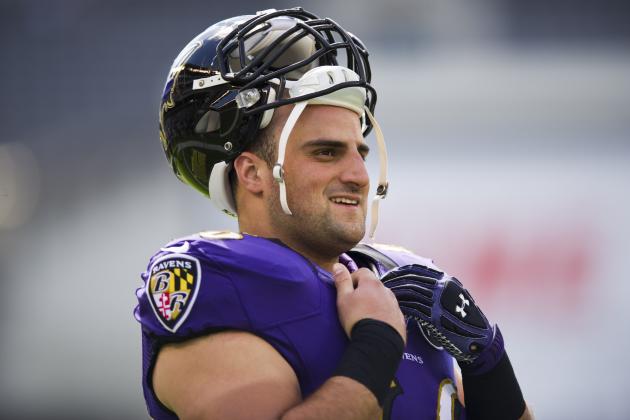 Howard Smith-USA TODAY Sports

| | |
| --- | --- |
| Player | Depth Chart |
| Gino Gradkowski | No. 1 |
| A.Q. Shipley | No. 2 |
| Ryan Jensen | No. 3 |
An overlooked change of the offseason was the retirement of Matt Birk. Gino Gradkowski was drafted to be his apprentice and take over after Birk hung up his cleats.
Birk signed a three-year deal in 2012, so Baltimore probably wasn't expecting Gradkowski to start this soon, but all the signs have been good so far. Gradkowski played well against an excellent Cincinnati Bengals defensive line in Week 17 of 2012, and he has earned the starting role with his play over the preseason.
ProFootballTalk reports that Bryant McKinnie and Joe Flacco have been impressed with Gradkowski's development this offseason, and they both have confidence in him as their starter.
For a while, however, it was unclear who would win the starting job. The Ravens traded for A.Q. Shipley, who made it a very close competition.
Shipley was a backup center for the Colts, who played really well when he took over as the starter for five games. He lost out in the preseason competition, but he seems fully capable of starting and is an excellent backup.
Jensen was a small-school tackle that was drafted in the sixth-round as a developmental prospect at the center position. Like Pitta, he is technically on the 53-man roster, but he broke his foot in the first preseason game and will probably move to the Injured Reserve list.
Position Grade: B+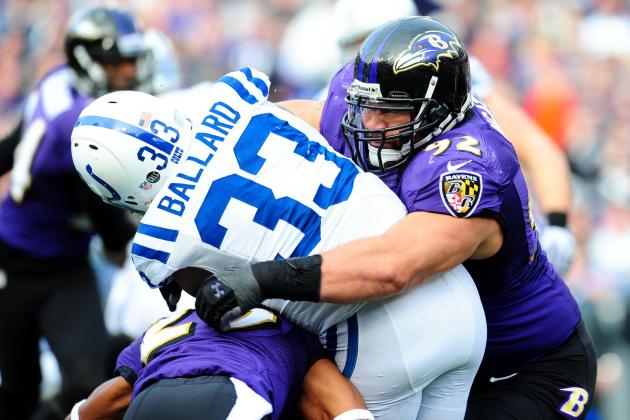 USA TODAY Sports

| | |
| --- | --- |
| Player | Depth Chart |
| Haloti Ngata | No. 1 |
| Terrence Cody | No. 2 |
Ngata is one of the best defensive linemen in the NFL when healthy, and he appears to be at full strength heading into this season. He is excellent against the run, constantly commands double-teams and is the only defensive tackle in the NFL with at least five sacks in each of the last three years.
The added depth along the defensive line should give Ngata more rest (hopefully keeping him healthy) and allow him to play more on the inside of the line, which he prefers.
Terrence Cody was drafted to be a run-stuffer, but he struggled in that role last year and lost his starting job to 33-year-old Ma'ake Kemoeatu. Cody was playing through hip and elbow injuries, and underwent two surgeries this offseason.
If healthy, Cody can provide adequate depth, and he played very well in the preseason.
Position Grade: A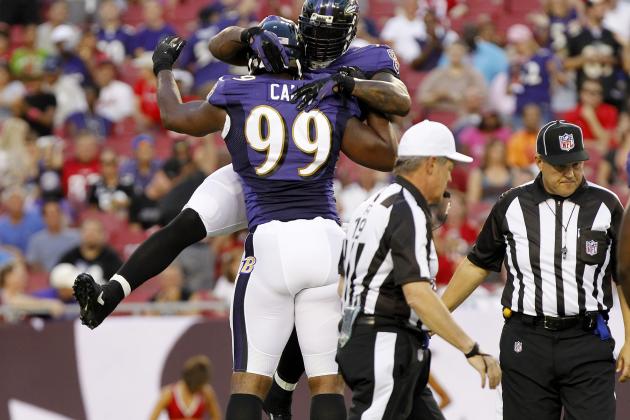 Kim Klement-USA TODAY Sports

| | |
| --- | --- |
| Player | Depth Chart |
| Chris Canty | No. 1 |
| Marcus Spears | No. 2 |
| Brandon Williams | No. 3 |
There has been a lot of praise for Chris Canty since his arrival in Baltimore. The 6'7" defensive tackle was battling knee problems last year with the New York Giants, but he is fully healthy now and is a force against the run and the pass.
Marcus Spears is a veteran run-stuffer who provides great depth along the defensive line. He will only play in obvious running situations, but the 6'4", 315-pounder can plug up running lanes and should improve a defensive line that was porous against the run last season.
Brandon Williams was selected in the third round of the 2013 draft, but the Division-II product has had no problems adjusting to the NFL so far.
He's stout and powerful, and at 6'1", 335 lbs he may be better suited to play nose tackle. What's special about Williams is that the huge rookie is good at generating pressure on the quarterback from the middle of the line.
The group of tackles is big and Brandon Williams is a prospect with huge upside. This year's defensive line should be able to win the battle at the line of scrimmage and collapse the pocket much better than last year's defense.
Position Grade: B-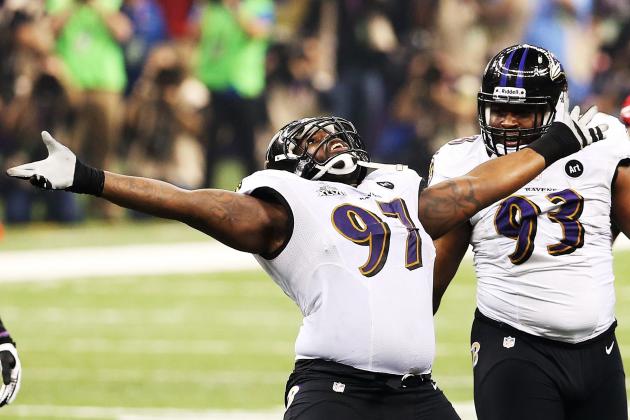 Ronald Martinez/Getty Images

| | |
| --- | --- |
| Player | Depth Chart |
| Arthur Jones | No. 1 |
| DeAngelo Tyson | No. 2 |
Arthur Jones is a starting NFL defensive end, and he may be the least recognized Jones brother. Jon 'Bones' Jones is the current UFC Light Heavyweight champion and arguably the best pound-for-pound fighter in the world at the moment.
Jones' youngest brother is Chandler Jones, a first-round pick of the New England Patriots who recorded six sacks and forced three fumbles in his rookie year. While he rarely gets attention, Arthur Jones might be primed for a breakout season in his fourth year as a Raven.
He was the Ravens' second-best defender in the preseason and was excellent against the run, according to ProFootballFocus. He only missed one tackle last season and is a valuable run stopper.
DeAngelo Tyson was a pleasant surprise last season, playing in 10 games and starting two as a seventh-round pick in 2012. Tyson provides necessary depth at a position where injuries are frequent, and he's solid against the run.
Position Grade: C+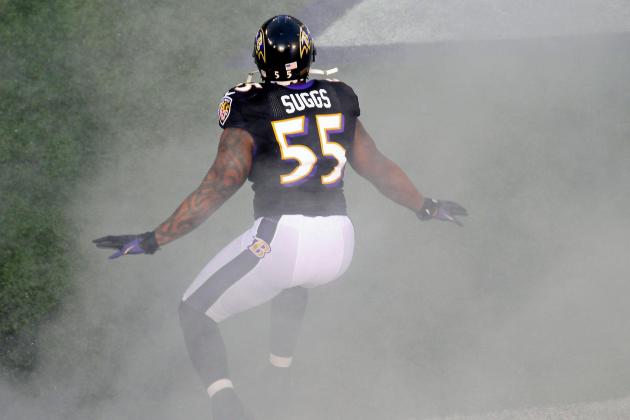 Evan Habeeb-USA TODAY Sports

| | |
| --- | --- |
| Player | Depth Chart |
| Terrell Suggs | No. 1 |
| Courtney Upshaw | No. 2 |
| Elvis Dumervil | No. 3 |
| Pernell McPhee | No. 4 |
| John Simon | No. 5 |
This is a deep and talented position for Baltimore, but it all starts with Terrell Suggs. He was the Defensive Player of the Year in 2011 but was held back by some major injuries last season.
He is one of the best in the game at getting to the quarterback, and he is excellent against the run. He returned this year looking leaner and has regained the explosion that he was missing in 2012.
He should form a devastating pass rush with Elvis Dumervil. The former Bronco is not good against the run, but his role with Baltimore is as a pass-rushing specialist.
He knows how to do that.
He has 37.5 sacks in the past three years, and his best season came as a 3-4 outside linebacker, which just so happens to be his position with the Ravens.
I mentioned Dumervil's one-dimensional play. He is an excellent pass-rusher, but he's average against the run. Good thing he will be working in a timeshare with Courtney Upshaw.
Upshaw finished his rookie season as the best 3-4 outside linebacker in the league against the run, according to ProFootballFocus. Upshaw was consistently phenomenal at setting the edge and had a tremendous rookie year.
He'll get the bulk of the early-down snaps, while Dumervil will be rotated in for the obvious passing situations.
The trio makes for an exceptional rotation, but there is some good depth behind them also. Pernell McPhee is transitioning from defensive end to outside linebacker, where he should fare better as a rush linebacker.
John Simon was the 2012 Big Ten Defensive Player of the Year, and he could develop into a poor man's Jarrett Johnson. This year, however, his contributions will mostly come on special teams.
Position Grade: A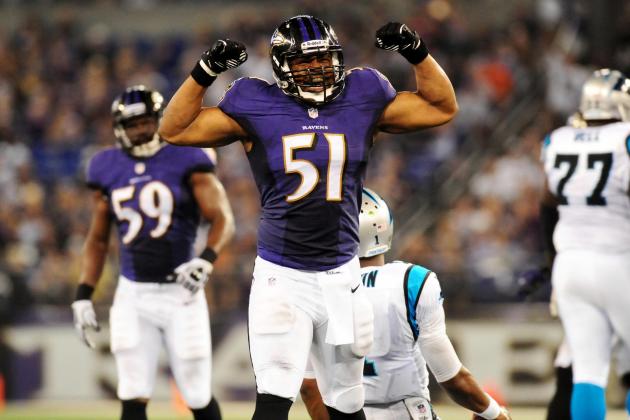 Evan Habeeb-USA TODAY Sports

| | |
| --- | --- |
| Player | Depth Chart |
| Daryl Smith | No. 1 |
| Josh Bynes | No. 2 |
| Arthur Brown | No. 3 |
| Albert McClellan | No. 4 |
Daryl Smith has been under the radar for his entire career. That's what playing in Jacksonville will do for you. He won't be under wraps for much longer if he continues to play the way he has over the preseason.
Smith has been excellent in all phases of the game and has had no problems understanding the schemes or plays so far.
He will be an integral part of the improved defense.
Josh Bynes is currently slated to start alongside Smith. The highlight of his career so far was making the final tackle of the Super Bowl, clinching the victory for Baltimore. This season he's the starter, but for how long remains to be seen.
The Auburn product is a downhill run stopper, so he will probably work in a rotation with Arthur Brown.
Brown is a speedy but undersized inside linebacker who has great range and coverage abilities. The Ravens traded up to draft Brown, and he will probably take over as a starting inside linebacker sometime during the season.
Rounding out the position is the versatile Albert McClellan. He has yet to find his niche, switching between the inside and outside linebacker spots throughout his career. He's a valuable special teams contributor, which has kept him on the roster over the years.
Position Grade: C+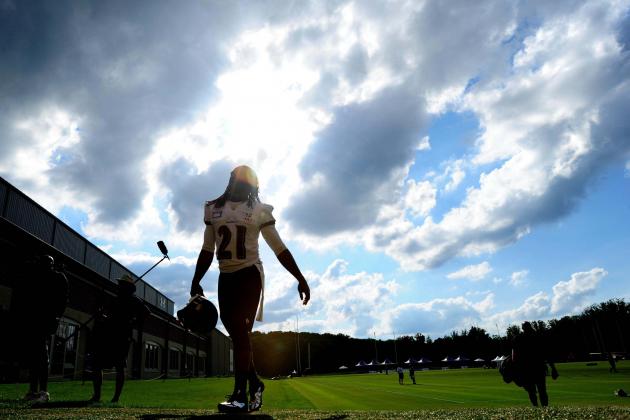 Evan Habeeb-USA TODAY Sports

| | |
| --- | --- |
| Player | Depth Chart |
| Lardarius Webb | No. 1 |
| Corey Graham | No. 2 |
| Jimmy Smith | No. 3 |
| Chykie Brown | No. 4 |
Lardarius Webb was one of the better cornerbacks in the league when he was playing last season. Against his coverage, quarterbacks threw for a passer rating of 42.2, which was fourth-best in the league for cornerbacks (via ProFootballFocus).
If he can stay healthy, Webb should generate some Pro Bowl buzz this season, since he can do everything on the field. He's a phenomenal cover man, great in run support and he's an effective blitzer as well.
Corey Graham was only known as a special-teams guy when he got to Baltimore, but injuries in the secondary opened up playing time for him on defense and he never looked back. He was solid in every phase, and came up with two huge interceptions against Peyton Manning in the AFC Divisional Round.
Graham is competing with Jimmy Smith for the starting corner spot, but three-wide receiver sets are used so frequently that both of them should get plenty of playing time.
Jimmy Smith is a former first-round pick that has struggled to develop into a top-flight corner.
He is a big, physical corner that plays his best when he's jamming receivers on the line of scrimmage and playing with physicality. He has been bothered by nagging injuries throughout his first two seasons.
He came into training camp leaner and with a greater focus on film study.
Chykie Brown isn't a well-known player, but the coaches have raved about his progress this offseason. Defensive coordinator Dean Pees even went so far as to call him the most improved player on the roster over the past two years.
Having depth at corner is vital in today's NFL, and the Ravens have four very capable cornerbacks.
Position Grade: A-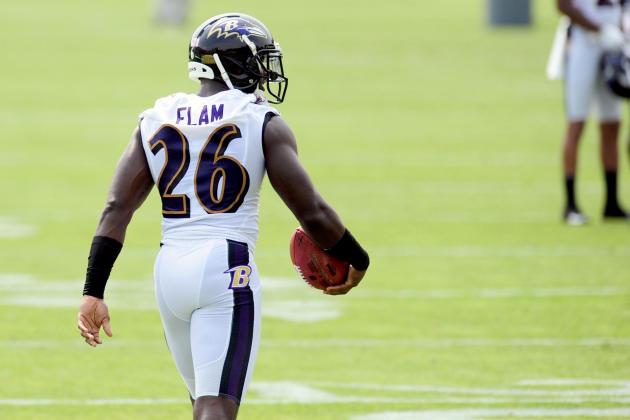 Evan Habeeb-USA TODAY Sports

| | |
| --- | --- |
| Player | Position |
| Michael Huff | FS |
| James Ihedigbo | SS |
| Matt Elam | SS |
| Anthony Levine | SS |
| Brynden Trawick | FS |
Huff and Elam bring versatility to the table.
They can both play either safety spot and have experience playing corner as well.
Huff is a free safety with excellent ball skills. Joining him on the back end will be James Ihedigbo—an experienced player who has performed well enough in the preseason to keep his starting job.
He may not keep that starting spot for long, however. Matt Elam was the Ravens' first draft pick of 2013 and has been very good so far. There is a steep learning curve for safeties since they are the last lines of defense, but Elam (like Arthur Brown) should take the starting strong safety job soon.
Anthony Levine and Brynden Trawick beat out 'Mini Ed Reed,' Omar Brown for the last safety spot. Both safeties will be mostly special teams contributors, but Trawick is a big, long safety with intriguing potential.
Position Grade: B-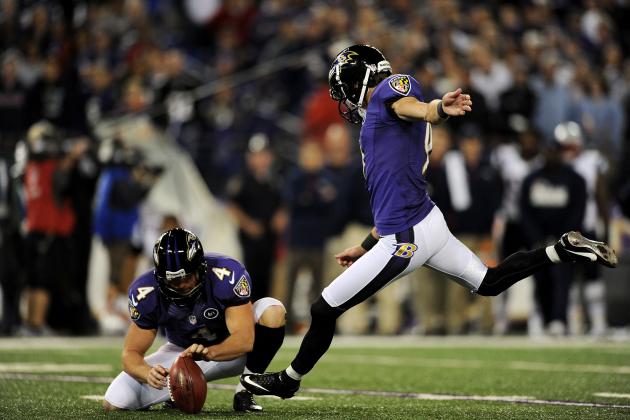 Patrick Smith/Getty Images

| | |
| --- | --- |
| Player | Position |
| Justin Tucker | K |
| Sam Koch | P |
| Morgan Cox | LS |
Justin Tucker had a spectacular rookie year that made Ravens fans (almost) forget about Billy Cundiff. His strong leg was on display throughout the year, making all four of his attempts from beyond 50 yards. He only missed three field goals, and he made three game-winners.
Sam Koch was sixth in the league with 36 punts downed inside the opposition 20-yard line.
The trio calls themselves 'The Wolfpack,' and they are great friends off the field. As a side note, I highly recommend Ryan Mink's article about a day in the life of the Wolfpack.
They are three of the best specialists in the league, and they're valuable contributors to the team.
Position Grade: A+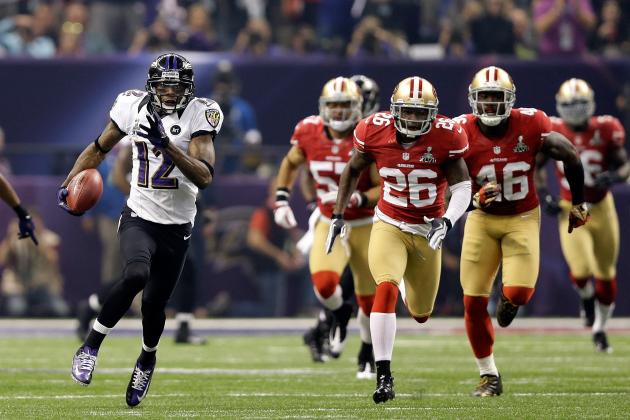 Ezra Shaw/Getty Images

| | |
| --- | --- |
| Player | Depth Chart |
| Jacoby Jones | No. 1 |
| Deonte Thompson | No. 2 |
Jacoby Jones should once again be the primary kick and punt returner for Baltimore.
He will be without his lead blocker from last year, Anthony Allen (who was released), but he is lightning in a bottle and should be able to make more exciting plays this season.
Deonte Thompson started last year as the kick returner, and his blazing speed makes him a solid backup return option.
Position Grade: A+