Rice vs. Texas A&M: 10 Things We Learned from Aggies' Win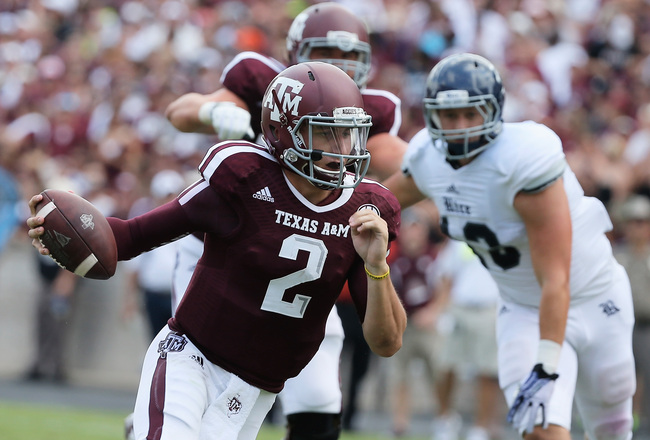 Scott Halleran/Getty Images
From the moment it was announced that Johnny Manziel would be suspended for the first half of Texas A&M's Week 1 game against Rice, the focus immediately shifted to the impending, yet delayed, return of the defending Heisman Trophy winner.
But despite starting the season with a Top 10 ranking in hand, the Aggies began the day struggling against Rice. OK, so maybe we all expected a Manziel-less Aggies to come out a little sluggish—only it wasn't the offense that ended up being the point of concern.
Texas A&M's defense was slashed by the Owls ground game, and even though the Aggies emerged with a victory, A&M still surrendered 31 points and over 500 yards of offense to Rice.
So what does all this tell us about Texas A&M's 2013 fortunes? Are the Aggies destined to remain a Top 10 team? What about an SEC or even BCS title run? Here are 10 things we've already learned about the Aggies after their Week 1 win over Rice.
Who Says Punters Aren't Important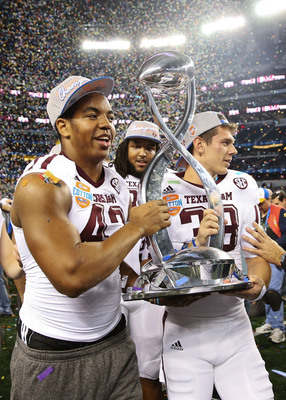 USA TODAY Sports
It's the player on every college football team that fans never want to have to see ever play. Still, punters can be an intregal part of any team's strategy to control field position.
When it comes to pinning opposing offenses deep, there might be none better than Texas A&M's Drew Kaser.
Against Rice, the sophomore punter was utilized three times, averaging an eye-popping 62.7 yards per punt. All three of his kicks resulted in Rice starting from behind their own 20-yard line, yet none—including his 76-yard bomb—resulted in a touchback.
Punters are usually never seen as important to a game unless they screw up. Kaser could be the exception to that rule.
Ben Malena Can Run the Ball, Too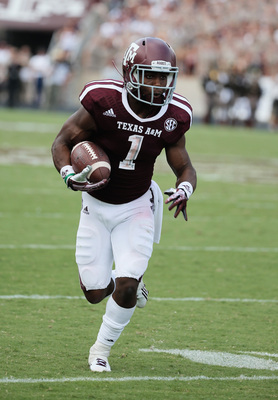 Scott Halleran/Getty Images
With everything Manziel accomplished last season, and is expected to accomplish again this season (especially on the ground), it's easy, and a bit unsurprising, players like Ben Malena get lost in the shuffle. But before anyone thinks Manziel is the end-all and be-all of the Aggies ground game, take another look at senior Ben Malena.
Malena, who had 808 yards and eight touchdowns rushing in 2012 is back for his senior campaign with the Aggies, and it's already off to a great start. Malena led A&M on the ground with 82 yards on 12 carries and added a touchdown on the ground as well.
Along with sophomore Tra Carson (14 carries, 76 yards, 2 TD), Malena anchors an increasingly important A&M backfield that has a proven ability to punish defenses that spend too much time focused on Manziel.
The Future Is Here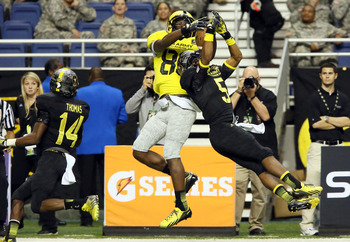 USA TODAY Sports
Ricky Seals-Jones could very well be the harbinger of impending recruiting success at Texas A&M. While the past at A&M has its own special glory to it, the fact remains that the Aggies don't have the storied history of some national programs like Alabama, Michigan, USC, or Texas.
In order to change that perception, A&M is going to need to find sustained, year-in and year-out success.
You don't come across that success by accident. A lot of hard work and years of preparation are required before perennial recognition comes your way. Kevin Sumlin is clearly off to a great start at Texas A&M, and Seals-Jones is likely only the beginning.
With 84 receiving yards in his first game as an Aggie, he could be the first in a new wave of highly touted recruits to spur the program on to its first conference title since 1998, and maybe even its first national title since before World War II.
Mike Evans Is Still No. 1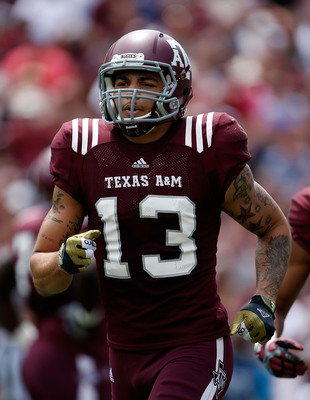 Scott Halleran/Getty Images
Last season, Mike Evans led A&M with 1,105 receiving yards. While it's only Week 1, an 84-yard performance against Rice (on six receptions) is a good start to 2013.
Ricky Seals-Jones also had 84 yards.
But what really stands out for Evans was his two catches for touchdowns. Last season, Evans only had five TDs. He's nearly halfway there already, and turning him into a big-time scoring threat (instead of just a yardage machine) can only mean good things for A&M; as teams divert defenders to guard against Manziel, Evens will be sprinting down the field ready to haul in touchdown pass after touchdown pass.
A&M Athletic Department Rules Are More Important Than NCAA Rules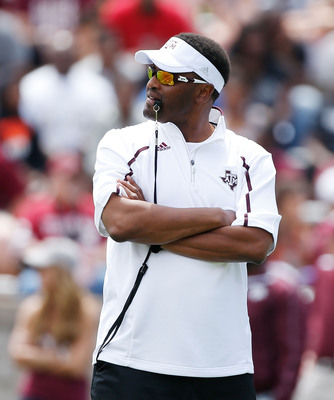 Scott Halleran/Getty Images
Texas A&M, shortly before the game began, announced the suspensions of several players, according to Jeff Miller of USA Today, most of whom will sit for two games.
We'll get into the individual players later, but here we'll talk about the reason for their suspensions: "violation of athletic department rules."
While we don't have any specifics, we're struck by one thing: Violating one of the NCAA's major amateur athlete rules of conduct—accepting payments or impermissible benefits—gets you less of a punishment than some unnamed internal Texas A&M rule.
While it's easy to talk about Manziel's suspension being a joke in and of itself, it's even more ridiculous when juxtaposed to these new A&M player punishments.
There Is Depth at Quarterback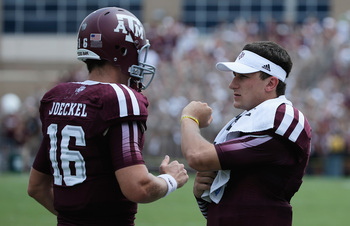 Scott Halleran/Getty Images
The Joeckel family has become quite the dynasty at Texas A&M.
Matt Joeckel, little brother of Luke, stepped in as the starter in place of Johnny Manziel Saturday and performed very well under intense pressure. Joeckel was 14-of-19 for 190 yards and one touchdown in a little more than one half of action.
What this tells us is that A&M's success this season isn't 100 percent dependent on Manziel taking 100 percent of the snaps. God forbid if Manziel suffers an injury or runs into some other kind of suspension; the quarterback's duties at least won't be carried out by some hack.
Joeckel is good enough to be a starter at most other programs, and A&M fans can rest easy knowing there's a better-than-solid backup waiting to take over should the worst happen.
Manziel Isn't the Only Aggie Who Runs Afoul of the Rulebook
Deshazor Everett, De'Vante Harris, Kirby Ennis, Steven Jenkins, Edward Pope and Gavin Stanbury were all suspended by Texas A&M for the aforementioned "violation of athletic department rules."
All of those players, besides Everett, were suspended for two games. Everett was suspended for one half.
That certainly hurt the Aggies on defense, but of even greater concern might be the fact that Everett, who served a one-half suspension, was ejected in the second half for targeting—a penalty which also incurs a futher suspension of one half because it occured after halftime.
Add on top the silly fighting (and subsequent automatic ejection) penalty Daeshon Hall received, and there was plenty of rule-breaking bad news not involving Manziel to spread around the Aggies' roster.
Texas A&M Lacks an SEC Defense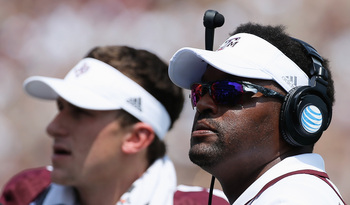 Scott Halleran/Getty Images
One of the SEC's claim to fame is the amazing defense that conference boasts.
Not only that, the SEC can rightfully say that its teams have had the greatest depth of talent on the defensive side of the football anywhere in the nation. Some of the greatest college football athletes in the country are sitting at the 2, or even 3 spot on SEC defensive depth charts.
That clearly doesn't include the Texas A&M defensive depth chart—at least not yet.
With the announcement shortly before kickoff that five defensive starters had been suspended for violation athletic department rules, A&M was forced to go with several inexperienced backups on defense. No problem, right? After all, this is the SEC, isn't it?
As it turns out, it was a bit of a problem for the Aggies.
Rice, a team out of Conference USA that was 7-6 a year ago, put up a staggering 509 yards of total offense (not to mention 31 points) on the Aggies. It's a good thing the A&M offense showed up Saturday to bail out the "D."
But if the old adage about defense winning championships is true, the Aggies clearly have a long way to go before an SEC title will come to College Station.
Johnny Manziel Is Still Johnny Manziel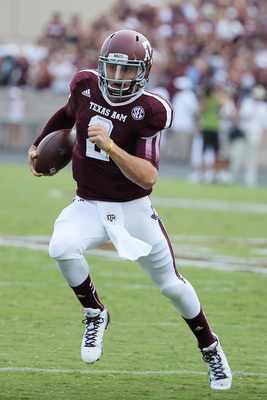 Scott Halleran/Getty Images
Let's talk about Johnny Manziel's statistical performance before we get to the real juicy stuff.
Manziel was, by all accounts, pretty good Saturday. Where there was a little rust, and perhaps a little tightness due to nerves or adrenaline or just the anticipation that comes after being forced to watch your own team play for a half without you, Manziel performed pretty well.
Manziel was 6-of-8 passing for 96 yards. Not exactly eye-popping, but his three touchdown throws more than made up for his lack of prolific yardage in slightly less than two quarters of work.
Manziel also carried the ball just six times, gaining only 19 yards (12 of which came on one play). Again, nothing to write home about.
The good news is that Manziel didn't have to be that great with the ball to score points Saturday, but still showed a few glimpses of what made him so dangerous last season.
The bad news is that we still don't know what he could really do under pressure this season. And we likely won't have that answer until Week 3 (A&M hosts FCS Sam Houston State in Week 2).
Johnny Football Is Still Johnny Football
We knew we wouldn't see Johnny Manziel in the first half. What we didn't know is that he would be benched again, this time late in the game by head coach Kevin Sumlin.
After a turbulent (to say the least) offseason, we were all hoping that the turmoil of the months past would be left behind with the start of the 2013 college football season. In reality, it seems that all of the media attention on Manziel's much-publicized problems has placed a Texas-sized chip on the young sophomore's shoulder.
Manziel came into the game after halftime and, undoubtedly, heard some unkind comments from a few Rice defenders. Rather than shake off the words, light up the scoreboard and allow his performance do his talking, Manziel—like so many young stars who struggle to handle fame—opened his mouth when silence would have served him better.
After tossing his third touchdown pass of the game, Manziel began gesturing and speaking to several Rice defenders. Two officials stepped between Manziel and the Owls, but that didn't stop Johnny Football. As he continued to jaw at the onlooking Rice players, the officials flagged Manziel for unsportsmanlike conduct.
As Manziel reached the sidelines, Sumlin confronted him, said a few words, and Manziel's day was done.
Of course, by this time, A&M had a comfortable lead, and Manziel's day may have been done anyhow. But another incident that seems to be the latest example of Manziel's inability to handle the spotlight on a personal level has us doubting his long-term viability as a football superstar.
Follow @davidrluther on Twitter!
Keep Reading

Texas A&M Football: Like this team?