7 Most Disappointing Players in the Bundesliga so Far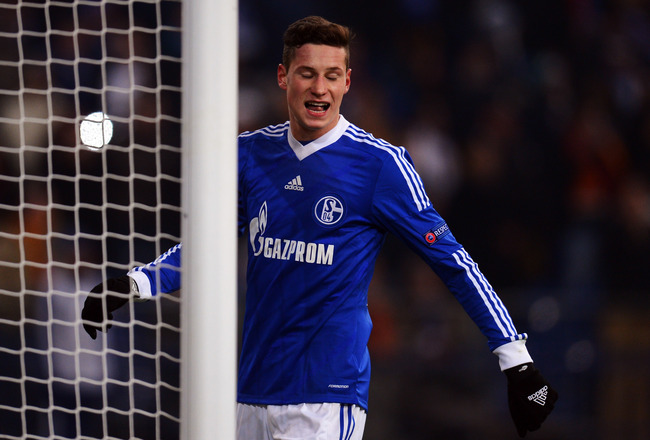 Lars Baron/Getty Images
Every season, there are players who exceed expectations and those who don't quite live up to their billing.
The 2013-14 Bundesliga season has thus far proven to be no exception. Some, like Sidney Sam and Raffael, have surprised by making enormous progress. Others, like Max Kruse and Kevin Volland, have taken the next step in their careers.
However, for many, the 2013-14 season just hasn't been very fruitful—at least not yet. Click "Begin Slideshow" to take a look at seven players who have thus far failed to produce what was expected of them in the Bundesliga this year.
Julian Draxler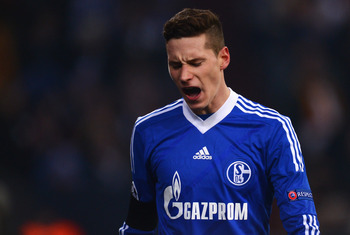 Lars Baron/Getty Images
There is no denying that Julian Draxler has been downright heroic in the Champions League this season. He put Schalke on his back in the second leg of the playoff against PAOK, and was arguably the man of the match in not only that fixture but in Schalke's first two group games as well.
With that being said, it seems the 20-year-old has saved his best performances only for the grandest occasions. In the weekly grind of the Bundesliga, he has performed rather ordinarily. Draxler is scoreless with just one assist in domestic play, and Schalke find themselves eighth in the Bundesliga table.
Mario Goetze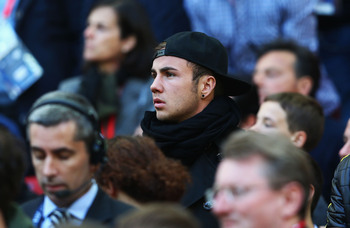 Alex Grimm/Getty Images
When his €37 million transfer from Dortmund to Bayern was revealed in April, Mario Goetze rocked the Bundesliga. The young playmaker was nearing the end of a phenomenal season both individually and with BVB. However, he tore a hamstring shortly thereafter and has rarely played since.
When he joined Bayern in the summer, Goetze was still recovering from his injury. He started Bundesliga matches against Nuernberg and Freiburg, but looked rather out of place in a central midfield role. Days later, he was injured again. Goetze has been fit to play since before the international break, but has only made a few cameo appearances off the Bayern bench. He is capable of so much more.
Mats Hummels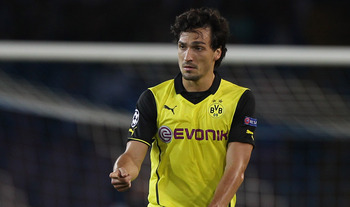 Paolo Bruno/Getty Images
In 2010-11 and 2011-12, Mats Hummels was one of the very best center-backs in world football. Last season, he struggled at times, and was generally not up to the lofty standard he'd set for himself.
This season has not exactly begun brilliantly for the 24-year-old, either, who has lost his spot in the Germany lineup to Jerome Boateng.
Hummels rebounded from a woeful performance against Frankfurt in which he was substituted at half-time, and played two consecutive games at a high level. However, in his most recent match against Gladbach, he was sent off for the first time in his professional career.
Following the international break and a one-match ban, he will have had plenty of time to gather himself, but he will be under serious pressure upon his return to action.
Klaas-Jan Huntelaar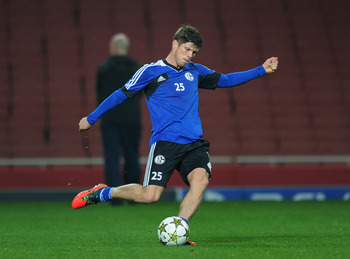 Shaun Botterill/Getty Images
A year ago, rumors over Klaas-Jan Huntelaar's future circled around Europe. Arsenal and Liverpool were linked with the Dutchman, who eventually penned an extension with Schalke that included wages on the order of €8 million per year.
Since extending his stay on December 23, 2012, Huntelaar has barely played. Injuries limited him to just 10 games in the second half of last season, and a knock to his knee has sidelined him since mid-August.
As such, he's played just one Bundesliga game this season, in which he scored twice. It's no fault of Huntelaar's that he has been unable to play, but his absence has certainly been a disappointment.
Moritz Leitner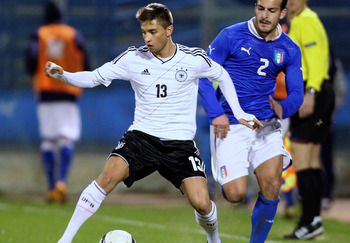 Maurizio Lagana/Getty Images
Moritz Leitner's summer loan move from Dortmund to Stuttgart at first seemed like the right thing for both clubs and the player, who had struggled to earn playing time last season. However, the player's stagnation has persisted and now he is finding minutes hard to come by even in Swabia.
Leitner thus far has played just 316 minutes over five matches, with Alexandru Maxim having taken his preferred central attacking midfield role.
Loans are meant to give players the chance to develop, playing regularly at a modest level. Thus far, it seems Leitner and BVB were mistaken as to the midfielder's readiness to play at Stuttgart.
Joel Matip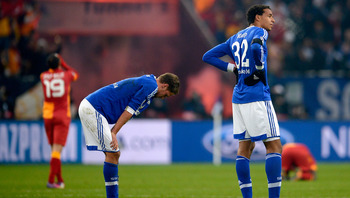 Dennis Grombkowski/Getty Images
With such a young team, expectations at Schalke have risen each year as players have become more experienced and had time to develop their talents. At 22, Joel Matip was expected to play at least on the level at which he played last season. Instead, the Cameroon international has left much to be desired.
Matip is the weakest link in a Schalke defense that has conceded 17 goals this season; only four teams have a worse record.
He was dropped from the Schalke squad for their most recent match against Augsburg. With Matip in the starting XI, Schalke have conceded a whopping 2.29 goals per game. He must improve if he is to win back a starting role.
Son Heung-Min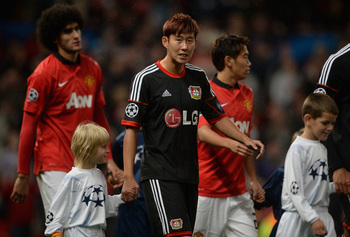 Michael Regan/Getty Images
Much was expected of Heung-Min Son when he joined Leverkusen in a €10 million deal over the summer, replacing Chelsea-bound star Andre Schuerrle. However, the South Korea international has largely been a flop for the Werkself since his arrival, with his only goal of the season coming in the first matchday.
Son was on target 12 times for Hamburg last season, and given that he only turned 21 over the summer, more could be expected from him in 2013-14. However, just seven matchdays into the season, he has been ranked by Kicker as Leverkusen's worst player based on aggregate player ratings.
He must do better if Leverkusen are to stay competitive in the Bundesliga title race.
Keep Reading