The ESPN College GameDay crew was in Clemson for the matchup between the Clemson Tigers and the Georgia Bulldogs Saturday night.
Here are the best signs from the show, including some that didn't make it on air.
Miley Cyrus twerking on Aaron Murray.
Dying. Best gameday sign I've ever seen. @MileyCyrus #gamedaysigns pic.twitter.com/VfGZHxCIwH

— Stephanie Tubbs (@stephanie_tubbs) August 31, 2013
Clemson can't even protect a rock.
Best one of the day! #GameDaySigns #Clemsux pic.twitter.com/qvux3p2xRZ

— Amber Buehler (@AmberBuehler) August 31, 2013
Murray drives a Prius.
Murray drives a Prius and Murray <3's Justing Bieber best #GameDaySigns pic.twitter.com/QeWDb7RCVD

— Josh Myers (@JMyers231) August 31, 2013
I bought this sign from Manziel.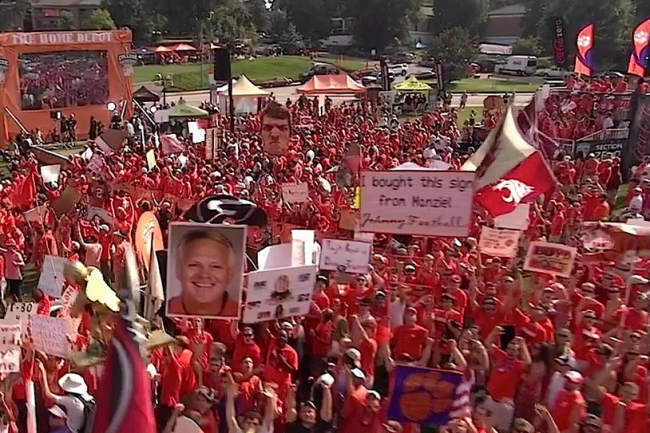 Leave Miley alone.
Miley Cyrus #GamedaySigns hahahaha pic.twitter.com/5hyh371fF4

— Jacob Barfield (@jcbarfield14) August 31, 2013
Georgia suspended my other sign.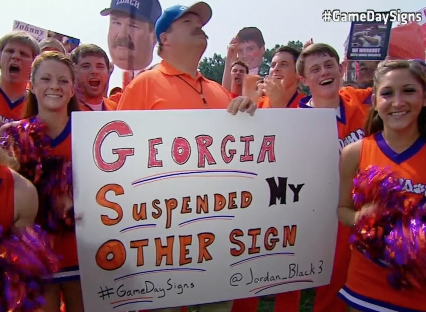 Bad Luck Brian wearing a Georgia jersey.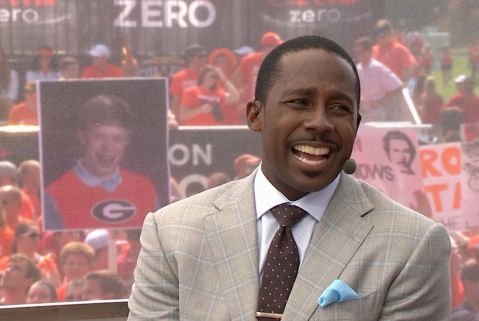 Hey Johnny Football, send money $ for tickets.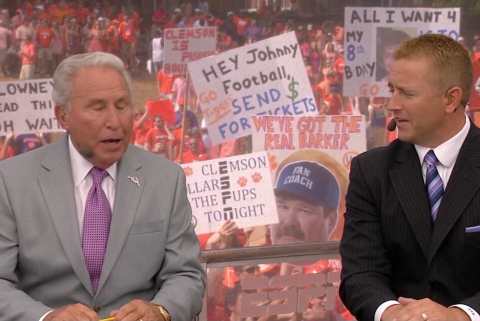 Even Sarah Mclachlan can't save the dawgs.
ESPN wouldn't let this one on air.
Sadly, this GameDay sign didn't make it past the censors: pic.twitter.com/dIL5IR1yuL

— Paul Myerberg (@PaulMyerberg) August 31, 2013