Temple vs. Notre Dame: Live Score, Analysis and Results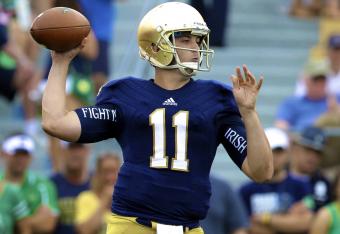 Notre Dame 28, Temple 6—FINAL

The Fighting Irish of Notre Dame have claimed their first victory of the 2013 season.
Having defeated Temple, 28-6, the Irish will travel to Ann Arbor, Mich., next week to take on the Michigan Wolverines.
The Fighting Irish of Notre Dame wrapped up their first victory of the 2013 season Saturday afternoon, dispatching Temple, 28-6, behind the strong play of starting quarterback Tommy Rees.
The senior signal-caller completed 16 of 23 passing attempts for a career-high 346 yards and three touchdowns without turning the ball over.
The Lake Forest, Ill., native got off to a hot start, connecting with receiver DaVaris Daniels for a touchdown on two consecutive drives in the first four minutes of the game.
Rees was aided by a rushing attack that accumulated 188 yards on 35 carries, good for an average of 5.4 yards per carry.
While the offense as a whole sputtered at times, it did just enough to win by a comfortable margin.
And while the defense struggled defending a surprisingly efficient Temple offense in the first half, it corralled the Owls in the second half, allowing just 131 yards in the final 30 minutes of action.
Make sure to check back here shortly for a postgame reaction.
Notre Dame 28, Temple 6—FINAL
That's a final, folks.
Temple muffs the punt, which is recovered by the Irish. Another touchdown, perhaps?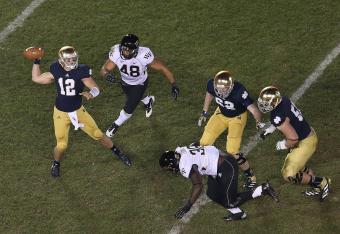 Andrew Hendrix has been inserted to relieve Tommy Rees. He hands off to true freshman and heralded running back recruit Greg Bryant, who picks up a first down.
Alright, it's officially garbage time in this one.
Notre Dame has inserted its second-team defense.
Notre Dame looks awful complacent to just run the clock out on this one. I strongly dislike that. The Irish should be flexing their muscles.
Great news for Notre Dame fans. But the NFL calls won't stop coming.
Nd announcing after today's game they have extended Brian Kelly's contract.

— Notre Dame on NBC (@NDonNBC) August 31, 2013
NBC announces that Notre Dame head coach Brian Kelly will announce a finalized contract extension following the game. Big news.
I second this:
After not knowing exactly what to scheme for Diaco and the D staff have made some nice 2nd half adjustments. Much better half for the D.

— One Foot Down (@OneFootDown) August 31, 2013
And let the fourth-quarter sluggishness set in. This has been typical for Brian Kelly-coached teams.
I need to see a killer instinct before I'll believe this team is anywhere near BCS worthy.
Yes, I'll see if Reggie Ho is available.
#NotreDame is 0-2 on field goals today. One miss by Tausch and one miss by Brindza. Does Reggie Ho have any eligibility left?

— Irish Sports Daily (@ISDUpdate) August 31, 2013
Notre Dame's special teams have been...just plain awful. Atrocious. Disgusting.
It's a glaring issue that must be resolved, or contests against quality opponents won't end well.
Another career high for Tommy Rees:
Tommy Rees at 340 yards passing, a career high mark.

— Irish Illustrated (@NDatRivals) August 31, 2013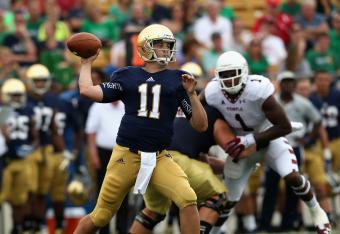 Well, folks, I think it's time to say that Tommy Rees has earned my approval this afternoon.
However, the question is simple: Can he have a similar performance next week at Michigan?
OK, Mike Mayock. Enough of the golf chatter.
Tommy Rees has been a big numbers guy this afternoon. Today marks the third 300-yard passing game of his career.
Rees goes over 300 yards passing for the 3rd time in his career. This should end better than the others: at Michigan '11 and Tulsa in '10

— Irish Illustrated (@NDatRivals) August 31, 2013
If DaVaris Daniels misses time beyond this game, someone has to step up.
My candidate?
Chris Brown. The former high school track star out of Hanahan, S.C., is a speedster with the ability to burn defenses over the top.
He currently has three receptions for 57 yards, including a 33-yarder on the Irish's previous drive.
However, losing Daniels, an experienced veteran, certainly hurts an Irish offense already struggling to move the ball against a middling Temple defense.
Doesn't appear as if we'll be seeing DaVaris Daniels for the remainder of the game.
#NotreDame WR DaVaris Daniels standing near 50 without helmet as Irish driving vs. Temple. Doesn't look like he will return.

— Tony Krausz (@JGKrausz) August 31, 2013
Notre Dame 28, Temple 6
George Atkinson III plows in from three yards out to take a 22-point lead.
Notre Dame fans can finally exhale.
Chris Brown proving himself as a legitimate receiver there with that grab.
And an extremely accurate pass by Rees.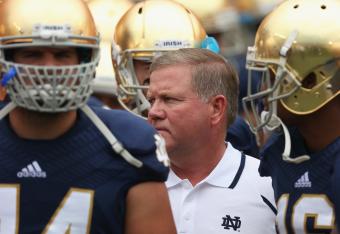 Temple takes a shot on fourth down but comes up empty. The Notre Dame defense is incredibly lucky to have been handed that gift.
This game could easily be 21-13 right now.
I'm not sure what exactly is going on with the Notre Dame defense.
Brian Kelly mentioned the word "rust" at halftime, though it appears to be possibly more than that.
This article is
What is the duplicate article?
Why is this article offensive?
Where is this article plagiarized from?
Why is this article poorly edited?