Pre-Training Camp Player Power Rankings for Sacramento Kings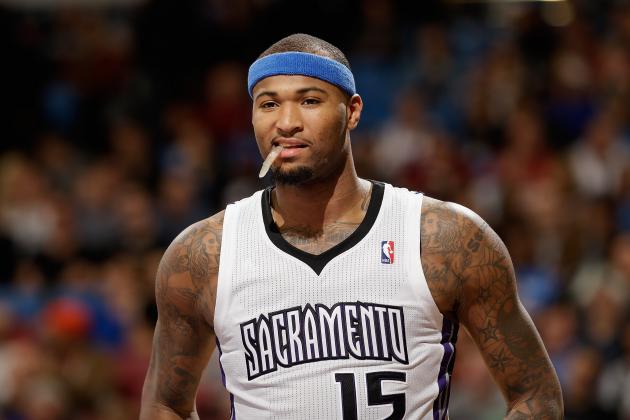 Ezra Shaw/Getty Images
DeMarcus Cousins could be one of the best players in the NBA, not to mention the Kings.
The goal of any team is maximizing the pieces it has. The best way to do that is through self-evaluation and ranking the players in terms of importance. The most critical members will be emphasized while the bench warmers need to fill roles when called upon.
That's what the Sacramento Kings are doing—ranking each guy to structure the squad around.
While the process seems fairly straightforward, that's not necessarily the case. Just because one player's a reserve and one player's a starter, it doesn't automatically mean the guy coming off the bench is less important than the one starting the game. Depending on team needs and each person's skill set, what can be provided varies up and down the roster.
For a team like the Kings, there's also the big picture to consider.
Granted, Sacramento isn't coming into the season with the expectation of missing out on the postseason. Yet that's likely to be the case, so the franchise needs to go through the season with an eye towards 2014-15 and beyond. Therefore, emphasizing players with upside over those unlikely to be involved in the long-term picture should also become part of the equation.
At the end, what you have is a formulated list of organizational inventory, providing a blueprint of which players the team should be built around. Then it's just about executing a game plan around those individuals to maximize potential.
(To be clear, this isn't a ranking of players based on their projected playing time or statistical output. It's about who should be emphasized most. In other words, it's which players should wield the most "power.")
Unless noted otherwise, all stats come from Basketball-Reference, and all contract info is provided via Hoopsworld.
Begin Slideshow

»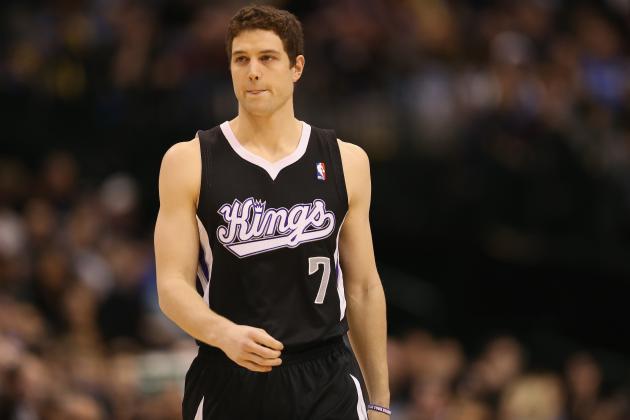 Ronald Martinez/Getty Images

14. Travis Outlaw
Travis Outlaw is one of the rare guys in that not only should he not be emphasized, but he also figures to have some of the lowest playing time and production on the team. Outlaw was actually better in 2012-13 than he'd been in the previous three seasons. Yet that still wasn't very good.
His shooting stroke has left him (37.7 field-goal percent and 29.3 three-point percent since 2010-11). Outlaw also doesn't provide much on defense (112 defensive rating from 2010-11 through 2012-13).
And at 28 years old, the small forward doesn't figure much into future plans. Therefore, the Kings shouldn't expect much out of him, nor should they plan anything around him.
13. Chuck Hayes
At this point, what the Kings get out of Chuck Hayes is more likely not to show up in the box scores: leadership. Despite his shortcomings on the court, the center is the consummate professional. However, at this point, the 30-year-old shouldn't be seen as much more than a stopgap backup until his contract expires following 2014-15.
As the only true backup center to DeMarcus Cousins, Hayes figures to get more playing time than some players ahead of him on the list. He can also still provide interior defense and solid passing ability.
Yet the roughly $12 million he's owed over the next two years far outweighs any value he brings to the organization—on the court or off it. And it's not like there's any real upside that comes along with him.
12. Jimmer Fredette
Jimmer Fredette is probably a better player than given credit for. He's obviously an excellent marksman (.384 career three-point percentage; .417 three-point percentage in 2012-13), and he made strides in his all-around game from Year 1 to Year 2.
On another team, the point guard would be more of a point of emphasis as a spark plug capable of coming in and lighting it up from long range. And he could still provide that for the Kings in 2013-14.
The problem is that Fredette doesn't really figure into long-term plans. At 6'2", 195 pounds he doesn't have the size for the 2, yet he doesn't have the skill set to be an effective 1.
The guard also doesn't provide much, if anything, on defense. Entering the last guaranteed year of his rookie contract, the 24-year-old should have a long future in the NBA as a capable shooter.
But that outlook is unlikely to come to fruition with Sacramento. For that reason, the Kings shouldn't go out of their way to highlight Fredette.
11. John Salmons
Like Chuck Hayes, John Salmons should get more run and put up more production than the 11th-ranked player on the Kings. After all, the 33-year-old is likely to be the backup small forward, and he could even garner some time as a starter, depending on how Luc Mbah a Moute performs.
But barring something extremely unlikely—like hell freezing over and pigs flying at the exact same time—this is Salmons' last year in Sacramento. His $7.58 million contract grossly overvalues him, and his $7 million option in 2014-15 isn't guaranteed. The Kings will cut ties, meaning this season is the only one worth considering.
While Salmons can provide something as a veteran and a backup, his best days are clearly behind him. And since the Kings are hoping their best days are ahead of them, executing anything around the small forward is simply illogical.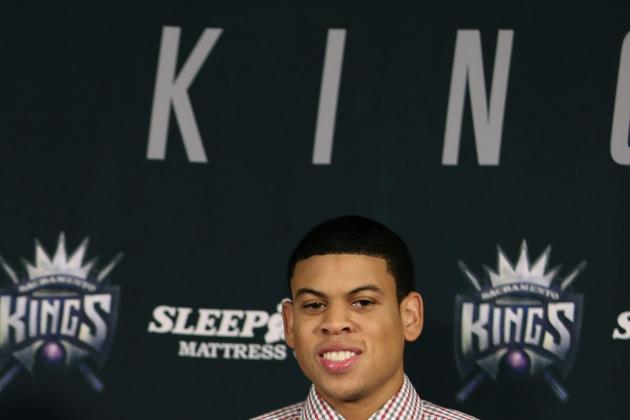 Kelley L Cox-USA TODAY Sports

Second-round draft pick Ray McCallum is going to see playing time. While the 22-year-old figures to be third on the point guard depth chart—behind Greivis Vasquez and Isaiah Thomas—his ability to facilitate the offense will be a valued addition.
With the composition of the Kings roster in the backcourt, finding players to pair with McCallum shouldn't be too difficult, and in many of these scenarios, the rookie will be the best floor general on the court. With Marcus Thornton and Ben McLemore, McCallum would be the unquestioned point man.
But even with IT and Jimmer, the Kings could have the two veterans play off the ball when on the court with the youngster.
Beyond the fact that McCallum has upside, and should therefore garner playing time, is his contract status. Unlike many second-round picks, the point guard received a guaranteed two-year contract from the Kings. He'll make the team in 2013-14, and he's in the plans for the future.
McCallum is the type of player you build around. So even if his production and playing time don't immediately match a few guys behind him on the list, his importance to the organization is greater.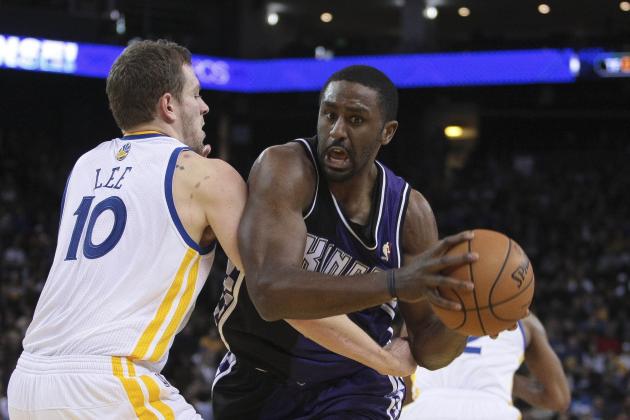 USA TODAY Sports

No. 9 on the list is where it starts getting harder and harder to properly rank the players. All nine figure to get plenty of playing time, and for many of them, ranking that in comparison to the others is a difficult proposition. Furthermore, they could all conceivably have a role on the team beyond this season.
In the case of Patterson, ranking him was even more difficult, largely because of the position he plays. The Kings have three viable options at power forward in Patterson, Carl Landry and Jason Thompson.
Not a lot separates the projected production between them. And solid arguments could be made for anyone of the three to be the starter.
For now, I've got Patterson behind Landry and Thompson mainly for contract purposes. P-Pat's got a guaranteed $3.1 million salary for 2013-14. After the year he's an unrestricted free agent due a $4.3 million qualifying offer. Meanwhile, Thompson's got three more guaranteed years and Landry's got four.
Since Patterson will only be a restricted free agent, the Kings could roll with him if they think he's the best option, knowing they'd be able to retain him in the offseason. But then, do they want to go with three power forwards for the foreseeable future?
So Patterson's 2013-14 value could be higher than the other two. But given the uncertainty beyond this year, he's got to be ranked behind them for now.
If Patterson can show the ability to play small forward, which he might be able to do in spurts given his developing three-point range, then seeing a long-term role on the team, and a larger one this year, becomes more likely.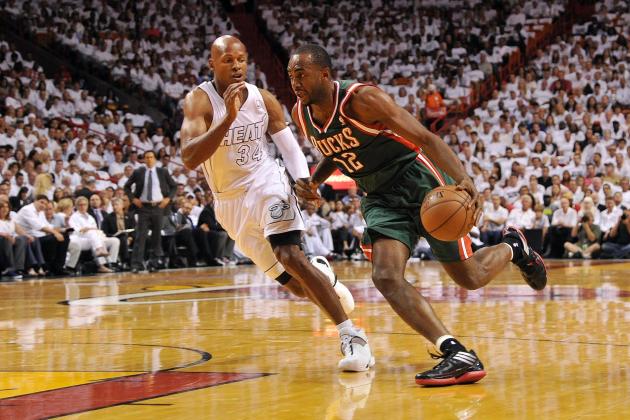 Steve Mitchell-USA TODAY Sports

Luc Mbah a Moute figures to be the starting small forward this season. Therefore, it may not make sense to see the 26-year-old come in ranked eighth when he's part of the starting five. This indicates the overall weakness of the small forward position and the depth the Kings have in their backcourt.
Mbah a Moute should be a valued addition, especially for his defensive acumen. His abilities on that side of the ball are a definitive upgrade over John Salmons, and considering how porous the defense has been of late, adding good defenders at any position is a plus.
But the small forward doesn't provide much on offense. Granted, he wasn't brought in for his offensive skills, but it's still worth noting. He also figures to share playing time with John Salmons, so even though he's likely to start, his workload won't be as large as some of the other starters.
Compared to some other players ahead of him on the list, Mbah a Moute should have less playing time and less overall production. And given the one-dimensional nature of his game (even if that one dimension is good), he's not someone the Kings can pencil in as the starter for years to come.
To be sure, he's an important piece, but not one that's worth planning around in a basketball or personnel sense.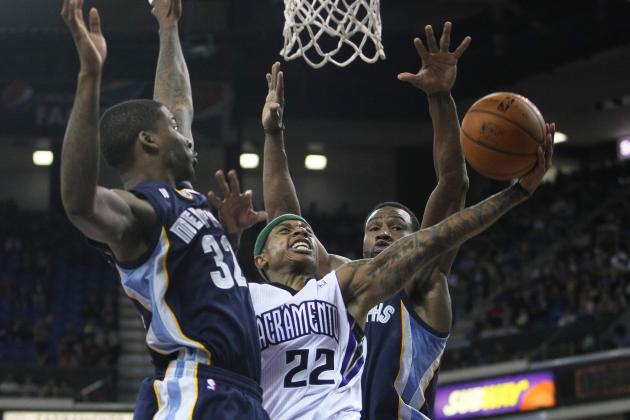 Kelley L Cox-USA TODAY Sports

Isaiah Thomas could conceivably be ranked higher. Greivis Vasquez will almost surely be the starter, but Thomas should see more than his share of playing time and production.
When the season's over, it's very possible that Thomas ends up being the best bench player on the Kings. However, he's rated behind two other reserves because knowing whether he's a starter or reserve is more defined.
And even though he can play both 1- and 2-guard, knowing how Sacramento will divide up those minutes is difficult to predict. Ben McLemore and Marcus Thornton should have more playing time at the 2. Vasquez should get more run at point guard, plus McCallum will get his minutes. So Thomas should get 20 to 25 minutes a game, maybe slightly more, but we don't know exactly how they'll be divided up.
Besides, Thomas is a restricted free agent after the year. The Kings could retain him if they want to.
But DeMarcus Cousins and Greivis Vasquez might also be RFAs following the year (depending on whether the team signs them to an extension before the season). In that case, his future in Sacramento becomes murky, also contributing to his ranking on the list.
Thomas will surely bring value to the team, and he's already proven himself as a good NBA player. But there are simply too many question marks at this point in time.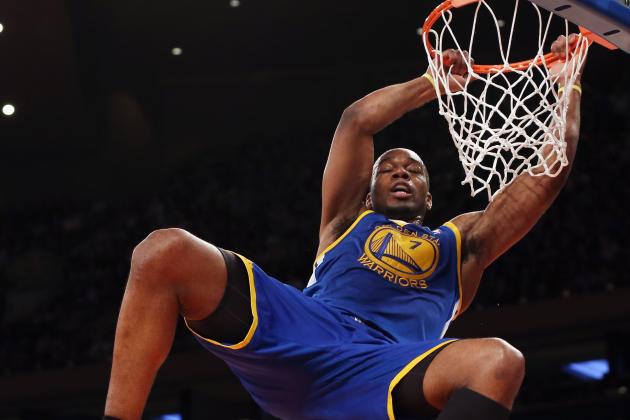 Bruce Bennett/Getty Images

The presence of Carl Landry at No. 6 indicates that I'm predicting Jason Thompson to be the starting power forward. That is the case; however, one could flip a coin and have as good of a chance of coming up with the starter at 4.
Landry's spent the majority of his career coming off the bench. He's also spent that time as one of the most consistent reserves in the league. Both of those trends should continue.
The power forward averaged 10.8 points and 6.0 rebounds in 23.2 minutes for Golden State last season. Considering his career line of 11.1 points and 5.1 rebounds in 22.6 minutes as a reserve, we can probably predict similar production this season.
Whether he's a starter or reserve, Landry doesn't figure to get much more than 20 to 25 minutes per game. The three-headed monster at power forward ensures as much. We know he'll be his same productive self during that time. We also know the presence of Jason Thompson for the foreseeable future indicates a similar timeshare.
So Landry is valuable because he'll be productive and he's in the Kings' plans for several years. But he's not ranked higher because those plans don't figure to include anything grander than what's expected in the coming season.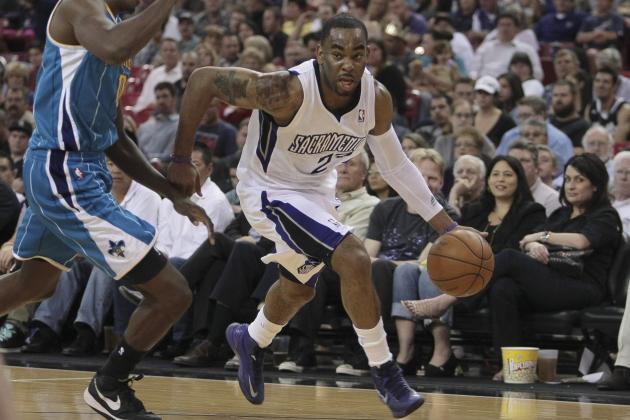 Kelley L Cox-USA TODAY Sports

Along with power forward, shooting guard is a position without an unquestioned starter. And whoever doesn't end up starting between the two options will end up playing a vital role off the bench. For that reason, you'll see two 2-guards in the top five of the power rankings.
As it currently stands, I project rookie Ben McLemore to be the starter, meaning Marcus Thornton's the primary reserve. At this point, which way the Kings actually go at the position is purely a guess. ESPN's got McLemore listed as the starter on its projected depth chart, while Hoopsworld has Thornton earmarked for the starting lineup.
Regardless of what the team ultimately decides, the power rankings don't change. Thornton may get the nod in 2012-13, and it's highly possible he ends up having a better season than McLemore. However, the development of the rookie figures to be of the utmost importance in the Kings turning things around.
With Thornton, we've seen that he's a very productive play as a starter or coming off the bench. The 26-year-old averaged 18.7 points in a starting role in 2011-12. As the team's sixth man last season, he averaged 12.7 points. However, his per-36 averages are eerily similar (19.3 in 2011-12; 19.1 in 2012-13). That tells us the Kings can expect an offensive spark from Thornton whenever he's in the game.
He's also signed through 2014-15. So while McLemore figures to be the focal point at shooting guard, especially going forward, the Kings can utilize Thornton, knowing he'll be able to contribute beyond this season.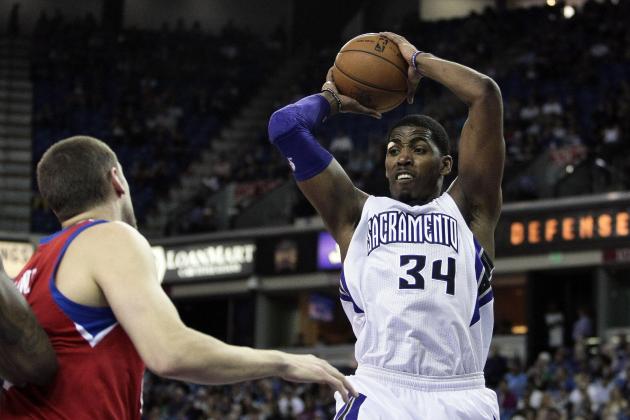 Kelley L Cox-USA TODAY Sports

As the projected starter at power forward, according to both ESPN and Hoopsworld, Jason Thompson comes in ahead of Carl Landry and Patrick Patterson in the power rankings. Although, regardless of how the depth chart works itself out, all three players figure to get ample playing time.
Thompson's value to the Kings comes in his all-around game. The power forward isn't excellent in any one particular area, but he's also not lacking in any aspect of his game.
He's an adequate scorer (10.9 points in 2012-13). He's no Kevin Love on the boards, but his 6.7 rebounds are certainly passable. The 27-year-old is fairly efficient, coming off a season with a .502 field-goal percentage and 14.6 player efficiency rating. He's also a decent defender, holding opposing power forwards to a PER of 15.4, according to 82games.com.
The Kings can expect similar well-rounded production from the power forward in 2013-14. And with three more guaranteed years on his deal, Thompson should stick around Sacramento for a while.
The one downside is, despite his No. 4 ranking, Thompson isn't the type of player the Kings can game plan around. They know he'll be there and they know he'll be consistent, but he's not going to provide much more than that.
On the other hand, there's only one ball to go around, so it's nice knowing Thompson can still produce without needing to be a focal point of the offense. And as long as the three players ahead of him on the list are productive, what he provides should be more than ample.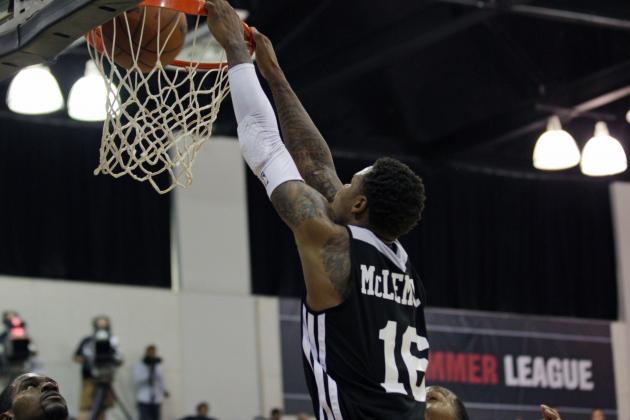 Stephen R. Sylvanie-USA TODAY Sp

In the big picture, McLemore is probably the second-most important player on the team. But in the context of 2013-14, the shooting guard comes in at No. 3.
Nobody doubts McLemore's talent. The guy can shoot from all over the court, and he's got more than enough athleticism. In fact, Bleacher Report's own Jonathan Wasserman listed "Confidence" as the one area of the rookie's game he needs to improve on during training camp.
We've seen games where his confidence went through the roof, like when he shot 10-of-12 for 33 points in a win over Iowa State, or when he dropped 19 in a quarter this summer.

But we've also seen his confidence plummet. McLemore was 0-of-9 against North Carolina in the NCAA tournament before coach Bill Self yanked him. This summer, he missed 19 shots in one game and went 0-of-8 in another.
Considering McLemore's biggest weakness is a mental one, and not a physical one, the shooting guard's got a bright future.
As a rookie, there will be ups and downs for McLemore. He may not impact the game right off the bat. But he's going to get playing time, even if he starts the year as a backup to Marcus Thornton. And the Kings are going to make sure he gets enough meaningful touches on offense to progress his game.
Ben McLemore will be a staple in the Sacramento backcourt for years to come. He's a player worth building around, which is why he's ranked so highly on the list, even if his 2013-14 production doesn't stack up to some of the players behind him.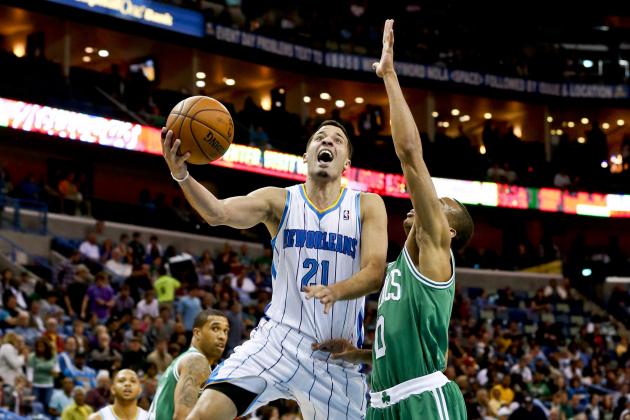 Derick Hingle-USA TODAY Sports

The acquisition of Greivis Vasquez was an incredibly important one for the Kings. The Venezuelan gives Sacramento a true facilitator on offense, which should help the entire team. Perhaps most importantly, the point guard should really benefit DeMarcus Cousins.
Since he came into the league, Vasquez has done nothing but get better. Last season was his best yet, as he saw his scoring average increase from 8.9 points to 13.9 and his assists skyrocket from 5.4 to 9.0. Furthermore, his field-goal percentage and three-point percentage have improved every year.
At 6'6", Vasquez provides size the Kings haven't seen from point guard since Tyreke Evans was manning the position as a rookie. Paired with Ben McLemore (6'5"), Sacramento now has two big options for its backcourt.
His presence also allows Isaiah Thomas to come off the bench. IT's been more than adequate as a starter, but he figures to be just as effective in a reserve role. Now he can split time as a combo guard and provide a spark while Vasquez facilitates the offense.
The biggest thing for Vasquez will be his ability to mesh with DeMarcus Cousins. DMC's obviously a game-changing talent, and Vasquez is the type of player that can maximize those skills. He'll make sure the center gets his touches, which, in turn, should keep him happy.
The one potential downside to Vasquez is that he's a restricted free agent after the year. Therefore, there are no guarantees he's someone the Kings can currently plan around going forward.
However, there's still time for him to sign an extension before the year. Failing that, the team could retain him by giving a qualifying offer and matching any deal he receives on the open market.
So even though there are no certainties, if the Kings like what they see from Vasquez in 2013-14, there's a good chance they'll do whatever they can to ensure the good times keep on rolling.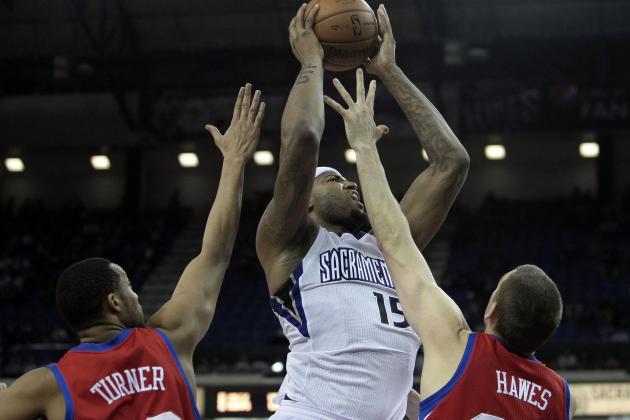 Kelley L Cox-USA TODAY Sports

DeMarcus Cousins is undoubtedly the No. 1 player on the Kings power rankings. Not only is he their best player; he's also their most important player.
When focused, no other center in the NBA can match Cousins' offensive abilities. It stands to reason that a player of this caliber would be the best on the team, and he is. The center's averaged 17.6 points, 10.4 rebounds, 2.2 assists, 1.4 steals and 0.9 blocks over the last two years. Sacramento should expect similar production...maybe even more.
Yet beyond his production, Cousins is the most important player because his behavior is so erratic. If his head's in the game all season, the Kings could go from a cellar dweller to a borderline contender. If it isn't, not only does Cousins' production wane, but it has a tendency to drag everyone else down.
The addition of Vasquez could really be the straw that stirs Cousins' drink. However, a huge part of that equation is out of Vasquez's hands. The only one ever preventing DMC from reaching his potential, with or without a point guard of Vasquez's caliber, is himself.
Perhaps his restricted free agency following the season could motivate him to keep in line. Then again, the Kings could sign him to an extension before the campaign, removing the dangling carrot from the stick.
Yet even if Cousins doesn't get the extension and returns to his old shenanigans, there will be a team out there willing to pay top dollar, Sacramento or otherwise. That's what happens when one possesses that much God-given talent.
For now, all the Kings can do is remain optimistic and hope he figures it out. Players of his caliber don't grow on trees, and when you get one, you try and build your whole organization around them. That's what Sacramento's doing with Cousins.
Follow me on Twitter: @SimRisso