Nicholls State vs. Oregon: Live Score, Analysis and Results
Christopher Barth/Getty Images
Final Score—Oregon defeats Nicholls State, 66-3
Oregon earns a win in the coaching debut for Mark Helfrich, who proves that he can continue to run the same offense he orchestrated as offensive coordinator last season with the Ducks.
Oregon will take on Virginia next week as the Ducks look to test out their high-powered offense against a higher caliber of competition.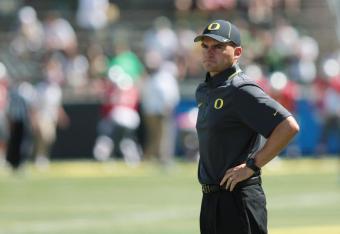 So that will be a win in the coaching debut for Mark Helfrich. The Oregon Ducks have defeated the Nicholls Colonels by a final score of 66-3.
Marcus Mariota had an impressive day as a runner, carrying the ball five times for two touchdowns and 113 yards.
But his day as a passer was a bit hit or miss, as he had some great moments but missed on some easy throws as well.
De'Anthony Thomas set a career high in carries with 18, and he earned 128 yards and two touchdowns on those carries.
The Oregon defense was led by standout defensive lineman Taylor Hart, who was disruptive during the first half.
Nicholls has to be happy with the performance from running back Marcus Washington, who gained 132 total yards for the Colonels.
That's it for today, folks. Stay tuned to the Bleacher Report for reactions and analysis from today's game.
Dropped Pass for Nicholls!
NSU almost breaks through with a touchdown, but a slight deflection leads to a dropped pass on what should have been a touchdown for the Colonels.
That would have been a big moment for the FCS program.
Touchdown, Oregon
Jake Rodrigues finds Chance Allen wide open for a touchdown. The redshirt freshmen combine to put the Ducks ahead 66-3.
Oregon has just set a single-game record for total yards from scrimmage.
They're at 737 yards and counting.
Jake Rodrigues in at QB for the Ducks #GoDucks #UOvsNSU

— Oregon Football (@WinTheDay) August 31, 2013
Jake Rodrigues is in at quarterback for the Ducks, and he shows he has the sort of running ability needed to run the Oregon offense with a nice run late in the fourth quarter.
Ayele Ford is in the game at running back, and the junior breaks off a huge run for the Ducks.
Oregon is spoiled for choice at running back.
He sets up a Jeff Lockie touchdown run, as the backup QB has some shifty moves on a rollout and finds the end zone.
It's 59-3 Oregon with 6:42 left in the game.
UO's Prevot with sack/forced fumble and Cassell with recovery as Ducks force another turnover.

— Ryan Thorburn (@rgduckfootball) August 31, 2013
That's only the second turnover for Nicholls State.
That's a minor victory, right?
2 kickoffs out of bounds for Matt Wogan. Something to work on but definitely correctable.

— Addicted To Quack (@AddictedToQuack) August 31, 2013
Want a negative for Oregon? Mariota's high throws and the kickoff unit are probably the main things to be concerned about looking ahead for the Ducks.
First time in school history Oregon has had three players rush for 100 or more yards in one game. (Thomas 128, Mariota 113, Marshall 124)

— Jason Quick (@jwquick) August 31, 2013
It's impressive that this never happened last season, or in any of the Chip Kelly seasons in Eugene.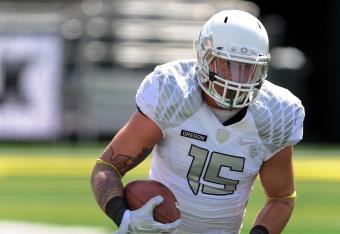 Touchdown, Oregon
Colt Lyerla punches it in from inside the 5, as the possible first-round draft pick at tight end proves he's capable as a runner as well.
Oregon leads 52-3 in the fourth quarter.
Colt Lyerla the running back with Lockie on consecutive plays.

— Rob Moseley (@DuckFootball) August 31, 2013
An interesting use for their top-flight prospect at tight end.
Those crazy Ducks.
Jeff Lockie to go in at QB this drive, making collegiate debut #GoDucks #UOvsNSU

— Oregon Football (@WinTheDay) August 31, 2013
Oregon is going to the bench at QB after three full quarters of Marcus Mariota.
Final Numbers for Marcus
12-of-21, 234 YDS, 1 TD
5 CAR, 113 YDS, 2 TD
Nicholls State field goal is blocked.
The Colonels can't convert the great throw from Kalen Henderson are forced to go for three points, and the field goal is tipped at the line.
The score remains 45-3, Oregon.
That said....
The NSU offense just can't seem to get a snap off in time. The Colonels burned all of their timeouts on offensive breakdowns in the third quarter and have since been called for multiple delay-of-game penalties.
What a throw...for Nicholls State!
Kalen Henderson throws a strike down the middle of the field, hitting his man in stride and getting the Colonels into scoring position.
NSU has not defeated a NCAA Division I football program since 2010, but they are showing some potential here today.
End of 3rd qtr: UO 45, NSU 3. Mariota 12 for 21, 234 yds, TD, 5 att, 113 yds, 2 TD #GoDucks #UOvsNSU

— Oregon Football (@WinTheDay) August 31, 2013
Analysis: Marcus Mariota is good at running the football.
Scoring drive: 5 plays, 97 yds, 1:20, Marshall 49-yd run, PAT good. UO 45, NSU 3, 0:49 3rd qtr #GoDucks #UOvsNSU

— Oregon Football (@WinTheDay) August 31, 2013
Ninety-seven yards in 80 seconds. That's just obscene.
Byron Marshall breaks free for the Ducks and takes it to the house, and Oregon regains momentum near the end of the 3rd quarter.
The 49-yard touchdown run makes it 45-3, Oregon.
Mariota will remain in the game as we near the two-minute mark in the 3rd quarter. Might be because last two drives have started at 1 and 3

— Jason Quick (@jwquick) August 31, 2013
Oregon will not go to the bench at the QB position just yet. Interesting.
I think we all assumed Mariota would head to the bench before this game entered the third quarter, but the new head coach of the Ducks, Mark Helfrich, clearly wants to see his promising signal-caller throw the ball.
The pooch punt works again!
I wish Nicholls State were on TV more often, because they're a very interesting team to watch.
This game was all about Oregon for a while, but Nicholls has taken control here in the second half, gaining some momentum and proving they can hang with Oregon in the right circumstances.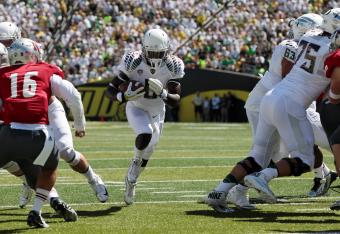 According to an earlier note on the Fox Sports 1 broadcast, we can now confirm that De'Anthony Thomas has set a career high in carries with 18.
And we have yet to see promising freshman running back Thomas Tyner for the Ducks.
And Nicholls State just used its final timeout of the second half.
The Colonels are treating this third quarter like the national championship game, because they're going all out with timeouts and play-calling.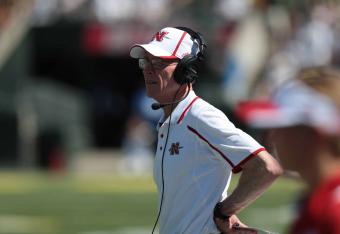 Nicholls State running back Marcus Washington has gone over 100 total yards on the day.
Early on it was all about De'Anthony Thomas, but lately it's been all about the workhorse for the Colonels.
Fourth-down stop for Nicholls State!
Fox Sports 1's sideline reporter come over the speakers to inform us all that the NSU sideline loved seeing its defense get a big stop against Oregon's juggernaut offense.
This is a scrappy Colonels team.
This article is
What is the duplicate article?
Why is this article offensive?
Where is this article plagiarized from?
Why is this article poorly edited?