50 Things We Learned from Week 1 in College Football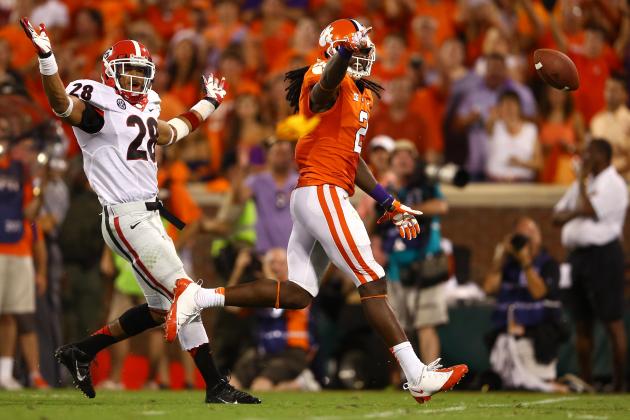 Streeter Lecka/Getty Images

Week 1 of the college football season is just about complete. Not a lot can be deciphered from one game, but we learned plenty about certain teams and individual players over the weekend.
As expected, there were plenty of blowouts featuring cupcake teams, but there were also a few overtime thrillers and some exciting finishes between ranked teams.
While it is hard to tell a lot from one game, one thing is certain: College football is back.
Here are 50 things we learned from Week 1 of the season.
Begin Slideshow

»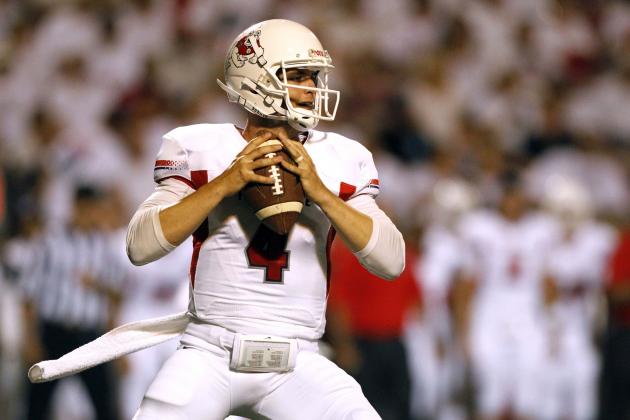 Cary Edmondson-USA TODAY Sports

Senior quarterback Derek Carr sparked Fresno State's 52-51 overtime victory against Rutgers with an impressive performance.
Carr amassed 456 yards and five touchdowns on 52-of-73 passing. He also picked up 24 yards rushing on four carries.
While he was not a household name before the season began, Carr certainly will be by the end of the year.
He threw for over 4,000 yards last season. Look for him to duplicate that and then some in 2013.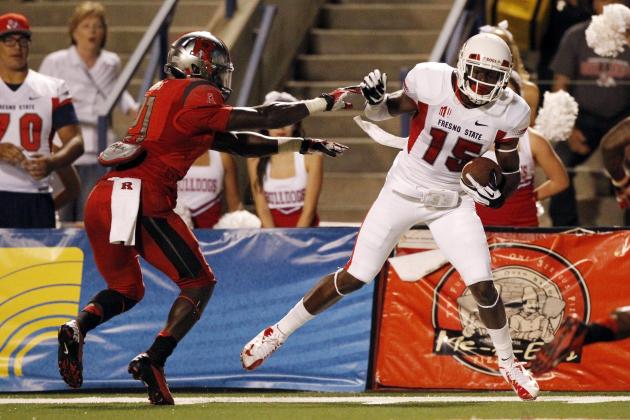 Cary Edmondson-USA TODAY Sports

Not many players catch 102 passes for 1,312 yards and 14 touchdowns as freshmen, but that was precisely the case for Fresno State wide receiver Davante Adams in 2012.
He started off the season on a strong note once again in 2013. Adams caught 14 passes from Derek Carr in the victory over Rutgers. Those catches totaled 148 yards and accounted for two touchdowns.
Adams has the ability to put up well over 100 catches in 2013. He has an excellent chance to lead the nation in both receptions and yards if he and Carr can stay healthy.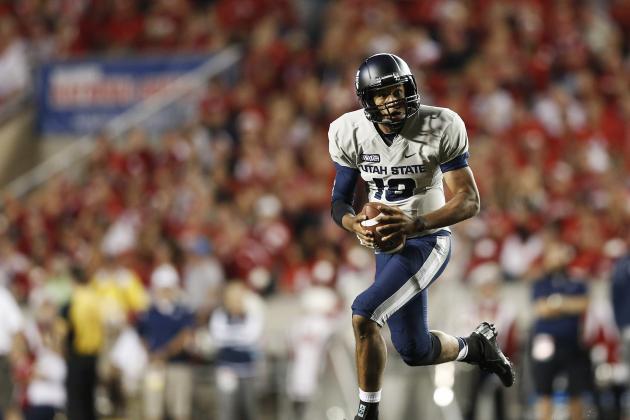 Tom Lynn/Getty Images

The Mountain West Conference might be as loaded as any league when it comes to the quarterback position.
Another of those quarterbacks who shined in Week 1 was Utah State's Chuckie Keeton.
Even though his team lost a heartbreaker to in-state rival Utah, Keeton was still dominant in the Aggies' 30-26 defeat.
He finished the game 31-of-40 for 314 yards and two scores. Keeton is also a threat on the ground. He carried the ball 15 times for 85 yards and a touchdown.
Look for huge numbers all season long from Keeton.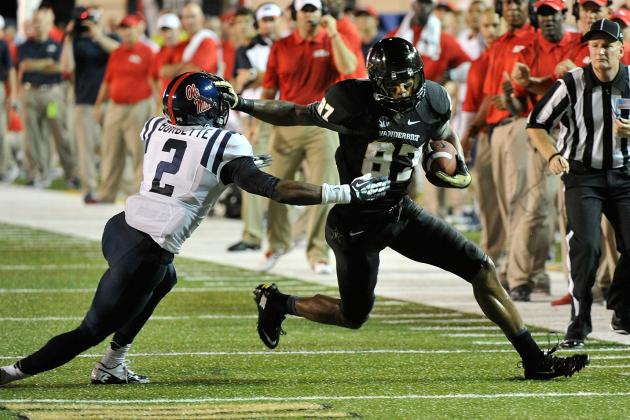 Frederick Breedon/Getty Images

Heading into the season, most people knew that Jordan Matthews was one of the best receivers in the country.
In the season-opening 39-35 loss to Ole Miss, Matthews proved that to be the case. He caught 10 passes for 178 yards and a touchdown despite suffering from cramps and taking a vicious hit in the fourth quarter.
He did have the final pass of the game go through his hands for an interception, but that does not take away from the fact that this guy is one of the best wide receivers in the country and tops in the SEC.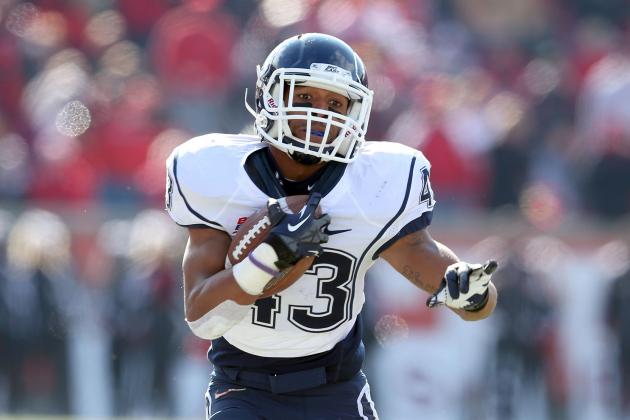 Andy Lyons/Getty Images

Connecticut has only won five games in each of the past two seasons, so not a lot was expected of it coming into 2013.
However, the Huskies looked even worse than expected in an opening 33-18 loss to Towson.
That is definitely one of the most embarrassing losses of opening weekend for any team.
It looks like it will be back to the drawing board for Connecticut.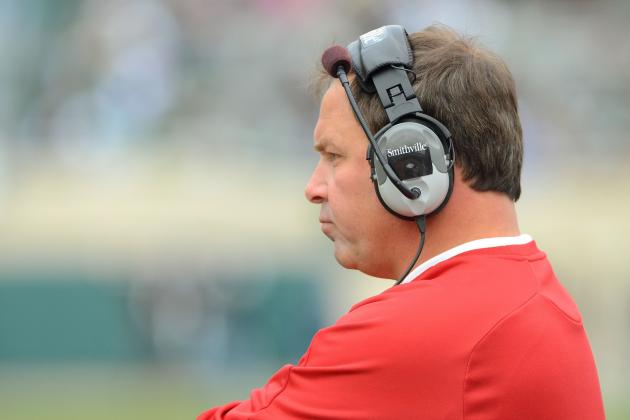 Mark A. Cunningham/Getty Images

Indiana showed some improvements offensively in 2012 on its way to a four-win campaign.
This season, it looks like that offense has made yet another stride. That was on full display in a dominating 73-35 win over Indiana State.
The Hoosiers did it both on the ground and through the air. Indiana finished with 319 yards passing and 313 rushing.
While the Sycamores are certainly not the toughest competition Indiana will play all season, it was still an excellent start for the Hoosiers.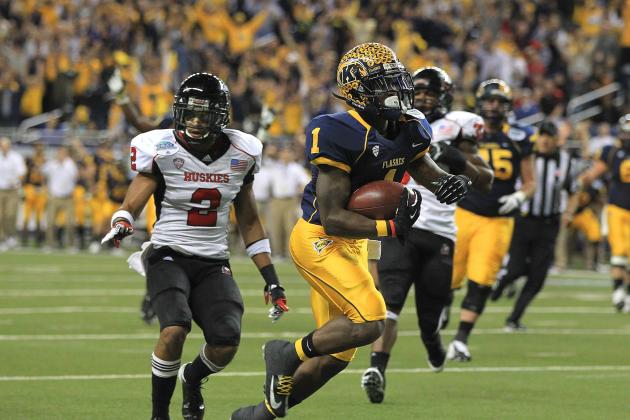 Dave Reginek/Getty Images

Coming into the opener against Liberty, Kent State was expected to put some points on the board and cruise to an easy victory.
That was not the case, as the Golden Flashes struggled on their way to a 17-10 victory over the FCS squad.
The leg injury in the first quarter to Dri Archer certainly played a huge part in that. Archer is one of the most explosive players in the country and a threat to score every time he touches the ball.
If he is out for an extended period of time, it could be trouble for Kent State.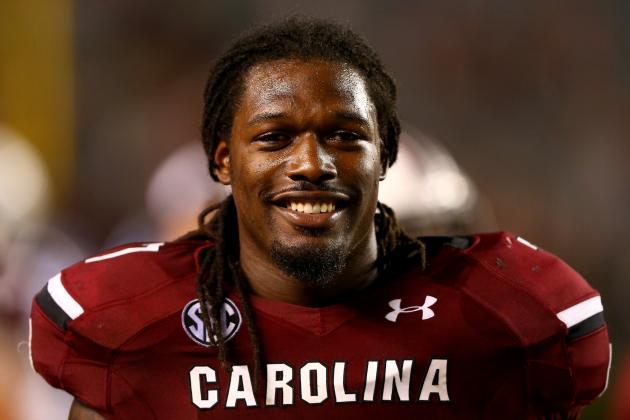 Streeter Lecka/Getty Images

Heisman hopeful Jadeveon Clowney did not play like a lot were expecting him to against North Carolina on Thursday night.
He only finished the game with three tackles and no sacks. He also appeared to be out of breath by the end of the game, as questions about his conditioning began to arise after the game.
Still, it is only one game, and everybody knows just how talented this guy is.
Look for a huge bounce-back game in Week 2 against Georgia in one of the biggest matchups of the season for the Gamecocks.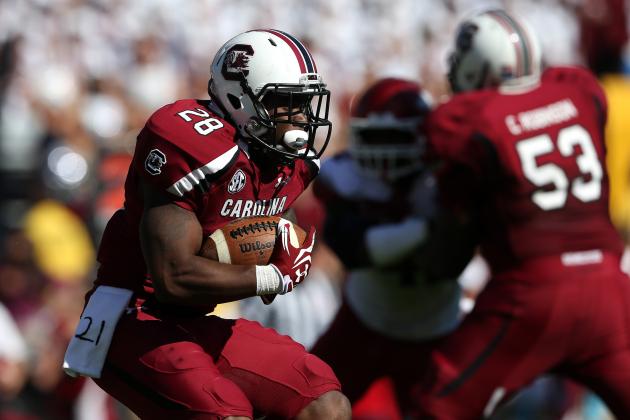 Streeter Lecka/Getty Images

Last season, diehard South Carolina fans knew that even when star running back Marcus Lattimore went down with a gruesome knee injury, the Gamecocks had enough talent behind him to be successful in the running game.
Looks like they knew what they were talking about, as South Carolina was very impressive on the ground in the victory over North Carolina.
Leading the way was sophomore Mike Davis. On 12 carries, he picked up 115 yards and a touchdown. Fellow sophomore running back Brandon Wilds also carried the ball 12 times, picking up 64 yards.
No question that the running game is going to be a strength once again for South Carolina.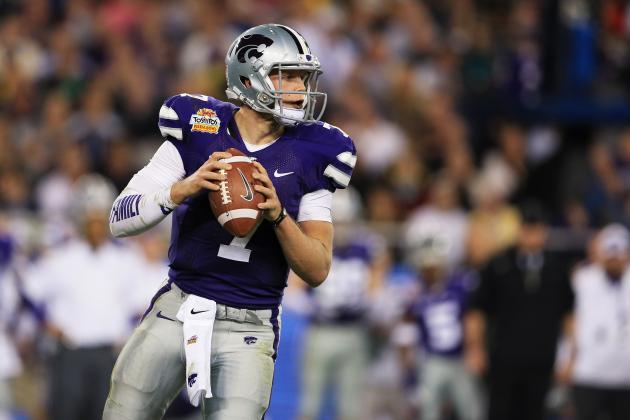 Doug Pensinger/Getty Images

Kansas State was not expected to be nearly as good as it was last season, but the Wildcats still have a lot of talent coming back.
But Heisman finalist Collin Klein isn't walking back through that door.
While he struggled at times to throw the ball, Klein will be missed as far as the running game is concerned.
The Wildcats were only able to rush for 41 yards on 23 carries against FCS power North Dakota State. That is not a good sign of things to come.
Klein's replacement Jake Waters showed signs, throwing for 280 yards and two touchdowns on 21-of-29 passing, but he also threw two costly interceptions in the 24-21 home loss.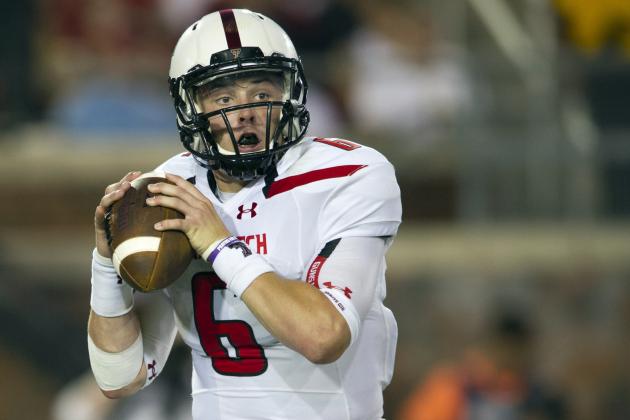 Cooper Neill/Getty Images

Texas Tech quarterback Baker Mayfield is believed to have been the first true freshman walk-on to start his first collegiate game for a BCS school.
Not only did he start, but he also totaled five touchdowns in the 41-23 Texas Tech victory over SMU.
Michael Brewer was expected to be the starter, but he was out with a back issue, leaving the door open for Mayfield.
His line on the day was nothing short of spectacular. He was 43-of-60 passing for 413 yards and four touchdowns. He also rushed for 16 yards and a score on 12 carries.
Not bad for a true freshman walk-on.
Joel Auerbach/Getty Images

Duke Johnson was highly touted coming out of high school. He certainly did not disappoint as a freshman, and judging by his performance in the Week 1 victory over Florida Atlantic, Johnson could be a Heisman sleeper by the end of the season.
He carried the ball 19 times for 186 yards and a touchdown in the 34-6 win. He also had a 38-yard reception to go along with it.
Not many players in the country have the big-play ability of this guy. It will be on display all season long in Miami.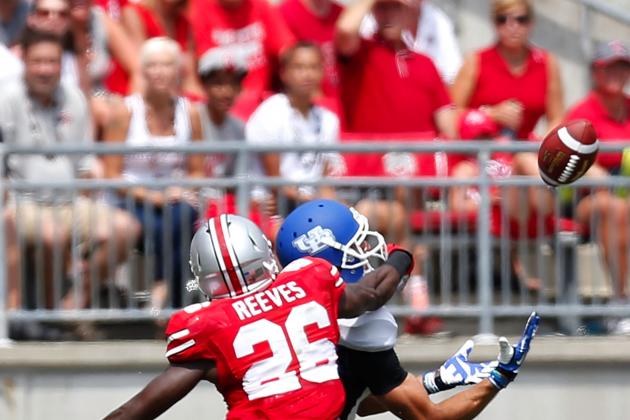 Kirk Irwin/Getty Images

Ohio State handily defeated Buffalo 40-20, but by the end of the game, the Buckeyes were struggling on both sides of the ball, particularly defense.
Buffalo totaled 258 yards but did enough to keep itself in the game for most of the afternoon.
The Buckeyes were missing a few key players, particularly cornerback Bradley Roby, on defense.
Still, the way Buffalo moved the ball on certain drives is cause for concern for Ohio State.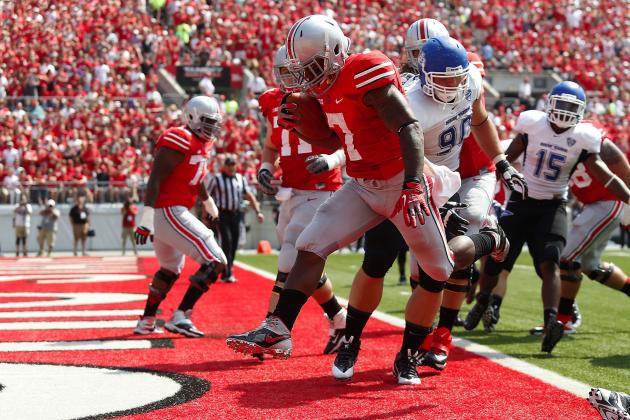 Kirk Irwin/Getty Images

With starter Carlos Hyde and backup Rod Smith both suspended on Saturday, Ohio State relied on Jordan Hall to carry the load.
Hall finished with 159 yards and two touchdowns on 21 carries.
Sophomore Bri'onte Dunn also did not play for Ohio State.
When the Buckeyes get these three guys back to join up with Hall and two very talented freshmen in Warren Ball and Dontre Wilson, this group might just be the best in the country at the running back position.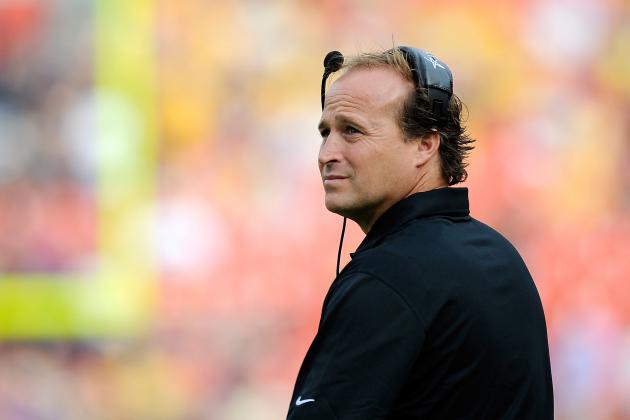 Patrick McDermott/Getty Images

Last season was not what West Virginia hoped for. The Mountaineers finished 7-6 overall.
After a dismal showing in a 24-17 victory over William & Mary, things appear to be even worse this year.
It was not an awful showing for the Mountaineers, but the schedule is only going to get tougher from here on out. It appears that West Virginia does not have the offensive attack to compete with the big boys of the Big 12.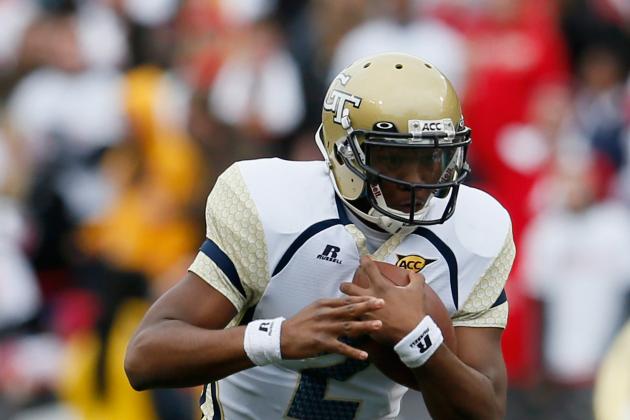 Rob Carr/Getty Images

Running the Georgia Tech offense is no easy task, but sophomore quarterback Vad Lee did an excellent job in his first career start.
The Yellow Jackets dominated Elon 70-0, and Lee was very impressive. He finished the game 7-of-11 passing for 189 yards and two touchdowns. He also carried the ball six times for 49 yards and another score.
Six different players scored rushing touchdowns for Georgia Tech.
This could be an explosive rushing attack in 2013.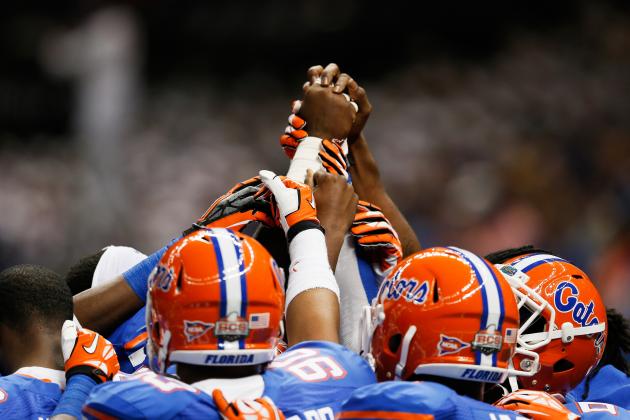 Kevin C. Cox/Getty Images

Florida was very talented on the defensive side of the ball last season. The Gators ranked fifth in the country, allowing only 14.5 points per game.
Some talent—like Sharrif Floyd, Matt Elam and Jon Bostic—was lost from that group, but it appears the 2013 version might be even better.
The Gators once again struggled on the offensive side of the ball, scoring only 24 points against Toledo, but the defense held the Rockets to six points.
Toledo is a solid offensive squad but could only manage 205 total yards, and it only went 1-of-13 on third-down attempts.
This might be the top defense in college football for 2013.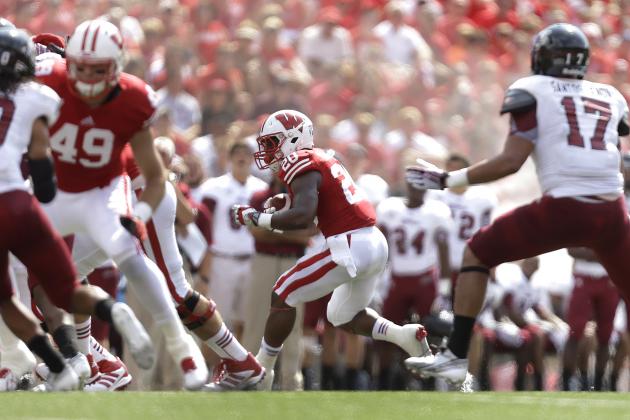 Mike McGinnis/Getty Images

The Wisconsin rushing attack is deep and talented once again. The Badgers rushed for 393 yards and four touchdowns on 44 carries in a 45-0 victory over UMass.
As expected, senior James White led the way. He totaled 143 yards and a touchdown on 11 carries. Backup Melvin Gordon finished with 144 yards and a touchdown on 13 carries. Third-string freshman Corey Clement received the most carries on the day. He finished the game with 101 yards and a touchdown on 16 carries.
The Badgers also threw for 205 yards but certainly could have done without that in this one.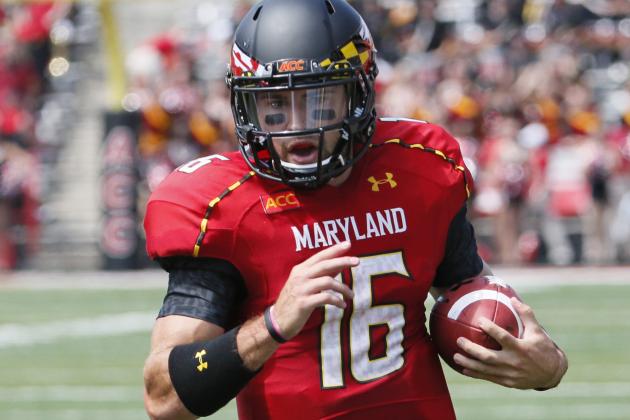 Mitch Stringer-USA TODAY Sports

Injuries hurt Maryland last season at the quarterback position. That was part of the reason the Terrapins finished the year 4-8.
This year is a completely different story.
If Maryland can stay healthy at the quarterback position, this could be a very dangerous team in the ACC.
Quarterback C.J. Brown passed for 283 yards and three touchdowns, completing 20 of 23 attempts. He also rushed for 105 yards and two more touchdowns on 11 carries.
It could be an excellent season for the Terrapins in 2013.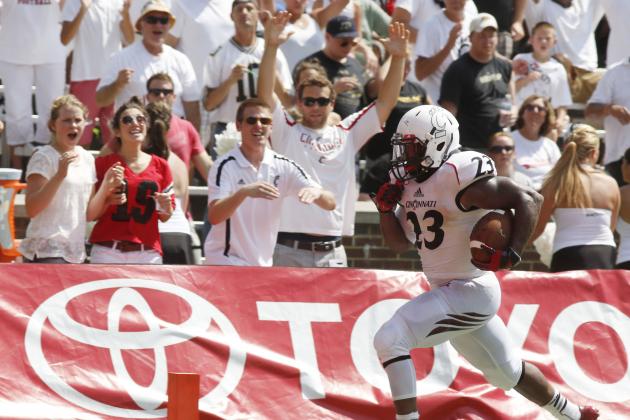 David Kohl-USA TODAY Sports

Cincinnati's 42-7 victory over Purdue was one of the more dominating wins of opening weekend.
While Purdue is not exactly the class of the Big Ten, the Boilermakers did qualify for a bowl game last season.
That was arguably the toughest game on the Cincinnati schedule until a mid-November date at Rutgers.
It is very possible that Cincinnati could be 9-0 headed into that one—and it's definitely not out of the question that both Cincinnati and Louisville could be 11-0 heading into the season finale on Dec. 5.
Pat Lovell-USA TODAY Sports

Illinois did beat Southern Illinois 42-34 in Week 1. They're already halfway to last season's win total.
The offense was strong, totaling 464 yards, with 415 of those coming through the air. Defense, on the other hand, left a lot to be desired.
Southern Illinois put up 34 points and 407 total yards. The secondary was the biggest issue, allowing 341 yards through the air.
Big Ten teams might put up a lot of points on the Fighting Illini this year.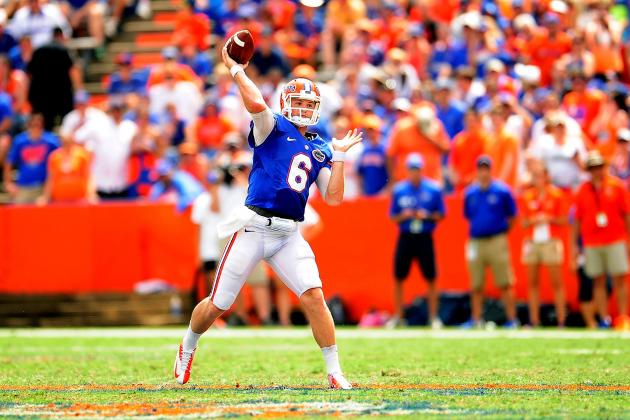 Stacy Revere/Getty Images

The key to the season for the Florida Gators will be the play of quarterback Jeff Driskel.
Driskel was solid in the season opener against Toledo. He completed 17 of 22 passes for 153 yards and a touchdown.
While those are not excellent numbers, they are a step in the right direction for a quarterback who had his fair share of struggles in 2013.
The competition is going to get tougher in the SEC, but Driskel appears likely to improve on his 2012 numbers.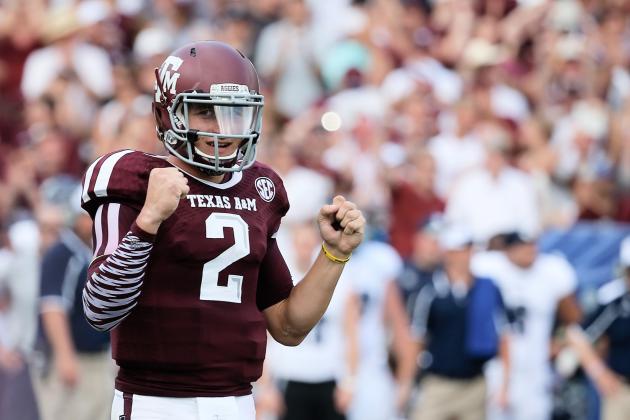 Scott Halleran/Getty Images

Texas A&M was forced to play the first half without star quarterback Johnny Manziel. It showed from the start, as the Aggies trailed after the first quarter before coming on strong prior to halftime to lead 28-21 at the break.
While 28 points is still something to take note of, the Aggies seemed to struggle. They probably would not have had much trouble winning the game even with Manziel on the sideline, but this might not be a Top 25 team without Manziel.
When he entered in the second half, he was his usual self, passing for three touchdowns and 94 yards while completing six of eight attempts. He also rushed for 19 yards on six carries.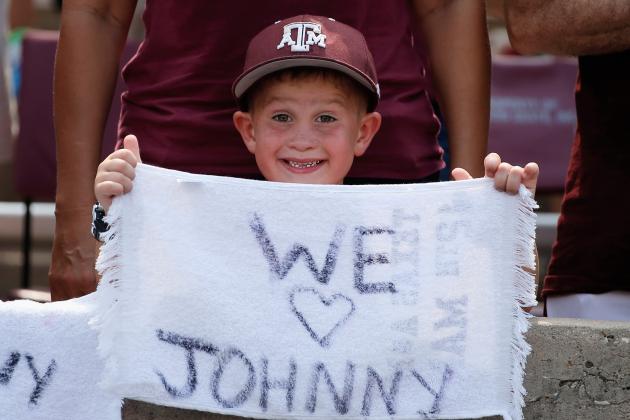 Scott Halleran/Getty Images

Johnny Manziel seemed like the quarterback of old when he took the field in the second half of the 52-31 Texas A&M victory over Rice.
He was all over the place, totaling three touchdowns on his five drives.
While his play looked like the Johnny of old, he also did some trash talking and picked up a 15-yard unsportsmanlike conduct penalty after a touchdown pass.
No question he is one of the best players in the country, but he also has some growing up to do.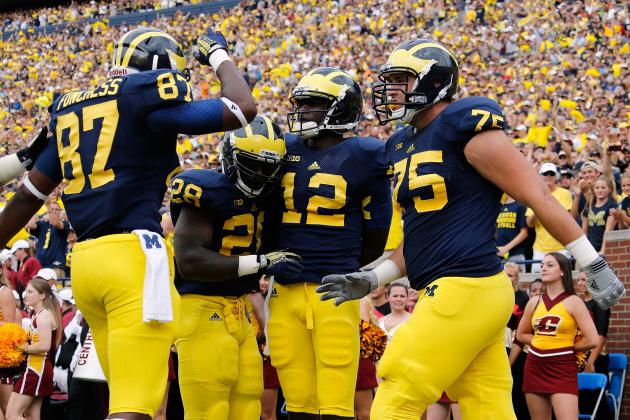 Gregory Shamus/Getty Images

Coming into the season, there were some question marks surrounding the Michigan offense, but that group showed up in a big way in the opening 59-9 victory over Central Michigan.
Quarterback Devin Gardner did throw two interceptions, but he completed 10 of 15 passes for 162 yards and a touchdown.
On the ground, the Wolverines answered a lot of questions. Four different players rushed for touchdowns, including two from Gardner.
There were also four receivers with over 40 yards receiving.
While it was only Central Michigan, it seems Michigan will be very explosive on offense this season.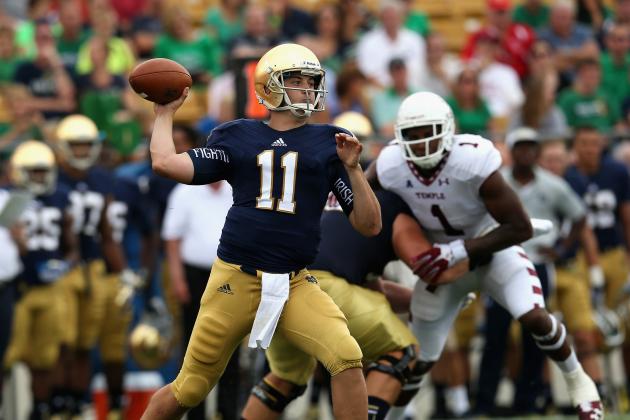 Jonathan Daniel/Getty Images

The loss of quarterback Everett Golson might have seemed detrimental for the Fighting Irish when it happened, but Tommy Rees appears to be the better option for Notre Dame.
He carved up the Temple secondary for 346 yards and three touchdowns on 16-of-23 passing.
While Temple is one of the weaker teams on the schedule for the Fighting Irish, Rees was very impressive.
With a full season as the starter, he will likely put up much better passing numbers than Golson would have.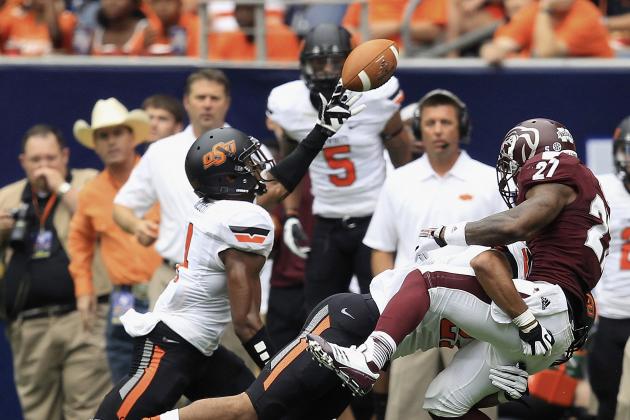 Bob Levey/Getty Images

Oklahoma State had one of the best offenses in the country last season. The Cowboys have plenty of talent coming back on offense, but the group was held in check by Mississippi State for most of the game.
That did not seem to matter, as the Oklahoma State defense came to play. The group held Mississippi State to 333 total yards.
The difference in the game was third-down efficiency. Mississippi State was 2-of-16 on third downs.
If the Cowboys play defense like that all season long, it is going to be an excellent year in Stillwater.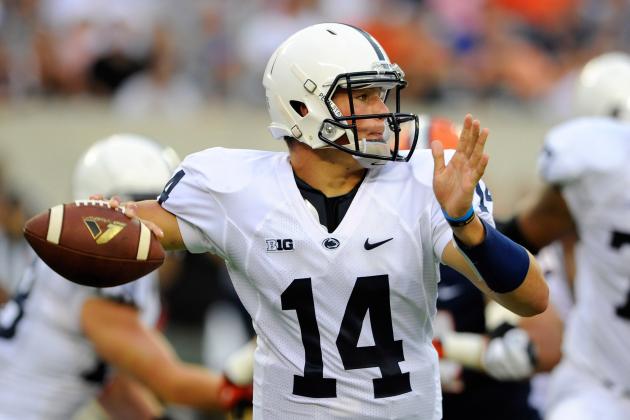 Rich Barnes-USA TODAY Sports

Penn State true freshman quarterback Christian Hackenberg had a year of prep ball to prepare for the Big Ten.
Even with that year, it is hard to imagine any true freshman quarterback looking as good as he did in his first game at the collegiate level.
Hackenberg looked the part of the top quarterback recruit in the country. He completed 23 of 31 passes for 273 yards with two touchdowns and two interceptions.
While he did make a few mistakes, this guy has all the tools to be a superstar at Penn State.
Wesley Hitt/Getty Images

After struggling to a 4-8 record last season, it appears Arkansas will be improved in 2013.
Last year, the Razorbacks fell to Louisiana-Monroe in their second game of the year, the first loss in a four-game losing streak. This year, they handily defeated a similar team in Louisiana-Lafayette to start the season.
The 34-14 victory was a great way to start the Bret Bielema regime.
As expected, the Razorbacks did it with an excellent rushing attack. Arkansas carried the ball 51 times for 292 yards and a touchdown as a team.
Jonathan Williams and Alex Collins combined for 282 yards and a touchdown on 39 carries.
The Arkansas offense totaled 522 yards in the convincing victory.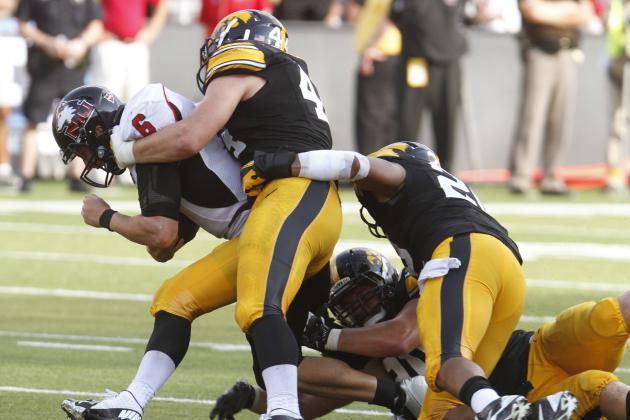 Matthew Holst/Getty Images

Northern Illinois quarterback Jordan Lynch dominated MAC play last season but struggled against the best competition he faced. He posted QB ratings under 76 against Iowa and Florida State and rushed for just 44 yards against the Seminoles.
It appears that will be the case once again this season.
Lynch was instrumental in leading Northern Illinois to a dramatic 30-27 victory over Iowa, but he did not put up the numbers he is accustomed to, particularly on the ground.
He threw for 275 yards and three touchdowns on 25-of-41 passing. He also carried the ball 22 times for 56 yards.
Those are not bad numbers, but it appears his huge stats will have to come against MAC teams.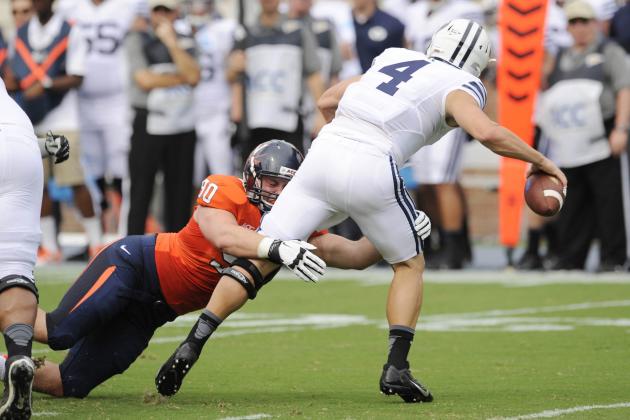 Rafael Suanes-USA TODAY Sports

BYU did not have a good showing in its season-opening 19-16 loss at the hands of Virginia.
The Cavaliers only won four games last season, so this was supposed to be one of the most winnable games on the BYU schedule. Instead, it was a loss.
The remaining schedule includes the likes of Texas, Utah, Utah State, Georgia Tech, Boise State, Wisconsin, Notre Dame and Nevada.
Six wins might be hard to come by for the Cougars.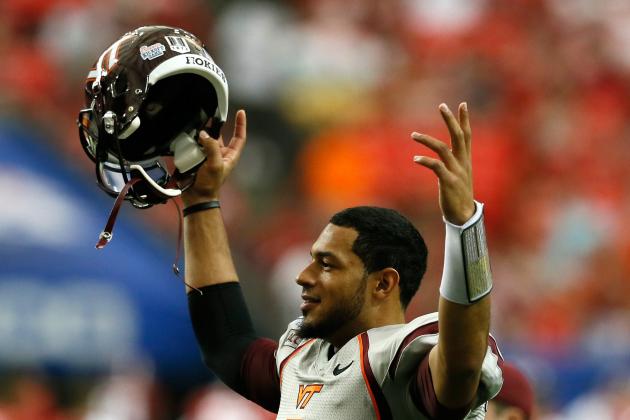 Kevin C. Cox/Getty Images

Logan Thomas continued his gradual regression in the 35-10 Virginia Tech loss to Alabama.
After a disappointing 2012 campaign, Thomas started off 2013 even worse.
He finished 5-of-26 for 59 yards and an interception. He also had two yards rushing on five attempts.
Not a good way to start the season. His job might be in jeopardy with a few more games like that.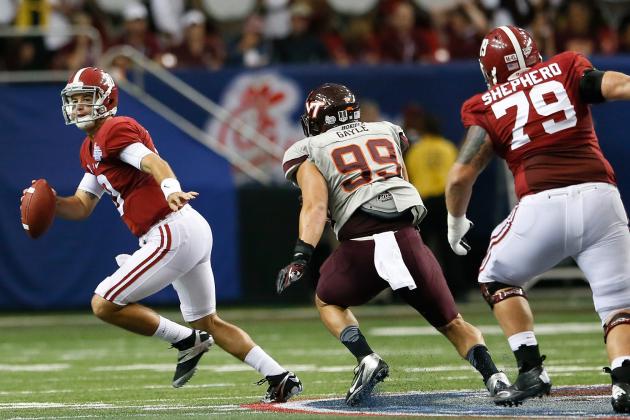 Kevin C. Cox/Getty Images

The Alabama offense struggled to move the ball most of the game in a 35-10 victory over Virginia Tech.
The Tide were outgained, finishing with only 206 total yards to the Hokies' 212. Part of the reason for those struggles was the play of the offensive line.
Quarterback AJ McCarron struggled, finishing 10-of-23 for 110 yards with a touchdown and an interception. The running game only averaged 2.5 yards per carry on 38 attempts.
The story of the day was Alabama wide receiver Christion Jones. He returned a punt 72 yards for a touchdown and also had a 94-yard kickoff return for a score. Throw in a 38-yard touchdown reception, and it was quite a day for Jones and Alabama's special teams.
Still, the offense will need some improvement from the offensive line.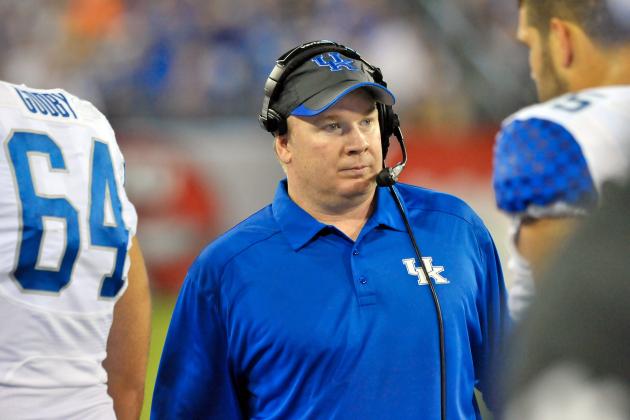 Jim Brown-USA TODAY Sports

There were high expectations coming into the season for the Kentucky Wildcats with new head coach Mark Stoops.
After a 35-26 loss to in-state rival Western Kentucky, though, it appears this group might be further from contention than originally speculated.
Despite winning the turnover battle, Kentucky could not hang with an average Sun Belt team in Western Kentucky.
With a challenging SEC schedule looming, it could be a long year in Lexington.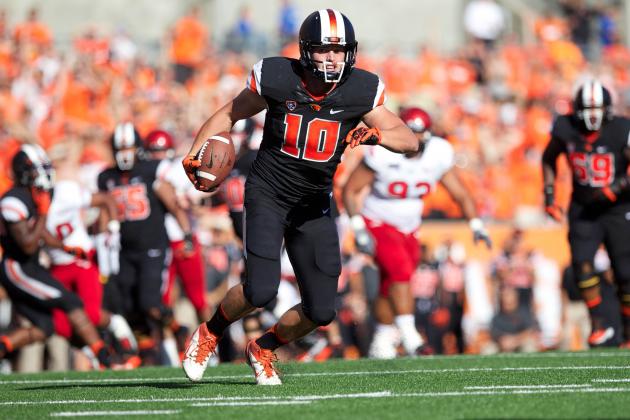 Jaime Valdez-USA TODAY Sports

In one of the most disappointing outcomes of the weekend, Oregon State fell, 49-46, at home to Eastern Washington.
Losing to an FCS school at home to start off the season is never a good sign.
The Oregon State offense totaled 527 yards, but the defense allowed 625 yards, including 448 through the air.
That bodes poorly for a team that will be playing some prolific offenses once Pac-12 play begins.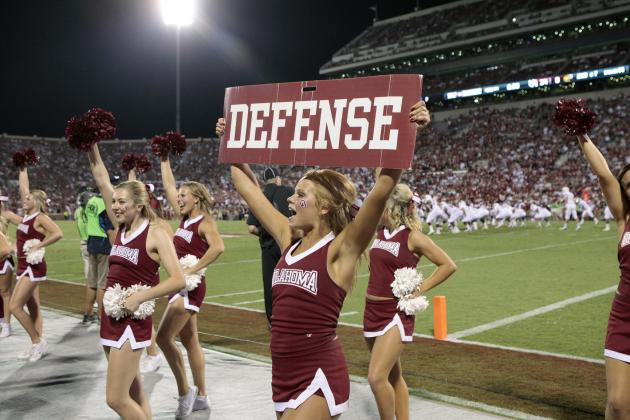 Brett Deering/Getty Images

The Oklahoma Sooners started off slowly but came on strong in the second half, winning 34-0 over a talented Louisiana-Monroe team.
It was certainly not a typical victory for the Sooners, but it is likely how they will win games this season.
Oklahoma held the Warhawks to 166 yards of total offense and only 38 on the ground. The Sooners stifled star quarterback Kolton Browning, holding him to 20-of-39 passing for 128 yards and an interception. He was also held in check on the ground with three yards on four carries.
Offense might be a different story for Oklahoma, as freshman quarterback Trevor Knight struggled, completing only 11 of 28 passes for 86 yards and an interception. He did have three touchdown passes, however, and he also rushed for 103 yards.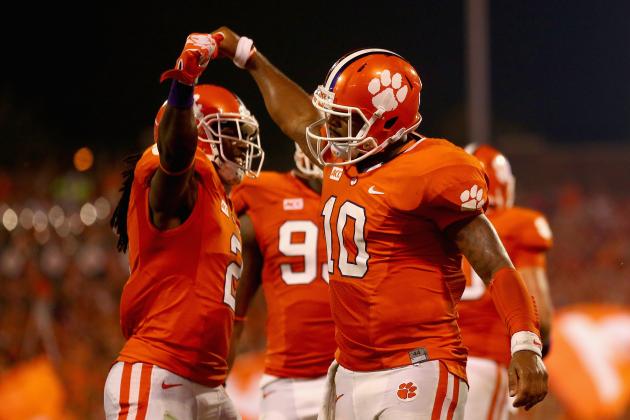 Streeter Lecka/Getty Images

With the 38-35 home victory over Georgia to kick off the season, the Clemson Tigers are now firmly planted in the national title conversation.
That was undoubtedly the most impressive victory of the week and proved the Tigers can play with anybody.
With only two remaining games against currently ranked teams, Clemson certainly has a shot to go undefeated.
The Tigers do have to take on South Carolina on the road, but this team appears to have what it takes to run the table and play for a national championship.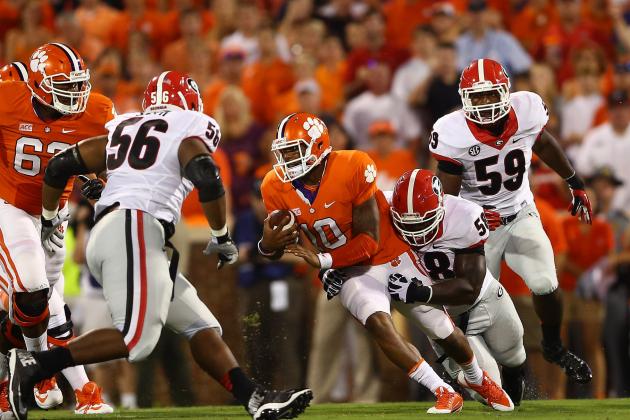 Streeter Lecka/Getty Images

Clemson is a very talented offensive squad, but the Georgia defense clearly has some holes.
The group allowed some big plays to Clemson, including a 77-yard Sammy Watkins catch-and-run for a touchdown and a 31-yard Zac Brooks touchdown catch.
Clemson running back Roderick McDowell carried the ball 22 times for 132 yards, including a 36-yard scamper.
With South Carolina and its talented running game looming next weekend, Georgia needs to get some things figured out, or the season could be over before it's barely begun.
Joshua S. Kelly-USA TODAY Sports

Georgia did not have much trouble moving the ball when star running back Todd Gurley was on the field, but when he missed action with a leg injury, it was a bit of a struggle.
Gurley was only able to carry the ball 12 times for 154 yards and two touchdowns. A few more carries could have resulted in a victory for the Bulldogs.
His backup Keith Marshall only totaled 43 yards and a touchdown on 16 carries.
A little more Gurley might have resulted in a victory for the Bulldogs.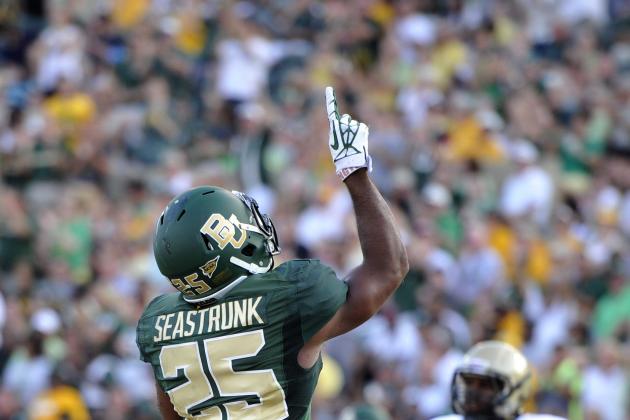 Jerome Miron-USA TODAY Sports

Even though it was just against Wofford, the offense for Baylor looked very strong in its 69-3 victory.
Baylor totaled 692 yards, including 411 through the air. New starting quarterback Bryce Petty completed 19 of 24 passes for 312 yards and two touchdowns.
Heisman contender Lache Seastrunk carried the ball 11 times for 111 yards and two scores. The self-proclaimed future Heisman winner looked impressive in limited touches.
There are a few challenging games, but they are all at the end of the season.
It appears Baylor should be 7-0 and highly ranked heading into a Nov. 7 showdown with Oklahoma.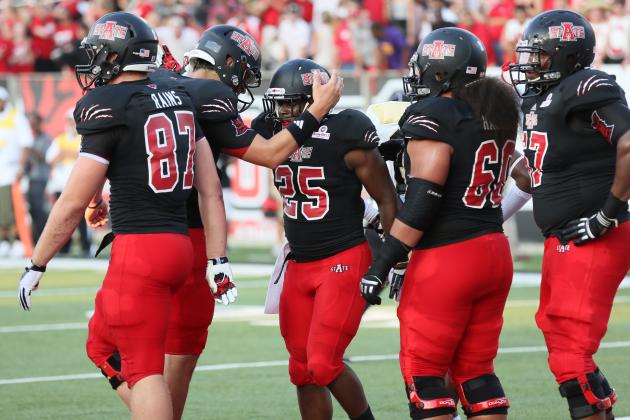 Nelson Chenault-USA TODAY Sports

Despite losing star quarterback Ryan Aplin to graduation, Arkansas State proved it is one of the most dangerous non-BCS teams in the country with its dominating 62-11 victory over Arkansas-Pine Bluff.
While that is not exactly top-notch competition, the Red Wolves offense totaled 672 yards, with 509 of those coming on the ground. The Golden Lions, on the other hand, only managed 12 yards rushing.
Arkansas State had four players go over 100 yards rushing, led by senior David Oku. He totaled 124 yards and two touchdowns on 16 carries. The team averaged 8.9 yards a carry on 57 touches.
A road game at Auburn next weekend will tell a lot about this team.
Ronald Martinez/Getty Images

TCU was one of the picks to finish near the top of the Big 12, but judging by its performance against LSU, some things are going to have to turn around for that to happen.
Despite getting a 100-yard kick return by running back B.J. Catalon and a gift touchdown set up by a fumble, TCU still fell, 37-27, to LSU at Cowboys Stadium.
LSU was decimated by players leaving early for the NFL draft, but it still dominated the TCU offense.
The Horned Frogs could only manage 259 total yards.
There are just not enough playmakers, particularly out wide, for TCU to compete with the big boys on a national stage.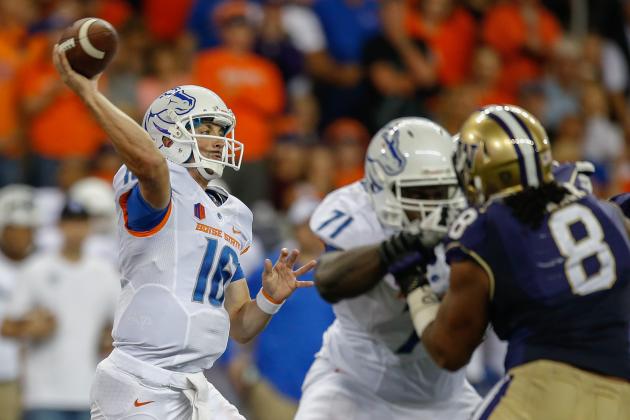 Otto Greule Jr/Getty Images

The fact that Boise State was an underdog coming into its game against Washington should have been an indication that being ranked No. 19 in the preseason poll was a little too high.
The Huskies dominated the Broncos from start to finish, winning 38-6 in the season opener. That is not good news for a Boise State team that looks like it will lose more games than it is used to.
There are some other challenging games on the schedule, including road contests against Fresno State, Utah State, BYU and San Diego State.
It does not look like this will be a typical season for the Broncos.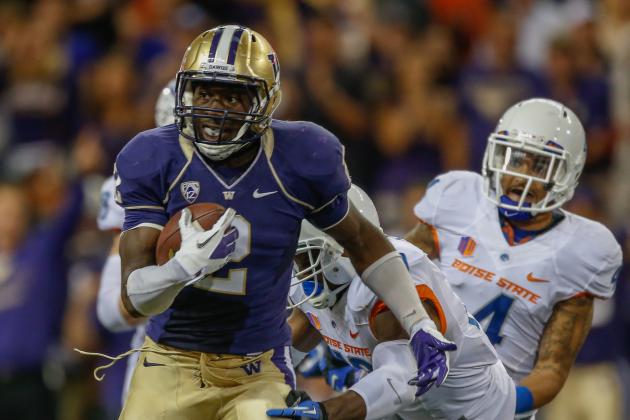 Otto Greule Jr/Getty Images

Dominating No. 19 Boise State to the tune of 38-6 is no easy accomplishment, but when a team has the talent at the skill positions that Washington has, it does not come as a surprise.
Senior quarterback Keith Price led the Huskies, completing 23 of 31 passes for 324 yards with two touchdowns and one interception.
Running back Bishop Sankey carried the ball 25 times for 161 yards and two scores. Wide receiver Kasen Williams caught three passes for 68 yards and a touchdown. Fellow wide receiver Jaydon Mickens hauled in nine passes for 109 yards.
That does not even count suspended tight end Austin Seferian-Jenkins, who might be the best of the bunch.
This team is going to win a lot of games in the Pac-12 this season.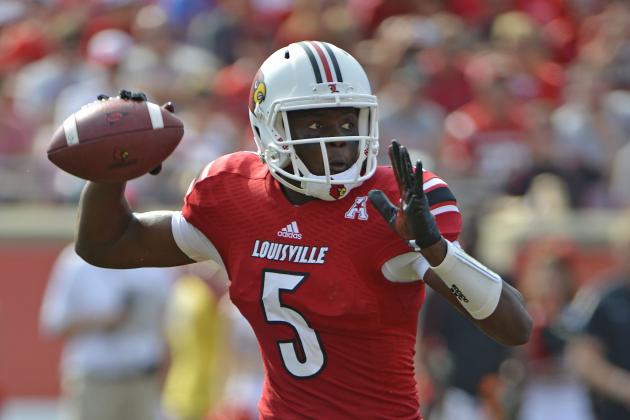 Jamie Rhodes-USA TODAY Sports

The American Athletic Conference was not expected to be one of the best leagues in the country coming into the season, but judging by opening weekend, it might end up being worse than expected.
Two of the teams expected to finish near the middle of the league fell convincingly to FCS schools. Towson knocked off Connecticut 33-18, and McNeese State dominated South Florida 53-21.
Temple, SMU and Rutgers all lost to superior squads. While Cincinnati was impressive in a 42-7 victory over Purdue, it appears the Bearcats will be the only team with the ability to hang with Louisville.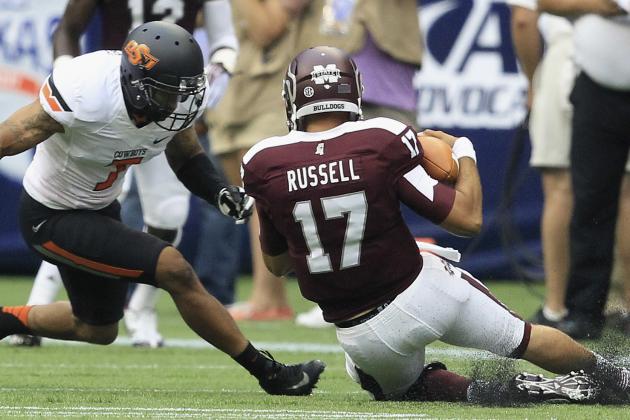 Bob Levey/Getty Images

Most experts expected the SEC to win nearly every game this weekend, with the possible exception of Mississippi State vs. Oklahoma State.
That was not the case, however, as the SEC went 10-4 on its opening weekend. One of those losses was by Vanderbilt at the hands of Ole Miss, but there were also a few surprising results.
Western Kentucky dominated Kentucky 35-26, and Clemson defeated Georgia 38-35. Mississippi State also showed little fight in its 21-3 loss to Oklahoma State.
There were some excellent wins, including South Carolina over North Carolina, Alabama over Virginia Tech and LSU over TCU, but for a league favored to win every game but one, it has to be disappointing for the SEC to only be 10-4 at this point in the season.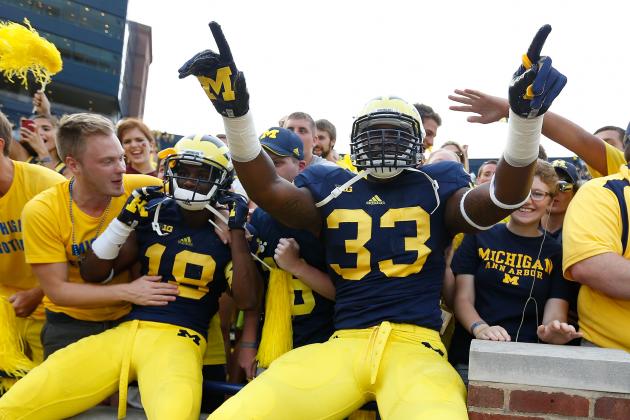 Gregory Shamus/Getty Images

No conference had a better opening weekend than the Big Ten. The league finished 10-2 overall, with its only two losses coming by Purdue to Cincinnati and Iowa to Northern Illinois.
While a lot of the teams in the league were playing cupcake competition, there were some significant wins, including Penn State over Syracuse and Northwestern at California.
It is still too early to tell whether the league has made serious improvements, but judging by opening weekend, it appears to be headed in the right direction.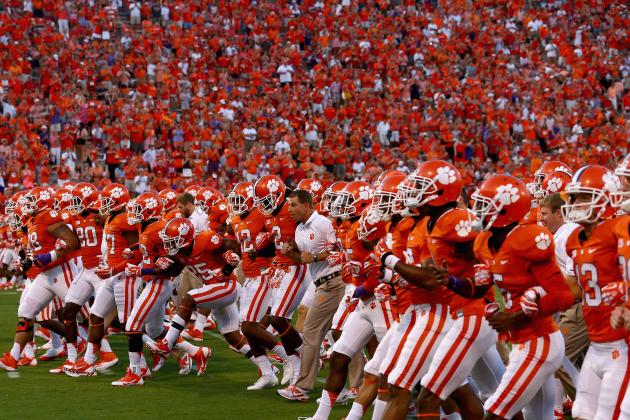 Streeter Lecka/Getty Images

The ACC was another conference that was very impressive in Week 1. Despite the losses by Virginia Tech to Alabama, Syracuse to Penn State and North Carolina to South Carolina, the ACC had a solid showing.
The Clemson Tigers' win over Georgia led the way. Other teams posted huge victories, including a 70-0 Georgia Tech win over Elon and a 45-0 Duke victory over North Carolina Central.
Teams like North Carolina State, Maryland, Miami, and Virginia dominated solid FBS competition.
It should be a good year for the ACC in 2013.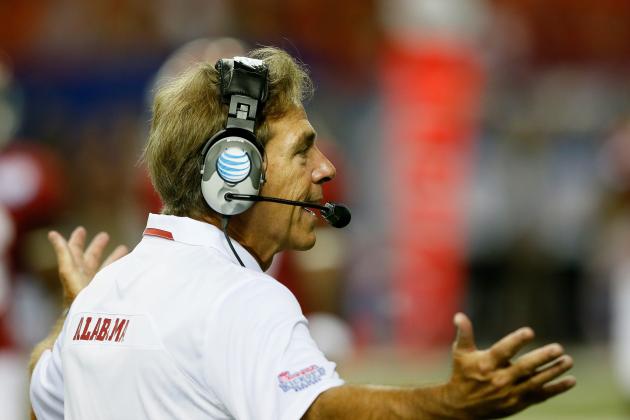 Kevin C. Cox/Getty Images

It is hard to decipher a lot from one game, particularly when a lot of teams are playing inferior competition.
That is why Week 1 leaves a lot of question marks. There are still teams who have not yet played a game and dozens who have not yet played FBS competition.
While we did learn a lot from the first week of the season, it is easy to see that it will take a few more weeks to get a grasp on just how talented some teams are.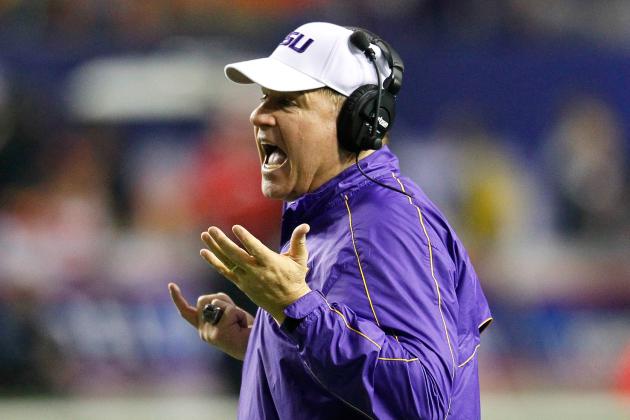 Kevin C. Cox/Getty Images

Diehard college football fans let out a collective sigh of relief when the college football season began on Thursday night.
Perhaps the most important thing we learned all weekend was that college football was sorely missed over the past seven months.
Judging by opening weekend, there is no question that it is going to be another exciting year of college football.
Is it time for Week 2 yet?