Rice vs. Texas A&M: Live Scores, Analysis and Results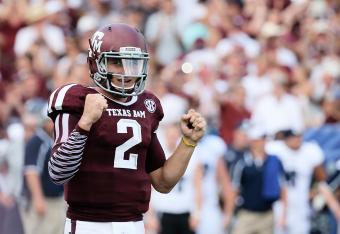 Scott Halleran/Getty Images
Texas A&M 52, Rice 31, Final
Texas A&M got through its first college football game of the 2013 football season, and it wasn't pretty.
Not only did Rice put up 31 points, but the Owls gained 509 yards of offense against the Aggies. A&M also lost two players in the game to ejections, one for fighting, one for targeting.
On top of all that, Manziel, after his much-anticipated return, was benched in the fourth quarter by head coach Kevin Sumlin after a bone-headed unsportsmanlike-conduct penalty.
That's going to do it for our live blog of Rice at Texas A&M.
Make sure to check in with Bleacher Report for more game wrap-ups for Texas A&M and all of the college football teams across the nation.
There's certainly a lot to take away from this game. First, Rice will likely be a force this season in Conference USA. After a 7-6 finish in 2012, the Owls could very well have their sights set on the C-USA title this season, especially after putting up 31 points and gaining over 500 offensive yards against an SEC foe.
For Texas A&M, the bad news probably outweighed the good. The defense was dismantled by Rice's running game and gave up several big pass plays as well.
Sure, there were six starters that did not play in the first half thanks to suspensions, but much of the SEC's claim to fame over the past few seasons has been the incredible depth of talent—on defense in particular. Texas A&M clearly doesn't possess the depth that many other SEC programs have at their disposal.
And finally to Johnny Manziel. Sure, he was competent as a quarterback. While not looking spectacular, he was at least very solid behind center. Manziel was 6-of-8 for 94 yards and three touchdowns and added 19 yards on six carries. But what we'll be talking about for the next week is his behavior on the field. After undoubtedly hearing some comments from Rice players, Manziel responded by getting himself in trouble, eventually being flagged for unsportsmanlike conduct following a touchdown pass.
Texas A&M head coach Kevin Sumlin subsequently confronted Manziel on the sideline, and Manziel didn't return to the game.
Will Manziel's behavior continue to be a distraction now that the season has begun? Weren't we supposed to be past all of this behavioral stuff now that the season is underway?
Only time will tell.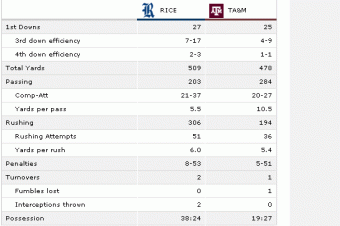 Some final stats...
Texas A&M head coach Kevin Sumlin confirms Manziel was benched after his unsportsmanlike penalty, not because A&M was up by several touchdowns.
Game Over: Texas A&M 52, Rice 31
Stay tuned for some final thoughts, stats and wrap-up.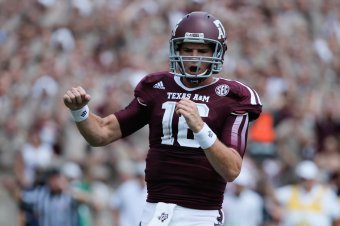 Scott Halleran/Getty Images
Matt Joeckel will finish out the game for the Aggies...
Rice adds a 43-yard FIELD GOAL, 52-31, A&M.
This game can't end soon enough.
The result will not change. The only thing that can happen is injuries or more ejections/suspensions. A&M should be running dives and taking knees from here on out.
When this game ends, what will be the big storyline?
Rice putting up over 500 yards of offense on an SEC defense?
Texas A&M's defensive woes?
Texas A&M's unsportsmanlike penalties and ejections?
Additional A&M suspensions?
There's a lot to go over, that's for sure.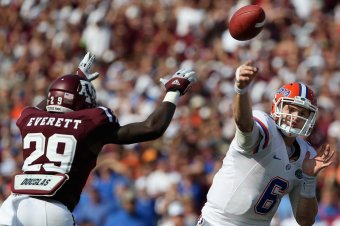 Ronald Martinez/Getty Images
Another A&M Ejection
Deshazor Everett flagged for targeting.
And Everett already sat out the first half today. By rule, he'll also sit out the first half next week (since the ejection occurred in the second half).
Targeting call being reviewed...The ejection stands.
Texas A&M's Deshawn Hall ejected for "fighting."
Johnny Manziel running his mouth after the touchdown, chasing down two Rice defenders to do a little chirping.
Unfortunately for Manziel, he did it all within hearshot of officials and kept going even after two officials stepped between Manziel and the Rice defenders.
Whoops.
That may be the end of the day for Manziel with a large lead for A&M on the board.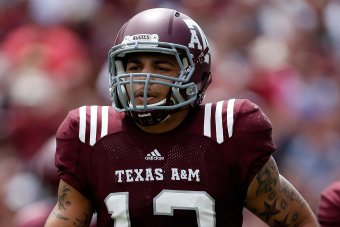 Scott Halleran/Getty Images
TOUCHDOWN, Texas A&M
Johnny Manziel to Mike Evans.
Johnny Manziel gets flagged for 15 after throwing his third touchdown pass.
Rice forced to go for it on fourth down deep in its own territory.
The A&M defense holds (for once), and the Aggies take over near their own red zone.
Rice, of course, helps out the A&M defense's cause with presnap penalties.
Texas A&M fans and really all SEC fans are hoping for an A&M stop. Or at least some kind of reason to believe in this Aggie defense.
TOUCHDOWN, Texas A&M!
Ben Malena hauls in a pass from Johnny Manziel for an 18-yard score. Aggies extend their lead to 17, 45-28.
Thanks for coming, Rice. It was fun while it lasted, but the Aggies offense is just too much.
If only the defense measured up, A&M could really have something going...
Tra Carson, an Oregon transfer, is getting the lion's share of A&M's rushing yards—and for good reason.
Is it any wonder Oregon recruited this guy? He's quick, but more importantly, very elusive.
TOUCHDOWN, Owls!
Charles Ross scores his third touchdown (two rushing, one receiving) of the day with a one-yard run, cutting the A&M lead to 10 points, 38-28.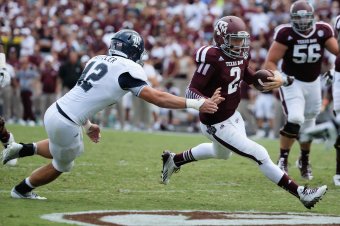 Scott Halleran/Getty Images
One quarter left, and Manziel will still be playing. Not out of any sense of preparation or getting reps, but out of necessity.
Rice threatening again...could cut this A&M lead to 10.
Shocking that the big story coming out of today will likely be the porous A&M defense.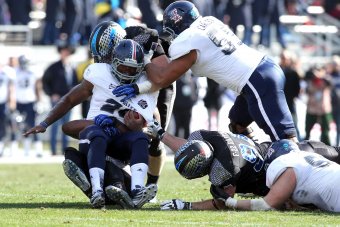 USA TODAY Sports
A&M defense again bending under the Rice pressure.
While A&M appears to have more than enough offensive power (even sans Manziel) to outscore an apparently prolific Owls rushing attack, you have to start to wonder how this defense will fare against teams like Alabama and LSU.
Manziel absolutely destroyed in the pocket, down for a sack—forcing a punt.
The excitement of Manziel's return as worn off pretty quickly. Sure, A&M is still up by a bunch, but we haven't seen the Manziel explosion of fireworks we were all eagerly awaiting.
This article is
What is the duplicate article?
Why is this article offensive?
Where is this article plagiarized from?
Why is this article poorly edited?