NFL Cuts 2013: High-Profile Casualties Who Won't Catch on Elsewhere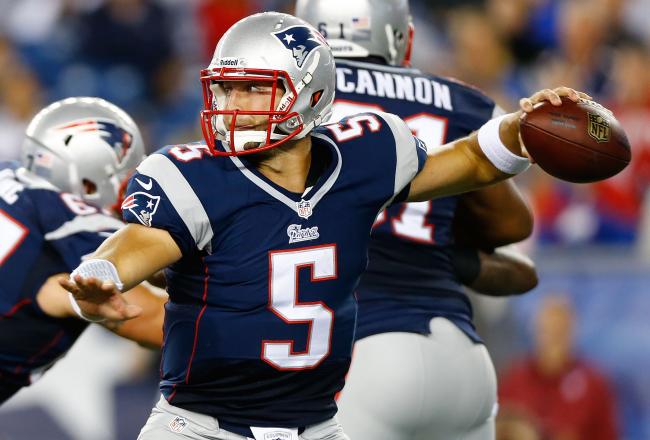 QB Tim Tebow
Jared Wickerham/Getty Images
With every NFL team having trimmed down to 53 players, it would seem as though everything is set for the regular season, but with so many potentially useful players getting cut, there is sure to be plenty of roster movement in the coming days. For every player who does find a new home, though, there are many more who won't.
Saturday's cut day certainly wasn't short on intrigue as a number of big-name players failed to avoid the dreaded Turk. That could ultimately be a good thing for some players as they'll now be able to field offers as free agents, but the calls aren't going to come for everyone.
Here are three high-profile players who were victims of the numbers game on Saturday and will still be on the open market by the time the regular season starts.
Quarterback Tim Tebow has been one of the most-talked-about players since he entered the league a few years ago, and that certainly didn't change this preseason. After being released by the New York Jets, Tebow received another chance to stick on an NFL roster as he was signed by the New England Patriots. While New England seemed like the perfect place for him to succeed as a backup to Tom Brady, he was released on Saturday, according to ESPN's Adam Schefter.
Patriots released Tim Tebow.

— Adam Schefter (@AdamSchefter) August 31, 2013
After throwing for just 54 yards and an interception in New England's first two preseason games, it became blatantly obvious that Tebow was on the outs. Tebow rebounded with 91 yards, two touchdowns and an interception in the Pats' preseason finale, but that wasn't enough to salvage a roster spot.
Brady has only suffered one significant injury during his career, and Ryan Mallett appears to be a capable backup, so there simply wasn't room for Tebow as Bill Belichick obviously wanted depth at other positions.
Tebow could be an asset in the right system as his skill set fits in well with the read-option, but it's hard to imagine a team rolling the dice by signing him. He would only be a backup or third quarterback at best, but teams may not be interested in the media circus that would surround Tebow.
By all accounts Tebow is a great person and teammate, but he draws too much attention because of who he is. Name recognition is usually a good thing, but it will be a hindrance in Tebow's case.
Matt Leinart
After an incredible collegiate career at USC that saw him win the Heisman Trophy in 2004, quarterback Matt Leinart was drafted No. 10 overall by the Arizona Cardinals in the 2006 NFL draft. Leinart has never proven capable of being a starting quarterback in the NFL, however, as his 2,500 passing yards, 11 touchdowns and 12 interceptions as a rookie in 2006 are his career highs to this point. Leinart was a free agent until recently when the Buffalo Bills signed him for depth purposes, but his tenure in Western New York didn't last long.
Leinart had served as a backup for the Houston Texans and Oakland Raiders over the past two seasons, but he couldn't stay healthy when starting opportunities presented themselves.
The Bills had some injury issues in their own right as rookie quarterback E.J. Manuel is nursing a knee ailment, while a concussion landed Kevin Kolb on injured reserve. Just days after singing with the Bills, Leinart started their preseason finale. He was awful, though, which resulted in him being released, according to SportsCenter.
THIS JUST IN: Bills release QB Matt Leinart, according to media reports. He went 3-10, 11 yards, 2 Int Thursday against Detroit.

— SportsCenter (@SportsCenter) August 30, 2013
It was somewhat unfair to expect anything spectacular out of Leinart, but he looked totally incompetent. Buffalo also traded for quarterback Thad Lewis, who managed to make some plays despite being in the same situation as Lewis, so it was an easy decision on the Bills' part to cut Leinart.
While Leinart was once an extremely promising player, he has been a dud at the NFL level, and no team has any incentive to sign him at this point.
Jimmy Clausen
One of the common themes among many of the released players on Saturday is that teams are starting to move on from disappointing quarterbacks. One of them is Jimmy Clausen as the former second-round pick was cut by the Carolina Panthers, according to Ian Rapoport of NFL Network.
#Panthers have released QB Jimmy Clausen, I'm told. Former 2nd rounder.

— Ian Rapoport (@RapSheet) August 31, 2013
Which released player is least likely to catch on with another team?
Clausen was a collegiate star at Notre Dame and a projected first-round pick in 2010, but he fell to the second round due to concerns regarding his physical tools. It turns out that those concerns were well-founded as Clausen was never able to get the job done in Carolina.
Clausen was given an opportunity to be a starter as a rookie, but he was absolutely awful as he threw for just over 1,500 yards, three touchdowns and nine interceptions while seeing significant action in 12 games.
That led directly to the Panthers drafting Cam Newton No. 1 overall the following year, and the rest is history. Clausen has been able to hang around as a backup over the past couple seasons, but with Derek Anderson No. 2 on the depth chart, the decision was made to carry just two signal-callers.
Teams are always looking for quarterbacks, but Clausen was lost during his stint as a starter, and it's unlikely that much has changed. Clausen is still young at 25 years of age; however, there isn't much upside worth investing in.
Follow @MikeChiari on Twitter
This article is
What is the duplicate article?
Why is this article offensive?
Where is this article plagiarized from?
Why is this article poorly edited?