UFC 164 Live Results, Play-by-Play and Fight Card Highlights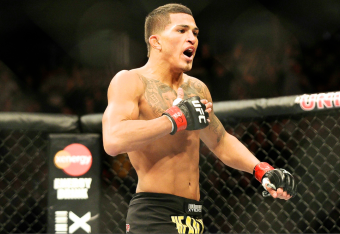 The UFC 164 main card is underway. Follow along below for all of the round-by-round action.
Quick Results:
Main Card
Anthony Pettis def. Benson Henderson via verbal submission (armbar) - Round 1, 4:31, to become new lightweight champion
Josh Barnett def. Frank Mir via TKO (strikes) - Round 1, 1:56
Chad Mendes def. Clay Guida TKO (punches) - Round 3, 0:30
Ben Rothwell def. Brandon Vera via TKO (punches) - Round 3, 1:54
Dustin Poirier def. Erik Koch via unanimous decision (29-28, 29-27, 29-27)
Preliminary Card (Fox Sports 1)
Gleison Tibau def. Jamie Varner via split decision (29-28, 27-29, 29-28)
Tim Elliott def. Louis Gaudinot via unanimous decision (30-27, 30-26, 30-26)
Hyun Gyu Lim def. Pascal Krauss via TKO (strikes) - Round 1, 3:58
Chico Camus def. Kyung Ho Kang via unanimous decision (29-28, 29-28, 30-27)
Preliminary Card (Facebook)
Soa Palelei def. Nikita Krylov via TKO (punches) - Round 3, 1:34
Al Iaquinta def. Ryan Couture via unanimous decision (30-27, 30-27, 30-27)
Magnus Cedenblad def. Jared Hamman via submission (guillotine choke) - Round 1, 0:57
Signing off, folks!
Make sure to stay with us for our post-fight coverage.
Benson Henderson vs. Anthony Pettis Official Decision
Anthony Pettis defeats Benson Henderson by submission via armbar at 4:32 of Round 1
Again, what a shocker. I'm beside myself over how this actually happened.
If you haven't seen it, go back and watch Bendo vs. Cerrone 1 back in the WEC to fully appreciate Henderson's submission defense. Absolutely crazy that things panned out this way.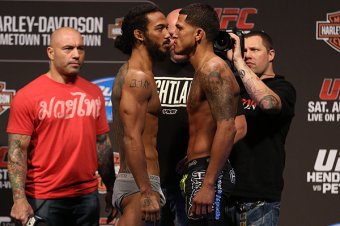 Benson Henderson vs. Anthony Pettis Round 1
SO EXCITED, YOU GUYS!
Bendo throws hands and shoots immediately and latches onto a single. Pettis defends on one foot for a solid 50 seconds before the two break. Pettis' leg clearly has a target on it, as Bendo throws a leg kick then shoots for a takedown.
The fact that Pettis is defending this well shows a huge improvement on his part in comparison to when he fought Guida.
Bendo lands an uppercut on the way out, the two strike and again the fight gets worked to the cage. Pettis spreads out to avoid a takedown, as Bendo peppers Pettis' left leg with front kicks to the calf. Three minutes deep and Pettis has done very little.
The two break and Pettis lands a fearsome body kick. He then lands a big knee followed by two more body kicks. Pettis tries a fancy kick like he did against Cerrone, but Henderson drives into him and takes him down.
Pettis quickly slaps on an armbar and, remarkably, gets the tap.
An honest-to-goodness shocker right here. Benson Henderson is a downright wizard to escaping submissions. The fact that he lost like this is astounding.
Frank Mir vs. Josh Barnett Official Decision
Josh Barnett defeats Frank Mir by technical knockout via knee at 1:53 of Round 1
A dissatisfying win, but it is what it is. Barnett is being booed lustily, but the UFC seems content in avoiding mentioning why so many people hate him.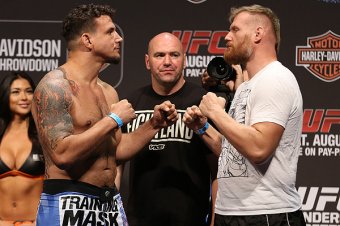 Frank Mir vs. Josh Barnett Round 1
No chance for this writer to hit the bathroom, as we just go from fight to fight. Now we finally get to the big fight between Josh Barnett and Frank Mir.
Both come out swinging. Mir is landing some huge punches from inside Barnett's clinch. Barnett is clearly trying to wrench Mir to the ground but to no avail.
Both fighters battle for hand position, but seem content inside the clinch. Barnett ends up with a Muay Thai clinch and does some damage with knees. Mir ties him back up, but starts eating some hard punches. Barnet keeps Mir's hands up and lands a spot-on knee right to the head.
Mir drops and the ref immediately separates them. Mir immediately pops up, and is livid about the decision.
Clay Guida vs. Chad Mendes Official Decision
Chad Mendes defeats Clay Guida by technical knockout via punches at 0:30 of Round 3
That is Guida's first ever knockout loss. Really surprising finish, not because Mendes won but simply because he was able to knockout Guida. "The Carpenter" actually owns wins over four of the UFC's current top-10 at 155 lbs (Josh Thomson, Rafael dos Anjos, Anthony Pettis and Nate Diaz). Truly an impressive performance.
Clay Guida vs. Chad Mendes Round 3
Guida comes out quickly, but Mendes lands a hard right hand that rocks Guida. Guida stays rocked as he works his way to his feet, but Mendes stays on him, landing more punches. They split with Guida's back to the cage, but Mendes rips a right hand to Guida's chin, followed by a perfect uppercut.
Guida turtles and the ref quickly pulls them apart, giving Mendes a major knockout victory.
Clay Guida vs. Chad Mendes Round 2
Guida presses the action early, but just can't catch up to the seemingly infinitely quicker Chad Mendes. Guida just keeps swatting air, but just doesn't seem interested in wrestling.
Out of spite towards me, he shoots for a takedown but Mendes slips around him and takes the back, landing some nice knees in the scramble. Mendes shoots for his own takedown, but Guida sprawls out of it. Guida returns the favor, but Mendes, too, sprawls.
Mendes gets a great trip, and then takes Guida's back. Clay flips and Mendes threatens with a kimura. He lets it go in favor of a front headlock, but Guida tosses him off. Guida keeps pushing forward, but just doesn't ever find homes for his strikes.
The horn sounds and Guida seems oddly happy with how things are going so far.
10-9 Chad Mendes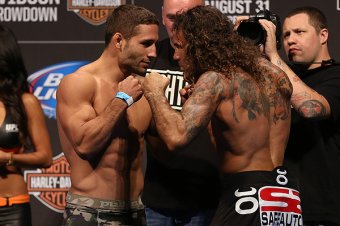 Clay Guida vs. Chad Mendes Round 1
No slowing down here as we jump right into this huge feathweight tilt.
Guida comes out hopping around, as per usual (without the mustache that appeared in his fight against Hatsu Hioki). Mendes is swinging for the fences early, and looking for a big right hand. Mendes is showing a clear speed advantage early.
It takes a while, but Guida shoots for a takedown. Mendes pounces on a guillotine, but Guida slips away. Guida whiffs a big head kick and starts throwing punches, realizing he isn't winning this round quite yet.
Mendes lands a nice straight right, and keeps backpedaling away from Guida's leaping right hands. Mendes ends up landing a powerful takedown, and maintains top position until the horn sounds.
Easy round to score.
10-9 Chad Mendes
Ben Rothwell vs. Brandon Vera Official Decision
Ben Rothwell defeats Brandon Vera by technical knockout via punches at 1:54 of Round 3
Great win for Rothwell and this could very easily be the last we see of Brandon Vera in the Octagon. He is 1-4 (1) in his last six, with that one in parentheses being the embarrassing loss to Thiago Silva that was overturned by a failed drug test.
Rothwell clumsily calls out Travis Browne. That isn't likely to happen, though, with Browne looking at a top contender fight against somebody like Fabricio Werdum.
Ben Rothwell vs. Brandon Vera Round 3
Rothwell lands a solid body kick early, and clinches Vera tight, moving things to the cage. Ref Herb Dean is fairly quick to separate them, though.
Rothwell starts dancing and showing wacky head movement, but lands no real strikes off it. After he stops showboating, though, he lands a huge right against the cage. He stays on him and lands several right hands.
Vera goes down, Rothwell stays on him. Vera turtles up and Herb Dean is forced to separate them. Rothwell scores a nice knockout to stay in the win column.
Ben Rothwell vs. Brandon Vera Round 2
Vera shows early leg kicks, but Rothwell clinches and lands some nice knees to the body before Vera breaks away. Rothwell continues maintaining the center of the cage while Vera pedals away.
Rothwell tries to make use of the clinch to keep Vera close enough to land strikes, but can't do it for long enough to get to work.
Rothwell gets Vera cornered with a minute left and lands a couple hands, but doesn't do much real damage. The horn sounds with Rothwell throwing an ugly head kick to no avail.
An ugly round for sure. Have to score this one for Rothwell. Vera actually landed in round 1, but did not do nearly as much in round 2.
10-9 Ben Rothwell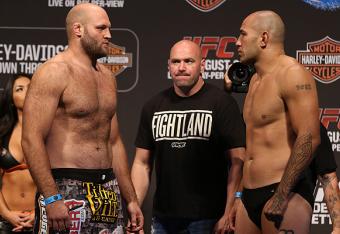 Ben Rothwell vs. Brandon Vera Round 1
Brandon "The Truth" Vera returns to the heavyweight division, and looks mammoth. He has packed on some serious muscle now that he is returning to heavyweight. Rothwell, though, couldn't make light heavyweight without cutting off both of his legs.
Vera takes the center of the cage early, but he backs off quickly in fear of Rothwell's right. Rothwell is leaning back quite a bit in his stance, but Vera still finds the reach to land punches. Rothwell wobbles Vera to the cage, but doesn't pursue.
Rothwell eats a massive body kick, followed by a leg kick. Rothwell starts pursuing but Vera lands a massive left. Remarkably, Rothwell just shakes it off.
He continues pressing the action, but Vera is freely landing kicks. Rothwell lands a nice left, but Vera gets on his bicycle with the quickness. Vera clearly wants to repeatedly land fade-away shots and steer clear of a brawl, which is definitely not a bad idea on his part.
Rothwell continues pressing the action, but Vera escapes time and again.
The round ends with Rothwell landing a great kick to Vera's cup. Vera is clearly uncomfortable, but is standing and nursing it. The horn sounds almost immediately after Vera gives the thumbs up to keep going.
A tough round to score, given Vera landing more shots but Rothwell controlling the center. Have to score this in favor of the actual strikes, though.
10-9 Brandon Vera
Erik Koch vs. Dustin Poirier Official Decision
Dustin Poirier defeats Erik Koch via unanimous decision (29-28, 29-27, 29-27)
Somewhat surprising that two judges scored it 29-27, but Poirier did look pretty scary in the first round. Great win for Poirier, but difficult to say that he's really back in the title picture already. He's obviously skilled, but 145 lbs is just so crowded right now.
Either way, huge win and a legitimate Fight of the Night candidate.
Erik Koch vs. Dustin Poirier Round 3
Koch comes out with happy feet, clearly appreciating his need to finish the fight after two ugly rounds. Poirier clinches and presses things back to the cage, further tiring Koch.
"The Diamond" threatens a takedown, but Koch gets lower, and stays up, but remains back to the cage. Koch, somehow, trips Poirier, and lands in top guard position. They move back and forth between half- and full-guard, with Koch landing some nice elbows from the top.
Poirier does a good job tying up Koch's arms, but Koch takes advantage of a failed escape and takes his back. Koch attempts a rear-naked choke, but lets it go quickly. Poirier stands, but Koch stays tight on his back.
Koch keeps going for the choke, but just can't keep it tight. The horn sounds with Koch again trying for a rear-naked choke, but he can't knot it up in time.
10-9 Erik Koch
Erik Koch vs. Dustin Poirier Round 2
Both featherweights come out swinging early. Poirier presses the action, landing some nice left hands. Koch clinches, but Poirier reverses nicely and winds up on top.
Poirier works towards the back and threatens with a choke. Koch slips out but is still in mount. Poirier lands some big punches, and keeps Koch locked up tight against the cage. Koch eventually separates his legs far enough to get out, but Poirier keeps him pressed to the cage, weighing on him and landing intermittent elbows and knees.
They break, but Koch looks exhausted while Poirier looks strong and confident. The round ends with Poirier keeping him pressed to the cage. The two jaw a little after the round, but Poirier is clearly leading by a mile at this point.
10-9 Dustin Poirier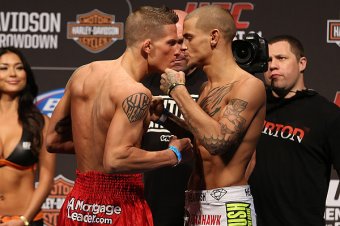 Erik Koch vs. Dustin Poirier Round 1
Before I even get the chance to start writing an intro paragraph, Koch locks up a tight triangle choke. Poirier struggles to escape, but Koch is locked on. Poirier squeaks out, but not a great way to start the round.
Things work their way to the cage. Both fighters land knees in the clinch.
The two fighters break and Poirier lands a huge right hook right to the chin up close. Koch is rocked hard, and barely defends himself from Poirier's hands. The two roll and Poirier locks up a tight choke in the waning seconds.
The horn sounds with Poirier trying to steal the round with punches. In my book, he did enough, though.
10-9 Dustin Poirier
Jamie Varner vs. Gleison Tibau Official Decision
Gleison Tibau defeats Jamie Varner via Split Decision (29-28, 28-29, 29-28)
Not really sure how this ended up being a split decision, but the right man won. Tibau showed his general strength and, though he wilted hard late, still did more than enough to knot up two rounds to Varner's one.
Time for the PPV leg of the card!
Jamie Varner vs. Gleison Tibau Round 3
Varner goes for a takedown, but Tibau shrugs him off with ease. Varner stalks, but doesn't land anything of note.
Varner is purple, but looks more spry at this point. Unfortunately, as he goes for a punch, Tibau secures another takedown. Varner quickly escapes, and continues pressing the action on his feet.
Tibau eats some hands to the body, and starts looking seriously slow compared to Varner. Varner shakes out and flairs his hand, suggesting he may have broken it. Varner seems much more reluctant to throw his right now, but keeps finding homes for his left uppercut.
Varner rocks Tibau, and follows him to the ground, landing lefts from half-guard. Still, Tibau defends competently, locking Varner up where he can, keeping him relatively safe. Varner peppers him with hands, and gets kicked off with a few seconds left.
He throws hands to the on-his-back Tibau, but doesn't hurt him in the least.
10-9 Jamie Varner
Jamie Varner vs. Gleison Tibau Round 2
Tibau shows front kicks, but they don't effect Varner in the least. Varner goes for a knee, and Tibau quickly grabs hold and throws him to the ground. Varner locks up a guillotine, but Tibau simply peels his arms away.
Varner tries to escape but Tibau just shows how powerful he is by muscling him wherever he wants. Varner tries to kick out, but Tibau takes his back and goes for a guillotine. Varner turns and is back on the bad side of a mount.
Tibau stays glued to him as he tries to escape, landing punches with his hulking arms. Varner looks very tired, as Tibau weighs down on him heavily, constantly threatening with submissions.
The round ticks to a close, Tibau peppering the former WEC champ with punches freely.
10-9 Gleison Tibau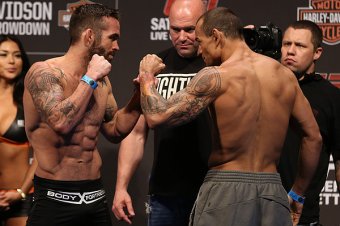 Jamie Varner vs. Gleison Tibau Round 1
Before we see Bendo vs. Pettis 2, we get to see another WEC lightweight champ step into the cage.
The two come out with Varner peppering Tibau with some big leg kicks. Tibau checks them well.
Insert token shout-out to Tibau's hugeness. Dude makes Varner, a big 155'er, look like a bantamweight.
Varner is clearly looking to get back to his boxing roots, and wants to set up a big right hand. A smart game plan, given Tibau's strength and BJJ-savvy.
Gleison stuns Varner with a punch, but Varner recovers very quickly. Both wind up a bit gunshy afterwards, but Varner ends up eating a right hand. While Varner hasn't been too dazed by them yet, he's still landing while Varner really isn't.
With a minute left, Tibau muscles Varner to the ground with a single, and quickly starts threatening a choke. Varner squirms back to the corner to try and wall-walk. Tibau takes his back, which is not a place he wants to be. Varner lands some sweet elbows in the waning seconds, but doesn't even loosen Tibau's grip on his back.
A solid start by the Brazilian, who easily earns a...
10-9 Gleison Tibau
Louis Gaudinot vs. Tim Elliott Official Decision
Tim Elliott defeats Louis Gaudinot via unanimous decision (30-26, 30-26, 30-27)
Slam dunk victory for Elliott here, who suddenly looks like a major player at flyweight. A top contender fight with John Lineker makes sense right now, and would give Demetrious Johnson a solid challenger (at least on paper).
Louis Gaudinot vs. Tim Elliott Round 3
Gaudinot opens with some early kicks, but is instantly taken down. Ellitt once again starts landing hands on top of hands on top of elbows. Gaudinot slips away, covers up, and begins eating knees for his complacency.
Elliott continues dominating this fight. He eats a big kick from Gaudinot, but just muscles through it, responding with punches and a nice takedown.
After that, more of the same. Punches and elbows, en route to mount for a brief time. Gaudinot kicks him back to half-guard, but still can't do anything about the ground and pound.
Minute after minute, Elliott maintains top position en route to the horn. He didn't score a finish, but you'll rarely see a more clear-cut victory than this.
10-9 Tim Elliott
Louis Gaudinot vs. Tim Elliott Round 2
Elliott whiffs a jumping kick, but Gaudinot seems almost frozen in place early. He opens up, though, and starts throwing some haymakers.
However, as soon as the pressure gets turned up, Gaudinot covers up, exposing him to some major strikes from Elliott. Gaudinot throws a big spinning back fist and does some damage with it, following it up with a knee.
It didn't rock Elliott, but he is clearly a bit less aggressive now, but Gaudinot isn't turning up the heat or taking advantage of the situation. Again, though, Gaudinot covers up and eats punches and knees.
Gaudinot actually lands some overhands, but is taken down by Elliott who once again postures and lands some massive strikes. Elliott throws elbow after elbow and lands them for free before once again posturing and throwing massive hands. Gaudinot continues eating big hands and just can't seem to slip away from Elliott.
At the 10-second clap, Elliott goes for a point-scoring leglock. Completely unnecessary, though, because this round was an easy...
10-9 Tim Elliott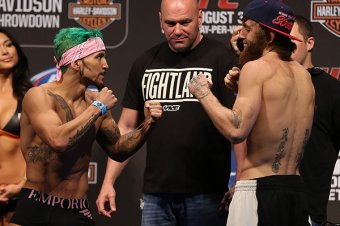 Louis Gaudinot vs. Tim Elliott Round 1
This is a deceptively important flyweight fight, as John Lineker is the only 125-lb contender with a three-fight winning streak. Lineker, though, lost to Louis Gaudinot. With a big win, the green-haired brawler could be a title contender.
Tim Elliott opens the first round with a bold double eye-poke. Gaudinot seems fine, but is quickly taken down after the break and is threatened by Elliott with a guillotine. Gaudinot eats some ground and pound but kicks Elliott off and gets back to his feet.
Elliott lands a nice knee, but Gaudinot returns a nice leg kick for his efforts. Elliott is finding homes for his hands, and ends up doing some kind of crazy roll into an ankle attack. He whiffs it mightily, but Gaudinot can't respond.
Elliott then lands some sweet hands and squeezes Gaudinot to the ground, landing some big ground and pound while postured. Elliott seems to be doing some legitimate damage even with short punches, but gets kicked off.
Gaudinot continues absorbing punishment, and covers up. This opens up his body for some big knees, and then he is once again taken down and eats some big ground and pound.
The round ends with Elliott swarming Gaudinot with some huge punches. A bit tough to score this round. Given how dominant Elliott was, it could reasonably be a 10-8. That said, I'll be conservative and score it...
10-9 Tim Elliott
This article is
What is the duplicate article?
Why is this article offensive?
Where is this article plagiarized from?
Why is this article poorly edited?