How Arsenal Will Line Up at Tottenham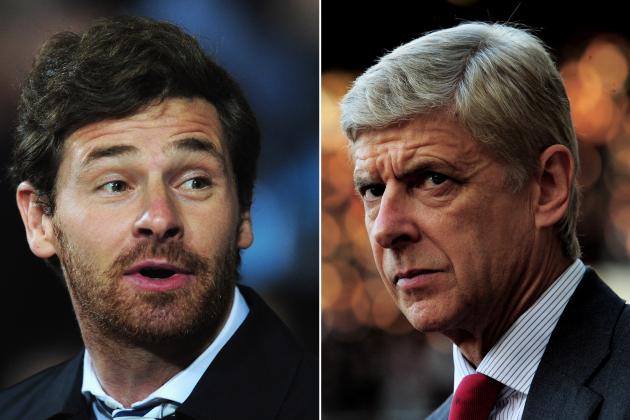 Getty Images/Getty Images

After knocking off Fulham last weekend and sealing Champions League qualification in midweek, Arsenal gets right back to business in a minor fixture known as the North London Derby.
In recent years, the face-off between North London's two preeminent teams has gained new significance because of the sides' perennial proximity in the Premier League table. But the practical importance of the points on offer is secondary to the vicious animosity that permeates each match.
Obviously, Arsene Wenger will devote a significant amount of time to picking his starting XI for a crucial early-season test, despite the fact that his options are laughably scarce.
Let's attempt to anticipate what the manager will do.
Begin Slideshow

»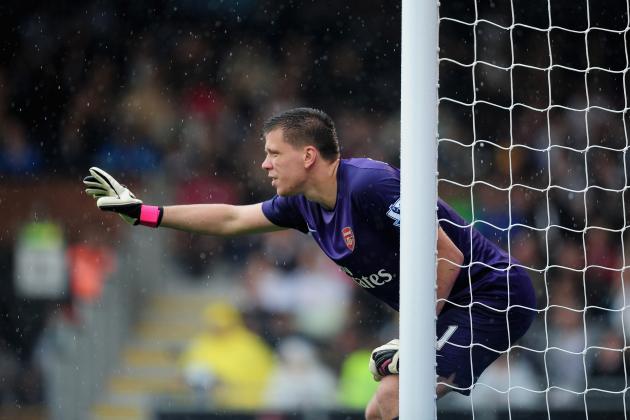 Jamie McDonald/Getty Images

After an unconvincing, error-strewn display in the season opener against Aston Villa, Szczesny has proven his worth and further cemented his place in the squad with a string of dominating performances that showcase his remarkable raw talent.
During both Fenerbahce matches and the Fulham game last weekend, the Polish keeper minimized the moments of immature indecisiveness that caused him to topple Gabriel Agbonlahor, sealing Arsenal's demise a few weeks ago.
With just the right sort of unconcern about personal injury that one would hope for from a goalkeeper, Szczesny displayed his stellar reflexes and fantastic range on numerous occasions, reassuring Wenger of his reliability.
He might not be the finished article yet, but he is probably a better choice in goal than Lukasz Fabianski.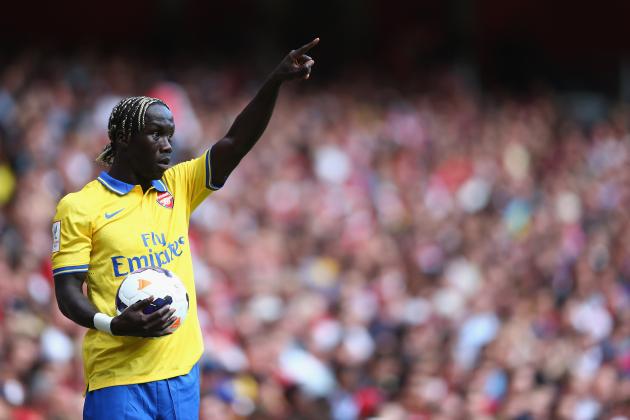 Paul Gilham/Getty Images

With Laurent Koscielny recovered from his facial laceration and done with his one-game suspension, Bacary Sagna is free to assume his natural position at right back.
Though the Frenchman performed excellently in the few games that saw him forced to move to the center, Sagna is best on the right, where he still gives Arsenal the defensive solidity and consistency that Carl Jenkinson cannot.
Jenkinson has a bright future ahead of him, and his work rate is almost unparalleled. For now, though, Sagna is clearly first-choice.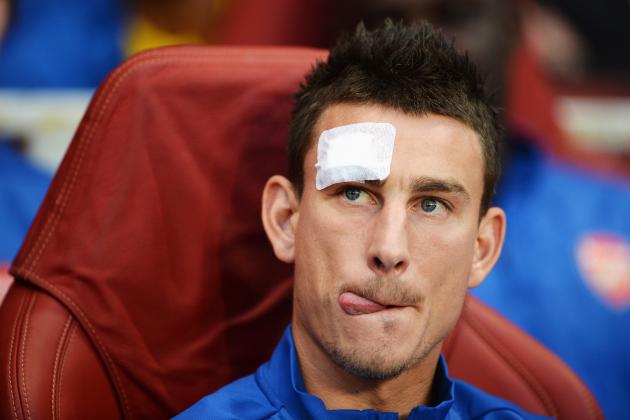 Michael Regan/Getty Images

When Arsenal's best central defender is fit, his place in the starting XI is obvious.
Laurent Koscielny's versatility is his best quality. His exceptional vertical leap allows him to win aerial challenges that a player of his height normally would not, and midfielders in front of him are thankful for his tenacious and proactive approach to defending.
His suspension and subsequent injury were significant blows to the team, though Bacary Sagna performed well in his place. But Koscielny adds several elements that no one else at Arsene Wenger's disposal can.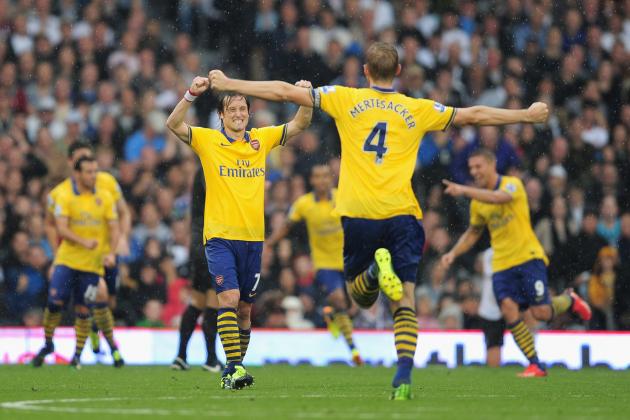 Jamie McDonald/Getty Images

Per Mertesacker has been ever-present this season—partly due to necessity, of course. But his inclusion in every match during the Gunners' run-in last season was no fluke.
His quiet leadership earned him the captain's armband in the absence of Thomas Vermaelen and Mikel Arteta, while his ability to read the game better than anyone else on the team makes him the type of solid player essential to a squad's defensive integrity.
Regardless of the fact that no one else on the squad can actually play the position, Mertesacker is an obvious choice.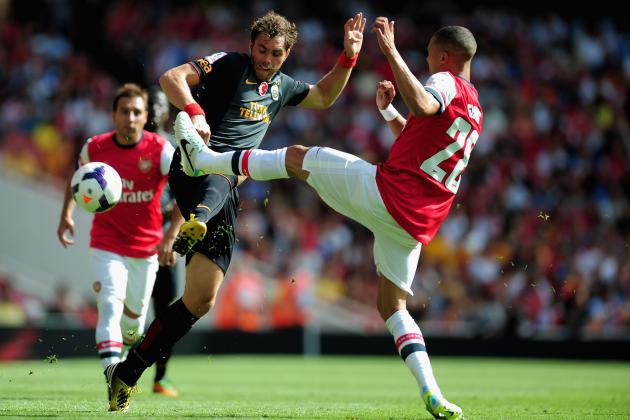 Jamie McDonald/Getty Images

Nacho Monreal impressed against Galatasaray in midweek, but Kieran Gibbs remains the first choice on the left.
While the Spaniard is more of a defensive option, Gibbs marries natural attacking instinct developed during his youth days as a winger, with a maturing defensive nous that has made him one of the best left backs in England.
Arsene Wenger is lucky to have depth at this position, but Monreal is not fully fit yet and so the positions belongs to Gibbs.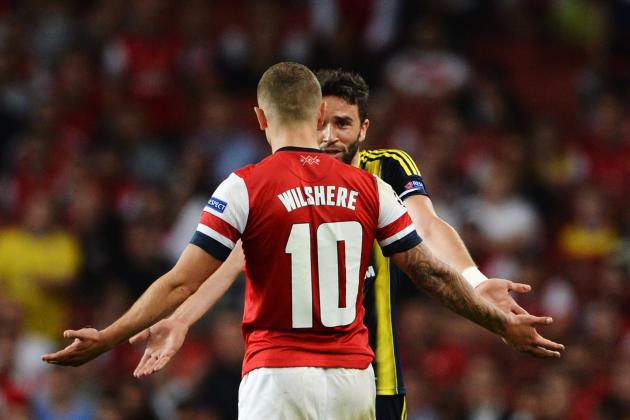 Michael Regan/Getty Images

Arsenal received a massive boost after the Fenerbahce clash when the medical team determined that Jack Wilshere and Aaron Ramsey would both be fit to play against Tottenham.
This was important not only because the Gunners have only Mathieu Flamini to replace their star midfielder—and his signing was just confirmed—but due to Wilshere's unique dynamism and skill in both ends of the pitch.
When fully fit, the Englishman possesses the ability to singlehandedly transition the entire team's concentration from defense to attack. He even adds some creative spark at the end.
Needless to say, when Arsene Wenger is willing to risk Wilshere's fitness, he plays him.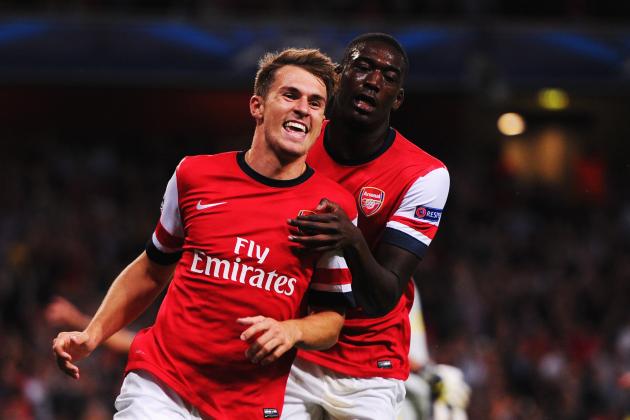 Michael Regan/Getty Images

The face you see here belongs to a player in the form of his life, swaggering about as one does when he is fully aware of it.
Aaron Ramsey showed signs at the end of last season that he was beginning to merge his endless stamina with the attacking quality that he was initially brought to Arsenal to display.
Nowadays, the Welshman is seemingly everywhere on the pitch at once, popping up in front of his own defense and endlessly harassing the opposition's.
He is fit and therefore must play against a Tottenham side that tends to let in goals against Arsenal.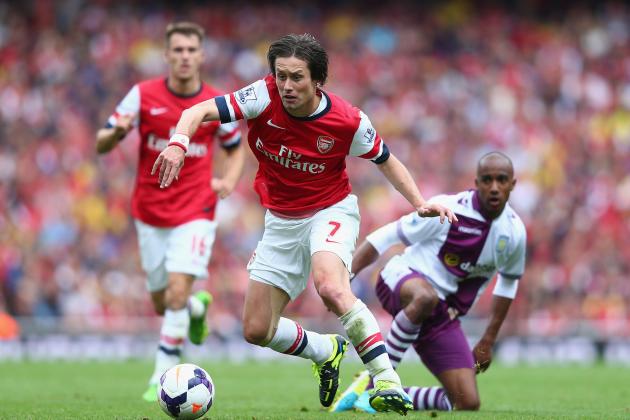 Clive Mason/Getty Images

When Tomas Rosicky is fit he is one of the most influential players in Arsenal's squad, combining relentless ferocity off the ball with excellent creative skill when on it.
He did not start in Arsenal's midweek clash with Fenerbahce, but Lukas Podolski's injury means that Santi Cazorla will be moved to the left wing. Rosicky is the Spaniard's only possible replacement in attacking midfield.
Despite his fairly advanced age, the Czech remains a brilliant player when fit and on his day. He satisfies the first requirement. And what better time for him to have a blinder than in the North London Derby?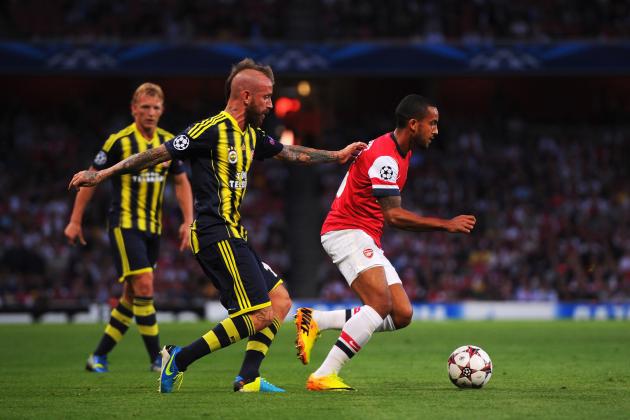 Michael Regan/Getty Images

Theo Walcott is an automatic starter on the right side.
Now that he has added a clinical finishing tough to his searing pace, Walcott is a lethal option out wide. He can do the jobs of a winger and striker with equal skill when necessary.
In a match that is sure to be stretched and filled with rapid counterattacks, Walcott's particular set of skills will be especially useful.
Not that Arsenal have very many options to replace him if Arsene Wenger so desired, but there is no need to even consider such youngsters as Ryo Miyaichi and Serge Gnabry.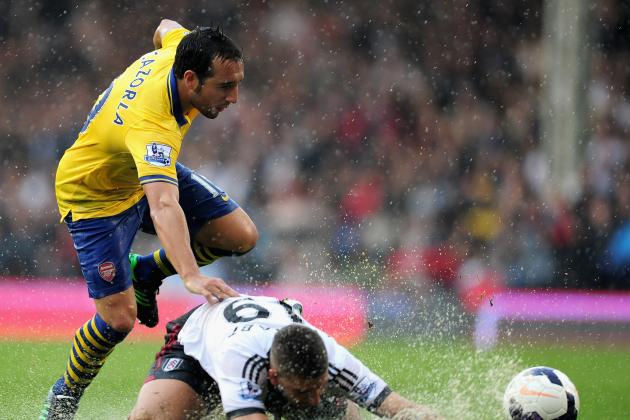 Jamie McDonald/Getty Images

Without a ready-made replacement for injured Lukas Podolski, Santi Cazorla will reprise his role as Arsenal's makeshift left winger.
I am a bit more negative about the star midfielder's performances out wide than some others, because he simply does not same have the creative freedom and room to roam as when he operates as a central attacking midfielder.
Nevertheless, Cazorla's two-footedness allows him to be very effective on the left wing, and he certainly possesses the technical ability to play out of position.
Arsenal will not lose much with Cazorla on the left, but they might be defensively compromised against a Tottenham side that is extremely effective on the counterattack.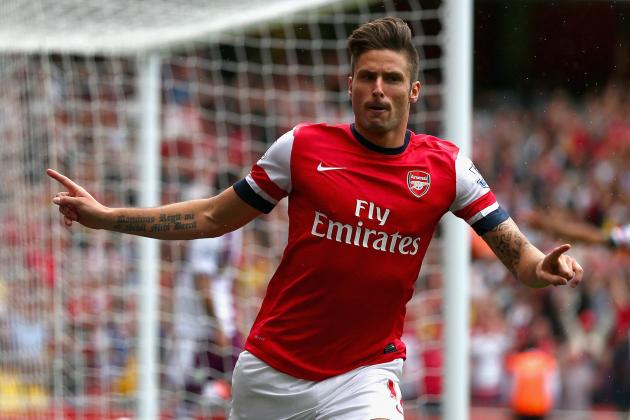 Clive Mason/Getty Images

Who else could one have picked here? Yaya Sanogo?
Arsene Wenger would have no other viable option to lead the line, even if Olivier Giroud was in poor form.
Fortunately for Arsenal, Giroud has scored in three of the Gunners' four matches this season, finally marrying his obvious physical prowess with extremely rare technical ability.
If Giroud can perform at that level against Tottenham's center backs, Arsenal's attack will flower, enabling the Gunners to take all three points in a fixture that is almost always decided by the team that fields the more potent attack.