Mayweather vs. Canelo: Win over Saul Alvarez Will Silence Money's Critics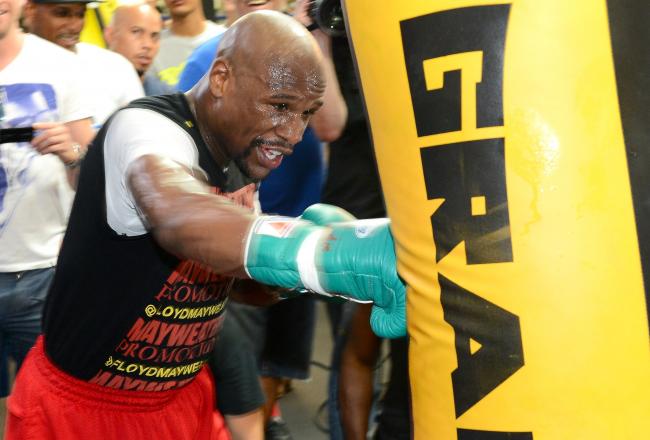 Ethan Miller/Getty Images
With a perfect 44-0 record and world championships across five different weight classes, Floyd Mayweather is arguably one of the greatest boxers of all time. Despite that, he has his fair share of detractors, but a win over Saul "Canelo" Alvarez on Sept. 14 will silence his critics once and for all.
While few boxers have as many fans as Mayweather, he is often criticized for facing easy opponents. The term "easy" is relative, though, as he has defeated the likes of Miguel Cotto, Shane Mosley, Juan Manuel Marquez, Ricky Hatton, Oscar De La Hoya and many others over the course of his career.
Alvarez is just 23 years of age, but the Mexican star already has 43 fights under his belt with a record of 42-0-1. Despite that, Alvarez's resume is far from impressive. Aside from his most recent victory over Austin Trout and a win over an old Mosley, he hasn't really fought anyone.
That fact isn't lost on Mayweather, as "Money" made it clear that Alvarez has yet to prove his worth, according to
Dan Rafael
of ESPN.com: "He's banking on his youth, I'm banking on my experience. I have a lot of experience in championship fights. Look at his resume, look at my resume and see what you come up with."
Whether Mayweather's naysayers want to admit it or not, he has basically faced every top challenger available to him with the exception of Manny Pacquiao, but there has been apprehension from Pacquiao's camp as well.
Mayweather could have taken his huge Showtime payday and took it easy against inferior opponents, but accepting a fight against Alvarez proves that he wants show that his undefeated record isn't a farce.
De La Hoya is Alvarez's promoter, and he hasn't been shy about voicing his opinion regarding the fight. De La Hoya lost to Mayweather in the past, but he fully expects Alvarez to knock Mayweather out, according to Rafael. Mayweather shot down that notion quite quickly, though.
"Oscar said he was gonna knock me out also. Did you see what happened in that fight? People are entitled to their opinion," Mayweather said. "People are going to say what they're going to say. My job is to be the best I can be and continue to do my job. There's a reason I do record-breaking numbers."
Alvarez's camp has done quite a bit of talking already, but Mayweather has never been one to shy away from verbal sparring. He also happens to have the perfect record necessary to back up his talk. Nobody has been able to shut him up yet, and it's hard to imagine Alvarez being the one to do it.
There is no question that Alvarez is one of the best young fighters in the sport, but he is a puncher more than he is a boxer. That makes him dangerous as one shot could potentially put Mayweather down, but nobody in boxing is better at evading power punches than him.
He has faced plenty of powerful fighters before, but the story has always ended the same way. Even though Mayweather is 13 years Alvarez's senior at 36, he has the edge when it comes to quickness and defensive acumen. Even though Mayweather would probably like to knock out Alvarez to cap an emphatic victory, simply winning at all would affirm his distinction as the best pound-for-pound fighter in boxing.
This fantastic painting by Richard T. Slone courtesy of BoxingInsider.com shows Mayweather getting the upper hand on Alvarez, which is likely a prelude to what will happen in the actual fight.
Photo: Floyd Mayweather vs Canelo Alvarez #theone hand painted poster by RIchard T Slone #boxing pic.twitter.com/K1ogdw16RS

— Boxing Insider.com (@BoxingInsider) August 21, 2013
It isn't Mayweather's fault that nobody has been able to touch him over the years. He has faced the best competition that boxing has had to offer, and he has always managed to get the job done. He actively sought out a fight with the fastest-rising star in boxing this time around, and there won't be much left for his critics to say once he wins this one as well.
Perhaps he isn't the most exciting fighter in the world, and maybe he isn't the best person either, but when he steps inside the ring, he is unquestionably the best in the world. Mayweather will prove that once again on Sept. 14, and his detractors will be left looking for answers.
Follow @MikeChiari on Twitter
This article is
What is the duplicate article?
Why is this article offensive?
Where is this article plagiarized from?
Why is this article poorly edited?