UFC 164: 5 Things to Watch for During Henderson vs. Pettis Fight Card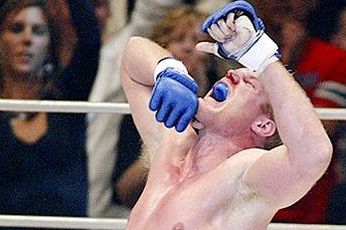 Courtesy of MMAMania.com
Lots of statistics, a regaling of skills and endless hype will be thrown at all of us leading up to the bouts at UFC 164 at the BMO Harris Bradley Center in Milwaukee. But once we're finally past the point of ever having to hear Benson Henderson talk about getting that "Pettis stain off of my soul" in the hype commercial, there are some interesting tidbits to watch out for during the event.
Guida's mosh fighting, the parade of fighters that we have seen practically grow up in the ring and cage and some straight-up world-class skill will be on display. And at UFC 164, it will be worth taking note of each so you can sound like an MMA guru in front of your friends or at the bar.
Begin Slideshow

»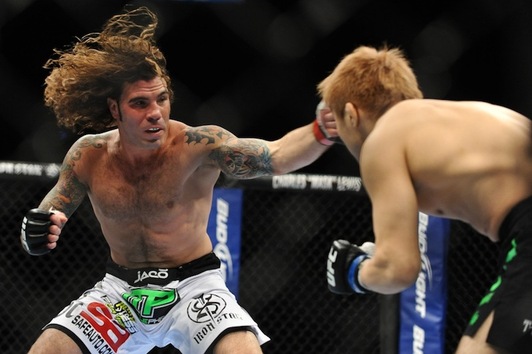 Courtesy of CagePotato.com
Guida, a once beloved lightweight, has become a point of pariah of the featherweight division for many fans who have grown tired of him literally bouncing around the Octagon.
In Guida's bout with Gray Maynard at UFC on FX: Maynard vs. Guida, Clay hopped nearly seven times for every one punch he threw. That is not an exaggeration. I sat through the entire fight and watched him bounce an average of 400 to 500 times per round (give or take 30 for stutters and half-hops) while throwing an average 60 punches per round. The 60 punches is being kind, as many times it was Guida simply measuring distance.
Guida did roughly the same against Hioki when standing, but he was able to take the Japanese veteran down to lower the total number of hops.
The style has earned no favors with fans. But to be fair, the fans are being a bit harsh. Guida has been a long-time veteran who has put on some amazing fights. He holds eight fight bonus honors, though most were earned earlier in his UFC career.
One thing is certain, now that you've read this slide, it will be hard not to sit and count the number of hops from Guida.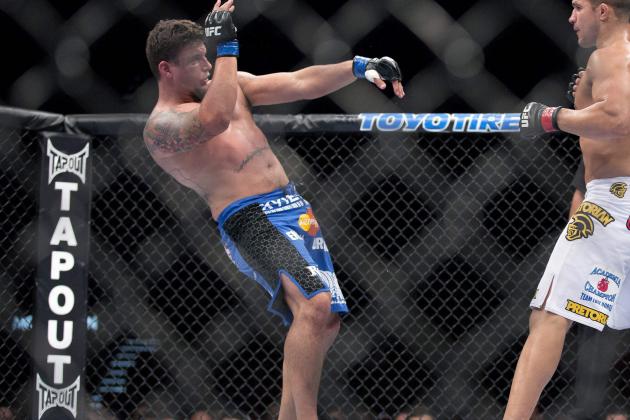 Courtesy of JumpingPolarBear.com
There are plenty of war-torn veterans participating in UFC 164. From UFC 65 all the way down to UFC 28, events of yesteryear provided the stage for many long-time veteran debuts.
Gleison Tibau first entered the Octagon at UFC 65 and will now be participating in his 18th bout for the organization. Clay Guida entered the UFC one event earlier at UFC 64 and will be fighting in his 20th event. At UFC 64, Jamie Varner made his first appearance. After a long tenure with the WEC and working his way back to the UFC, this will mark Varner's sixth fight for Dana White.
Three big men have withstood the test of time as well. Brandon Vera entered the organization at UFC 57 and will now take part in his 15th bout. Frank Mir will touch gloves for the 22nd time inside the Octagon. Josh Barnett, after so many years away, finally makes his back to the UFC for his fifth fight under the banner. His first bout in the Octagon was way back at UFC 28, when he defeated Gan McGee in 2000.
The item to watch is simply who looks their age, and who looks as if he still has something to give to the sport. It is no shame if these men simply do not have the bounce they once did. But whomever can avoid the ravages of time best will likely come out the victor at UFC 164.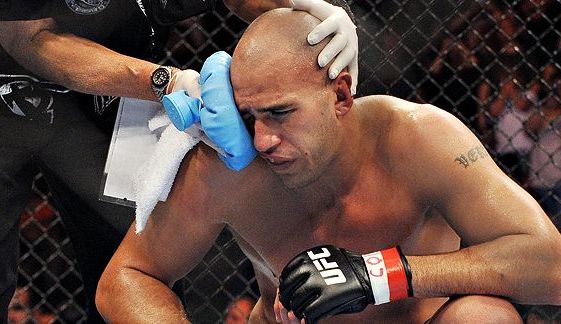 Courtesy of ESPN.go.com
With a third consecutive loss, it would be reasonable for Frank Mir to hang up his gloves. Josh Barnett could reasonably do the same after finally returning to the Octagon he once reigned over. Even commentator Joe Rogan may announce bowing out of his position, as he has noticeably already begun phasing himself out of the gig.
Regardless of who it is that bows out, UFC 164 feels like an event wherein someone will bow out once and for all.
As the previous slide stated, there is a lot of old talent on the roster for UFC 164. If long-time veterans like Gleison Tibau, Jamie Varner, Frank Mir, Brandon Vera or Ben Rothwell lose in brutal fashion, there is the possibility of a career ending right then and there. The Rothwell vs. Vera bout has particularly plausible career-ending scenarios. Both Rothwell and Vera have had lackluster runs for the last couple of years under the organization's banner. It may be time for one to call it quits if he can't put on a truly game performance at UFC 164.
Perhaps it will take being let go by the UFC, or maybe an injury will finally send the message to someone that his fighting days are over. We cannot know until the event happens, but the show simply has a certain feel to it. There are too many old bones at the event to not have at least one man find it an appropriate time to take the final bow.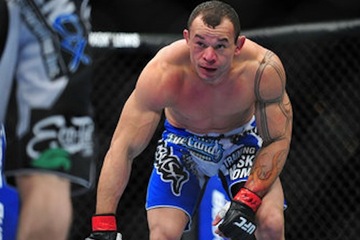 Courtesy of FightDay.com
The Brazilian veteran will put a nice round "20" onto his total UFC fights when he steps into the Octagon for his bout with Jamie Varner. What is most impressive about the long-time veteran's tenure is the fact he is ranked No. 1 and No. 2 in takedown defense and takedown total, respectively.
Tibau is the top dog when it comes to stuffing takedowns with a 93.2 percent success rate. The last man to take him down was Kurt Pellegrino in 2011 at UFC 128. Before that, Melvin Guillard was able to score a takedown at the TUF 9 Finale in 2009. All told, only four men have ever taken Tibau down, and none have done so more than once.
Tibau also has 69 takedowns in his UFC career. While it is still 15 shy of Georges St-Pierre, Tibau actually holds a better per-fight takedown rate that GSP. His 4.66 per-fight rate edges out GSP's 4.33 per bout.
So watch for how Tibau implements his game or how Varner finds a way to avoid it. Either way, someone will impress in the area of takedowns and takedown defense.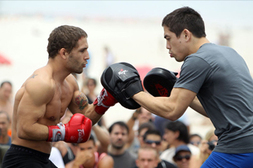 Courtesy of ReignArmy.com
You will probably hear Joe Rogan say it five or six times, but it bears mentioning at least once, pre-event: When two quality ground specialists face off, what makes the difference in the fight is the striking.
Henderson vs. Pettis, Mir vs. Barnett, Mendes vs. Guida and Tibau vs. Varner all pit quality ground fighters against one another. Because each fighter is aware of his opponent's skill on the ground, he is more likely to test him if he can control the stand-up and thus the match.
Each man will start with simple one-two jabs or stepping lead hooks to test the chin and movement of his opponent. If either or both fighters feel they can establish stand-up and stop the opposing fighter's takedowns, more vicious assaults will occur.
It is always very hard to predict game plans, but there is plenty of precedent to back the idea that two wrestlers equal a striking battle. Clay Guida vs. Gray Maynard and Georges St-Pierre vs. Josh Koshcheck are just two of a great many matches to follow the phenomenon.
Only if one truly feels the ground game is to his utmost advantage will the fight move to the ground and stay there.