Strengths and Weaknesses of Montreal Canadiens' Top Stars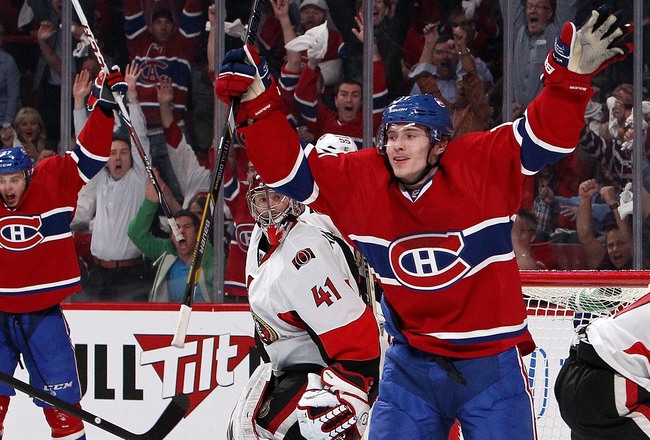 What are Brendan Gallagher's strengths and weaknesses?
Francois Laplante/FreestylePhoto/Getty Images
The Montreal Canadiens roster may lack superstar prowess, yet it does feature a solid group of players that are considered stars in today's NHL.
These stars make up the core of the Habs lineup and range from young talent to wily veterans. Each has areas of the game in which he succeeds, and others which need improvement.
Here are the strengths and weaknesses of the Montreal Canadiens' top stars.
Tomas Plekanec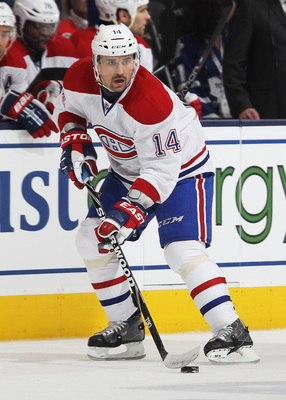 Tomas Plekanec is great in the faceoff circle.
Claus Andersen/Getty Images
Strength: Faceoffs
Tomas Plekanec is the Montreal Canadiens' top faceoff man, and he's one of the best in the NHL as well.
Plekanec finished the 2013 season ranked 10th in the NHL in faceoffs won, winning a grand total of 486 draws on 961 attempts.
Coach Michel Therrien employed Plekanec's faceoff services on almost every important draw last season. His 961 faceoffs taken were the fifth highest total in the NHL and 197 more than David Desharnais (second on the Habs with 764 total faceoffs).
As a team, Montreal struggled on the draw, ranking 17th in the league with a 49.8 faceoff winning percentage. Plekanec was the only center on the Habs to win more draws than he lost.
Weakness: Offensive production
Although he often plays on the second line, Plekanec is considered by most to be the team's No. 1 center. With that title should come offensive production, yet the numbers just aren't there.
In the last three seasons, Plekanec has put up just 33, 52 and 57 points respectively. He has only reached the 70 point plateau once in his career (2009-10). Over his eight year career, he averages just 0.66 points per game.
For someone who consistently lines up with top-six forwards, his offensive output simply isn't good enough.
P.K. Subban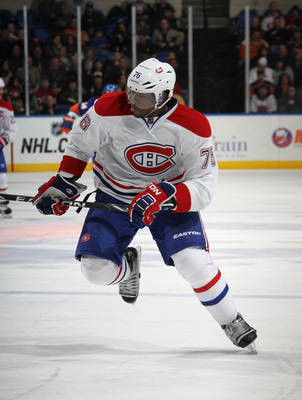 P.K. Subban is fast. Very fast.
Bruce Bennett/Getty Images
Strength: Skating with the puck
P.K. Subban is good at many things, like shooting, hitting and winning the Norris Trophy. He's also especially adept at skating with the puck and leading the rush.
Watching Subban take the puck in his own zone and head up ice with a full burst of speed is one of the most exciting plays in hockey (at least from a Habs fan's perspective). His combination of speed and skill forces defenders to focus on him, allowing him to either penetrate the opposing zone or make a pass to an open teammate.
This skill is best displayed on the powerplay and undoubtedly helped lead to Montreal's success with the man advantage last season.
It could also be what helps cement his spot on Team Canada as they look for more speed on the bigger ice surface in Sochi 2014.
Weakness: Trying to do too much
While P.K. made strides at improving his all-around game last season, there are still occasions where he gets himself in trouble by trying to do too much.
At 24 years of age, Subban is still young and does make the occasional bad decision.
Sometimes he tries to make one-too-many moves and turns the puck over, resulting in an odd-man rush for the opponent. There are also times when he tries a little too hard to make a big hit, and he ends up either taking a penalty or missing his target completely.
Michel Therrien has surely worked with Subban on trying to simplify his game a tad as he grooms the young defender into one of the league's best. Improvements were made last season and more will likely be seen as Subban matures.
Max Pacioretty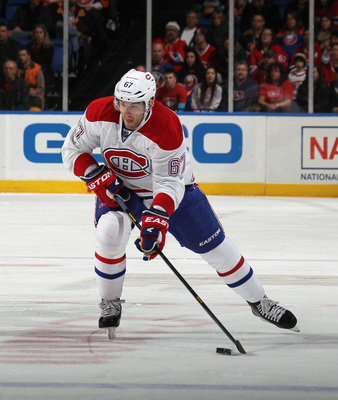 Max Pacioretty's shot is one of his strengths.
Bruce Bennett/Getty Images
Strength: His shot
Max Pacioretty has a great shot (which I talked about at length in this article). To sum it up, he scores most of his goals on wrist shots and snap shots.
His release is fast, and it's what makes his shot special. He can take a pass and have the puck in the back of the net in an instant. His quality wrist shot eliminates the need for a slap shot, meaning he can get the puck on net faster to surprise the goalie.
Weakness: His cold streaks
One of the most frustrating parts of Pacioretty's game is his cold streaks. When he's hot, he is one of the most dangerous wingers in the league. But when he's not, he's basically invisible.
Let's examine Pacioretty's streaks last season:
Jan. 13 - Feb. 16: 10 games, zero goals.
Feb. 18 - Mar. 3: Eight games, eight goals.
Mar. 5 - Apr. 13: 19 games, three goals.
Apr. 15 - Apr 27: Seven games, four goals.
The goals are great when they come in bunches, but a team's top winger can't just disappear like Pacioretty did at times last season. Pacioretty has to become a more consistent source of goals to be considered as one of the elite wingers in the NHL.
Brendan Gallagher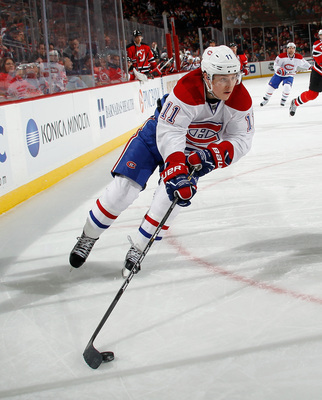 Brendan Gallagher's hustle is second to none.
Bruce Bennett/Getty Images
Strength: His hustle.
When you're 5'9" and don't posses Martin St. Louis type talent, you need to do something to stand out. For Brendan Gallagher, it's his hustle that gets people's attention.
Gallagher simply never takes a shift off. He skates at top-speed at all times. He goes hard into the corners and throws his weight around (even against Zdeno Chara). He crashes the net fearlessly.
All this led to an impressive rookie campaign which saw Gallagher tie for the team-lead in goals (15) and finish second in the Calder Trophy voting.
Gallagher has been overlooked by scouts and general managers due to his size, yet he refuses to let his small stature be a factor in his game. His hard-nosed type of game is one that coaches love and is a big reason why he had such success in his rookie season.
Weakness: Open ice play.
Gallagher was fantastic along the boards and in front of the net last season. His play in the open ice showed the youngster still has plenty of room to improve, however.
The 21-year-old looked a bit lost at times last season when leading the rush into the offensive zone. He often made rash decisions with the puck that made him look like the rookie he really was. His passes weren't precise, shown by the fact that he finished the season with just 13 assists despite playing on scoring lines most of the season.
Gallagher's play with the puck will likely improve as he becomes more confident in the NHL game. He definitely has the talent to turn this weakness into a strength as quickly as this coming season.
Daniel Briere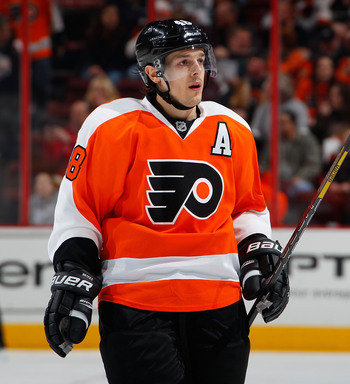 Daniel Briere needs to stay healthy.
Paul Bereswill/Getty Images
Strength: Offensive talent.
Danny Briere has a lot of critics, but it's tough to argue against his offensive talents. And there are numbers to prove it.
Briere has great career totals. He has scored 286 goals and 373 assists for 659 points in 847 regular season games played. He also owns 109 points in 108 NHL playoff games.
Last season was the worst of his career as he put up just six goals and 16 points in 34 games (more on that below) and was eventually bought out by the Philadelphia Flyers.
Briere did manage 49 points (16 goals, 33 assists) in 70 games two seasons ago. Those numbers aren't bad for a second-liner, which is exactly what he is at this point in his career. The season before that, Briere had 68 points in 77 games, which would have led the Montreal Canadiens in scoring by a wide margin.
Briere's offensive talents are real. He'll look to put last season behind him and return to what he was two or three seasons ago in 2013-14.
Weakness: Staying healthy.
Injuries surely led to Briere's awful season in 2013.
After suffering a concussion in February of 2012, Briere then broke his wrist while playing in Germany during the lockout and was then concussed again in March of last year.
But the last two seasons aren't the only times Briere has had injury problems in his career. In fact, Briere has not played a full 82 games since 2003-04, back when he was a member of the Buffalo Sabres.
Briere is highly motivated to prove that last season "was just a fluke," as he told Canadiens.com. He believes he can still be an offensive force in the league, even at age 35.
In order to do so, he'll have to avoid the injuries that have plagued him for the past decade.
Andrei Markov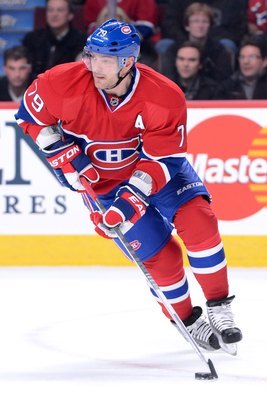 Andrei Markov has lost a step since his knee surgeries.
Richard Wolowicz/Getty Images
Strength: Offensive vision.
Even at age 34, Andrei Markov remains one of the top offensive defensemen in the NHL.
Last season, he finished tied-for-fourth in points by defensemen with 30. He led the entire league in power-play goals with eight while teaming up with P.K. Subban to form the best power-play defensive duo in the league.
Markov sees the ice extremely well and has one of the best outlet passes in the game. His ability to stay healthy in 2013-14 will surely be a main factor in the Habs offensive success.
Weakness: He's slow.
Speed was once one of Markov's best attributes. Then he had three knee surgeries in 18 months.
While watching Markov last season, it was obvious his knee procedures had taken their toll. Markov was routinely beat to the outside and simply can't keep up with opposing forwards anymore. He finished the season a minus-8, by far the worst on the team.
Markov's offensive skill will ensure he's a mainstay on the blue line as long as he's healthy. He does need to improve his defensive play, however. He's going to have to realize he does not have the speed he once did, and will have to change his defensive positioning to account for it.
Carey Price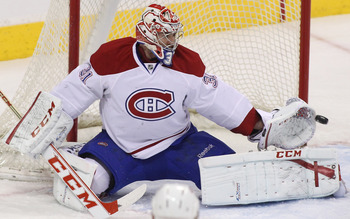 Carey Price needs to be more consistent.
Marianne Helm/Getty Images
Strength: Net presence
When Carey Price is on top of his game, everyone in the arena knows it. He has an aura about him that gives off the feeling that he is the best player in the building.
On his best nights, Price is a pleasure to watch. He challenges shooters with perfect angles, daring them to try and beat him. His rebound control is flawless, as pucks get swallowed up or deflected harmlessly away into the corners. He makes acrobatic saves that no goalie in the game has business making.
There is no doubt that Carey Price has the talent and tools to be a top netminder. He has shown flashes of his ability throughout his career. He just needs to be at the top of his game more often.
Weakness: Inconsistency
It's one thing to watch a goalie play poorly. It's another to watch a goalie with Carey Price's talent struggle. For Habs fans, there are few things more frustrating.
Price has yet to put it all together and lead the team from the beginning of the season to the depths of the playoffs. Last season was a prime example, as he was red-hot in January and February before slumping to a 2.59 goals against average and a .905 save percentage.
Goaltending coach Stephane Waite has been brought in to help Price become the goalie he is capable of being. And if being the starting goalie for the Montreal Canadiens wasn't enough motivation, the possibility of starting for Team Canada in Sochi 2014 surely is.
The talent, potential and motivation are all there—perhaps this will be the year Price finally delivers the season-long performance the Montreal Canadiens are waiting for.
Keep Reading

Montreal Canadiens: Like this team?