Final Projections for 2013 New England Patriots' 53-Man Active Roster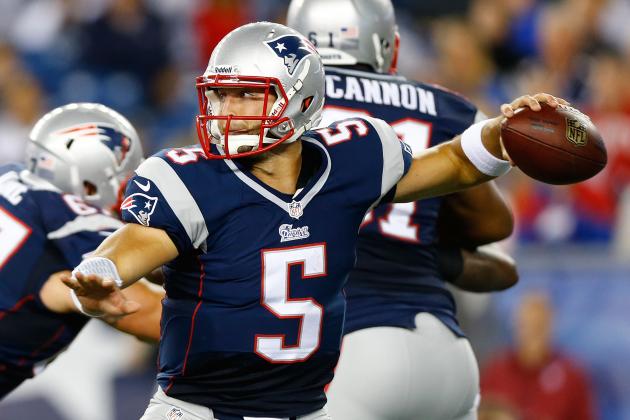 Jared Wickerham/Getty Images
How much longer will New England run on Tebow time?
The New England Patriots' official website, Patriots.com, reported the Friday release of 10 players, including veteran tight ends Jake Ballard and Daniel Fells, conspicuously excluding quarterback Tim Tebow. That's right Tebow fans, you can breathe a little easier—at least until 6 p.m. EST Saturday when the final cuts are announced.
Most fans and local media were astute enough to foresee one of those tight ends getting axed, but the Patriots pulled a fast one by letting them both go. Their release leaves New England with just three tight ends on the roster, including the injured Rob Gronkowski. This is great news for rookie Zach Sudfeld who would seem to have a starting job locked up.
It's also great news for some of the fringe players such as Tebow, Brandon Bolden and the Wilson "twins." By only carrying three tight ends, the Patriots are free to indulge elsewhere and perhaps give somebody an extended look who may not have earned one otherwise.
The Patriots' current roster total stands at 65 players, meaning they still need to make 12 more cuts prior to the 6 p.m. deadline. Competition has been fierce this preseason, and several players made compelling cases for themselves in Thursday's finale against the New York Giants.
At the end of the day, however, there are only so many spots to go around, and Bill Belichick, the Bostonian god of football, has some tough choices to make. Here's who Patriots fans can look forward to seeing when the team travels to Buffalo to take on the woebegone Bills.
Begin Slideshow

»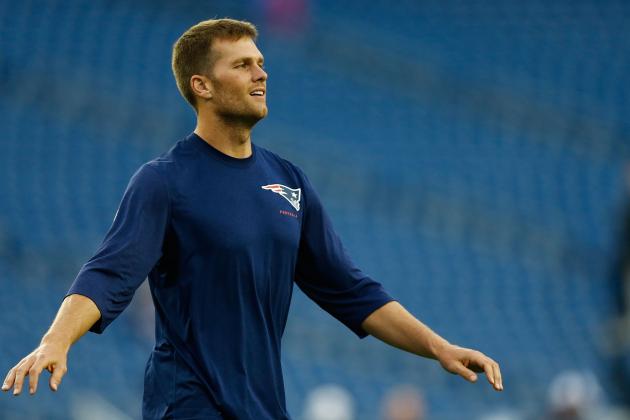 Jared Wickerham/Getty Images
Tom Brady feels pretty. Pretty good, that is, about his chances of making the team.
Tom Brady
Ryan Mallett
Tim Tebow
Tough Call: Tebow
I've gone back and forth on Tebow so many times I'm starting to feel motion sick. Two weeks ago I thought he was a lock to make the team. Two days ago I wrote that he was destined for the unemployment line.
He didn't play well during the preseason, but his teammates and the coaching staff all seem to like having him around. On the heels of a comeback win and two touchdown passes against the Giants—including a beautifully thrown fade pass—I'm changing my stance yet again and saying Tebow holds onto a spot, most likely as the last player to make it.
Jared Wickerham/Getty Images

Shane Vereen
LeGarrette Blount
Leon Washington
Brandon Bolden
Tough Calls: Brandon Bolden, Leon Washington
Bolden didn't do anything to lose his spot this preseason, but he didn't kick down the proverbial door to validate his place on the team either. With just three tight ends on the roster, the Patriots will have some wiggle room at other positions and could keep Bolden in the stable as a fifth running back, especially since he contributes on special teams.
This is more of a gut call, but he didn't play at all during the preseason finale, and I'm interpreting that to mean Bill Belichick had already seen enough. If Bolden's spot was really in jeopardy, I think the Patriots would have put him out there and given him a chance to prove himself.
Washington won't factor much in the run game, but he's their only reliable return man given Julian Edelman's troubling injury history. He stays.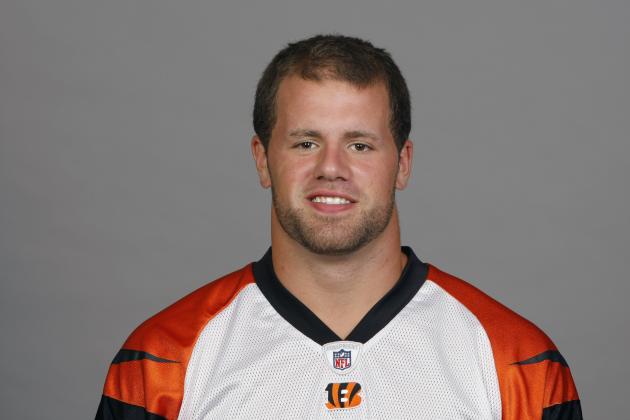 Handout/Getty Images

James Develin
The Patriots haven't kept a traditional fullback in recent years, but they used Develin in a variety of ways this preseason, including occasionally playing him as a tight end. With just three tight ends left on the roster, the Patriots will employ Develin as a flex H-back and in-line blocker, similar to how they utilize Michael Hoomanawanui.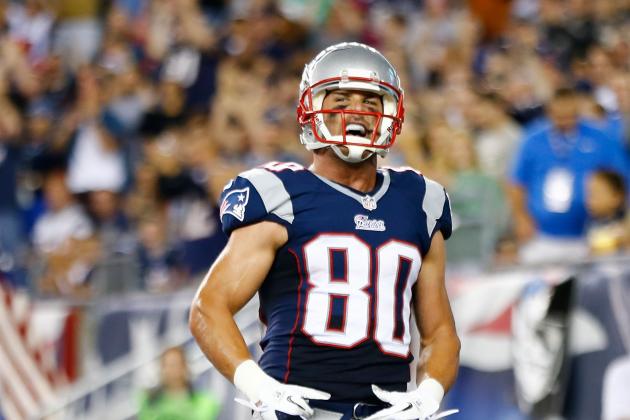 Jared Wickerham/Getty Images

Danny Amendola
Kenbrell Thompkins
Aaron Dobson
Josh Boyce
Julian Edelman
Matthew Slater
Tough Call: Quentin Sims
Sims looked great against the Giants on Thursday and could still end up making the cut, possibly at the expense of somebody like Brandon Bolden. His two touchdowns were instrumental in the team's Tebow-led comeback win.
He showed strong hands and great balance on his incredible 52-yard scoring catch, absorbing an award hit as the ball arrived before wriggling free, eluding the safety and bolting for the end zone.
His second touchdown was impressive in its own right as he high-pointed a nice fade pass from Tebow, out-leaping the defender and securing the touchdown. Despite the standout performance, Sims will be hard-pressed to crack the roster with six other receivers firmly entrenched ahead of him.
Rob Gronkowski
Zach Sudfeld
Michael Hoomanawanui
Tough Call: None
NFL.com's Albert Breer reported on Thursday that the Patriots are ready to activate Gronkowski any day now, even though his return date is still unclear. With Gronk presumably on the roster and Jake Ballard and Daniel Fells hitting the bricks, the tight end position is set in stone heading into the regular season.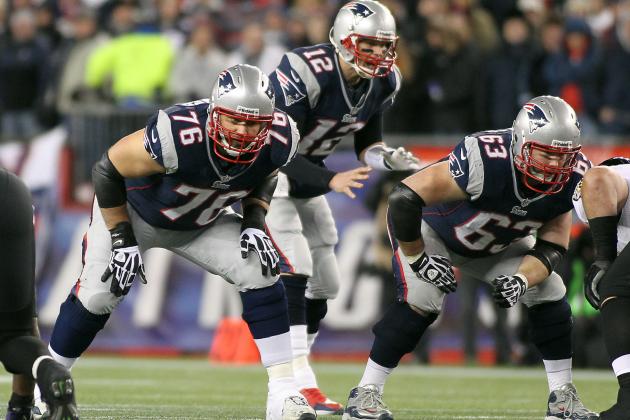 Stew Milne-USA TODAY Sports

Nate Solder, Tackle
Sebastian Vollmer, Tackle
Logan Mankins, Guard
Dan Connolly, Guard/Center
Ryan Wendell, Center
Marcus Cannon, Guard/Tackle
Will Svitek, Guard/Tackle
Tough Call: None
These seven linemen clearly played at a higher level than their competition throughout the preseason. This leaves the unit a bit thin from a numbers standpoint, but offensive line coach Dante Scarnecchia has a unique talent for finding young players and molding them into contributors as the season wears on.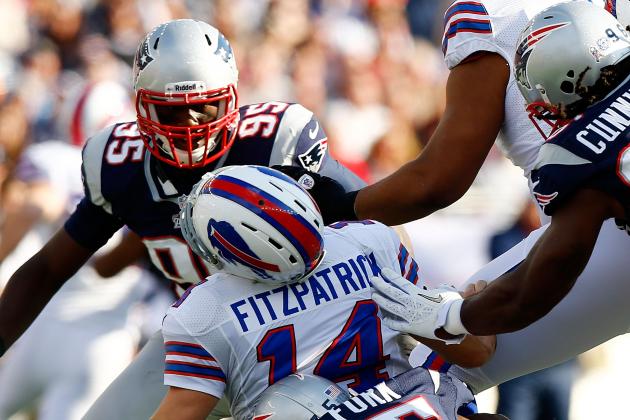 Jared Wickerham/Getty Images

Vince Wilfork, DT
Tommy Kelly, DT
Chandler Jones, DE
Rob Ninkovich, DE
Marcus Forston, DT
Michael Buchanan, DE
Justin Francis, DE
Jake Bequette, DE
Tough Calls: Jake Bequette, Jermaine Cunningham
Both Bequette and Cunningham have been colossal disappointments since the Patriots drafted them. Bequette gets the edge here because he has one less year of built up ineptitude, but it's mostly because he's actually been on the field, whereas Cunningham spent the entire preseason injured.
I wouldn't be shocked if the Patriots bought themselves some more time by placing Cunningham on the reserve/PUP list and giving him until Week 6 to get healthy.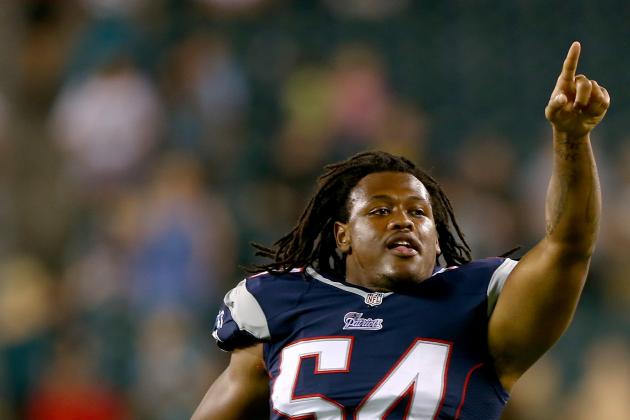 Elsa/Getty Images

Jerod Mayo
Brandon Spikes
Dont'a Hightower
Jamie Collins
Dane Fletcher
Steve Beauharnais
Tough Call: Jeff Tarpinian
It essentially comes down to Fletcher or Tarpinian as the last linebacker. With Fletcher's superior skills in pass coverage and the emergence of the rookie Beauharnais on special teams, Tarpinian will find himself as the unfortunate 54th man.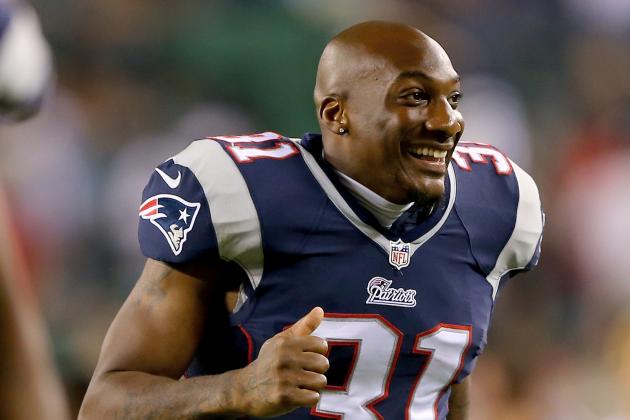 Elsa/Getty Images

Aqib Talib
Kyle Arrington
Alfonzo Dennard
Logan Ryan
Marquice Cole
Stephon Morris
Tough Call: Morris, Justin Green
In the NFL, you can never have too many healthy defensive backs. The Patriots obviously like Morris, as evidenced by the fact that they re-signed the rookie out of Penn State after cutting him earlier in August. He's undersized at 5'8", but his main competition—fellow rookie Justin Green—has really looked lost at times.
Green's lack of awareness is what stood out most. Rookies often struggle with coverage initially, but he kept repeating the same mistakes throughout the preseason—most notably not tagging receivers down. I counted three separate instances of Green allowing opposing wideouts to get up off the ground and gain extra yards.
*Update: Morris was cut Saturday morning following a hamstring injury, according to MassLive.com, opening the door for somebody like Jermaine Cunningham or Jeff Tarpinian to stick around.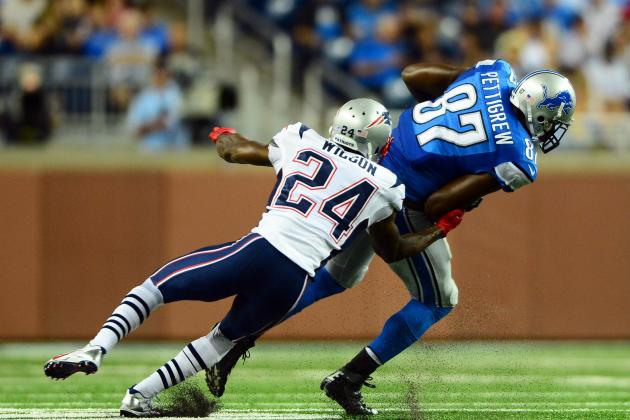 Andrew Weber-USA TODAY Sports

Devin McCourty
Steve Gregory
Adrian Wilson
Tavon Wilson
Duron Harmon
Tough Calls: Adrian Wilson, Tavon Wilson
The fact that 13-year veteran Adrian Wilson routinely stayed on the field with third-string players this preseason is very disconcerting. Cutting a player with his experience and unique defensive talents would be a mistake, but it's time to acknowledge the possibility.
Tavon Wilson showed a lot of promise last season, so he should theoretically be safe. But he looked completely out of sorts at various points during the preseason and really struggled to keep plays in front of him. Smart money says both safeties make the cut, but their luster has faded significantly since the start of camp.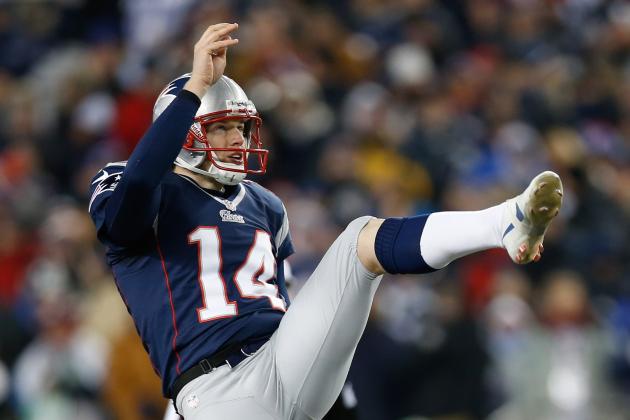 Greg M. Cooper-USA TODAY Sports

Zoltan Mesko, Punter
Stephen Gostkowski, Kicker
Danny Aiken, Long Snapper
Tough Call: None
Not much to see here: All three specialists retain their positions from last season, although it's worth noting that Mesko did hold off a surging Ryan Allen for the punter gig.
*Update: Well, so much for that. Mesko was cut and Allen is the new punter.