Louisville vs. Ohio: Live Score, Analysis and Results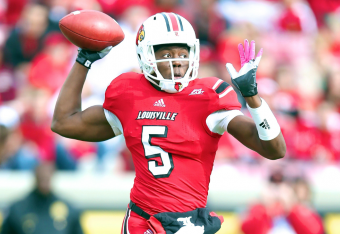 Louisville 49, Ohio 7 — FINAL
Louisville just dominated an Ohio team that could be good enough to win the MAC, even though they didn't show it today. Louisville showed that they are one of the best teams in college football.
The combination of Teddy Bridgewater and his receivers made the passing offense look seamless. And the running back grouping of Michael Dyer, Senorise Perry and Dominique Brown makes the offense look unstoppable with their 146 yards on just 24 attempts to create balance.
Ohio was unable to match the Cardinals on offense because Louisville's defense is as dominant as their offense. There were a few bright spots coming from the special teams, but overall, Ohio just looked out-classed, out-matched and out-footballed to the tune of 49-7.
Brandon Radcliff is out there trying to close this game out with his four runs for 28 yards on the first set of downs. He looks as ready for this game to end as the rest of us are. Oh, look, another punt!
Ohio looks as ready for this one to end with their handoffs to Tim Edmond. One final running play and this one is over.
Louisville crushed Ohio today.
Louisville 49, Ohio 7 — FINAL
A trip of Ryan Boykin runs almost gained a first down, but more importantly ran just under two minutes off the clock. The football right now looks uninspired and like both teams just want this to end as soon as possible.
Louisville has 584 yards of total offense with 12:11 left in the game, up 49-7

— Jody Demling (@jdemling) September 1, 2013
They are because UMD ✌out RT "@DAINahh: Whoa whoa whoa......did I just hear that Louisville is joining the ACC next year?????
Louisville taking over at their own 28 started with a run for no gain by Corvin Lamb. A pair of three-yard runs showed that Louisville was just trying to run the clock out. They finally have their first punt of the day and it's hammered. Ian Dixon returned it to the 29 for the Bobcats.
It's a true sign of futility for Ohio when the first punt forced is almost halfway through the 4th quarter.
Devin Bass has been the lone bright spot outside of a pair of deep passes for the Bobcats today. But even his light is dwindling on the day with a return that leaves them on their own 19.
After a loss for a yard, Derrius Vick hit Chase Cochran at the 41 for a first down. Vick is looking better than Tettleton did both in his velocity and his reads today. Unfortunately, his accuracy is still pretty terrible.
Matt Green finally gets a chance to redeem himself from 45 yards out. After a quick time out, Green shanked this one as well.
Louisville 49, Ohio 7 — 9:25 4th quarter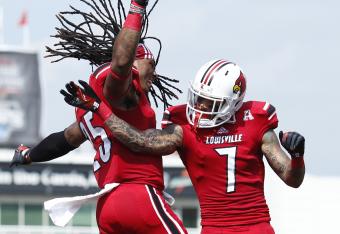 The entire second string is in right now for the Cardinals. And after an effective run by Corvin Lamb, Will Gardner was on point with both of his passes. The first being dropped by James Quick, but the second being a 31-yard completion to Kai De La Cruz.
After a pair of Lamb runs set up the 3rd-and-2, Gardner connected with De La Cruz for the 30-yard touchdown. Gardner has looked like a veteran out there and could be just as good as Bridgewater by the time he's in his junior year.
Louisville 49, Ohio 7 — 12:11 4th Quarter
Teddy Bridgewater is done for the day. He finished with a line of 23-for-28 (82.1 percent), 355 yards, five touchdowns and one interception.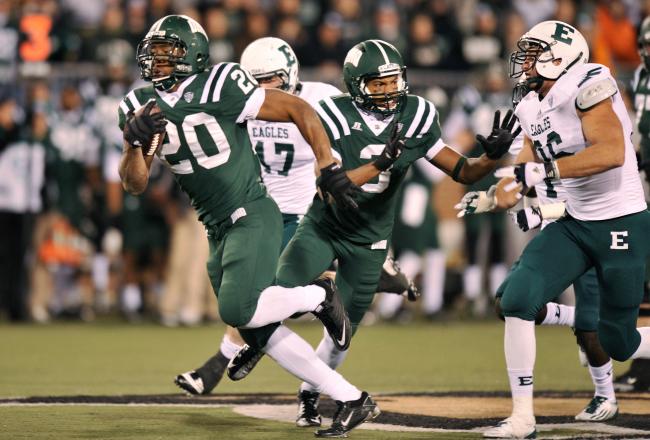 Tyler Tettleton hits Daz'mond Patterson on a quick hitting pass for 18-yards to the right side. A 5-yard penalty and 8-yard run later, and the senior quarterback lofted one that should have been intercepted.
Then a bad call on a pass interference penalty gives Ohio the ball in the red-zone again. But they have to take advantage this time even if it's just for the moral victory of not being shut out. After a 7-yard pass by Tettleton, Ryan Boykin runs the ball into the end-zone from 10 yards out for that moral victory.
Lousville 42, Ohio 7 — End 3rd Quarter
Teddy Bridgewater's stats: 21-26, 348 yards, and 5 touchdowns. Just give him the Heisman now. Excited to cover him on September 21.

— Evan Sidery (@ESidery) September 1, 2013
Starting from the Ohio 45, Senorise Perry gained three yards to start the drive off. A quick hit to Damian Copeland puts Teddy Bridgewater over the 350 yard mark passing. After a pair of runs and a false start penalty set up a 3rd-and-15 from the Ohio 38, Bridgewater hit Michael Dyer for just a yard.
This set up the first fourh down of the game at the Ohio 36. Bridgewater got sacked and fumbled it to his own offensive linemen to finish the drive out and turn the ball over on downs.
After Devin Bass runs over Robert Clark on the kick return to give us another .gif image to find later, Tettleton leads the offense to three total yards on their series. He's not reading Louisville's defense well and falling into a quicksand trap.
On the ensuing punt, Eli Rogers had some good cuts and juke moves to give Louisville the ball back in Ohio territory.
Teddy's heading back in.

— Commodore Mike (@KingM91) September 1, 2013
It has to be one of Bridgewater's last drives at this point. With just under 350 yards, he's shown what he needs to today.
It's sad because Ohio is supposed to be one of the toughest opponents Louisville faces and they're shutting them down. #IHateThisSchedule

— Chase Blaser (@Cblaze59) September 1, 2013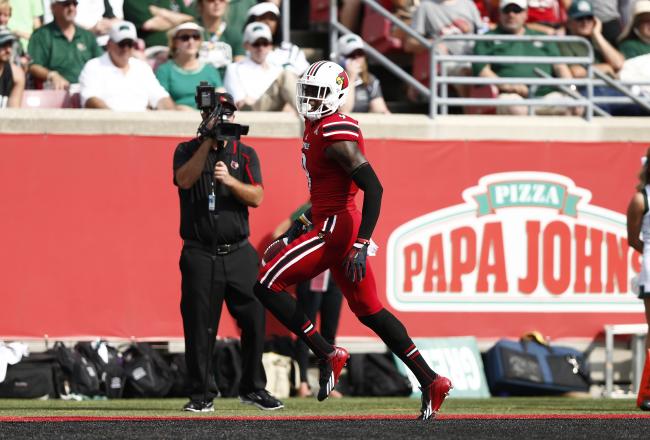 As Teddy Bridgewater continues treating Ohio like a middle school level football team, he finally passed the 300-yard mark passing on the day with a completion to Eli Rogers on a wide open crossing route. Teddy is tearing apart this zone defense all day.
The offset runs by Domonique Brown and Senorise Perry have to be in there for rhythm. Because Bridgewater and these receivers are almost unstoppable for the mediocre defense. After a quick option play, Bridgewater hit Robert Clark like it was nothing for a 25-yard touchdown and his fifth of the day.
Louisville 42, Ohio 0 — 6:28 3rd Quarter
After the quick timeout, Tettleton missed a 2nd-and-6 from the Louisville 18. On third down, Ohio failed again on a pass to set up another field goal. With how their kicker has been, they rightfully went for it on fourth down.
Unfortunately, Tettleton is terrible and completely missed his pass on the left side of the field. It's a bad day for him, but Louisville's defense is good enough to help them compete for a national title.
Another good return by Devin Bass sets up the Ohio offense at their own 31 yards.
Then Tettleton finally got some umph under his throw to Donte Foster. He connected with him for 51 yards on the longest play of the day to show that the Bobcats aren't 100 percent mismatched.
Four more yards right up the middle by the evasive Blankenship set up a 2nd-and-6 before an injury to a starting offensive lineman stopped the game for a minute.
And Mike Dyer goes for 46 yards. Touchdown on his second carry for Louisville.

— Justin Hokanson (@JHokanson) September 1, 2013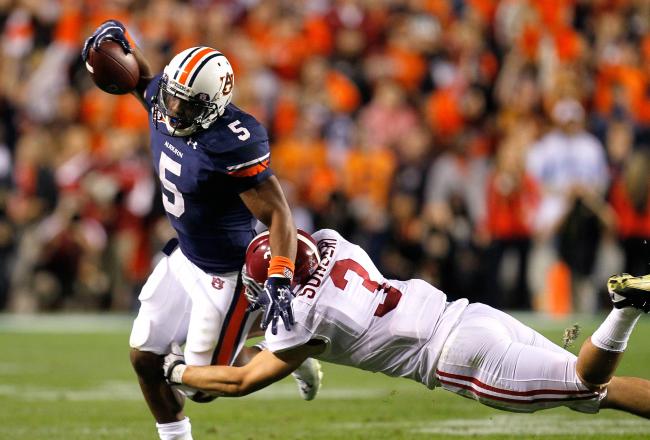 A short run by Senorise Perry, was followed by an overthrow by Teddy Bridgewater. He was rolling left and the overthrow was an ugly one. On 3rd-and-6, Bridgewater harnessed his inner Drew Brees evading all the pressure coming at him and hit Perry in the flat for a first down.
Derrick Brown had a great 18-yard run showcasing good vision and footwork, but a holding penalty forced the ball back to a 1st-and-20 situation. Bridgewater's 15 yard pass set up a 3rd-and-1 run by Michael Dyer.
That run only went 46 yards for a touchdown. And yes, Dyer did make it look that effortless.
Louisville 35, Ohio 0 — 10:25 3rd Quarter
Ohio's Devin Bass had a horrible decision to come out of the end zone and give the ball to the offense at their own 11. After a quick pass led to a couple yards gained, the ball was fumbled straight into the air and recovered mid-air by the receiver in one of the biggest clusters of a play this weekend.
A knockaway on third down later, and Ohio is back to their old ways on offense. They haven't been able to sustain a drive all day and a good bit of that is because of how good the Louisville defense is.
Teddy bridgewater making QB look easy

— Roddy White (@roddywhiteTV) September 1, 2013
My preseason Heisman pick is out of the gate. Teddy Bridgewater is putting on a clinic in 1st H for Louisville.

— Kirk Herbstreit (@KirkHerbstreit) September 1, 2013
Teddy Bridgewater is definitely putting on a Heisman-winning show. But it would be nice to see crisper passes. The best pro comparison to how Bridgewater is playing is Aaron Rodgers. Quick, fleet feet used to buy time to make throws.
He's also very accurate, but needs to be more consistent with the zip he puts on the ball as he is at risk to get deflected too much by throwing into too many tight windows.
The mid-game stat update:
Teddy Bridgewater's 16-for-20 line includes 254 yards and four touchdowns.
Sinorice Perry and Dominique Brown have combined for 74 yards on 14 carries to give Louisville an offensive balance.
Damian Copeland and Devante Parker are obviously Bridgewater's favorite targets though. Their eight catches for 150 yards and three touchdowns show his confidence in them to make plays with the ball.
On Ohio's side:
Tyler Tettleton looked horrible going 7-for-12 for 65 yards, and Derrius Vick wasn't much better going 2-for-3 for 12 yards and an interception. Tettleton's lame ducks or Vick's inaccuracy will be even more scrutinized in the second half.
The 12 carries for 18 yards in the running game has been embarrassing for Beau Blankenship and Dez'Mond Patterson.
And outside of the 36-yard catch by Anthony Tolbert, the Ohio receivers have been shut down on intermediate and deep balls.
Nice to watch a top college quarterback who actually has some composure

— Matt Falk (@Matt_Falk) September 1, 2013
A Raiders fan discussing the game with AFC West Lead Writer Chris Hansen:
"@ChrisHansenNFL: Bridewater is so calm in the pocket."put him behind our oline and see if he is calm then. .lol

— Mr. Haze (@Sir_Bay_Raider) September 1, 2013
With just under two minutes left and the ball at his own 11, Senorise Perry led off with a quick run for nine yards. Just the fourth incompletion of the day on second down was followed by another Perry run for the first down.
One more run stuffed for no gain will take us into the half.
Bridgewater has been a true field general all day. And he's definitely been very good, but of his four incompletions, three were catch-able by the defensive players and could have been much uglier.
Louisville 28, Ohio 0 — Halftime
This article is
What is the duplicate article?
Why is this article offensive?
Where is this article plagiarized from?
Why is this article poorly edited?