10 Bold Predictions for the Premier League Weekend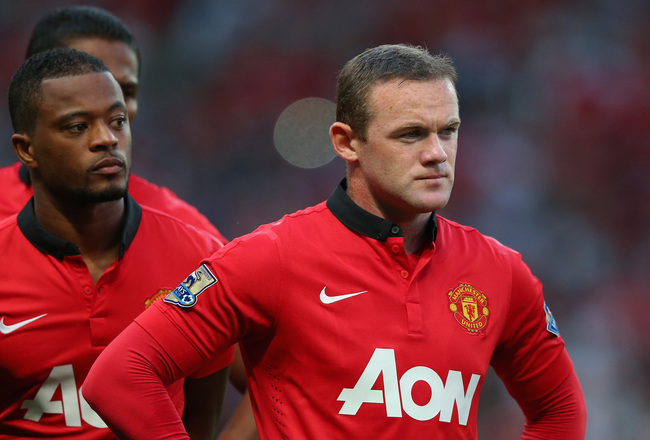 Alex Livesey/Getty Images
After last week's frustratingly tight offering, things are only bound to improve in Week 3 of the Premier League campaign, with nine encounters to peruse this time around.
With that comes the opportunity to once again predict just how things will carry out, only to ultimately fall massively short in one's attempts at premonition.
That being the case, read on to find out 10 predictions on just how matters will unfold this weekend.
1. Liverpool and Spurs Muddy Their Slate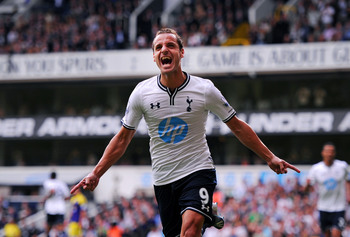 Michael Regan/Getty Images
So far this season, Liverpool and Tottenham have won both of their opening fixtures, each ending 1-0 in their favour.
Although far from glamorous, one might find it hard to argue with the six points accrued by both clubs at this stage, regardless of how it came about.
With both sides engaged in local rivalries this weekend—Liverpool hosting Manchester United and Spurs travelling to the Emirates—the clean slates are set to get a lot dirtier.
Irrespective of their 0-0 bore draw against Chelsea, the Red Devils looked impressive notching four against Swansea City and are up against a Merseyside outfit that's surrendered its share of chances to the opposition.
Simon Mignolet in particular has been a fine player for Brendan Rodgers thus far, but will find David Moyes' side a different task altogether.
For Andre Villas-Boas, it's an equally tough challenge at the Emirates, albeit against an under-strength Arsenal.
Even with their raft of injuries, the Gunners still pose a major threat to Spurs' unbeaten record and the chances are that Hugo Lloris sees his lines penetrated for the first time this campaign.
2. Draws in Abundance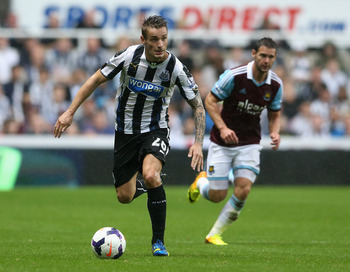 David Rogers/Getty Images
Unfortunately for the neutral, this week's fixtures have a few encounters promising anything but a goalfest in their respective circumstances.
Newcastle playing host to Fulham sees a meeting of two sides who are far from the finished product in attack this season and will largely be concentrated more on preventing a loss rather than chasing three points.
The same goes for West Ham and Stoke City, who play at Upton Park this weekend, where some resolute Potters defence is likely to cancel out the lack of offensive strength Sam Allardyce has in attack.
The same could easily be said of West Brom's confrontation with Swansea City at The Hawthorns, and potentially Norwich's game against Southampton in Norfolk.
Numerous counters between sides who will still be apprehensive despite playing at home could fail to produce a clear winner and aren't all that likely to excite.
3. Manchester City Get Things Back on Track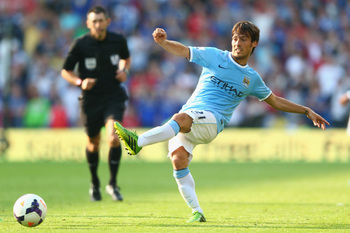 Michael Steele/Getty Images
After falling victim to Cardiff City last weekend, Manuel Pellegrini's Manchester City squad are far from their best form they're bound to experience later on this season.
However, a home fixture against Hull has the promise of putting the Citizens back in the kind of mood they were in after opening their campaign with a 4-0 victory over Newcastle.
Hull City haven't been the poorest team in defence, but are likely to be stung due to the fact that City will be looking to rebound following their surprise against minnow opposition last week, with Steve Bruce the first in line to feel their wrath since the trip to South Wales.
4. Cardiff Face Their Hardest Test Thus Far
Michael Steele/Getty Images
Prior to last week's victory, Manchester City would have assuredly been looked at as the most testing of Cardiff's opening encounters.
However, after the shock win over Pellegrini's men, Everton provide a difficult transition in terms of the Bluebirds coming back to earth, an opponent easily capable of turning them over at home.
Roberto Martinez's men are yet to be beaten this season and put in an impressive show away to Norwich City in their Premier League opener, promising to have as good of a performance in the Welsh capital.
Although the underdog triumph against Manchester City was encouraging, the Bluebirds are set to have a more difficult outing versus a team that won't be quite as complacent in their motives.
5. North London Derby Produces Truest Champion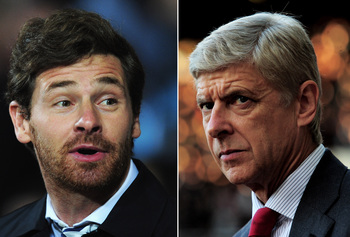 Getty Images/Getty Images
Although Arsenal still managed to beat their bitter rivals to a Champions League spot last season, the rivalry between Tottenham and North London's other giant is closer than ever.
Although it's been touted for some seasons now, this weekend's meeting promises to establish a superior side in the most literal sense.
Whereas the Gunners' transfer window has been slow and lacking inactivity, Spurs have been massively involved in matters, strengthening their roster with more than a handful of fine signings.
Not for some decades will there have been as even a North London Derby as there will at the Emirates this Sunday, where Tottenham seek to heap embarrassment on an Arsene Wenger squad that's in a questionable state right now.
6. Norwich Come out on Top of the Minnow Spenders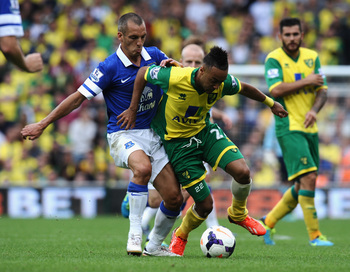 Tony Marshall/Getty Images
This summer has seen both Norwich and Southampton spend outside their means, with Ricky van Wolfswinkel, Gary Hooper and Leroy Fer being some of the Canaries' biggest expenditures while Pablo Osvaldo and Dejan Lovren are two of the biggest splurges for Southampton.
So far this season, however, the Saints have looked slightly unreliable going forward and should struggle against a Norwich defence that proved stable at Carrow Road last term.
That being said, Norwich are yet to perform particularly badly so far this season and should have the synchronicity needed to come out on top of this battle of the moderately big spenders.
7. Defensive Love-in at Upton Park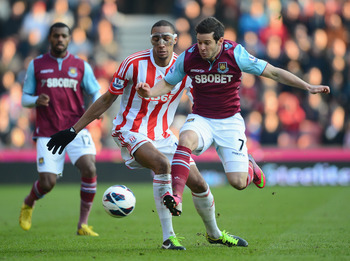 Laurence Griffiths/Getty Images
As aforementioned, West Ham and Stoke are far from set to put on the most attractive showing at Upton Park this weekend.
If there's one fixture which stands out as having the knack for being distinctly boring, it's the meeting between an away team that's stubborn to give up points away from home, and a host that's almost incapable in attack.
West Ham can't yet rely upon the presence of a reliable centre forward as they can when Andy Carroll is fit, and will struggle to create this weekend just as they did against Newcastle last time out.
8. RVP Keeps Up Appearances at Anfield
In his last four appearances against Liverpool—two of which have been with Manchester United—Robin van Persie has scored four goals.
A player who can obviously turn up in a pinch, one can bank on RVP to show up this Sunday with similar form in tow.
The Dutchman has the potential to break down a Reds defence which is yet to surrender a goal this season, especially considering Brendan Rodgers' current issues at centre-back.
The Northern Irishman will face possibly the strongest striking presence he'll come up against this season at Anfield, and Van Persie is likely to oblige by notching a goal or two himself.
9. Crystal Palace Finish on Bottom Floor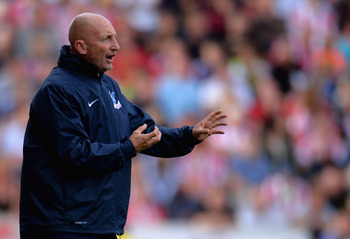 Christopher Lee/Getty Images
With Swansea City facing a very winnable game at The Hawthorns and Newcastle looking to uphold a result against Fulham at home, Crystal Palace are the most likely of the bottom sides to finish at the bad end of the pile this weekend.
The Eagles play host to Sunderland this weekend, a team who have looked to be getting their act together over the last week, having drawn at Southampton before seeing out a comeback win over MK Dons in the League Cup.
Palace have shown that their most worrying area this season could be attack, and Sunderland's defence away from home has proven difficult to break down at times.
A likely scenario is that Paolo Di Canio's side win their first game of the season with a smash-and-grab victory in South London, seeing the promoted side to the bottom of the division standings, based on the results of others.
Keep Reading