Bayern Munich vs. Chelsea: 6 Things We Learned from Penalty Shootout Defeat
Shaun Botterill/Getty Images
Europa League holders Chelsea missed the opportunity to clinch their first trophy of the season as they suffered penalty shootout heartbreak against Champions League winners Bayern Munich.
The Blues had taken an early lead with an excellent goal from Fernando Torres before Bayern equalised after the break. Ramires was sent off for a second bookable offence with five minutes to go, leaving the Blues down to 10 men for the 30 minutes of extra time.
A burst of individual brilliance from Eden Hazard retook the lead, and it looked for all the world as if Chelsea would hang on. However, it wasn't to be, and Javi Martinez's last-second strike took the tie to penalties.
Bayern somewhat redeemed themselves after their 2012 shootout defeat at the hands of the Blues, and a thrilling match was decided by a soft penalty from Chelsea youngster Romelu Lukaku, saved by Manuel Neuer.
Despite the 2-2 final result, there are a host of positives that Jose Mourinho's men can take from this performance.
Statistics are taken from WhoScored.com.
Fernando Torres Likes Scoring in Europe
Fernando Torres may have only scored 15 Premier League goals since joining Chelsea in January 2011, but he has fared somewhat better in European competition. His strike against Barcelona in 2012 will forever be enshrined in Chelsea folklore, and his six goals in last season's Europa League were key to the Blues' triumph.
While he still has a way to go until he can be described as "back," he might yet find his niche in this season's Champions League.
Chelsea's Defence Is Back to Its Best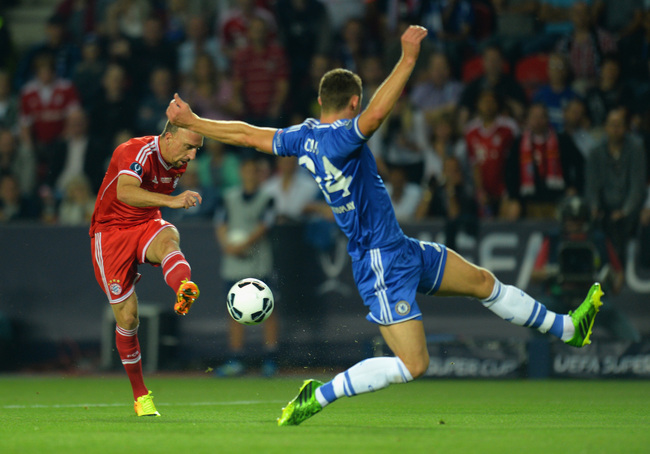 Shaun Botterill/Getty Images
Chelsea's reputation as a bus-parking defensive unit was lost last season as they whimpered out of the Champions League and put in a lacklustre display at the Club World Cup in Japan.
Having gone down to 10 men following Ramires' 85th minute dismissal, Chelsea dug in and defended for a 1-1 draw on 90 minutes. A counterattacking opportunity in the first half of extra time gave Hazard just enough space to score a spectacular individual goal before it was backs to the wall once more. A cruel last-minute twist of fate sent the tie to penalties, and the result belies the quality of their defence.
From Gary Cahill's seven blocks to David Luiz's 12 clearances and Petr Cech's 10 saves, it is clear that the Chelsea back four are fearsome once more.
David Luiz Is Chelsea's Next Captain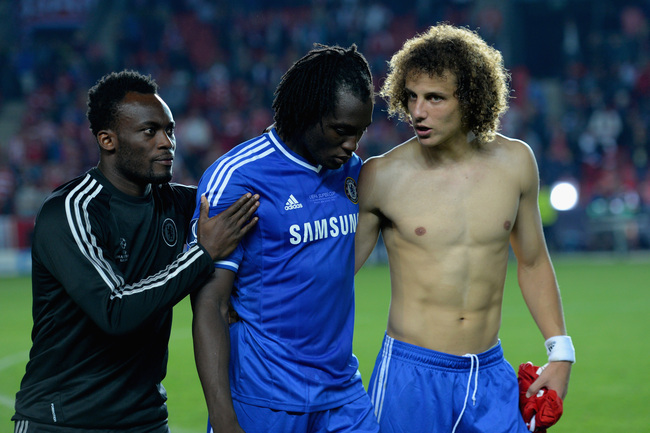 Shaun Botterill/Getty Images
Romelu Lukaku was distraught when he missed the final penalty of the shootout. Within seconds, David Luiz appeared at his side to console him and keep his head up. That action speaks volumes as to why Chelsea have ignored all reported interest in the defender.
It is an accepted fact that the Chelsea board view Luiz as the first-choice club captain when John Terry retires. His leadership and morale boosting qualities are plain to see, and if he can develop a good relationship with Jose Mourinho, there is no reason for him to want to leave the club, now or in the future.
Chelsea Are a Team Again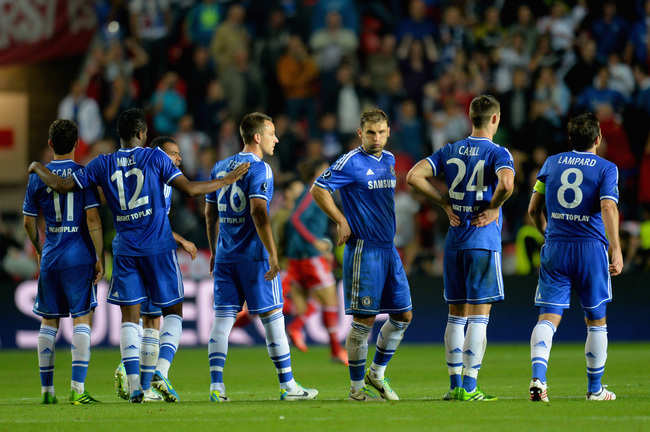 Shaun Botterill/Getty Images
Chelsea won the Champions League in 2012 by buckling down and playing as a team. The upheaval of last season disrupted this unity, and the results suffered because of it.
This final showed that their "never say die" spirit is back.
From the organised defence to the lightning-quick attackers, Chelsea look to be a formidable force. Despite the eventual penalty shootout heartache, the Blues will be able to build on this outstanding performance throughout the rest of the season.
Samuel Eto'o Will Be Chelsea's Big-Game Striker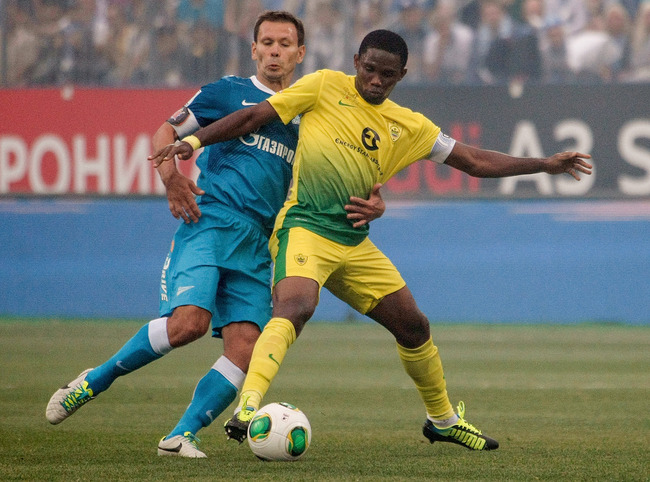 Epsilon/Getty Images
At the end of his post-match briefing with the press, Mourinho stated, per Sky Sports, that Chelsea will not be making any further signings in this transfer window. The acquisition of Samuel Eto'o seems to have fulfilled Chelsea's requirement for a striker, and this match proved that he will need to earn his astronomical wages.
Torres finished a beautiful team effort after just eight minutes, but his inconsistent form has to remain a cause for concern. Lukaku showed his naivete with the final kick of the penalty shootout, and it will be another year of playing in rotation before he is ready to stake his claim to the centre-forward role permanently.
Eto'o's one-year deal suggests that he will be used as cover for a transition season. His wealth of experience in big games and unstoppable eye for goal will prove invaluable in the next final that Chelsea compete in this season.
Mourinho Hasn't Changed a Bit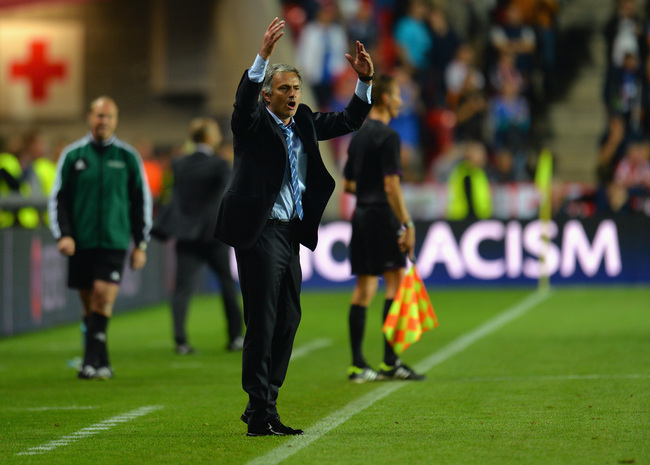 Shaun Botterill/Getty Images
All the fanfare surrounding Mourinho's return to Chelsea heralded a calmer, less controversial stage of The Happy One's career. He even had a little dig at Paul Lambert after the Aston Villa manager made a comment about the referee's performance in their Premier League match, saying that he lacked "maturity," via BBC.
However, his comment to ChelseaFC.com seems to suggest that he hasn't grown up that much:
I have a fantastic experience of playing with 10 men in UEFA matches so I could react and coach my players so that even with 10 men we could compete and find a way to score a goal.
Whether he makes it through the season without receiving a fine or a touchline ban remains to be seen, but Chelsea fans and neutrals alike will be looking forward to seeing what else he gets up to over the season.
Keep Reading

Chelsea: Like this team?