Miami Football: Studs and Duds from Week 1 Win over Florida Atlantic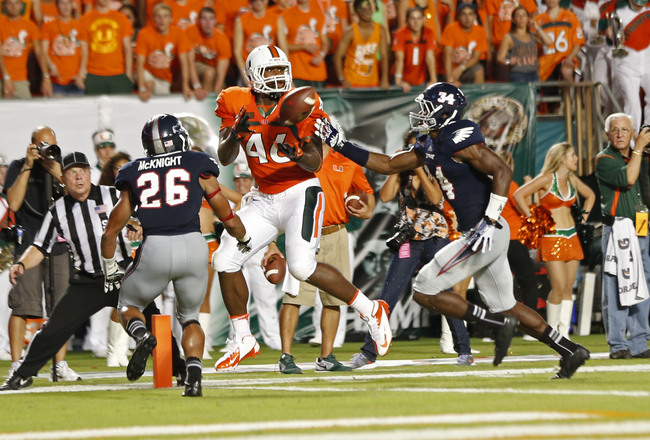 Clive Walford handled an enormous hit and caught a great pass for his second-quarter touchdown.
Joel Auerbach/Getty Images
Finally. Football.
The Miami Hurricanes silenced the Florida Atlantic Owls en route to a 34-6 win in the season-opener for both teams.
Duke Johnson lit up the Owls' defense for 186 yards, Stephen Morris tossed a touchdown and the 'Canes defense tallied five sacks on Friday night at Sun Life Stadium.
Al Golden begins his third season at "The U" with a victory, but while some of his players shined, a couple other 'Canes were less than impressive against FAU.
With Miami playing host to the Florida Gators next weekend, a few improvements must be made over the next seven days before the exciting in-state clash kicks off.
Stud: Duke Johnson, Running Back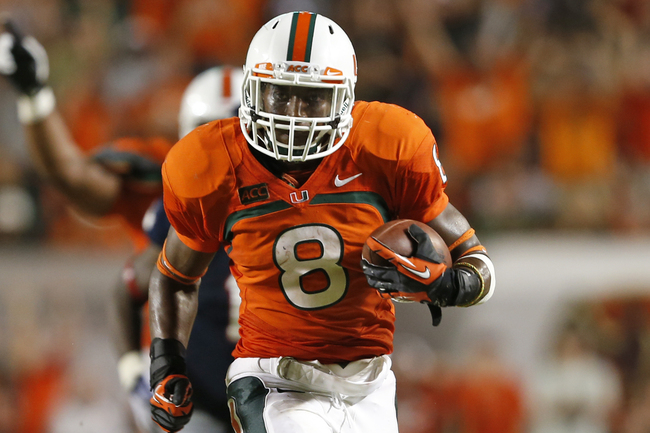 Johnson lit up the FAU defense, especially in the first half.
Joel Auerbach/Getty Images
This one was rather obvious.
Duke Johnson kicked off his 2013 season with a bang by ripping the Owls for 156 yards in the first half alone. The sophomore finished the game with a career-high 187 yards and one touchdown.
Johnson also caught a 38-yard pass as the checkdown receiver on an attempted flea-flicker.
After an injury scare in the third quarter, Johnson's impressive night came to an end.
Duke did not get a chance to return a kick on special teams, but he looked like a man on a mission offensively, and that bodes well for Miami's chances next week against Florida.
Video: Johnson's 43-yard run and 53-yard touchdown.
Dud: Seantrel Henderson, Offensive Tackle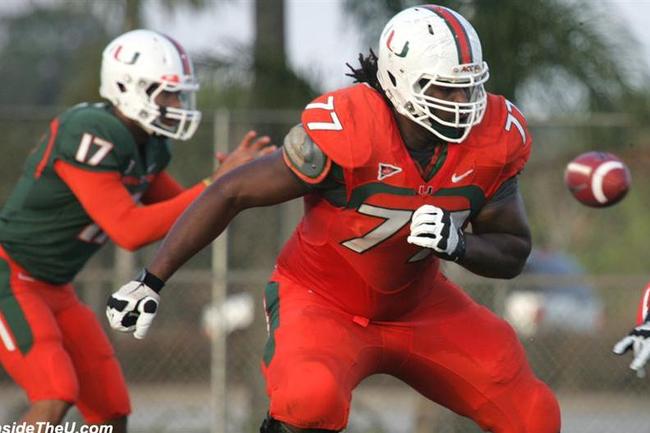 Photo via 247Sports

Seantrel Henderson occasionally found himself sitting in the front seat of the strugglebus on Friday night.
The high-potential, low-result bug hit Henderson once again. After losing the top spot on the depth chart earlier in the week, he officially did not start the game. Eventually, he was called for a false start on a 3rd-and-4 during the third quarter—a testament to his rough night.
Though Henderson did show flashes of power, overall, the senior left Bleacher Report's NFL Lead Draft Writer Matt Miller wanting a little bit more.
Henderson has great natural strength, but his effort at times is lacking. Injuries and consistency have plagued him, but the tools are there for him to excel if he wants to. Starting the year as a rotational tackle doesn't help.
Next week—when he actually gets playing time—Henderson must step up against the Gators. Otherwise, he might be relegated to reserve duty for an extended period of time.
Note: Quote obtained first-hand.
Stud: Herb Waters, Wide Receiver
The Hurricanes faced a 3rd-and-3 at their own 14-yard line, and leading only 3-0 in the second quarter, Stephen Morris needed to move the chains.
He found Herb Waters on a pick-route for a 33-yard gain, and the conversion turned enormous. Duke Johnson scampered 53 yards for his touchdown on the next play.
Later on, Miami clung to a 20-6 lead with less than five minutes remaining in the third quarter. But Waters took the back end of a reverse and put the game out of reach.
Waters, helped by blocks from Morris, Shane McDermott and Rashawn Scott, outran most of the FAU defense down the sideline. As for the final 20 yards, he made a beautiful cut back into the middle of the field and split two Owls' defenders before high-stepping into the end zone.
Along with his 65-yard run, the sophomore finished with two catches for a team-high 49 yards.
Dud: Stacy Coley, Wide Receiver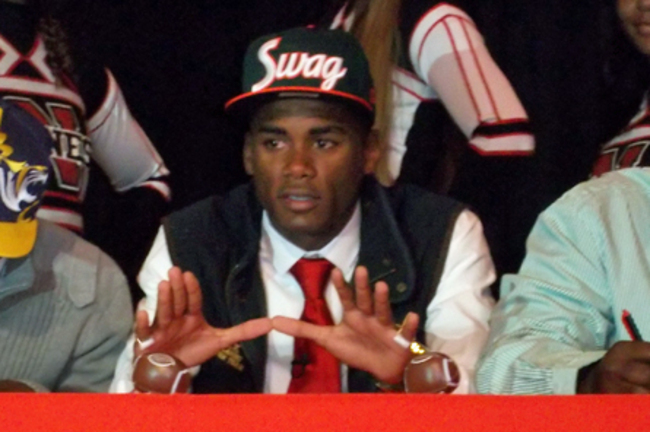 Coley on National Signing Day via 247Sports

Whether you call it first-game nerves or blame it on wandering eyes, Stacy Coley missed two fantastic opportunities to make his presence known in his collegiate debut.
On the 'Canes second drive, Coley was standing in the end zone, waiting for Morris to throw him the ball. The true freshman had it in his hands before FAU safety Damian Parms made a fantastic play to force an incompletion.
The very next possession, Morris found Coley streaking across the field, seemingly with nothing but green grass in front of him. But Coley, once again, dropped the pass.
Between the combination of bad luck and jitters, Coley will look back wishing he could have done more. Coley finished the night with two catches for 19 yards, and he returned one punt for seven yards.
With that said, Coley surely will be fine if he takes Al Golden's stellar advice: "Just relax, bro."
Stud: Pat O'Donnell, Punter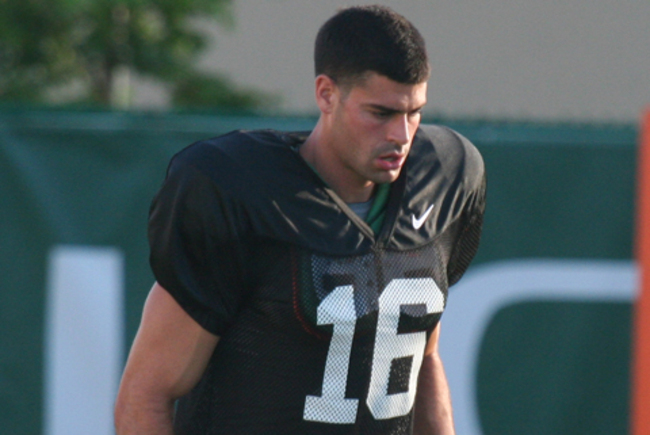 O'Donnell via 247Sports

Now this just doesn't seem right, does it? You'd think if a punter was a stud, his respective team had an awful, awful game.
But, in all seriousness, Pat O'Donnell was that dude against FAU.
The Cincinnati transfer launched two kickoffs through the end zone, averaged 44.8 yards per punt and handled a bad snap on an extra point.
Additionally, the Owls managed just 16.8 yards per kick return when O'Donnell lofted his kickoff just shy of the goal line.
Miami seems to have found itself a gem in the 6'5", 220-pound punter.
Honorable Mentions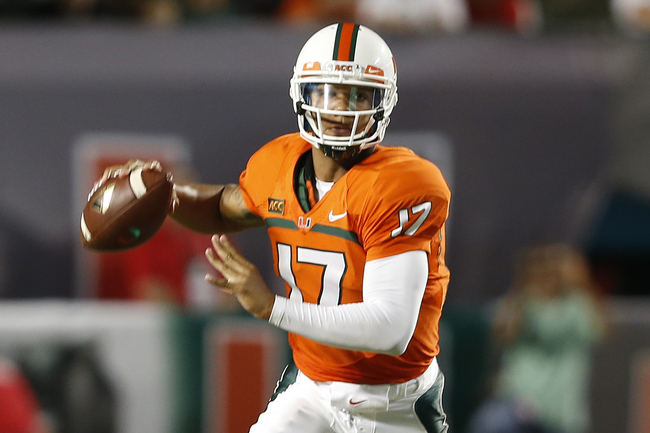 Other than two questionable throws, Morris made great decisions throughout the night.
Joel Auerbach/Getty Images
Stephen Morris
His stat line may not look impressive, but Stephen Morris had a solid game on Friday night. The senior gunslinger completed 15-of-27 passes for 160 yards, one touchdown and one interception.
Morris' only touchdown pass of the night was an absolute laser—and it was a gorgeous toss—to tight end Clive Walford for a 16-yard score.
Plus, Morris had those two almost-sure touchdowns dropped by Coley, so he was a couple of drops away from having an impressive statistical night.
Miami Sack-Getters
After the Hurricanes' defense managed just 13 sacks all of last season, Miami tallied five sacks against FAU.
Thurston Armbrister, Olsen Pierre and Anthony Chickillo each had a sack of their own.
Newcomers David Gilbert and Ufomba Kamalu combined for one late in the fourth quarter and Kacy Rodgers forced a fumble on his brilliant hit, and the 'Canes scored on the following play.
Matt Goudis
The redshirt sophomore made his placekicking debut on Friday, and he drilled a pair of field goals from 35 and 45 yards, respectively.
Goudis tacked on four extra points for the 'Canes.
Alex Figueroa
Alex Figueroa made three outstanding open-field tackles during his collegiate debut.
He made a clutch stop on a 3rd-and-3 where it appeared as if FAU's D.J. Juste would certainly get a first down. Figueroa also smacked Nexon Dorvilus, and the hit brought a collective "ooo" from the crowd.
The 'Canes will be looking for contributions like this from Figueroa throughout the season.
Keep Reading

Miami Hurricanes Football: Like this team?