One of the biggest questions surrounding Nelson Cruz's 50-game suspension for his involvement with the Biogenesis Anti-Aging Clinic was whether or not the Texas Rangers would welcome their All-Star right fielder back to the team when his suspension was up, just in time for the playoffs.
On Friday, Gerry Fraley of the Dallas Morning News got us an answer to that question:

Ron Washington indicates club will have Cruz on post-season roster, if it gets there. More at http://t.co/P9REVSKUXY

— Gerry Fraley (@gfraley) August 30, 2013
On one hand, it makes sense for the Rangers to welcome Cruz back into the fold.
The 33-year-old Cruz was having another solid season at the plate before his suspension, hitting .269./330/.511 with 27 home runs and 76 RBI. Players who can produce like that don't grow on trees, and adding his bat to the mix—in theory, at least—would make Texas a more dangerous team than it is now.
It's not as if Cruz has been sitting around, watching TV on his couch and eating junk food during his suspension either.
He's worked out at the Rangers academy in the Dominican Republic and, according to Evan Grant of the Dallas Morning News, took early batting practice and issued a public apology to the fans and his teammates on Friday.
In addition to that, MLB.com's T.R. Sullivan reports that the Rangers plan on sending Cruz to Arizona next week, where he'll do his best to keep his timing down and swing sharp by facing minor league talent in Instructional League games.
Both Cruz and the Rangers appear to be doing everything possible to keep him in shape and as close to his midseason form as possible without facing major league pitching.
But there's the other hand to discuss, and on that other hand lies Alex Rios and Lance Berkman.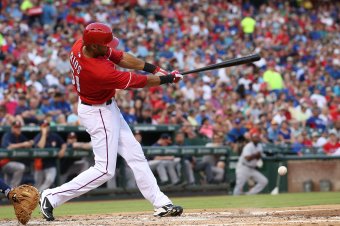 Rick Yeatts/Getty Images
Texas went out and acquired Rios in a waiver-wire trade with the White Sox to replace Cruz's bat in the lineup, while the former All-Star Berkman is expected to be activated when major league rosters expand on Sunday, according to Matt Snyder of CBS Sports.
While adding Cruz back into the mix would create a logjam in the outfield and at designated hitter, it would also give manager Ron Washington options with the lineup.
Take a look at three potential playoff lineups with Cruz in the mix:
Lineup No. 1
Position
Bats

Leonys

Martin
CF
L
Elvis Andrus
SS
R
Ian Kinsler
2B
R
Adrian Beltre
3B
R
Lance Berkman
DH
S
Alex Rios (vs.

LHP

)/Nelson Cruz (vs.

RHP

)
RF
R/R
A.J. Pierzynski
C
L
Mitch

Moreland

1B
L
David Murphy

LF

L
While both Cruz and Rios are right-handed batters and both more successful facing left-handed pitching than right-handers, Cruz has better numbers against righties than Rios does. Whether Rios would be amenable to platooning with Cruz is the big question—one that there is no definite answer to.
Lineup No. 2
Position
Bats

Leonys

Martin
CF
L
Elvis Andrus
SS
R
Ian Kinsler
2B
R
Adrian Beltre
3B
R
Lance Berkman
1B
S
Nelson Cruz
DH
R
Alex Rios
RF
R
A.J. Pierzynski
1B
L
David Murphy

LF

L
While Berkman replacing Mitch Moreland at first base would be an upgrade, whether the veteran's balky knees can handle playing the field at this point is a valid concern to have—it may be that Berkman is strictly a designated hitter at this point.
Lineup No. 3
Position
Bats

Leonys

Martin
CF
L
Elvis Andrus
SS
R
Ian Kinsler
2B
R
Adrian Beltre
3B
R
Lance Berkman
DH
S
Nelson Cruz
RF
R
Alex Rios

LF

R
A.J. Pierzynski
C
L
Mitch

Moreland

1B
L
While getting all three veteran bats into the lineup would be the ideal situation, giving the Rangers a powerful offense, Cruz is a liability in the field.
That said, it also gives Washington the option of using David Murphy as a late-inning defensive replacement, keeping his struggling bat out of the lineup for the bulk of the team's playoff games.
Which Lineup Would You Use in the Playoffs?
Heading into the playoffs with too many outfielders and designated hitters is not a terrible problem for a team to have. As long as Cruz returns in shape, which he should be given his time in Arizona, there's no reason for the Rangers not to play him.
Lest we forget the show that Cruz put on in the 2011 ALCS against Detroit, hitting .364/.440/1.273 with eight extra-base hits (six home runs), seven runs scored and 13 RBI in six games.
Were those numbers artificially inflated because of PEDs that Cruz obtained from Biogenesis? Maybe.
But Cruz makes Texas a better team, and the Rangers owe it to themselves, and their fans, to put the best possible team on the field once the playoffs begin.
Cruz can only help, not hurt, the team's chances of going on a deep playoff run.