Most Notable NBA Position Battles to Watch During 2013-14 Training Camp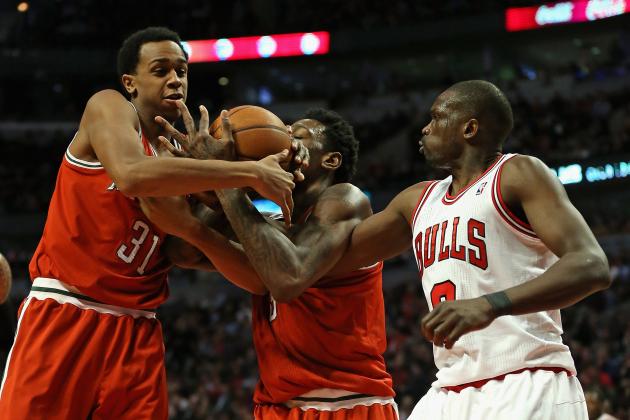 Jonathan Daniel/Getty Images

Positional battles in training camp are typically more interesting in less predictable sports, such as football. Due to the nature of guaranteed contracts and well-established skill sets, NBA teams are usually able to avoid them altogether.
But this year, a few interesting ones have emerged. Here are five situations, in no particular order, to keep an eye on as we approach training camp.
All salary information used in this article is from ShamSports.com.
Begin Slideshow

»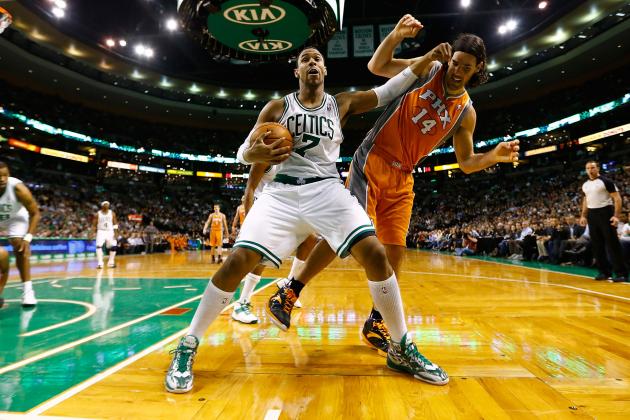 Jared Wickerham/Getty Images

Kelly Olynyk, Kris Humphries, Jared Sullinger, Brandon Bass and Vitor Faverani. That's five names fighting for two starting positions in Boston's revamped frontcourt, now void of Kevin Garnett for the first time in six years.
Boston's options at center are to either go small with an undersized yet stable possibility like Humphries or Sullinger, or someone who's never played a minute of NBA basketball (Olynyk and Faverani).
Olynyk is the most intriguing player on this list. As Boston's first-round pick, he has the traditional size to play center but far from the traditional playing style. He's a seven-footer who can shoot, but his defense at Gonzaga was suspect, as was his rebounding.
Celtics general manager Danny Ainge is on the record with his belief that Olynyk will play power forward in the NBA, but with productive forwards like Bass, Sullinger and Humphries already on the roster, it might be necessary for the rookie to dabble in the 5 spot this season.
Boston detonated its roster over the summer, and it'll be interesting to see where the pieces in the frontcourt land in the fall.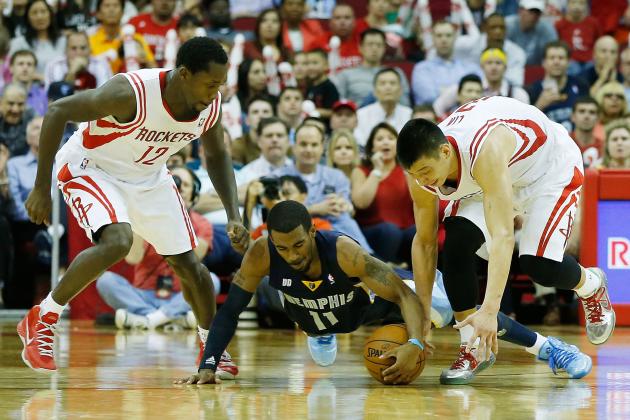 Scott Halleran/Getty Images

The Houston Rockets have three players who're guaranteed to start on opening night: James Harden, Dwight Howard and Chandler Parsons. The remaining two positions—point guard and power forward—are up for grabs.
In one year, Houston's expectations for the season have gone from "make the playoffs" to "win a championship." But one question remains: Who is their power forward? The frontrunners to fill the role are uninspiring: Omer Asik—which would create serious questions about his on-court synergy with Howard—Terrence Jones, Donatas Motiejunas and Greg Smith.
Jones is 21 years old, Smith is 22, and Motiejunas will soon turn 23. Given this team's suddenly high expectations, the limited experience these three share is a concern and it'll be interesting to see if one of them can prove their worth in the starting lineup beside a couple proven stars.
Motiejunas is a seven-footer, but, unlike Asik, he can spread the floor, which possibly puts him ahead of the other two on the depth chart. Smith, meanwhile, is easily the biggest long shot of the group, but he does have the requisite size (6'10", 250) and athleticism to at least deserve a look.
Houston's other positional battle might be the league's least predictable. Someone needs to start at point guard, and that someone will either be Jeremy Lin or Patrick Beverley. Neither option is perfect or ideal.
Lin struggled with his outside shot, going 33.9 percent on three-pointers. In a smaller sample size, Beverley shot 37.5 percent. Beverley is the better defender, while both can penetrate, get to the rim and force the defense to collapse. But given the team's structure and probable offensive philosophy, the deciding factor will be who can space the floor better.
It's definitely something to keep an eye on.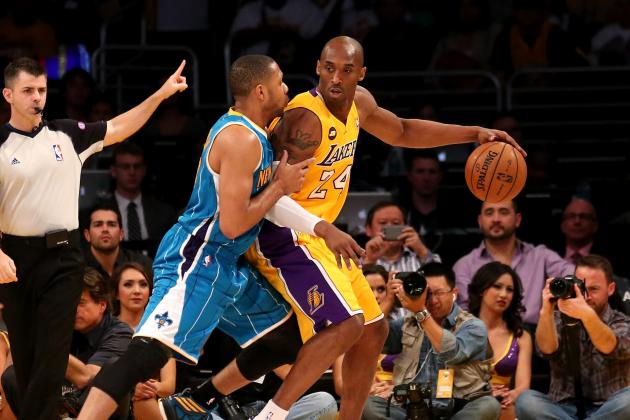 Stephen Dunn/Getty Images

The New Orleans Pelicans are loaded with young talent in the backcourt and on the wing, with big names and guys who have shown they can clearly produce at the NBA level.
The positional battle here is less about who are the best players and more about who can play nice with others. An argument could be made that Jrue Holiday, Tyreke Evans, Eric Gordon and Austin Rivers could all be classified as score-first point guards. (Despite having a rookie season that, statistically, could politely be described as "dreadful," Rivers is included on this list because of his age; he turned 21 on Aug. 1.)
The presumptive starter at the position will be 2013 All-Star Holiday, who New Orleans specifically targeted in in a draft-day trade as their point guard of the future.
The other three guys all need the ball in their hands to be successful and have the size to play shooting guard. They each also have myriad questions surrounding them entering next season. Rivers clearly isn't on the same level as Evans and Gordon today, but a competitive training camp battle could create a closer call than many believe.
Evans playing small forward is certainly another alternative, but the team re-signed last year's starter, Al-Farouq Aminu, further complicating the positional roulette that's sure to take place.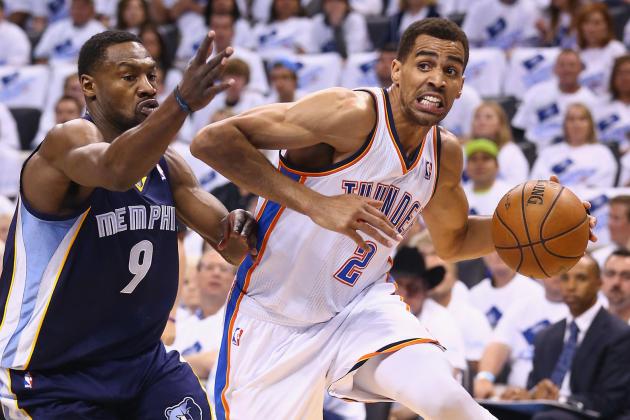 Ronald Martinez/Getty Images

Oklahoma City's starting lineup of Russell Westbrook, Thabo Sefolosha, Kevin Durant, Serge Ibaka and Kendrick Perkins was arguably basketball's most dominant last season.
According to NBA.com/Stats (subscription required), those five appeared on the court for 1,307 minutes last season, more than any other five-man unit. Their continuity and familiarity bred undeniable success, with them outscoring opponents by 12.3 points per 100 possessions—a number that basically means they mowed down everyone and everything in their collective path.
As most all know, basketball is a team game. Oklahoma's starting lineup still had room for improvement, however, and next season it could potentially be even better. How?
Thabo Sefolosha wasn't this unit's great weakness (that'd be Kendrick Perkins), but he wasn't exactly a strength, either. OKC made no major signings this summer in part because the front office obviously believes so strongly in their current setup.
Jeremy Lamb, in particular, is the piece they believe/hope can make positive strides sooner than later, and it isn't totally insane to suggest he might have the opportunity to play himself into the Thunder starting lineup. After all, he was the 12th overall pick in the 2012 draft for a reason.
You already know what you are and aren't getting with Sefolosha. And there's an outside chance Lamb might be ready to replace him.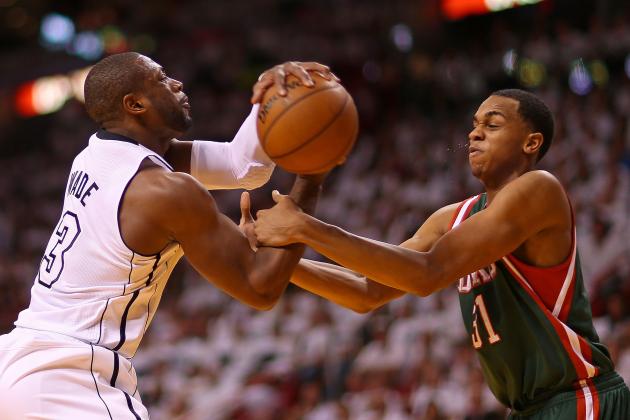 Mike Ehrmann/Getty Images

One of the more mercurial NBA happenings of the summer occurred in Milwaukee, where the Bucks overloaded their frontcourt to an almost embarrassing proportion.
The team recently extended Larry Sanders to a four-year, $44 million deal (making him and John Wall the only eligible rookie-scale extension candidates from the 2010 draft class to re-sign, so far), and he figures to be their starting center for the life of that contract.
Behind him is where things get a little murky. With two former lottery picks already in the fold as developing, lengthy big men (Ekpe Udoh and John Henson, with the latter much more deserving of the adjective "developing") either backing Sanders up or playing beside him in larger lineups, the Bucks decided to sign free-agent center Zaza Pachulia to a three-year, $15.6 million deal.
Common sense says Henson is the prohibitive favorite to break out and earn a larger role this year, but sound judgment has rarely accompanied this organization throughout its existence, meaning it's a tossup as to who emerges as Milwaukee's most reliable reserve big man.