5 Reasons Why a Serie A Side Can Win the Champions League This Season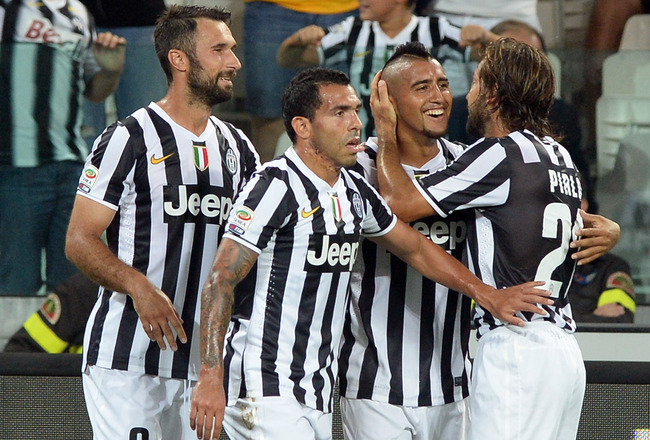 Claudio Villa/Getty Images
Let's be very clear. When talking about who can realistically win the Champions League this season, we're narrowing our focus to three teams: Juventus, AC Milan, and Napoli.
Just in case some of you didn't know who's in the competition from Italy this year.
There's a lot of you who will view this as a sham from the get-go, that may be, but if it's possible—and in football anything is—here are five reasons it could be more than just a possibility.
Talent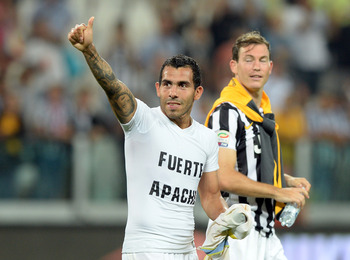 Claudio Villa/Getty Images
Serie A did well for itself this Summer, but Fiorentina buying Gomez doesn't help Serie A's Champions League aspirations this year.
Juventus has been so dominant in Serie A over the last two seasons for a reason: They're a really good team. If that weren't enough, they added to their only arguable deficiency last season. With Carlos Tevez, Juve will now likely annihilate everyone they play. Ask Lazio how easy it is to shut down the Old Lady's attack.
For Napoli, there's a lot that remains to be seen. They added to their attack in the wake of their loss of Edinson Cavani, and upgraded just about everywhere else. Raul Albiol was a strong signing for a backline that is porous at best. Jose Callejon, Dries Mertens, and of course, Gonzalo Higuain all bolster the attack remarkably well. Pepe Reina from Liverpool and Rafael will have Napoli's goal well protected for years to come.
AC Milan added Kaka and Lost Kevin-Prince Boateng. They also added Alessandro Matri from Juventus. Andrea Poli joined from Sampdoria and will provide stability in an inconsistent midfield. With Mario Balotelli no longer cup-tied, Milan will be formidable throughout the competition.
No doubt about it.
Experience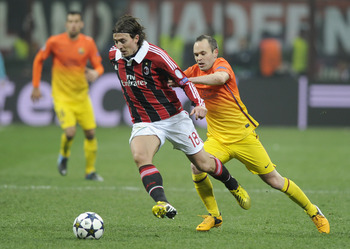 Claudio Villa/Getty Images
Two of these clubs were in the mix last season. Milan, without Balotelli at their service, gave Barcelona quite a scare in the round of 16. Juventus dismantled Celtic in the round of 16, but then ran into the eventual Champions League winners Bayern Munich.
Both clubs will utilize that experience and likely fair much better this season. For Napoli, their European experience was short-lived to put it lightly. This season it could be a similar thing. Considering the talent they added this summer has a ton of European experience, in addition to their coach Rafa Benitez, there may be some hope for this squad.
The Draw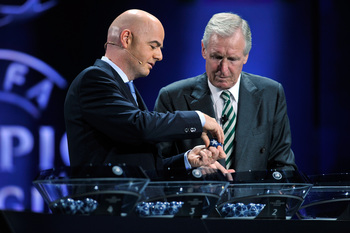 Harold Cunningham/Getty Images
The problem, however, is the draw. Napoli will be lucky to get out of their group, and Juventus and AC Milan have been drawn into groups with the likes of Barcelona, Real Madrid, Ajax, and Galatasaray. Ajax was the only team not in the round of 16 last season.
Plain and simple, if they survive their groups, they have to be in the discussion as favorites to go the distance. It will give them incredible tests early on and give them all sorts of confidence as they progress.
Desperation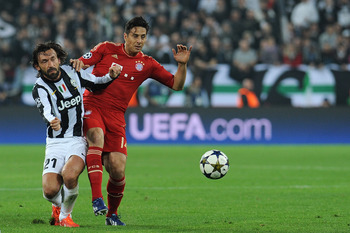 Valerio Pennicino/Getty Images
Let's face it though, AC Milan and Juventus should have done a bit better last season. Milan had Barcelona right where they wanted them, and then were beaten 4-0. Juventus by contrast lost both games against Bayern Munich 2-0, they couldn't even score!
This year, both sides will be desperate to improve upon what happened last season. To bring the Champions League trophy back to Italian soil would further legitimize Serie A's standing in the world.
Superiority?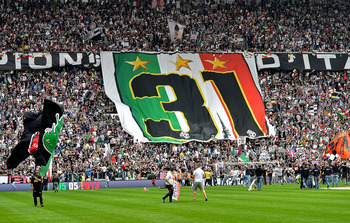 Tullio M. Puglia/Getty Images
After a great summer of amazing signings and a strong run in the Confederations Cup for the International team, Italy must now assert itself in Europe. If Italians want to prove their superiority in football, winning in Europe is a great way to do so. In the past, Italian coaches have been lax in European competitions, putting their focus on domestic competition. It's good to win your league, but if you're not occasionally making a run at Europe's most coveted trophy, people simply won't take you seriously.
What do you think, do any of the Serie A sides have a shot this year? Leave your thoughts below!
Keep Reading