The Stakes Are High for the Major Players at UFC 164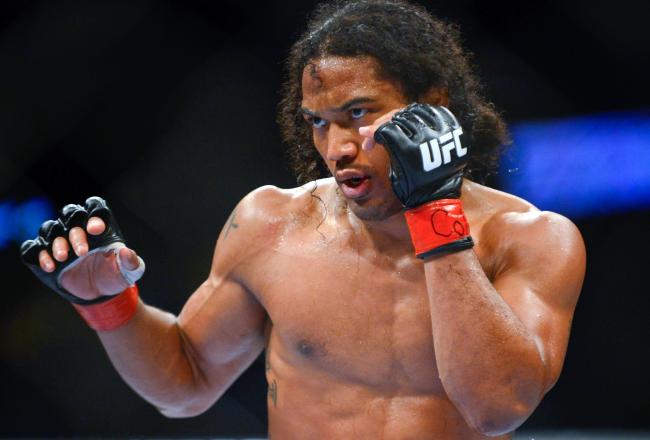 Ron Chenoy-USA TODAY Sports
Last Wednesday kicked off a stretch where the UFC is putting on three fight cards in a seven-day span, and none will be bigger than UFC 164.
Check that. For better clarification, there will be no bigger fight than the main event at UFC 164 when lightweight champion Benson Henderson looks to redeem his only loss in the past three years against current No. 1 contender Anthony Pettis.
Their first meeting at WEC 53, back in December 2010, was one of the most action-packed fights in recent history with Pettis creating the ultimate MMA highlight by landing the "Showtime" kick in the fifth round of the affair. The Milwaukee native earned the victory on the judge's scorecards that night in Phoenix and went down in the record books as the last man to hold the WEC 155-pound strap.
That being said, their careers have gone in different directions since their first meeting. Henderson has been on a tear under the UFC banner, winning seven consecutive bouts, including winning the lightweight title and successfully defending the strap on three occasions.
Pettis, on the other hand, has also found success inside the Octagon, but injuries and setbacks have stunted his quest to earn a shot at UFC gold.
Until now that is, and on Saturday night, a rematch nearly three years in the making will go down at the Bradley Center in downtown Milwaukee. Henderson will be looking to get the shadow of Pettis off his back, and the 26-year-old title challenger will be looking to make good on his claim of being the top 155-pound fighter in the world.
While the main event is certainly a high-stakes affair, two other tilts on the card also hold heavy implications as well. In the heavyweight division, former champions Frank Mir and Josh Barnett will be battling for relevancy in an increasingly competitive division.
And in the 145-pound mix, former No. 1 contender Chad Mendes and fan favorite Clay Guida will scrap it out to determine who remains in the title hunt at 145 pounds.
The dice will be rolling on Saturday night in Milwaukee. Let's take a look at what's at stake for the major players at UFC 164.
Benson Henderson vs. Anthony Pettis
The lightweight division is one of the most competitive under the UFC banner, and Benson Henderson is king of the mountain.
The MMA Lab product is undefeated in seven fights inside the Octagon and has tied the record for all-time title defense at 155 pounds with three. While his championship reign has been impressive, Henderson's time atop the division hasn't necessarily been dominant.
The 29-year-old has come out on the winning side of two close decisions with Frankie Edgar and edged out former Strikeforce champion Gilbert Melendez by a razor-thin margin when they fought at UFC on Fox 7 in San Jose back in April. That being said, Henderson has emerged victorious in every tilt and held on to the UFC title every step of the way.
The bout with Pettis on Saturday night at UFC 164 will not only afford him the opportunity to add another impressive feather to his cap, but it will also erase the stain of the biggest loss of his career in the process. A victory over Pettis would be Henderson's fourth successful title defense, establishing him as the most dominant champion in lightweight history.
And there is that word again...dominant.
While Henderson has been criticized for his lack of finishes and his fights going to decisions, the fact remains, the Arizona native continues to find a way to win, and a victory over Pettis—in any fashion—could be his most impressive feat to date.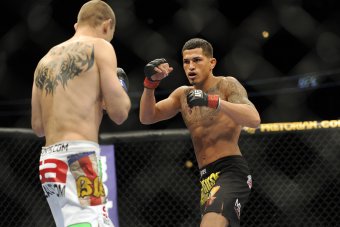 David Banks-USA TODAY Sports
On the other hand, a loss to Pettis would amplify the lingering criticism and put him down two notches to his rival.
Where the champion will be looking to add another rung to his belt, Pettis is eager to finally get his hands on a prize he's had his eye on for years. After his proposed immediate title shot was shelved due to the Frankie Edgar versus Gray Maynard rivalry adding a third chapter, it has been an uphill battle for the Duke Roufus-trained fighter to get back to a championship opportunity.
A loss to Guida in his official UFC debut and a series of injuries made the UFC a difficult path for Pettis to navigate, but once the Milwaukee native found his groove, it was clear sailing to the top of the ladder. Impressive first-round knockout victories over Joe Lauzon and Donald Cerrone proved the former WEC champion was back in form and ready to compete for the UFC strap.
With his long-awaited title shot coming in his hometown, the ideal stage is set for what could be Pettis' biggest moment. That being said, a loss to Henderson would serve to damage the notion that he is the future of the lightweight division.
Frank Mir vs. Josh Barnett
MMA media and fans have debated who would emerge victorious in a battle between Frank Mir and Josh Barnett, and on Saturday night, the world will find out the answer. They are two of the most decorated submission artists in heavyweight history, and their meeting at UFC 164 will prove, once and for all, which fighter is the superior over the other.
There hasn't been any time in the past five years where Mir hasn't been at least one or two wins away from a title shot. The two-time former champion has remained a fixture in the upper tier of the heavyweight fold by defeating Mirko Cro Cop, Roy Nelson and Antonio Rodrigo Nogueira, but a recent two-fight skid has put that status in jeopardy.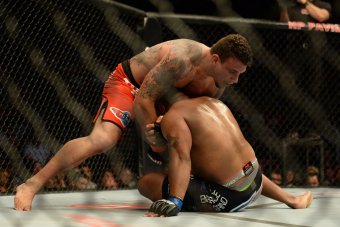 Kyle Terada-USA TODAY Sports
Coming in to the fight with Barnett at UFC 164, the Las Vegas native will be facing a crucial juncture in his career. A victory over the former UFC champion will keep him in stride with the elite of the division, while a loss would push him out of that tier for the foreseeable future.
While Mir's legacy as one of the most dangerous grapplers to ever compete in the division won't be affected by the outcome in Milwaukee, he will need a victory over Barnett to keep his status as a top heavyweight intact.
The same rings true for Barnett. The well-traveled veteran has remained one of the best heavyweight fighters in the world, despite having competed outside of the Octagon for the past 11 years. That accomplishment is a task in itself, but now "The Warmaster" will finally have his opportunity to return to an organization he once championed.
The 35-year-old has found victory in nine of his last 10 outings with all but one of those wins coming by way of finish. A victory over Mir would prove the former Pancrase champion belongs in the title conversation in the heavyweight division, where a loss could serve to push him out of divisional upper tier.
Chad Mendes vs. Clay Guida
The featherweight title race is absolutely on fire, and both Chad Mendes and Guida are hungry to get a shot at Jose Aldo's 145-pound strap.
The Team Alpha Male fighter came up short in his first attempt to dethrone the Brazilian phenom at UFC 142 back in January 2012, but "Money" has lived up to his nickname in every appearance since, as he's scored three consecutive first-round knockouts.
Mendes has toppled his last three challenges, while putting in a grand total of 3:34 of work inside the Octagon. Where decision victories piled up at the beginning of his career, Mendes has put a new side of his game on display in recent outings.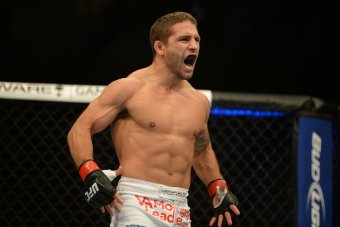 Kyle Terada-USA TODAY Sports
Since his loss to Aldo, Mendes has been eager to earn another title opportunity, and in order to stay on that radar, he will need to defeat Guida on Saturday night. With Ricardo Lamas, Cub Swanson and Frankie Edgar all in the hunt, the 28-year-old Californian cannot afford a backstep against Guida, as a victory could very well put him in the position to get the next crack at the featherweight title.
The same holds true for Guida, but there may be a bit more urgency involved. Where the Chicago native was once in the upper tier of the lightweight division, back-to-back losses to Benson Henderson and Gray Maynard pushed "The Carpenter" to try his hand at a lighter weight class.
In addition to the drop, Guida received criticism from UFC brass for his performance against "The Bully" in his next outing against Hatsu Hioki. Suddenly, it seemed the fan favorite Guida had gone from live-wire excitement to a much different approach inside the cage.
Yet, no matter which way he chose to fight, Guida made a successful 145-pound debut against Hioki at UFC on Fox 6. That victory put him in position to face one of the top featherweights in the division. A victory over Mendes would put him on the fast track for a title opportunity.
On the flip side, a loss to Mendes in Milwaukee could have a much different outcome. If he comes up short against the former title challenger, that would give Guida losses in three of his last four showings, putting him in a tough position in his new division.
This article is
What is the duplicate article?
Why is this article offensive?
Where is this article plagiarized from?
Why is this article poorly edited?