What's New for the Baltimore Ravens in 2013-14?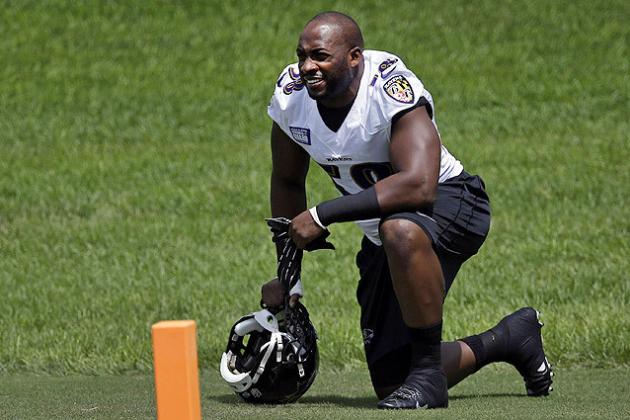 Elvis Dumervil is one of many new players on the roster. Patrick Semansky/AP
This has been an offseason of change for the Baltimore Ravens. That said, it has not been the tumultuous or chaotic change that many outsiders believe.
There were many personnel changes (more than any other Super Bowl champion has ever made), but general manager Ozzie Newsome stuck to his plan.
He didn't overpay for anybody (except for Joe Flacco, and that was out of necessity) and he brought in talented players on very reasonable deals. Newsome and his scouts then nailed the draft (as they usually do), bringing in a fresh crop of young talent.
There are new faces all over the field, but the mission remains the same: work hard, get better every day and embrace the grind.
Here are some of the more important changes for the Baltimore Ravens this season.
Begin Slideshow

»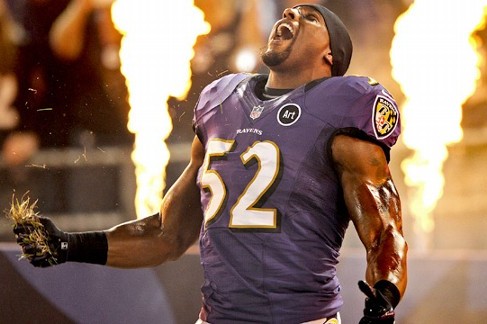 Patrick Smith/Getty Images
We have had a long time to process the information. On Jan. 2, Ray Lewis announced that he would retire after the 2012 NFL season.
We've known that this day was coming for some time, but it will still be surreal to watch the Baltimore Ravens take the field on Sept. 5 and not see No. 52 running out of that tunnel.
He leaves the game with quite the resume. Lewis is a two-time Defensive Player of the Year (2000 and 2003), Super Bowl MVP, 13-time Pro Bowler, seven-time AP First Team All-Pro, three-time AP Second Team All-Pro and a two-time Super Bowl champion.
What those accolades don't capture is his importance to the Baltimore Ravens. Quite simply, he was the franchise. He was the second player ever drafted by the Ravens and has been with the team since the team relocated to Baltimore in 1996.
He retires as one of the greatest defensive players in NFL history, perhaps the best middle linebacker in NFL history and arguably one of the most passionate leaders that the sports world has ever seen.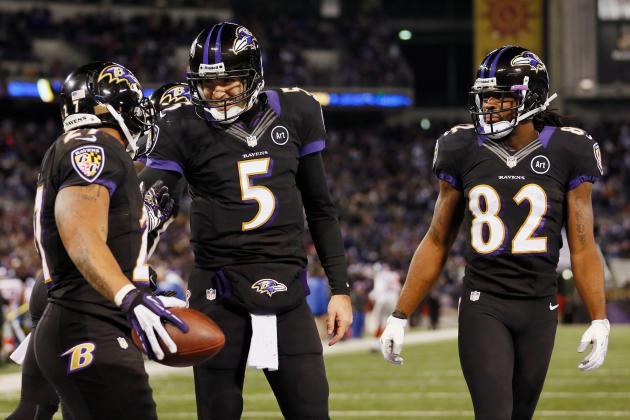 Rob Carr/Getty Images

As I'm sure you may have heard a million times this offseason, Ray Lewis wasn't the only veteran to leave the Baltimore Ravens.
There were a lot of roster changes, and most of the key players that were released or not re-signed were on the wrong side of 30, as shown in the following table.
Departed Player (age)
Ray Lewis (37)
Anquan Boldin (32)

Matt Birk (36)

Sean Considine (31)

Brendon Ayanbadejo (36)

Bernard Pollard (28)
Bobbie Williams (36)
Cary Williams (28)

Ed Reed (34)

Dannell Ellerbe (27)

Ma'ake Kemoeatu (34)

Paul Kruger (27)
Bryant McKinnie was initially left as the oldest player on the team at 33 years old before general manager Ozzie Newsome brought in Brandon Stokley (37) and Dallas Clark (34).
Ray Lewis' retirement signaled a changing of the guard in Baltimore, and now the reins of the team have been handed over to younger players eager to assume their leadership roles.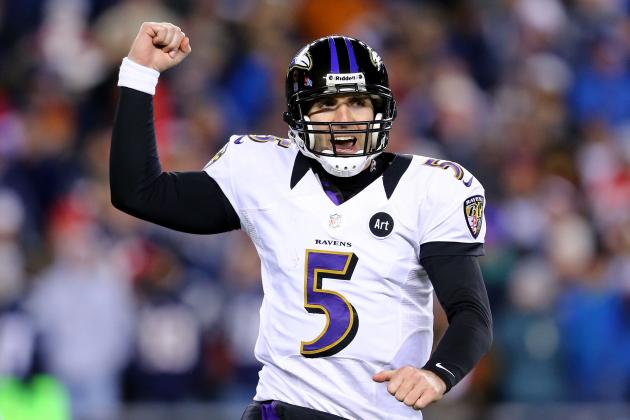 Al Bello/Getty Images

There have been plenty of critics highlighting the "loss of leadership" as the main reason why the Baltimore Ravens are doomed to failure this year. Those critics don't know about the leaders that have been in Baltimore all along.
Terrell Suggs has seized his new role as the top dog of the defense with the joy that only Sizzle could bring. As the longest-tenured Raven, he knows he is a new leader on the team and has already taken over Lewis' motivational duties.
While Suggs is the outspoken voice of the team, there may be another, more unassuming, player who also leads the way.
Nobody is going to mistake Joe Flacco and his behind-the-scenes personality for Ray Lewis, but people within the organization know that he is a born leader.
Owner Steve Bisciotti said as much during the Super Bowl ring ceremony when he anointed Flacco as the new leader of the team, whether he liked it or not. Ryan Mink of BaltimoreRavens.com wrote a fantastic article about Flacco's leadership. Mink highlights what some other key members of the team (like Suggs, Torrey Smith and head coach John Harbaugh) feel about the prospects of Flacco assuming an even greater leadership role with the team.
Suggs in particular picked Flacco as the leader of the club. Flacco was even chosen by the General himself, Ray Lewis, as the Ravens' next leader.
It may not look the same as the past 17 years, but there are definitely leaders in Baltimore.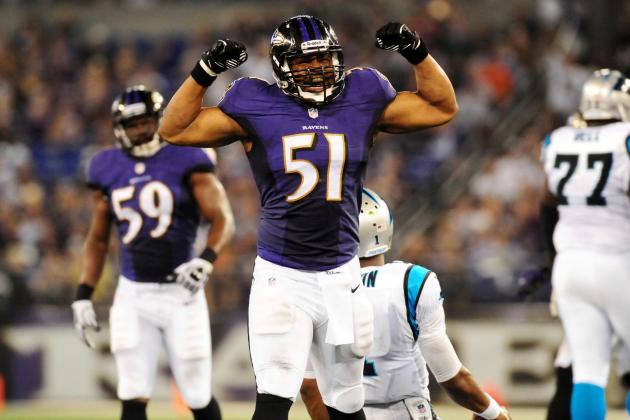 Evan Habeeb-USA TODAY Sports

Most of Baltimore's free-agent additions were in response to the mass exodus of Raven players on the defensive side of the ball.
The most recognized and significant addition is Elvis Dumervil. By all accounts, Dumervil shouldn't have been on the market at all. He had agreed to take a pay cut in order to remain a Denver Bronco, but a fax machine fiasco resulted in an opportunity that GM Ozzie Newsome couldn't pass up.
Dumervil will line up opposite Terrell Suggs to give the Ravens one of the most intimidating pass-rushing duos in the NFL. They will be helped by an improved defensive front, thanks to the additions of veterans Chris Canty and Marcus Spears. Canty is a versatile lineman who can line up at defensive end or tackle, and Spears is an experienced run-stuffer.
The most underrated signing of the offseason was Daryl Smith, who used a dominant preseason to become a starting inside linebacker and take on a leadership role on this year's defense.
Michael Huff was brought in to replace Ed Reed. The former Raider is a rangy free safety capable of playing strong safety and cornerback if needed. Though he languished in Oakland, Huff is a reliable presence as the last line of a team's defense.
On the other side of the ball, there were only two major free-agent signings, but both of them should have fairly large roles on offense.
Brandon Stokley has already wrestled the title of best slot receiver away from Tandon Doss, and he has looked comfortable with Joe Flacco and the playbook so far in the preseason.
Dallas Clark has not found his groove yet, but the tight end is an excellent receiving threat and has the hands and reliability to become one of Flacco's favorite short-route targets.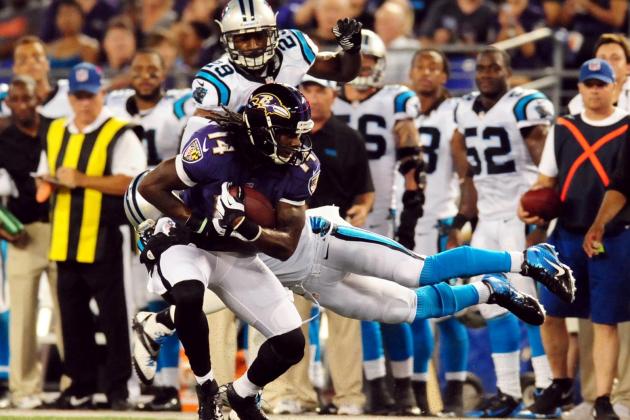 Evan Habeeb-USA TODAY Sports

Was it merely a coincidence that the Ravens spent their first two draft picks on a safety and an inside linebacker months after they lost two franchise cornerstones in Ed Reed and Ray Lewis?
Matt Elam and Arthur Brown have enormous shoes to fill, but they have shown flashes of their exciting potential throughout the offseason. Currently, both are not starters, but it should only be a matter of time until they grab starting spots at some point this season.
The remaining draft picks will get limited snaps this year as they play behind the veterans. Both Brandon Williams and Kyle Juszczyk have shown the potential to be exciting pieces of the puzzle going forward.
When the Ravens waited until the seventh round to draft a receiver, many observers figured that the team was content with the receivers it had on the roster. Surprisingly, the two receivers who have stood out, Aaron Mellette and Marlon Brown, are not the two who were favored in the position battle when training camp began (Tandon Doss and Deonte Thompson).
The rookies have played their way onto the final roster, and they should get the chance to contribute during the regular season.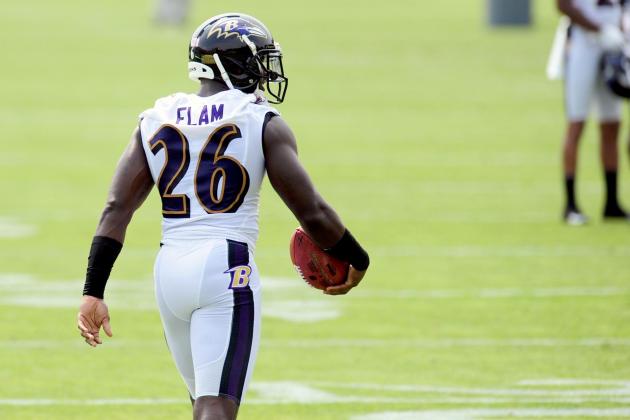 Evan Habeeb-USA TODAY Sports

The NFL is becoming a more pass-happy league, as teams are starting to catch on to the fact that a great quarterback can hide other roster deficiencies. The result is that speed is a necessity on defense.
In his heyday, Ray Lewis was famous for his sideline-to-sideline speed and the ability to be all over the field. That wasn't really the case last season, where he was exposed in pass coverage.
Ed Reed has made a living off his ability to cover huge chunks of ground, making quarterbacks scratch their heads and wonder how on earth he got there. Once again, that really wasn't the case last season (although he was battling through injuries).
Your linebackers need to be able to cover athletic tight ends like Jimmy Graham and Rob Gronkowski. Your secondary needs enough speed to deal with trigger-happy spread offenses.
Baltimore turned Ed Reed and Bernard Pollard into Michael Huff and Matt Elam—a pair that is faster and better in pass coverage. Arthur Brown may not start from day one, but he is a three-down linebacker who excels against the pass. In Daryl Smith's last full season, he was the best player at his position in pass coverage, according to ProFootball Focus (subscription required).
The Ravens now have the speed they need on defense.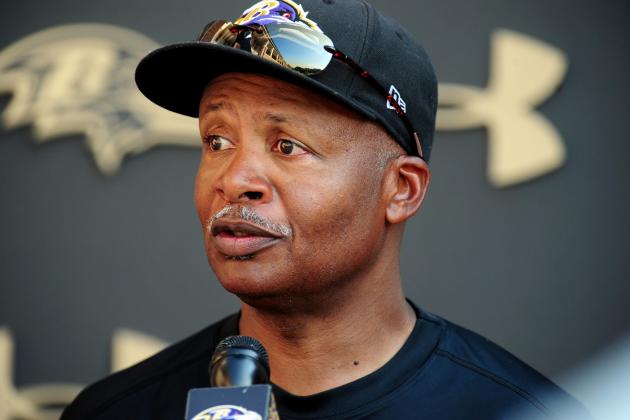 Evan Habeeb-USA TODAY Sports

Since Caldwell took over at the end of last year, he isn't completely new. But the full offseason that he had to install his schemes and plays is new, which should be very important to an offense that is looking for ways to recover from the losses of Anquan Boldin and Dennis Pitta.
The offense flourished under Caldwell, so it will be fascinating to see what changes he makes with a full offseason to prepare.
According to BaltimoreRavens.com, he has already mentioned early-down running and the short-passing game as two areas where he wants to see improvement this season.