Pre-Training Camp Player Power Rankings for Minnesota Timberwolves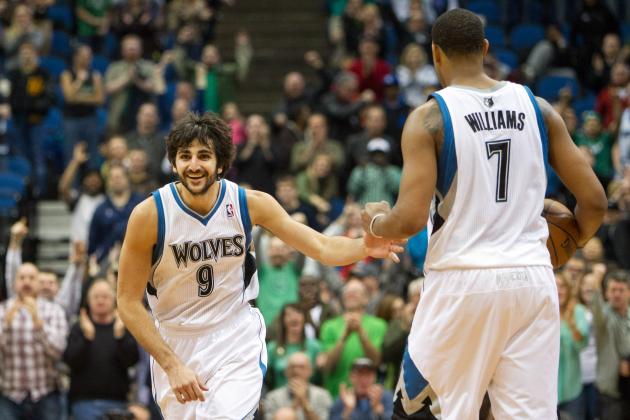 Brace Hemmelgarn-USA TODAY Sports
Expect to see a few more smiles this year and less frowning with these 2013-14 Timberwolves.
Just 64 days left until tip-off of the 2013-14 NBA season. Can you feel it? How tired are you of watching baseball highlights?
My apologies to baseball fans, especially fans of the Minnesota Twins.
Timberwolves basketball is upon us and after a big offseason, Minnesota's once-faint bark is ready to turn into a deafening howl. Minnesota fans have been grasping at straws trying to support this team since Kevin Garnett left, and now they have a legitimate squad that all of the Twin Cities can get behind.
From top to bottom, this Minnesota roster is loaded with talent. One might even say this team is stacked. There are some new faces, as well as the affirmation that other faces will not be headed elsewhere anytime soon.
Power ranking the members of this roster will put into perspective just what to expect from each member of the T-Wolves this season. If each man fills his slot, this bunch can do very special things.
Let's begin.
Begin Slideshow

»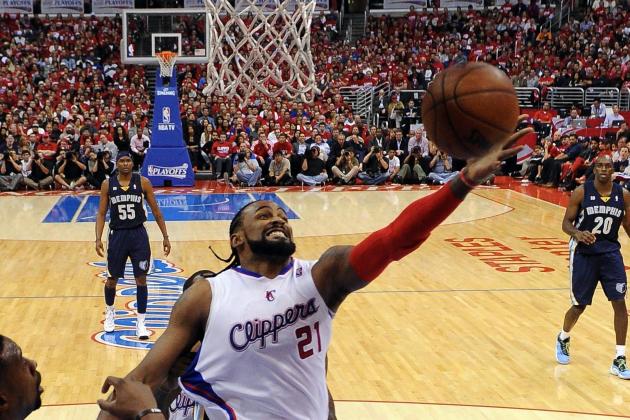 Jayne Kamin-Oncea-USA TODAY Spor

11. Gorgui Dieng
The hope is that Dieng's experience winning an NCAA national championship with Louisville can translate quickly to the next level.
He is the most capable backup center on the roster and the most able shot blocker on the team even as a rookie. His upside, even from Day 1, dwarfs that of the other players on this slide.
Minnesota traded up in the first round of this year's draft to snag him. Hopefully, he shows a return on its investment right away.
12. Ronny Turiaf
Turiaf was an underrated signing, as he was brought over from Los Angeles this offseason to round out the roster.
His on-court production is likely to be minimal as usual, but his veteran presence is wonderful to have on a team full of young talent.
13. Shabazz Muhammad
The maligned UCLA product will likely be relegated to the bench during his rookie season. Minnesota's dearth of talent on the wings is no more, and he will probably require a year or two of seasoning before being unleashed.
Parking his rear end next to Turiaf for the time being could be the best thing for the 20-year-old in the long run. If he is to be this team's star shooting guard of the future, the first thing he must do is get his head on straight and stop drawing negative attention to himself.
A year or two marinating on the bench is what's best for Muhammad right now.
14. Chris Johnson
In a time of need, Chris Johnson came to Minnesota on a 10-day contract last year and straight up balled.
He earned himself a permanent spot on the team, but with everyone healthy, he will be forced to slide down the bench.
Johnson looked to be much beefier during summer league, which is pleasant to see considering how skinny he was. If his number is called, head coach Rick Adelman will do so without hesitation.
15. Lorenzo Brown
For now, it appears as if Brown has made the roster.
The second-rounder could carve out a niche as a quality backup point guard for Ricky Rubio should José Juan Barea and Alexy Shved turn out to be better suited at shooting guard.
His size in the backcourt is a good change of pace. Brown has a great amount of talent, but for now, will be little more than a benchwarmer.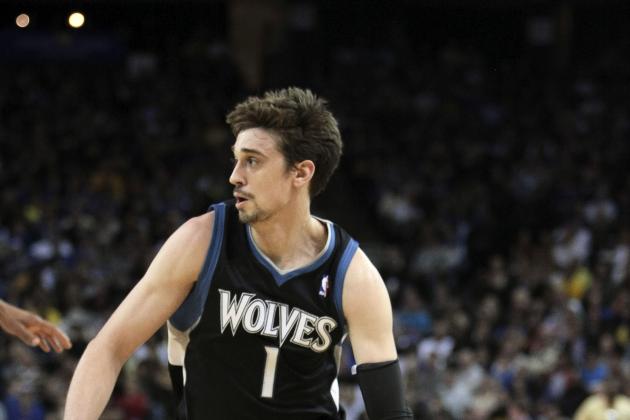 Kelley L Cox-USA TODAY Sports

Alexy Shved turned out to be a much better passer and ball-handler than fans anticipated last season.
All the talk about the rookie coming over from Russia concerned his lethal outside shot and his underrated athleticism. Not a word was said about his ability to create.
Without fellow Russian Andrei Kirilenko in town anymore, Shved will have his training wheels removed. In order to take his next step as a basketball player, he must put on some muscle, develop more confidence and show more of that deadly shot we heard about.
That shot was there until he crashed into the rookie wall at 90 miles per hour. He averaged just six points on 27 percent shooting from deep after the All-Star break.
With a full year of seasoning at his disposal, look to see Shved more comfortable in displaying that jumper during the upcoming campaign.
Luke Ridnour was last season's secondary ball-handler, but he is now in Milwaukee, so Shved will likely see more minutes backing up Rubio in his absence. If he can reward head coach Rick Adelman for his faith in him, he could be one of the most improved players on the roster.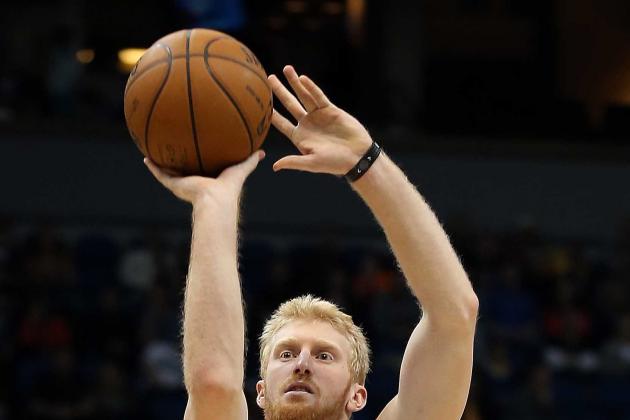 USA TODAY Sports

Chase Budinger would have been higher on this list last season. It was obvious how dearly he was missed when he was out of the lineup for roughly three quarters of the season.
Now, with acquisitions like Corey Brewer and Kevin Martin, Budinger will see his minutes decreased this year through no fault of his own. He is a tremendous shooter and a very important part of this Timberwolves' team.
Minnesota would not have thrown $16 million at him if they thought he was replaceable.
Budinger fits like a glove in head coach Rick Adelman's corner offense. He has the outside shooting and cut-to-the-rim type of game that suits this offense perfectly.
Budinger's absence last season contributed greatly to Minnesota's 30 percent three-point shooting. Having him back and healthy will be a breath of fresh air and give Ricky Rubio a wonderful option when it comes to both kicking out to the three-point line and alley-oops.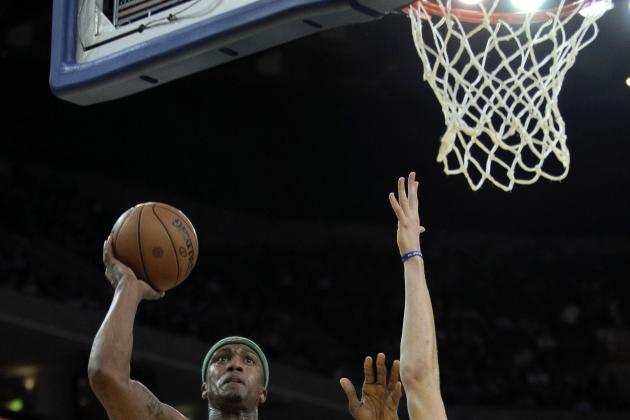 Kelley L Cox-USA TODAY Sports

Dante Cunningham had arguably his best season as a pro last year. He quickly won over Rick Adelman with his defensive intensity and mature offensive game, resulting in huge fourth-quarter minutes in close games.
Bringing him to town was mostly an afterthought. Cunningham was supposed to simply be a marginal player, but Kevin Love's knuckle push-up catastrophe sprung Cunningham into a bigger role.
Cunningham showed no weakness in terms of defense last season. He is not a dominating shot-blocker, but he will body up offensive threats of any size or shape. Having a guy like that, especially down low, is a necessity off the bench.
Love is not the best defender, so it is imperative that his backup be a worthy defender.
Cunningham is exactly that.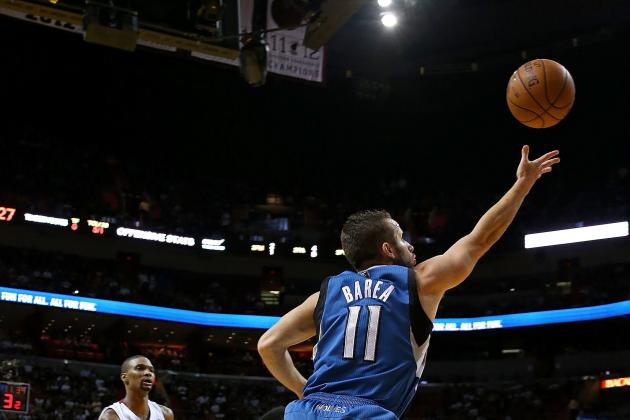 Mike Ehrmann/Getty Images

Few players are as hot and cold as J.J. Barea.
When he is off, he can drive everyone crazy with his questionable shot selection and by forcing head-scratching fast breaks.
But, when he is on? Well, we've seen how that can go.
Barea provides lightning in a bottle by coming off the bench. His quickness and relentless attacking of the paint is what makes him so important to this team. No one else on the roster has that skill set in terms of penetrating and collapsing the defense.
If Barea can tone it down a bit when his shot is off and become more of a regular backup point guard, he will have even more value to the Timberwolves. His electric offensive game is vital, but when his shot isn't falling it, would be wise for head coach Rick Adelman to turn to Alexy Shved if Rubio needs a break.
It is no secret at this point of his career what Barea wants to do. He is unlikely to improve or change too much. What you see is what you get, and that is a fearless diminutive guard who can light it up with the best of them.
Not one coach in the league would say no to having a Barea on his roster.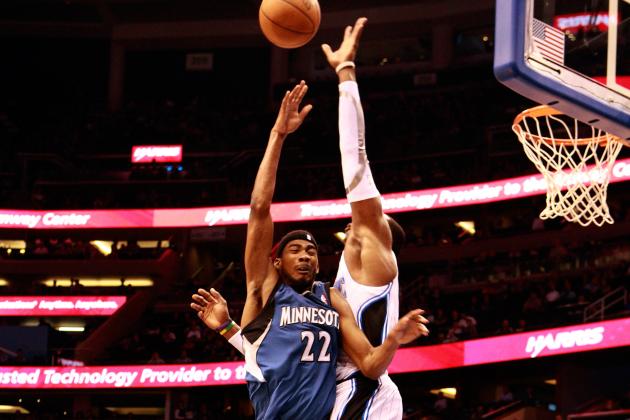 Sam Greenwood/Getty Images

He's baaaack!
Yes, Corey Brewer was brought in to mostly alleviate the loss of Andrei Kirilenko at small forward. No, he is not the same player he was when he left Minnesota in 2011.
Brewer plays the game with the same chaotic intensity, but is slightly more refined now after a few years on veteran teams in Dallas and Denver.
Brewer is going to have the unenviable role of blanketing opposing teams' best perimeter players. Guarding the Dwyane Wades and Kobe Bryants of the world is a dirty job, but somebody has to do it.
We saw how much Brewer ignited the Nuggets. He has that kind of infectious skill-set on the court. It will be tough for anyone on the Timberwolves to watch the unparalleled effort that Brewer and Ricky Rubio exert and not do what they can to emulate it.
The Florida product even does everything he can to be the first option from half court. It is the shot at the buzzer that most players avoid because they don't want to hurt their field-goal percentage, but that's just not Brewer.
Right away, Brewer is a huge part of this team simply because what he does cannot be replicated. He is a unique player due to his length and defensive tenacity. The rest of the Minnesota roster is devoid of that kind of ability on that end of the floor. That is why reason he is vital to the Timberwolves' success.
USA TODAY Sports

Andrei Kirilenko's departure has left the door wide open for former No. 2 overall pick Derrick Williams to slide into his spot and show why he was drafted so high.
It is comforting that president of basketball operations Flip Saunders appears to think so highly of Williams. It was assumed that D-Will would take a little while to develop, given that he is still only 22 years old and big men naturally take longer to come into their own.
Best of all, reports out of T-Wolves camp state that D-Will will finally see some big minutes at small forward this year, just like he was drafted to do. He seems to be cutting weight even more to fill that role, as we saw at his own Derrick Williams Skills Academy in Redding, Calif., earlier this offseason where he wowed all his little campers with his trademark rim-punishing dunks.
While many eyes had turned away amidst all the injuries, Williams came into his own a bit during the second half of last season to average 15 points and 6.3 rebounds.
As it stands, D-Will's role on this team looks to be as an athletic sixth man. He can provide instant offense off the bench and slide right in at either forward spot when need be.
In Williams, the Timberwolves have an untapped source of supreme potential. His development is coming along smoothly and with a little more comfort in playing the three and on defense, combined with head coach Rick Adelman's increasing faith in him, Williams could take a big step forward in his third year.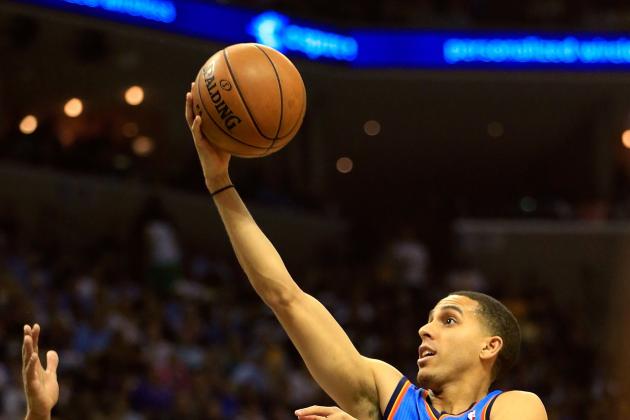 Jamie Squire/Getty Images

Prior to last season, Kevin Martin was the best player on his team for just about his entire career. He once averaged 24.6 points and led the league in free throws.
Remember that guy?
Just two seasons ago, it would have been difficult to fathom that kind of player on a team where he was indisputably the fourth-best player.
That's exactly the case in Minnesota.
If averaging 14 points per game with Oklahoma City is deemed a "bad year", things can only go spectacularly for him in Minneapolis this season. He recently claimed that he can score 17-18 points per game "in his sleep", via the Associated Press.
Does anyone doubt that? There is no questioning Martin's offensive repertoire. Yes, he does have a reputation for being below average on defense, but Minnesota has players who can mask that a bit.
He was brought in to do one thing: score. Getting back in the starting lineup will do wonders for him.
Minnesota isn't known for making headlines during the offseason, but this offseason, it has addressed a dire need. Timberwolves' shooters were historically awful last year, so bringing in a sure-fire 39 percent career three-point shooter couldn't have been smarter.
After all, what's the worst that could happen? Oh, yeah...we already saw that with the Brandon Roy experiment.
Sorry for bringing that up.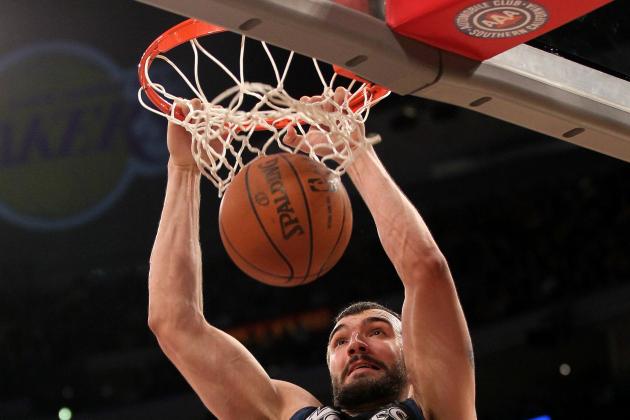 Stephen Dunn/Getty Images

Now that Nikola Pekovic is a #$60 million dollar man, he had better play like it.
Pekovic is being paid equivalent to the top tier of centers in basketball. He did have a very good season last year in Love's absence, averaging 16.3 points and 8.8 rebounds.
In order for this monster of a man to improve, he has to get better at playing one-on-one defense. He does not have to be a dominating shot-blocker, only a more capable anchor similar to the way he is on offense.
Watching him attack the offensive glass for rebounds is truly marvelous. President of basketball operations Flip Saunders and head Rick Adelman need to light a fire under him to get him to bring that intensity to the other side of the floor.
Also, fewer minutes could help keep Pekovic on the court for a full 82 games. Gorgui Dieng was brought in specifically to block shots and spell Pek' when he needs a breather. If Dieng's development comes along, it will help Pek' tremendously.
The Montenegrin is, without question, the third-best player on the Timberwolves. With the amount they have invested in him, Pekovic is pivotal to their success moving forward.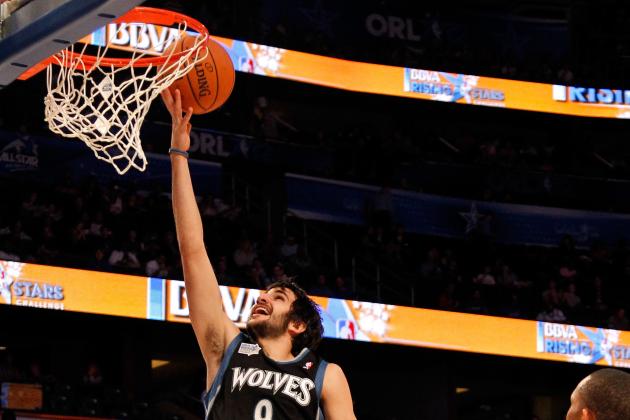 Mike Ehrmann/Getty Images

With a full offseason dedicated to perfecting his craft instead of rehabbing a torn ACL, Ricky Rubio's third NBA season should be his 82-game coming out party.
No one doubts Rubio's passing and defense, both already second to none. Rubio also showed toward the end of last season just how great he can be as an all-around player and a leader. He willed this team to wins despite the overwhelming sentiment for the franchise to just call it another lost season.
It is that same tenacity and passion to win that will make Rubio a truly great point guard. As for the offseason, everyone including Flip Saunders wants to see the Spaniard get better as a shooter and scorer next season.
"That's his next step in the evolution of the point guard position," Saunders told KFAN in Minneapolis.
Rubio narrowly missed leading the league in steals last season. With Andrei Kirilenko now in Brooklyn, Rubio is likely this team's best defender. He is the catalyst on both sides of the ball that makes this team go. He may even be more crucial to their overall success than Love is.
Shooting prowess or no shooting prowess, Rubio is a special player at the deepest position in the league. It is time for him to improve and become the two-way nightmare that he has the potential to be.
Brace Hemmelgarn-USA TODAY Sport

Aside from Derrick Rose, there is not another superstar in the NBA with more to prove next season than Kevin Love.
The rebuilding, griping, and, hopefully, the injuries are all in the rearview mirror now. It is now time for Love to drive this vehicle to the promised land.
Everyone else on this team is a passenger. Rubio will be riding shotgun right alongside Love giving directions, but this team was all assembled around their superstar. It took a few years, but Love has a supporting cast that can get the job done. It's all on his shoulders now.
On the court, there's been nothing but positive vibes out of Love's camp this summer. Most recently, we found out he is getting in incredible shape, according to Charley Walters of the Pioneer Press (via Probasketballtalk.NBCsports.com.), and will be showing up to training camp with a physique we have never seen from him before.
With all the tools Love now has at his disposal on this roster, he does not need to average 26 points and 13 rebounds again. Instead, a more efficient Love stepping up on defense and eliminating any doubts of his place at the superstar table is what the Timberwolves need.
He is undoubtedly Minnesota's best player, and we are all eager to see what he can do this year with this group of running mates.