BYU vs. Virginia: Live Score, Highlights and Analysis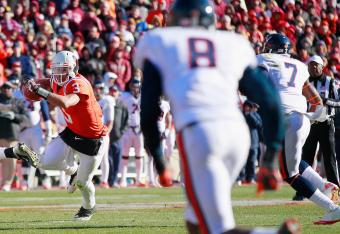 Geoff Burke/Getty Images
Virginia 19 BYU 16 Final
They say there is no such thing as a second chance but it appears that is exactly what is going to happen in the BYU/Virginia game.
After a rather pedestrian first quarter where both teams were stymied offensively, a lengthy lightning delay has taken place.
While it may not be the Super Bowl, this situation does seem reminiscent of the power outage which struck the 49ers and the Ravens earlier this year. San Francisco used that restart to make a snoozer into a great game.
The difference here is that both teams want to hit the reset button. BYU needs to find an offensive rhythm without star receiver Cody Hoffman.
Virginia needs to establish its own rhythm and get David Watford in favorable second and third down situations to keep drives alive.
The running game has been rather mediocre on both sides but Kevin Parks has shown Virginia fans that tenacity which has earned him the starting spot over freshman sensation Taquan Mizzell.
Will lightning shock both of these offenses into high gear?
Virginia 19 BYU 16 Final
An absolutely putrid offensive effort overshadowed by a magnificent defensive performance.
Virginia deserved to win this game and they found just enough points to do it.
The Cavaliers go 1-0 for the fourth straight year but they have many things to clean up when Oregon comes to town next week.
Thanks for surviving the live blog!
4th Quarter, :20 UVA 19 BYU 16
BYU gets the ball at the 20, Virginia needs to tackle here.
4th Quarter :27 UVA 19 BYU 16
Virginia calls the final timeout of the game. They need to pull off the punt successfully here and max protect.
4th Quarter 1:16 UVA 19 BYU 16
Virginia makes it 3rd-and-8 with another Parks run.
BYU has no more timeouts but unless the Cavaliers get a big play here, BYU will likely get the ball back one more time.
4th Quarter, 1:22 Virginia 19 BYU 16
Kevin Parks is stuffed on first down and the Cougars call a timeout. They have one timeout left and Virginia can thank the 11 tackles, sack, blocked punt and interception by Anthony Harris for putting them in this position.
Can they hold on?
4th Quarter 1:28 Virginia 19 BYU 16
Fourth down for BYU at their 41-yard line.
Hill, who stepped up in the fourth threw it long and Virginia gets the ball back.
They are one first down from a fourth-straight season opening victory.
4th Quarter 2:36 UVA 19 BYU 16
The Virginia defense will no go without a fight!
Interception by Virginia and a lateral puts them in the redzone and gives the offense a chance to actually win this game with under two minutes to go.
Virginia running back Kevin Parks shows his toughness with a strong-willed run, charging into the end zone for his first touchdown of the season.
A penalty for illegal substitution made the PAT a little more dangerous but Frye converts and Virginia must find a way to hold off the Cougars one more time.
4th Quarter 2:59 BYU 16 UVA 12
Last chance for the Cavaliers, Watford has looked awful in his decision-making most of the second half. Virginia needs a stop though, BYU has 3rd-and-6 and the Cavaliers have only one timeout.
4th Quarter 5:02 BYU 16 Virginia 12
Virginia's defense does about as good as it can, holding them to three points on the short field.
While they do not leave the field unscathed, a touchdown can still win this wild game and that is what matters.
Considering everything, the Virginia defense does not deserve a loss in this game.
The offense, on the other hand, deserves nothing else.
Can they redeem themselves?
Only if Khalek Shepard holds on to the ball.
4th Quarter 6:17 BYU 13 Virginia 12
Special teams no longer so special for Virgina has Khalek Shepard fumbled the kickoff return.
Uh oh.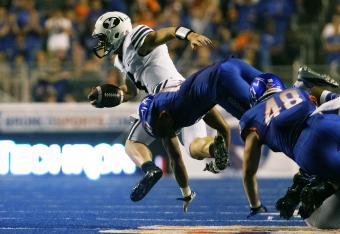 4th Quarter 6:26 BYU 13 Virginia 12
Taysom Hill finishes the drive off himself and puts together an amazing series late in the fourth quarter.
Not bad for a guy making just his third start ever.
This means the Cavaliers cannot rely on the defense as a crutch, David Watford pulled off a semi-miracle against Idaho in 2011 with an overtime victory.
What can he do with the game on the line this time?
4th Quarter 6:29 Virginia 12 BYU 7
After missing his first eight pass attempts of the second half, Taysom Hill is six-of-nine. That was all Jamal Williams needed to get the running game going and his big run to the one-yard line
Dequan Hoskey's pass interference was a huge blow but give the Cougars credit for a great drive in a clutch situation but head coach Mike London made another critical error with his timeouts, burning one to leave only one left with 6:29 to play.
Virginia Tech game anyone?
4th Quarter 8:43 UVA 12 BYU 7
Virginia is 6-of-18 on third down.
Need I say more?
If Virginia can pull this off, special teams will be the cause of a victory for the first time in years. A 51-yard punt just helped reenforce that.
4th Quarter 11:53 UVA 12 BYU 7
I would like to thank ESPNU for the announcers jinx.
Prior to the drive, they mentioned how Cougar quarterback Taysom Hill had yet to complete a pass in the second half.
Well, Hill responded with three straight completions but could not connect on third-and-three from the BYU 45.
Virginia may have lost a bit in the field position game but they still lead where it matters most, the scoreboard.
Fun fact: If Virginia had an offense, they would be a top 25 team.
Virginia has tried to feed the rock to Smoke Mizzell in hopes of breaking one but settled for a solid third-down conversion when Watford found a wide open Tim Smith for about five yards.
Virginia's offense looks like it will just be a simple ball control system. Winning some games though could go a long way in bolstering the offensive morale.
We will see how the Cavaliers handle third down to open the fourth quarter.
3rd Quarter 2:38 Virginia 12, BYU 7
The rain appears to have captured its first victim.
BYU quarterback Taysom Hill fumbled a high snap and Virginia was able to scrum around the endzone and although the Cougars recovered, it was in the endzone and resulted in a safety.
Considering Virginia's prowess so far on defense, it is only fitting that they get to put points up on the board.
The Cavaliers get the ball back and most likely favorable field position. What will they do with it?
3rd Quarter 3:18 UVA 10 BYU 7
Out of curiosity, when is it too early to call for Greyson Lambert at quarterback?
Speaking of grading new coordinators, special teams is also getting an A.
A huge blocked punt has been coupled with a strong 40-yard return by Domonique Terrell off a punt.
Virginia was woeful on special teams under Anthony Poindexter and with a field goal of over 50-yards too, Cavalier fans must be loving these new leaders of the program.
Work left to do though for everyone.
3rd Quarter 5:02 UVA 10 BYU 7
I know I haven't mentioned Virginia offense in awhile but that would require them to get a first down.
One of my concerns about David Watford is that his lack of height makes scrambling a run-only affair.
His touchdown scramble came with a wide open field in front of him.
When flushed in the pocket, I am not convinced Watford can see over the defensive linemen to try and make a superstar play.
Despite the great Virginia defense, being unable to make a first down could ultimately doom the Cavaliers as weariness kicks in.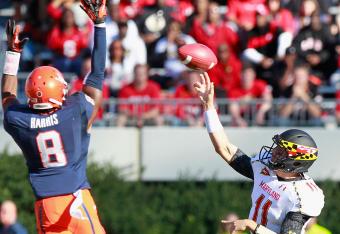 3rd Quarter 7:23 UVA 10, BYU 7
So remember when I gave props to Eli Harold.
Anthony Harris must have listened to me because the secondary superstar has been everywhere in the second half.
He blocked the punt that helped give Virginia the lead and just made a huge sack on third down to keep the BYU offense where he wants it...on the bench.
Virginia's defense looks about as good as one could imagine.
Will that translate into a victory though?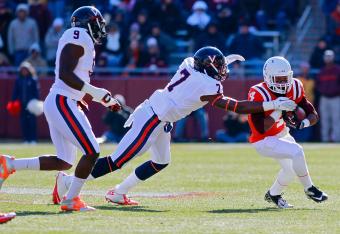 3rd Quarter 9:57
With a complete overhaul of the coaching staff, many wondered how long it would take Virginia to adjust to their new coordinators.
Looks like Jon Tenuta and the defense are looking just fine.
Even with a fast-paced offense, Virginia has kept their conditioning up and tackled well in slippery conditions. If Virginia's offense can avoid putting the defense in a short field situation, BYU is really going to have to work to score.
Speaking of work, now it is time for the Cavalier running game to take charge.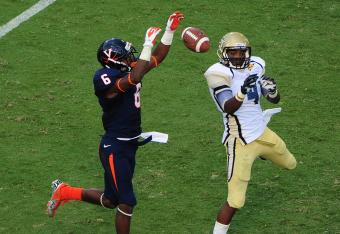 3rd Quarter 12:28 Virginia 10 BYU 7
Virginia gets a short field and Watford capitalizes with a scrambling touchdown pass to Darius Jennings. Both players get some redemption after poor starts and Virginia has seized the momentum and the lead.
Watford has been scrambling often today and made some mistakes, running when he should have passed and vice versa. No one can complain about this result though and the Cavaliers are finally making some big plays.
You can sense the excitement building on a rain-soaked crowd. After all, only the diehards could survive all of the delays and weather problems, could make for a great atmosphere moving forward.
As if the game has not been ugly enough, the rain has really picked up and made offense treacherous.
Haven't Virginia fans suffered enough?
The solid running game could be a big factor in this poor weather. Even more important though will be holding onto the football.
The Cavaliers have the only turnover in the game and came very close to a second one on a fumble in their own territory.
BYU though just changed that statistic because Virginia just blocked a punt after a penalty gave the Cavaliers a re-do on special teams.
It's been a long time since Virginia could smile on a special teams play!
The Good
Eli Harold
The sophomore came into Virginia with very high expectations. As a true freshman, Harold was a bit of a ghost for most of the season, not living up to his potential.
Today, along with his teammates, the defense of Virginia looks inspired. Though BYU has injuries, Virginia has kept quarterback Taysom Hill in check. He is averaging only 5.4 yards per pass and only 2.1 yards on the ground.
The Bad
The Passing Game
David Watford knew the pressure would be on him and today did not help. At half, Watford is 10-of-20 for 78 yards or 3.9 yards per pass.
Those numbers are actually bolstered by a strong two-minute drill that seemed to instill confidence not only in him but his receivers.
Darius Jennings, making a bad drop on second down early in the drive made up for it with an incredibly difficult grab in traffic around midfield on third down.
Watford has not been helped by three drops but the fact remains he continues to check down to his receivers and has not really challenged the inexperienced cornerbacks.
The Ugly
Weather Delay
The crowd has suffered through a lengthy delay and the atmosphere took a big hit. Hopefully strong play will wake up Scott Stadium.
This article is
What is the duplicate article?
Why is this article offensive?
Where is this article plagiarized from?
Why is this article poorly edited?