Breaking Down the Best and Worst of the WWE for Week of Aug. 26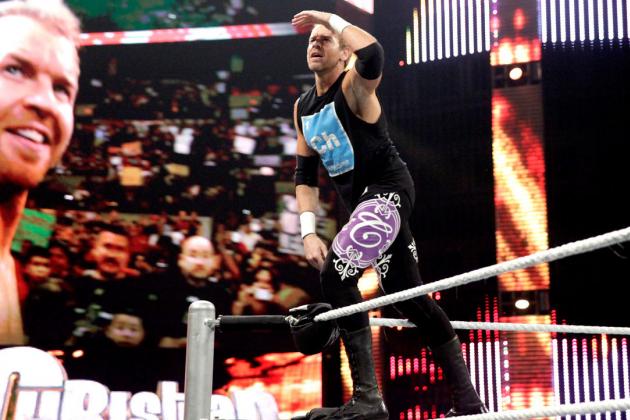 (Photo: WWE)
WWE is on the verge of something great.
When a match as electric as Orton and Christian's and a promo as powerful as AJ Lee's is overshadowed, you know the company is loading something outstanding into the cannon.
There's plenty of praise to pass around this week to Triple H, Paul Heyman and the Divas champ. Only the continued misuse of an awesome talent and a strange decision regarding the Night of Champions card take away from an entertaining week.
Insults, intimidation and intensity mark the best and worst of the WWE week.
Begin Slideshow

»
Without stepping into the ring, AJ Lee managed to force fans to talk about the Divas division.
After Brie Bella and Natalya's match on Monday's WWE Raw, the Divas champ stood on the entrance ramp and threw verbal missiles at every Diva within shouting range.
She said that Natalya's fiancee (Tyson Kidd) wasn't much of a man, that her peers were interchangeable and useless and that they couldn't lace up her Chuck Taylors. Few promos from female wrestlers have been this memorable or this scathing.
AJ sparked interest in a division often ignored or dismissed. WWE must jump on this momentum and spin it into a feud. Otherwise, the power of AJ's performance will wilt from neglect.
WWE appears to be using Antonio Cesaro as a stepping stone for The Prime Time Players rather than the more intimidating warrior he is capable of being.
Titus O'Neil and Darren Young getting a push is a smart move as both are fun and energetic and could develop a strong bond with the audience. The problem is, what could be a great back-and-forth feud has been one-sided and lacking in narrative.
The biggest victim of these two teams fighting without a story and with one team acquiring far more wins than the other is Cesaro.
On Monday, Cesaro watched as O'Neil defeated his partner, Jack Swagger. On Wednesday's Main Event, The Real Americans lost to The Prime Time Players. Fans who have checked the spoilers for this Friday's SmackDown know that Cesaro doesn't appear at all.
Cesaro is simply one of the best wrestlers on the roster, as evidenced by his recent NXT match against Sami Zayn.
This week, like several others, had too little of Cesaro's in-ring mastery, keeping his matches too short and having him be more buffoon than badass in them. Even while cheating, he can't manage to notch a victory.
Knocking off Cesaro should feel more like beating the Russian from Rocky IV than just another mid-level Superstar.
Daniel Bryan's gauntlet match against The Shield and Bryan's paint job on Randy Orton's car got the lion's share of the attention after Monday's Raw, but it was Orton and Christian who gave us the match of the night and one of the best bouts of the month.
Suddenly, it felt like 2011 again, when Orton and Christian battled over the World Heavyweight Championship in a compelling feud.
This time around, Orton came in wearing the WWE title and played the aggressor. He yanked on Christian's hair and squeezed holds around his neck. At one point, Orton pushed Christian to the outside of the ring in a bump that had Christian's body crumple.
As hard as these two men went at each other, one would have thought this was a pay-per-view with the title on the line.
Christian continues to show that he deserves to be on a high rung of WWE's ladder. With more performances like this, he's bound to get "one more match" for a world championship.
(Photo: WWE)
Kudos to WWE, Paul Heyman, CM Punk and Curtis Axel for how enthralling this feud has been.
Much of what happened on Monday's Raw was perfect: Heyman screaming about his broken heart, him breaking a kendo stick on Punk's body, Axel's in-ring work against Punk. The issue is that these foes now head into Night of Champions with no championship on the line.
Isn't the stipulation surrounding this pay-per-view that every champion must defend his/her title?
There are ways to include Axel's Intercontinental title in this feud. Perhaps Punk wants to embarrass Axel by taking away the only tangible thing he's accomplished, for example.
Having Punk seek that title puts added spotlight on it and gives Axel a chance to make a name for himself. Should he successfully defend against Punk, his resume gets a huge boost.
That opportunity is lost with Punk going up against Heyman and Axel in a handicap match where the IC title goes unmentioned.
Triple H is doing his best Julius Caesar impression and nailing it.
He opened Monday's Raw explaining that his recent actions were all motivated by business. The arrogant boss mocked Daniel Bryan by singing "When You Wish Upon a Star," awarded Randy Orton a new car and ordered The Shield to pounce on Bryan to end the show.
Triple H threatened the roster, saying that anyone who questioned his authority or his brutality against Bryan would be fired.
How can you not hate him for that? How can you miss another Raw while he's stomping on his employees like this?
The King of Kings is scheduled to appear on Friday's SmackDown, hopefully for more enthralling oppression that will eventually lead to a Superstar-led revolt.