New York Rangers Who Have the Best on-Ice Chemistry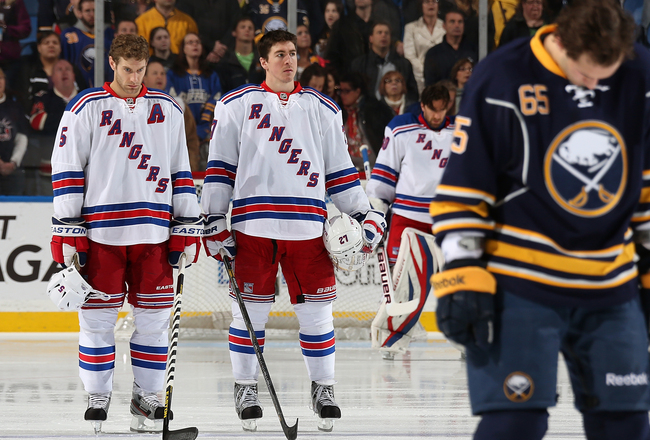 Jen Fuller/Getty Images
The core of the New York Rangers have been together for a few years now. As such, certain players have developed tremendous on-ice chemistry.
Chemistry can be a tricky thing to identity and define, but there are a few players who simply play better when a certain teammate is on the ice.
Which Rangers have the best on-ice chemistry? Read on to find out.
Dan Girardi and Ryan McDonagh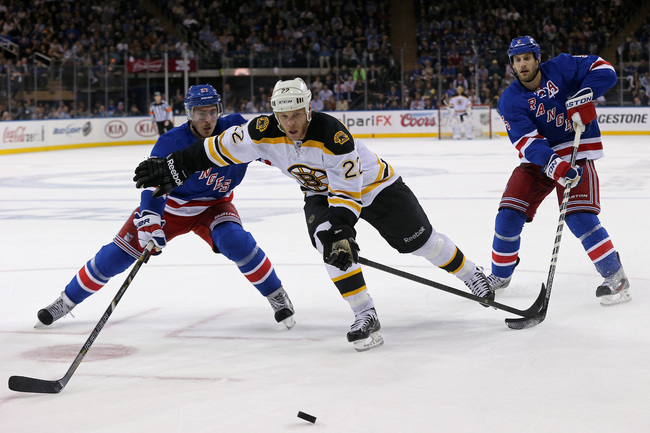 Bruce Bennett/Getty Images
Dan Girardi and Ryan McDonagh log big minutes for the Rangers.
According to BehindTheNet.ca, McDonagh played a little over 953 minutes last season, while Girardi played a little over 900.
That's about 16 hours of hockey, often against the best players in the world.
Girardi and McDonagh excel as a pair. Both are incredibly sound defensively, using their bodies and active sticks to disrupt the offense. The pair held Alexander Ovechkin to just one goal in the first-round series against the Washington Capitals.
As long as the two are on the ice, Rangers fans can breathe for a moment, knowing they have two of the best defensemen in the world protecting the net.
Derek Stepan and Rick Nash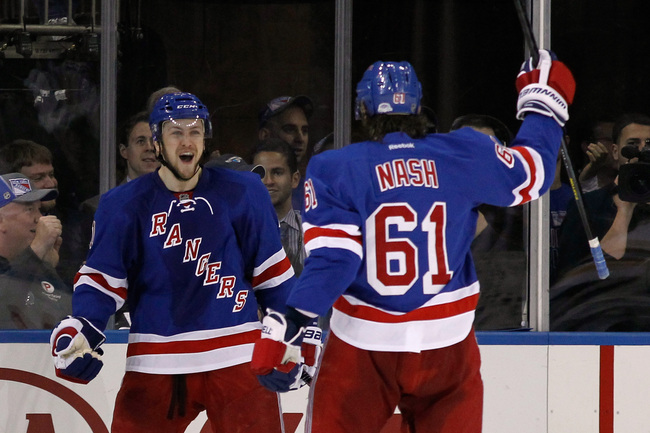 Bruce Bennett/Getty Images
Derek Stepan and Rick Nash made some beautiful music last season.
Stepan assisted on eight of Nash's 21 goals, and the two played off of each other very well. Stepan is a smooth skater who's an excellent puck-handler and distributor. He made it easier for Nash to get into a position to score. Nash, who has an excellent wrist shot, benefited from the extra space.
Nash and Stepan were sometimes separated in an attempt to create offense throughout the lineup, but that should not happen this year. Quite simply, Nash and Stepan are the Rangers' two best offensive players, and keeping them together on a line is the best chance for the Rangers to improve the offense.
With a full training camp to further develop their chemistry, it would not be surprising if this duo reached incredible new heights in the 2013-14 season.
Derek Stepan and Ryan Callahan
Marc DesRosiers-USA TODAY Sports
...were both a part of 16 goals. And two postseason goals. And they were on the ice with each other the most.
Sensing a theme? Yes, Derek Stepan might be the Rangers' most important offensive player. Not only was he great with Nash, but he also played well with Ryan Callahan.
They were involved in 16 goals—either Callahan assisting on a Stepan goal or vice versa—as well as two postseason goals.
According to BehindTheNet.ca, the two were on the ice with each other the most.
From this data, the Rangers could conclude that an ideal first line will be Callahan, Stepan and Nash.
Either way, Derek Stepan has proven that he can be effective with almost anyone.
Stepan and Callahan not only create offense together, but they are also stingy on the penalty kill.
The two will likely see significant time together for the Americans in Sochi.
Keep Reading

New York Rangers: Like this team?