Fantasy Football 2013: 6 'Injury-Prone' Players Who Could Be Worth the Risk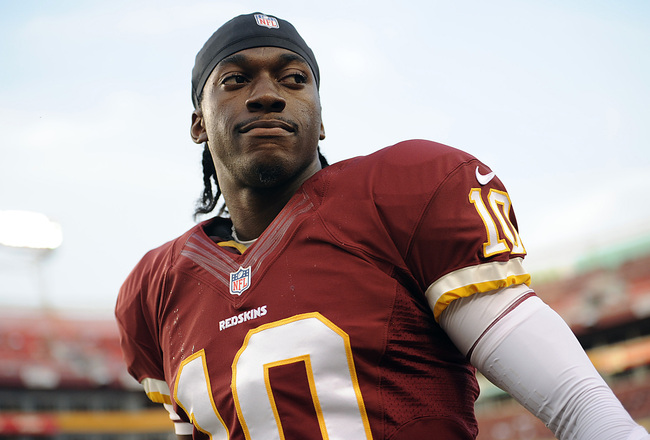 Geoff Burke-USA TODAY Sports
We've all said it before about at least one NFL player: "I don't want him on my fantasy team—he gets hurt too often."
Whether we got burned by an injured player the year before or watched another owner suffer through the ups and downs of guys who've been labeled "injury-prone," fantasy football gives us interesting perspective on just how important it is for star players to stay on the field.
In 2013, the phrase "injury-prone" is more prevalent than ever. It's not just bench players, either. Many players who will find themselves in fantasy owners' lineups in Week 1 have serious injury concerns heading into the season.
In this article, we'll take a look at six "injury-prone" players whose average draft position has been dinged due to the worry of fantasy owners but who could end up being superstars if they can just avoid the injury bug.
All Average Draft Position (ADP) data is collected from FantasyFootballCalculator.com.
Danny Amendola, WR, New England Patriots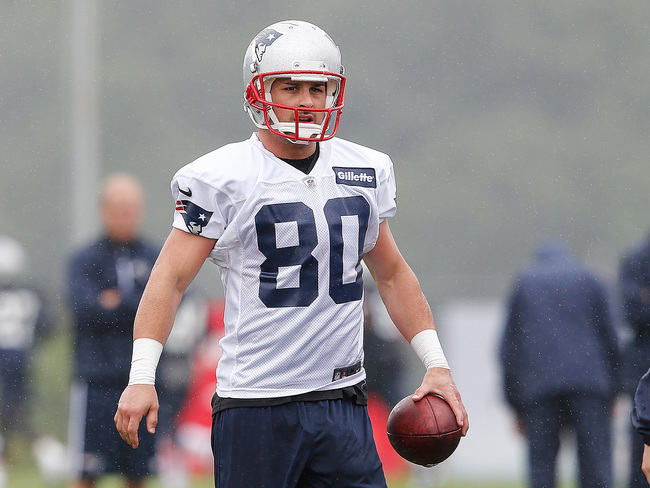 Jim Rogash/Getty Images
"The new Wes Welker" had a great training camp and an impressive first preseason in New England, leading many fantasy owners to shoot him up their rankings going into 2013. Some are still skeptical, though, as the risk factor on Danny Amendola is among the highest of anyone in the league.
A four-year veteran of the sport, Amendola has missed a total of 20 games over the past two seasons, including two separate injuries that knocked him out for multiple games just a season ago while in St. Louis.
If there's a positive on Amendola's injury history, it's that his injuries over the past two seasons have been completely independent of one another. In 2011, a dislocated elbow put him on the IR for almost the entire season while in 2012, it was more minor foot and shoulder problems that knocked him out for a few games here and there.
When healthy, Amendola has the potential to fulfill every bit of what Welker did in New England. He had two games with 11-plus receptions in 2012, and that was in a significantly less potent offense. With Tom Brady now tossing him the ball, Amendola has the potential to be a PPR monster.
Upside: Top-10 PPR Wide Receiver
He could be one of the most valuable PPR options in the league, but Danny Amendola's skill set truly is best fit for PPR formats. If he does fit in exactly where Welker did in the New England offense, it is important to remember that during his six years with the Patriots, Welker never finished with double-digit touchdown receptions. He did, however, have over 110 receptions in five of those six seasons.
When to Draft Him: Mid to Late Round 4
Given the lack of depth at wide receiver in relation to other positions, fantasy owners should feel less inclined to take chances at that position this season. Still, in PPR formats, Amendola could be a low-end WR1 and his floor is really only limited by his own injury history. There's no reason to believe that he won't outperform his current average draft position if he stays on the field.
DeMarco Murray, RB, Dallas Cowboys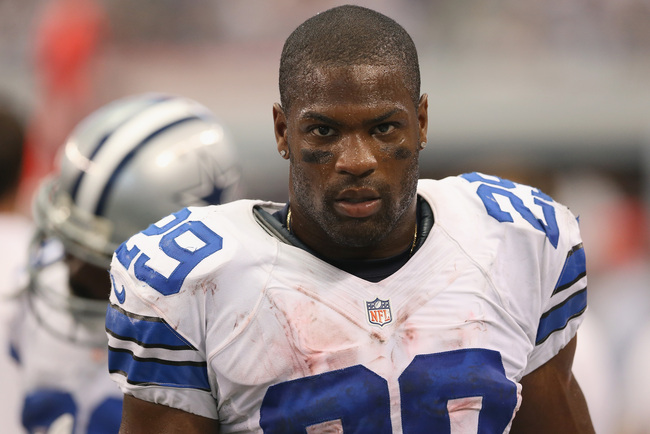 Ronald Martinez/Getty Images
One of the poster boys for always being nicked up has to be Dallas Cowboys running back DeMarco Murray.
Murray has already missed nine starts over the first two seasons of his NFL career, but that's not when his trips to the team doctor began. He missed a good amount of time during his college career at Oklahoma and slipped to Round 3 of the 2011 NFL draft primarily because of the concerns that he couldn't stay on the field.
Although Murray has clearly outproduced every back taken above him, the concerns about his health just continue to grow as the Cowboys are without their star tailback time after time.
Murray averaged 91.4 total yards per game in 2012 and caught 35 passes in just 10 games, making him a potential "sleeper" in PPR formats; of course, assuming he can stay on the field.
Upside: Top-10 Running Back
This time last year, DeMarco Murray was a borderline first-round pick in most leagues. Although he failed to live up to those lofty expectations, what Murray did do was give owners reason to believe that there is still potential for him to be a top-10 back.
If Murray's stats were extrapolated over a 16 game season, he would've finished with 1,462 total yards, six touchdowns and 56 receptions. These totals would have made him the No. 11 highest-scoring back in the league.
When to Draft Him: Round 3
Those who do not go with the RB/RB strategy in Rounds 1 and 2 will be looking at the likes of Eddie Lacy, Darren McFadden and Lamar Miller at the position in Round 3. A high-upside option like DeMarco Murray gives you the potential of a high-end RB2 or even a low-end RB1 while you can still load up on getting premier players at other positions.
Robert Griffin III, QB, Washington Redskins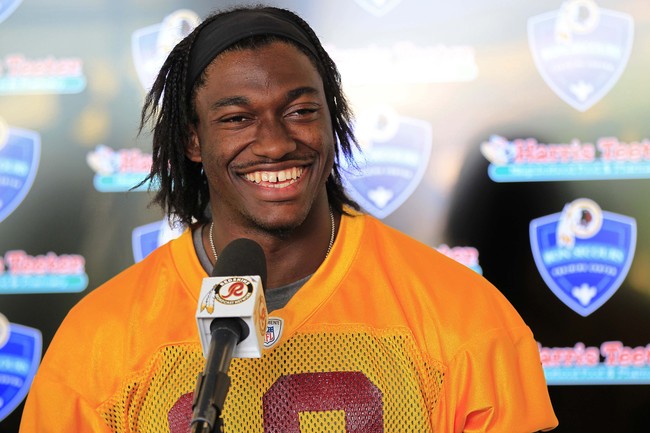 Geoff Burke-USA TODAY Sports
The 2012 rookie class was filled with breakout stars, but perhaps none shined brighter than Washington Redskins quarterback Robert Griffin III.
With an ADP that made him a backup quarterback in almost all formats, Griffin destroyed all expectations when he finished tied with Peyton Manning as the No. 5 quarterback in fantasy football. And that was after missing a game.
Unfortunately the playoffs were not good to the NFL Rookie of the Year, as he suffered an ugly torn ACL in a loss to the Seahawks on the road. The ACL injury was the second he has suffered, having already torn the other knee back in 2009 while playing at Baylor.
Like Adrian Peterson before him, Griffin worked diligently all offseason to get back to health and it was announced earlier this week that he will start for the Redskins in Week 1.
Upside: Top-5 Quarterback
If he is as healthy as reports claim he is, Robert Griffin could very well return to his place as the NFL's most prolific runner at the quarterback position.
Griffin ran the ball for 40-plus yards in nine different games during the 2012 season, including seven scores. He also showed that he can avoid mistakes in the passing game as he threw just six interceptions during the regular season.
Although there are reports that the Redskins will use him less in the running game than they did before due to the concerns about his health, the reality is that the team already knew about those concerns when they drafted him in the first place. Sure, he might run less in 2013 than he did in 2012, but don't expect to see the numbers drop off to the point that he doesn't remain a threat to run for 100-plus yards on any given week.
When to Draft Him: Late Round 6/Early Round 7
Griffin's ADP is one of the most volatile in the league at the moment as he continues to move up draft boards every time a new report comes out that praises his development. Still, we haven't seen him play since that tragic injury in the playoffs and many fantasy owners are worried that their star quarterback won't be in the lineup every week.
When you draft Griffin, you are absolutely taking a risk. There's a real chance that he ends up getting hurt again. But if you're a smart fantasy owner, you can hedge that bet by selecting a backup quarterback like Eli Manning, Andy Dalton or Carson Palmer; all of whom are likely to be serviceable fantasy contributors if Griffin does end up going down.
If it works out, though, and Griffin is in your lineup for most of or all of the season, you will be laughing all the way to the bank as he outproduces most of the players taken three to four rounds ahead of him.
Pierre Garcon, WR, Washington Redskins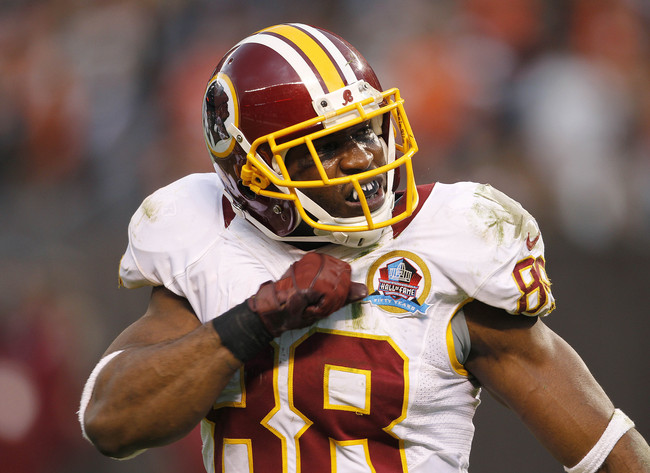 Ron Schwane-USA TODAY Sports
Pierre Garcon might not have quite the same injury concerns that his teammate Robert Griffin III does, but the six games that he missed in 2012 are certainly causing some fantasy owners to temper their expectations on him as he enters his second year in Washington.
A nagging foot injury caused Garcon to miss multiple games in a row on separate occasions, yet he still managed to catch 44 passes for 633 yards and four touchdowns while on the field, as he clearly established himself as Griffin's go-to guy.
So much so, in fact, that he was the third-most targeted receiver in the entire league on a per-route basis, finishing behind only Brandon Marshall and Percy Harvin in that category.
Without RGIII in the lineup, we really can't gain much from looking at Garcon's preseason stats, but what is worth noting is that he has been healthy and appears be ready to go for Week 1. He will be reunited with Griffin in what could be a huge matchup against the Philadelphia Eagles, owners of one of the league's most depleted secondaries in the league.
Upside: High-End Wide Receiver 2
If you extrapolate his per-quarter numbers out over a 16-game season, Garcon would have caught over 75 passes for nearly 1,100 yards and six touchdowns; similar totals to what we saw from the likes of Lance Moore and Stevie Johnson, who both finished around 20th at the position a season ago.
What these numbers don't indicate, however, is the reality that much of Garcon's game is predicated on his speed, which was unquestionably limited with the foot sprain he fought throughout the season. If he's capable of being a top-20 WR with a foot injury, just imagine what he could do if he can stay healthy all season.
When to Draft Him: Round 5
Offseason shoulder surgery adds to fantasy owners' concerns about his health, but Garcon has slipped far enough down draft boards that he has been going around the likes of other injury-prone receivers like Jordy Nelson, Hakeem Nicks and DeSean Jackson.
While he hasn't yet had the "big season" like those players have, Garcon is arguably in the best situation of any of the four heading into the season. He is really the only mouth to feed in the passing game and has shown flashes of greatness that make him a potential steal all the way down in Round 5.
Rob Gronkowski, TE, New England Patriots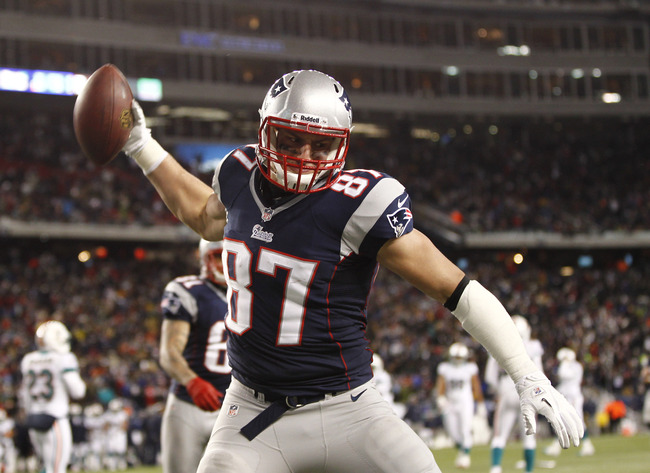 Mark L. Baer-USA TODAY Sports
The Aaron Hernandez situation has made Rob Gronkowski's injury problems look like child's play, but there is serious reason for concern heading into the 2013 season for the New England Patriots offense that has made these dual-threats at tight end such a prominent part of their passing game for the past two seasons.
Gronkowski's laundry list of health problems have to make fantasy owners cringe, but there is absolutely no question that when he's on the field the Patriots tight end is among the most dominant fantasy players at any position, at any time in history.
In his first three seasons in the league, Gronkowski has caught an unbelievable 38 touchdowns—a number not often achieved by wide receivers in the prime of their careers, let alone tight ends who are just getting started. And he's done it in just 43 regular season games.
2012 saw Gronkowski start the season off hot as he had already caught 10 touchdowns during the team's first 10 regular season games. Then came the forearm injury. Although he came back and played in the team's Week 17 game against the Miami Dolphins, even catching another touchdown pass in that game, he looked a little slower than usual and was finally removed from the team's first playoff game after re-injuring the forearm.
Gronkowski has now undergone four surgeries on the forearm, but appears to be over that problem. Unfortunately, back surgery has kept him out of most offseason activities and the preseason, leading to questions about when he will be activated for the regular season.
Upside: No. 1 Tight End
Make no mistake about it—if he were healthy right now, Rob Gronkowski would be the unquestioned highest-drafted tight end, likely finding himself as a late first-round pick in most scoring formats.
The gap between Jimmy Graham and the next best tight ends has been well-documented by fantasy experts this offseason, but most are neglecting to point out the points-per-game difference between Graham and Gronkowski.
In 2012, Graham averaged an impressive 9.0 points per game in standard-scoring formats. Graham's numbers were dwarfed, however, by Gronkowski who put up a ridiculous 12.6 points per game in the games he played.
Despite missing five full games, Gronkowski finished just five points behind Graham on the year.
When to Draft Him: Round 4
He's currently being drafted late in the fourth round of most drafts, but the potential value that Gronkowski can bring to a fantasy team makes him an easy pick anywhere in Round 4 and even possibly late in Round 3.
Reports have been coming out this week that Gronkowski is not expected to be placed on the team's PUP list, meaning that it is very likely that we will see him prior to Week 7, when he would otherwise be eligible to return.
It's hard to say when he will be activated, and he will almost certainly miss some time, but Gronkowski is the kind of player who could still finish as the highest-scoring tight end even if he misses a handful of games.
If you do draft Gronkowski, make sure that you find yourself another decent quality tight end to place in your lineup while he's out. Fellow Patriots TE Zach Sudfeld has been a riser in recent weeks but is still undrafted in many leagues and could be a decent "handcuff" to Gronkowski while he's out.
Michael Vick, QB, Philadelphia Eagles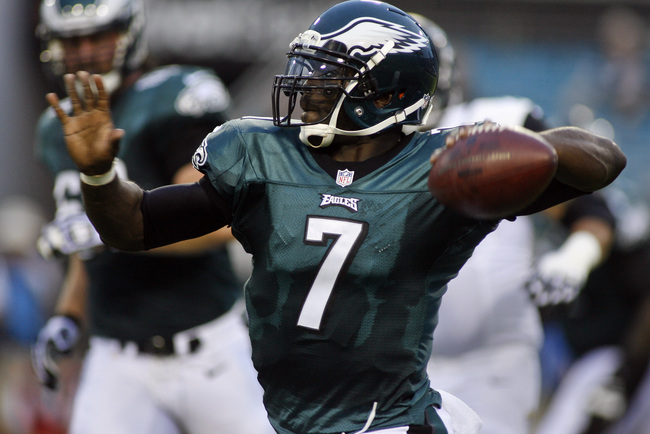 Phil Sears-USA TODAY Sports
With the influx of speedy quarterbacks entering the league in recent years, the luster on Philadelphia Eagles star QB Michael Vick has certainly begun to wear off.
Vick has missed at least three games in each of his past three seasons and although some of that can also be attributed to less-than-stellar play in 2011 and 2012, the reality is that Vick's biggest enemy has always been himself.
He was ESPN fantasy guru Matthew Berry's No. 1 overall player heading into the 2011 season, and for good reason. Playing in just 12 games, Vick finished as the No. 3 highest-scoring quarterback, reminding everyone why he was the No. 1 overall pick in the 2001 NFL Draft.
Although he is not quite as athletic as he was coming out of college, the 33-year-old still has the kind of wheels that would make scouts salivate if he were at the combine. Vick beat teammate LeSean McCoy in a race during training camp this season, proving once again that he is a home-run threat every time he touches the ball.
Upside: Top-8 Quarterback
2012 was an ugly season for Vick, who played in only 10 games, throwing just 12 touchdowns and 10 interceptions from behind center. He did add 332 yards and a score as a runner, but fumbled an unacceptable 11 times.
Even with that terrible output, Vick's per-game fantasy point totals would have made him tied with Eli Manning as the No. 15 fantasy quarterback if he had played all 16 games. Still not good enough to be a starter other than in very deep leagues, but certainly good enough that he would be rostered in just about every league.
With a new coaching staff in town and the Chip Kelly offense in effect, Vick figures to have a real chance at another big season. He has looked great for the most part during the preseason. He completed nearly 74 percent of his passes and added 73 rushing yards on just nine carries, in what would equate to about a full game of action.
When to Draft Him: Round 8
With the quarterback position being as deep as it is in 2013, fantasy owners have the luxury of waiting a long, long time if they're going to take a chance on Vick as their starting quarterback.
Vick is currently going off the board as the No. 13 quarterback, early in the 9th round, making him a backup in standard 12-team fantasy leagues. In 10-team leagues, he's going even later, sometimes all the way down in the 10th or 11th rounds.
If you do pass on quarterback while building up your stables at running back and wide receiver as most fantasy experts would suggest, Vick can make an excellent boom-or-bust play to start the season.
Just make sure that you secure yourself a solid backup for him in the next couple of rounds of your draft, or you could be looking at the likes of Alex Smith and Matt Schaub as your starter if the Vick experiment doesn't pan out.
Nick Caron is a Fantasy Football Contributor at Bleacher Report. Follow him on Twitter. Follow @nicholascaron
Keep Reading