NFL Week 1 Predictions: Pick, Line and Spread Analysis for Each Game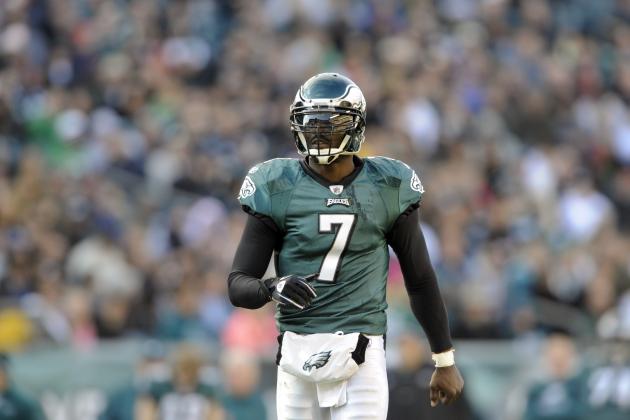 Howard Smith-USA TODAY Sports

Robert Griffin III hosting Michael Vick and Chip Kelly. Peyton Manning enacting revenge on the Super Bowl champion Baltimore Ravens at home. Cam Newton against Russell Wilson. Aaron Rodgers and the Green Bay Packers traveling to San Francisco to face Colin Kaepernick and the San Francisco 49ers.
Yes sir.
A pretty bland opening week of the 2013 NFL season, right?
Here are game-by-game predictions for every Week 1 showdown.
Let's go.
(Over/unders and spreads courtesy of sportsbetting.ag)
Begin Slideshow

»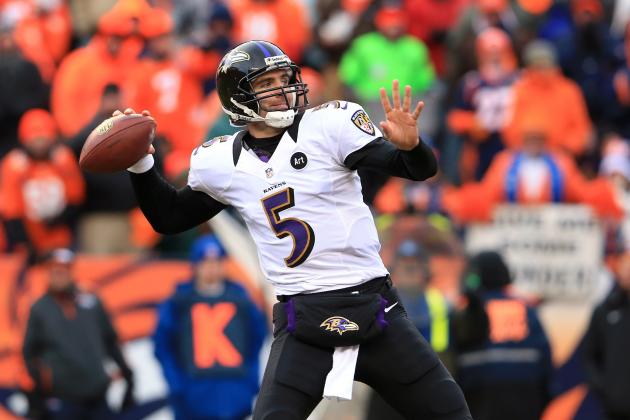 Doug Pensinger/Getty Images

The defending Super Bowl champion Baltimore Ravens open the season on the road against the Denver Broncos.
Bummer.
Joe Flacco will lead an offense without Anquan Boldin and Dennis Pitta, but expect Ray Rice and Bernard Pierce to be the true focal points.
Peyton Manning will unveil new pass-catching weapon Wes Welker; however, the Broncos will be without suspended pass-rushing demon Von Miller.
The Ravens may have actually gotten better on defense in 2013 as Ray Lewis and Ed Reed were noticeably slower in 2012.
Like the divisional playoff showdown in January, this game will be tightly contested. Manning's trio of pass-catchers will be too much for Baltimore's secondary in this high-scoring affair, although Rice and Pierce should have solid outings running behind a dominant offensive line.
Prediction: Broncos 34 Ravens 27 (Ravens cover by 0.5 points)
Final Result: Broncos 49 Ravens 27 (Broncos cover by 14.5 points)
O/U - 48 points
Verdict - OVER, 76 points scored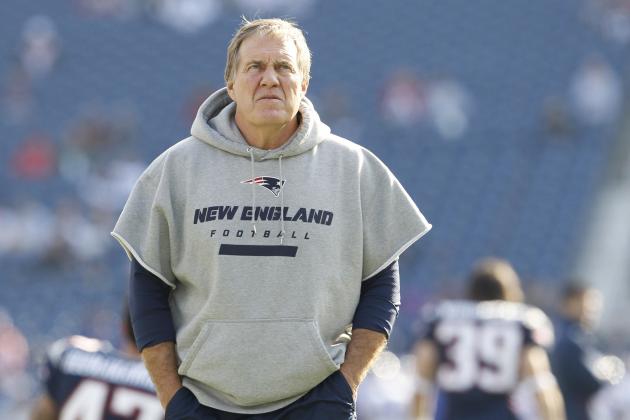 David Butler II-USA TODAY Sports

Who's starting at quarterback for the Bills in this one—EJ Manuel or Jeff Tuel?
If it's the former, Buffalo stands a chance.
Former New York Jets and current Bills defensive coordinator Mike Pettine had relative success against Tom Brady in the past, and although the reigning All-Pro quarterback should have his way against a depleted Bills secondary, an array of blitz packages could confuse him throughout.
Brady will be throwing to a set of five new pass-catchers. Remember that.
However, New England's defense should be better than it was in 2012, especially with a healthy Chandler Jones.
C.J. Spiller torched the Patriots last season and should showcase his electric ability in this one.
But Brady will prove to be too much in another mini-shootout between these two AFC East teams that may start slow but will speed up in the second half.
O/U - 50
Patriots 35 Bills 31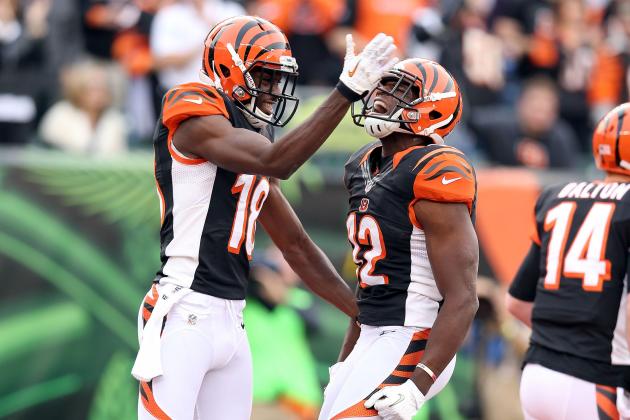 Andy Lyons/Getty Images

The Cincinnati Bengals have an abundance of talent and are led by A.J. Green and Geno Atkins. The Chicago Bears have a fine receiver-defensive tackle pairing of their own in Brandon Marshall and Henry Melton.
As is typically the case, this one will come down to quarterback play. Although Jay Cutler is more physically talented than Andy Dalton, the latter has a better stable of pass-catching options and can hand the ball to an exciting rookie runner in Giovani Bernard.
Losing linebacker Emmanuel Lamur is a crushing blow to the second line of defense for Cincinnati, but Rey Maualuga and Vontaze Burfict are sound defenders, especially coming downhill.
Tim Jennings and Charles Tillman may be the best cornerback tandem in the NFL; however, they can't stop Green, Mohamed Sanu and Tyler Eifert all afternoon.
In somewhat of a defensive battle, the Bengals get a big road win to start the year.
O/U - 41.5
Bengals 24 Bears 20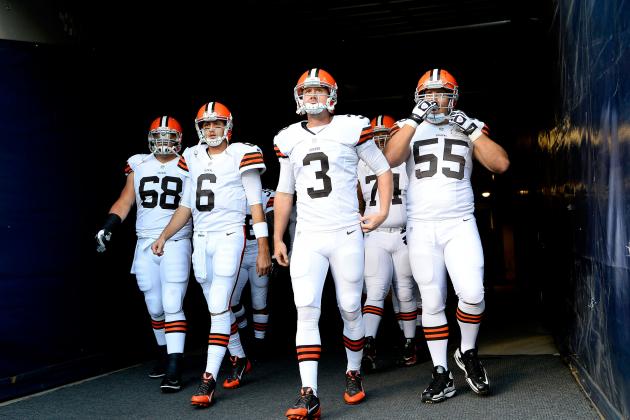 Mike DiNovo-USA TODAY Sports

This game won't receive a ton of notoriety, but it's loaded with intriguing storylines.
The Cleveland Browns offense really clicked in the preseason, and Rob Chudzinski's vertical passing offense, on paper, ideally suits quarterback Brandon Weeden's strong arm.
Josh Gordon won't play due a suspension, but Trent Richardson should see close to 30 total touches. Venturing a guess here—he's not fun to tackle.
Ryan Tannehill was given more receiving weapons this offseason, most notably Mike Wallace.
There should be an assortment of huge plays down the field in this one, and if Joe Thomas wins his battle against Cameron Wake, the home team will win.
O/U - 41
Browns 27 Dolphins 21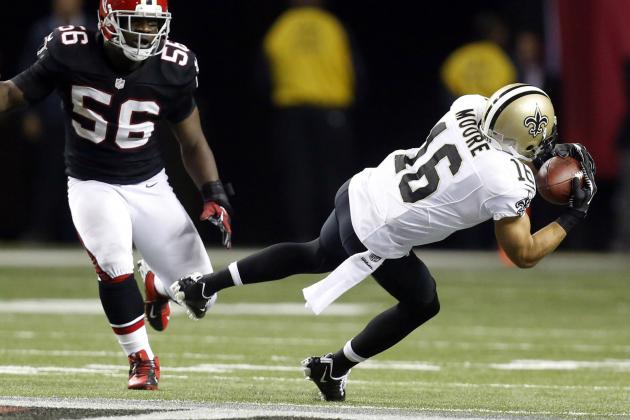 Josh D. Weiss-USA TODAY Sports

Got to love an NFC South clash to start the season.
Matt Ryan and Drew Brees will combine for around 700 yards passing and Jimmy Graham and Tony Gonzalez will eclipse the 100-yard receiving mark.
At this point, though, the Atlanta Falcons have a much stronger defense and much of that is due to all the injuries the New Orleans Saints have dealt with prior to the regular season.
These games are always compelling, especially if you love offense.
Right now, the Falcons are clearly the more complete team.
O/U - 54
Falcons 41 Saints 30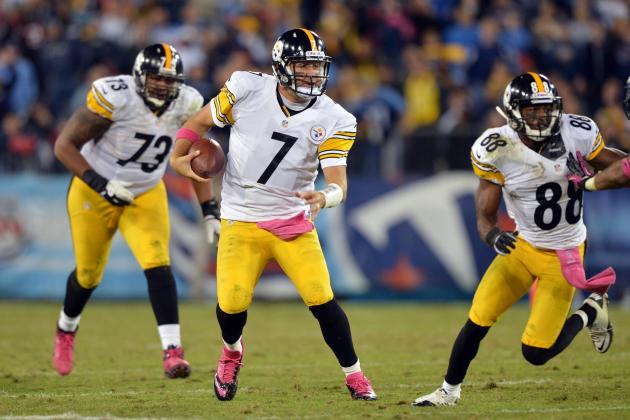 Don McPeak-USA TODAY Sports

The Pittsburgh Steelers—Super Bowl dark horses or middle-of-the-road AFC team?
No one can exactly peg Mike Tomlin's club, but as long as Ben Roethlisberger stays healthy, the Steelers should be in the hunt for the playoffs.
It's a big "if," but if Jake Locker improves in this third professional season, the Titans could surprise the masses, especially due to their offensive line, running game and underrated defensive front seven.
For Pittsburgh, look for Markus Wheaton to fill the void left by the departed Mike Wallace and fill it well.
The Titans can stay in the game with a few big-gainers from Chris Johnson, which very well may happen running behind Andy Levitre and first-round pick Chance Warmack.
But the Steelers are simply "ahead" of the Titans at this point. Even if Pittsburgh falls behind at home, Big Ben will bring his team back.
O/U - 42
Steelers 30 Titans 20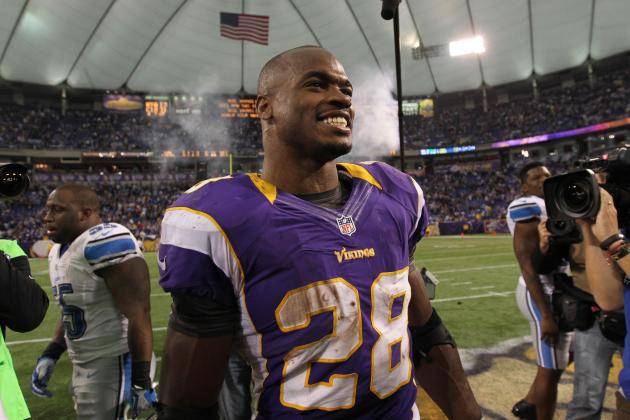 Brace Hemmelgarn-USA TODAY Sports

Adrian Peterson's voyage to 2,500 yards begins against one of the more disruptive defensive lines in football, a group spearheaded by Ndamukong Suh and Nick Fairley.
We aren't quite sure which Matthew Stafford we'll get in 2013, but the Lions hope he can at least be somewhere between the 5,000-plus yard, 41-touchdown Stafford of 2011 and the relatively disastrous 20-touchdown, 17-interception Stafford of a year ago.
Peterson will get to 100, but it won't be easy.
The Lions will sell out to make him as inefficient as possible, and they'll succeed.
Stafford is bound for an interception or two; however, he'll be better than Christian Ponder at home.
In this superstar matchup, Calvin Johnson defeats AP. And there'll be more defensive stoutness than expected.
O/U - 46.5
Lions 23 Vikings 17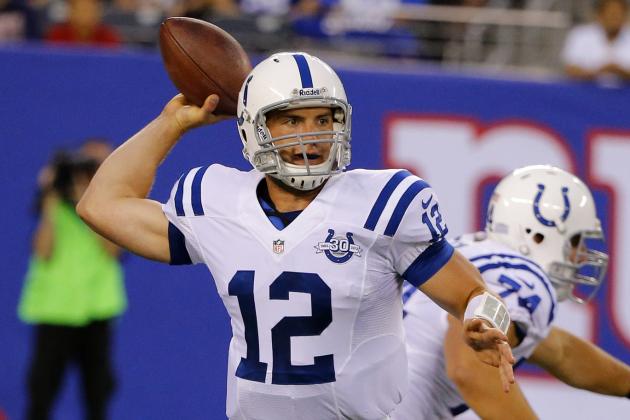 Jim O'Connor-USA TODAY Sports

The Indianapolis Colts start the season with a relative cupcake. The word "relative" has to be used, because technically, there are no easy games in the NFL.
Andrew Luck rolls out his old Stanford defense and should rip the Oakland Raiders secondary to shreds with Reggie Wayne and T.Y. Hilton both going over 100 yards receiving.
Terrelle Pryor will make a handful of plays with his legs against an average defense that isn't necessarily stout in any one area, but Indianapolis is by far the more talented team.
O/U - 47
Colts 41 Raiders 20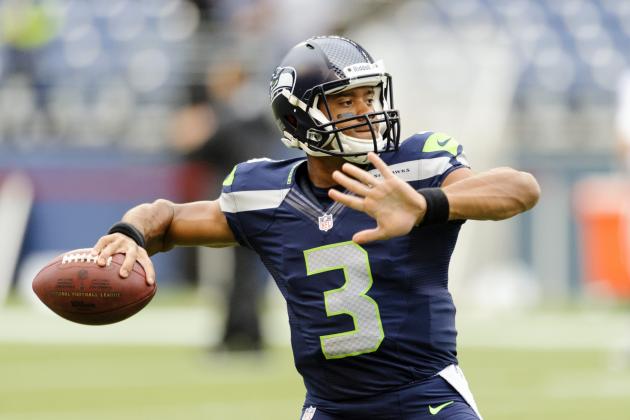 Steven Bisig-USA TODAY Sports

This game pits two of the league's most exciting dual-threat quarterbacks against each other—Cam Newton and Russell Wilson—but we mustn't forget the linebacker matchup.
Bobby Wagner and Luke Kuechly have many Pro Bowls and potentially some All-Pro teams in their futures.
All four will showcase their talents in this affair that will be much closer than expected.
The Seattle Seahawks' power-running offense—don't forget the name Christine Michael—and the efficient ways of Wilson will prove to be too much for the Carolina Panthers.
As usual, Newton will make a few "wow" plays, but Seattle's defense is stout from defensive line to safety.
O/U - 45
Seahawks 24 Panthers 20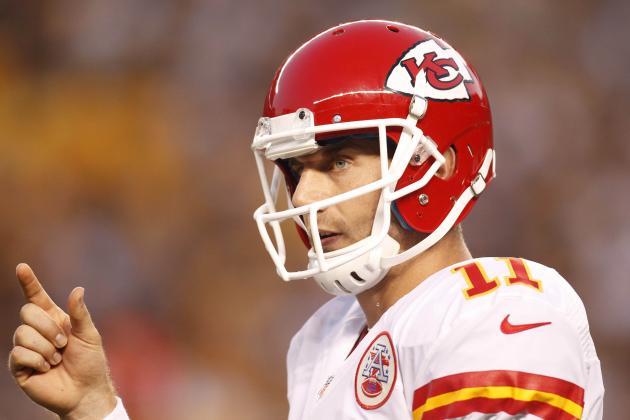 Charles LeClaire-USA TODAY Sport

Upset alert. Many are buying into the Alex Smith and Andy Reid dynamic in Kansas City with the Chiefs, and while it may eventually materialize, they'll be hit with a wake-up call in Week 1 against the Jacksonville Jaguars.
Denard Robinson and Maurice Jones-Drew will keep the Chiefs defense on its heels all afternoon, and Cecil Shorts will be found down the field on a few occasions.
While he doesn't have the personnel he had in Seattle, new head coach Gus Bradley will get the most out of the defensive players, who will be tasked with stopping Jamaal Charles. The former All-Pro runner won't be stymied, but the rest of the offense will struggle.
In a game decided in the final minutes, the Jaguars pull off the upset of the week.
Jaguars 17 Chiefs 14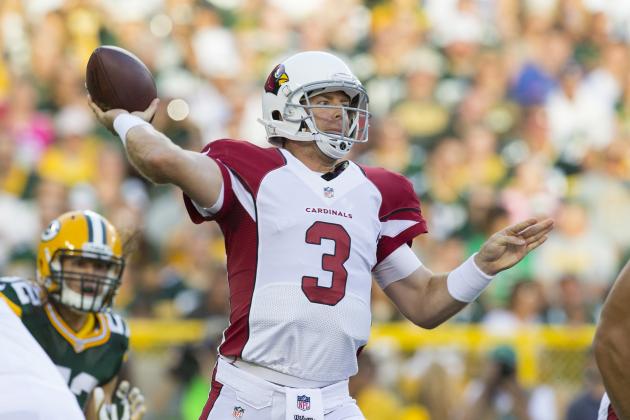 Jeff Hanisch-USA TODAY Sports

In one of the more under-the-radar divisional matchups of opening weekend, the new-look Arizona Cardinals head to St. Louis to face Sam Bradford, Tavon Austin and the St. Louis Rams.
Had rookie guard Jonathan Cooper not broken his leg, the Cardinals running game may have had a chance to wear down the St. Louis defense, therefore providing a nice offensive balance.
But now, the Rams' young and vastly underrated front should have a field day stopping the run.
We'll see how much of an upgrade Carson Palmer was as Arizona should be able to move the football much better than they did a year ago.
However, St. Louis' defensive front seven and bolstered offensive line will control the game and will be the integral facets in a Rams win.
O/U - 41
Rams 30 Cardinals 23
Cary Edmondson-USA TODAY Sports

Colin Kaepernick went bonkers on the Green Bay Packers in the divisional round of the playoffs last year, and although he'll break off a few decent-sized runs, he won't change the game like he did in January.
Not having Michael Crabtree will severely hurt the San Francisco 49ers, a team that'll still run the football effectively behind the NFL's best offensive line.
But Aaron Rodgers and Co., starting life without Greg Jennings, will be more efficient through the air.
Both teams will put points on the board, it's just that the 49ers offense is a bit easier to defend than it was at the end of the 2012 season.
O/U - 48.5
Packers 30 49ers 27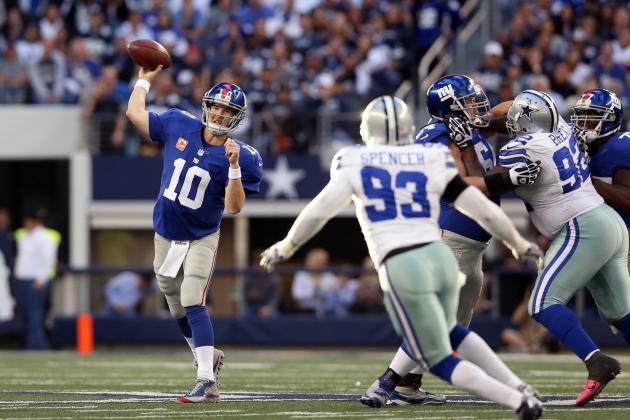 Matthew Emmons-USA TODAY Sports

David Wilson's coming-out party happens Sunday night. The explosive second-year runner should break off a handful of big-gainers against the weakened Dallas Cowboys defensive front and find the end zone a few times.
Eli Manning may fight through some inconsistencies as Sean Lee, Bruce Carter, Brandon Carr and Morris Claiborne are fine players at the second and third line of defense.
Tony Romo and Dez Bryant will connect on a few huge plays, as no one in New York's secondary can cover the intimidating wideout all evening.
This game has "shootout" written all over it, and it'll deliver in the entertainment department.
The Giants will leave Texas with a win, as a late Wilson "home run" will put the game out of reach.
O/U - 48.5
Giants 38 Cowboys 28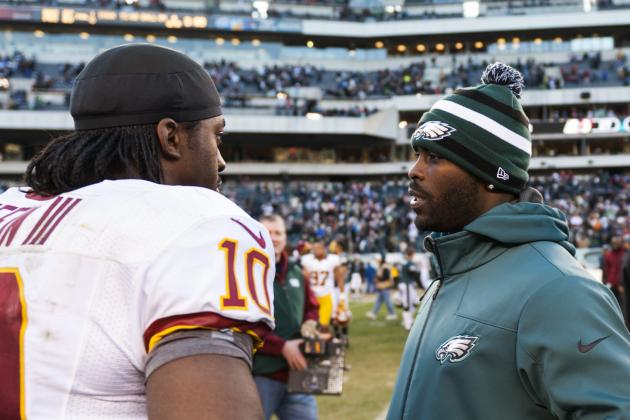 USA TODAY Sports

What an exquisite start to Monday Night Football.
Michael Vick and Robert Griffin III will each put on a show in front of the national audience, scoring quickly and looking comfortable in their offenses.
The Washington Redskins secondary is shoddy, but the Philadelphia Eagles no longer boast a threatening receiving corps after Jeremy Maclin was lost for the year.
These NFC East rivals are extremely similar on paper, but with a more balanced attack that'll be up-tempo all night, the Eagles get Chip Kelly a win in his first NFL game as a head coach.
Expect huge performances from LeSean McCoy and Bryce Brown, efforts that'll slightly outweigh Alfred Morris' sophomore debut.
O/U - 51
Eagles 37 Redskins 31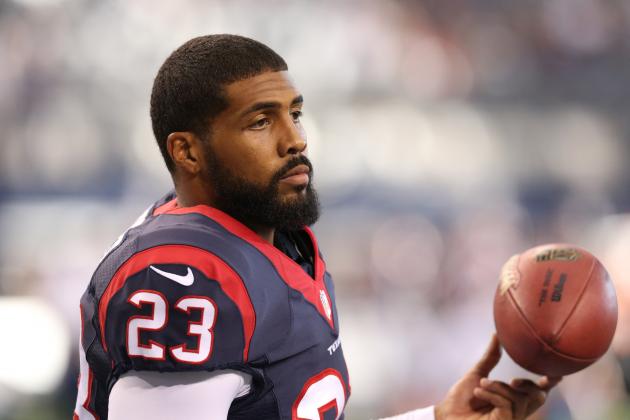 Matthew Emmons-USA TODAY Sports

The Houston Texans will compete with the Indianapolis Colts for the AFC South crown in 2013, and 11 or 12 wins are not out of the question.
Arian Foster is a bit banged up, but he should find the end zone at least on one occasion. Even if he's noticeably slowed, Ben Tate is viable backup.
The San Diego Chargers have been snakebitten with injuries, and their occasionally porous offensive line is concerning, especially facing J.J. Watt.
Gary Kubiak's club could feel some heat early on, but they'll cruise to an opening-season victory.
O/U - 44
Texans 31 Chargers 17