9 Things We Learned About the Minnesota Vikings During the Preseason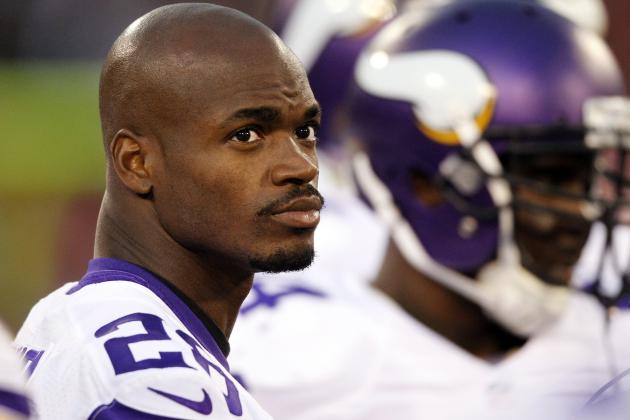 Cary Edmondson-USA TODAY Sports
Adrian Peterson spent a lot of time on the sideline during the preseason.
The Minnesota Vikings have finished the preseason on a relatively healthy note, and with the roster trimmed to 53, they are ready to open the season this coming Sunday in Detroit.
With their three first-round draft picks and the acquisition of a couple of former Packers, the Vikings roster appears to be better than last season. Facing a tough schedule, including giving up a home date to play in London, a 10-6 record in 2013 seems like a long shot.
A quick perusal of some predictions reveals most don't have the Vikings repeating their 10-win season. B/R's NFL National Lead Writer, Ty Schalter, only has the Vikings winning six games, as do Wes Sims of the Detroit Sport Examiner and Jack Jones from Bet Firm. According to Picks and Parlays, the over/under for wins this season for the Vikings is seven.
It's a good thing they play the games.
Here are 10 things we've learned about the Vikings this preseason.
Begin Slideshow

»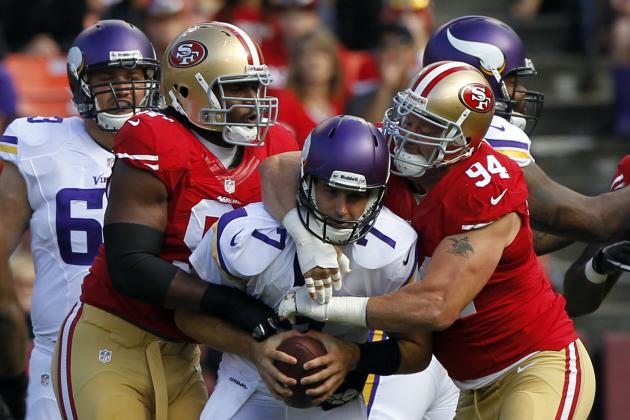 Cary Edmondson-USA TODAY Sports

The Minnesota Vikings finished the preseason with the exact same record as last season, losing three of four games. It meant little—the Vikings opened the 2012 season winning four of their first five games, one of them a huge 24-13 victory over the 49ers in Week 3.
In fact, over the past 10 years, a losing preseason has typically led to better regular-season records, while finishing with a winning record in the preseason has led to only eight wins.
Minnesota Vikings: Preseason vs. Regular Season Records 2003 - 2012

| | | | |
| --- | --- | --- | --- |
| Preseason Record | Frequency | Reg. Season Record | Win Pct |
| Better than .500 | 4 times | 33-31 | 51.5 |
| .500 | 3 times | 11-29 | 39.5 |
| Less than .500 | 3 times | 29-19 | 60.4 |
The Vikings proved a lot of people wrong last season. Perhaps they can do it again and make a return trip to the playoffs.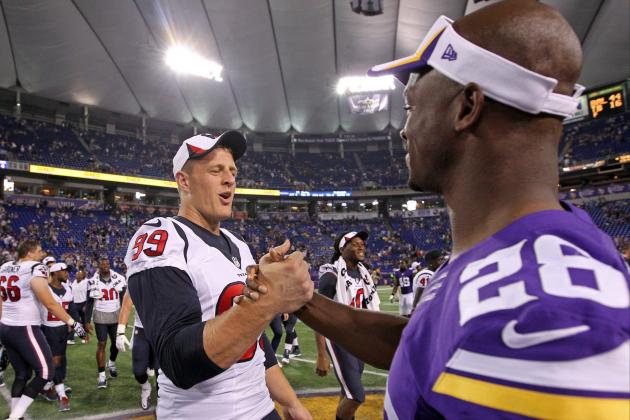 Brace Hemmelgarn-USA TODAY Sport
Adrian Peterson's uniform didn't require any washing during the preseason.
Last year, Adrian Peterson did not play at all during the entire preseason. That was completely understandable; he was coming off a major knee injury and reconstructive surgery a mere nine months earlier.
All he did was rush for the second-most yards in NFL history, finishing as the Vikings' all-time leader in rushing yards. Peterson accounted for 43 percent of the Vikings offense in 2012. He finished with 2,314 yards from scrimmage, while the offense gained a total of 5,385. For his efforts he was named the league's MVP.
This year, head coach Leslie Frazier must have figured there was no need to put Peterson in harm's way. He was on the sideline for all but two plays the entire preseason—the first two offensive plays against the San Francisco 49ers in the third preseason game.
Typically the preseason game that sees potential starters play into the third quarter, Peterson didn't even work up a sweat as the Vikings ran play-action passes for the two downs he was on the field. On both plays, after quarterback Christian Ponder faked the handoff to him, he took a nice easy route and avoided any contact.
With a healthy Peterson to open the season, look for him to pick up right where he left off last season.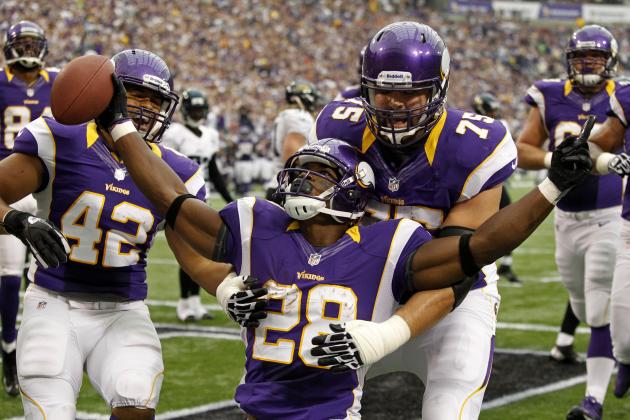 Bruce Kluckhohn-USA TODAY Sports

Sticking with the Adrian Peterson theme, despite not getting a single preseason carry, he continued to set high expectations for himself.
During the offseason, he indicated his goal to rush for 2,500 yards. Never mind that no player has ever rushed for 2,000 yards twice in his career—this would shatter Eric Dickerson's record by 395 yards. Last season, Peterson had the best season of his career and led the NFL with 131 yards per game. In order to achieve 2,500 yards, he would have needed another three full games.
During training camp, he not only stated he would become the all-time leading rusher in the NFL, he even predicted when he would achieve the feat. He must be thinking about this a lot.
He predicted that by Week 16 of the 2017 season he would reach 18,355 yards. That's quite a prediction considering he only has 8,849 yards through six seasons.
During last Thursday's final preseason game, he was interviewed on the sideline by former Vikings linebacker Ben Leber. When asked how many touchdowns he would rush for this season, he said 20.
That's not much of a stretch considering he led the NFL with 18 touchdowns in 2009. It's a bit of a surprise he didn't predict he would break LaDainian Tomlinson's NFL single-season record of 28 rushing touchdowns set in 2006.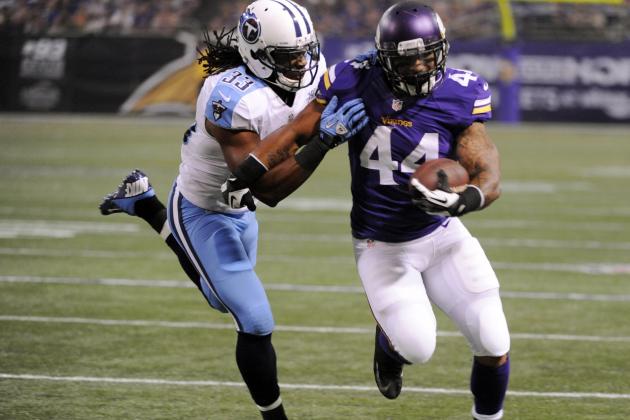 Marilyn Indahl-USA TODAY Sports

During the 2012 preseason, the Minnesota Vikings used five running backs—and not one of them was named Adrian Peterson. In the end, Matt Asiata won the job as the third running back by leading the team in rushing during the preseason with 134 yards on 23 carries.
Those five running backs, three of whom did not make the final roster, totaled 437 yards on 87 attempts for a healthy 5.0 yards-per-carry average. During the regular season, Peterson carried the ball 348 times on his way to rushing for 2,097 yards. He accounted for 86.6 of the rushes by a running back.
His backups, Toby Gerhart and Asiata, got only 53 attempts for 262 yards. Asiata finished with only three attempts for five yards.
It would seem that the leading rusher in the preseason earns the opportunity to stand on the sidelines and watch Peterson run.
This preseason, the Vikings used six different running backs not named Peterson in the four exhibition games. Despite leading the team with 123 yards on 26 carries, the Vikings released Joe Banyard and signed him to their practice squad. Unlike Asiata last season, his effort did not land him a spot on the final 53-man roster.
Of course, with little to no chance of seeing any playing time, it's immaterial.
Hannah Foslien/Getty Images

During the preseason last year, the best quarterback on the roster was Sage Rosenfels. He finished 17-of-25 in passing with 225 yards and two touchdowns. His passer rating was an impressive 122.9.
Despite playing extremely well, the Vikings cut him in favor of Joe Webb and McLeod Bethel-Thompson.
2012 Preseason: Minnesota Vikings Quarterback Comparison

| | | | | | | |
| --- | --- | --- | --- | --- | --- | --- |
| Quarterback | Completions | Attempts | Yds | TD | Int | Rating |
| Sage Rosenfels | 17 | 25 | 225 | 2 | 0 | 122.9 |
| Christian Ponder | 23 | 38 | 331 | 1 | 1 | 86.6 |
| Joe Webb | 21 | 41 | 199 | 0 | 0 | 65.0 |
| McLeod Bethel-Thompson | 18 | 36 | 242 | 1 | 2 | 57.9 |
It was a very curious move that became all that more curious when head coach Leslie Frazier refused to replace Christian Ponder during his struggles in the regular season. It was obvious that the coaching staff did not have any confidence in Webb.
They confirmed that sentiment when they switched him to wide receiver during the offseason and brought in Matt Cassel as the backup quarterback.
This year, the Vikings once again cut the best quarterback from the preseason when they released James Vandenberg. Granted he only threw three passes, but he was a perfect 3-of-3 and his passer rating was an impressive 91.7.
Of course with more opportunities, he most likely would have played himself off the roster. I also suspect the Vikings didn't want any controversy at the emergency quarterback position like there is sure to be at starter this season.
2013 Preseason: Minnesota Vikings Quarterback Comparison

| | | | | | | |
| --- | --- | --- | --- | --- | --- | --- |
| Quarterback | Completions | Attempts | Yds | TD | Int | Rating |
| James Vandenberg | 3 | 3 | 18 | 0 | 0 | 91.7 |
| McLeod Bethel-Thompson | 33 | 53 | 320 | 2 | 1 | 85.4 |
| Matt Cassel | 22 | 40 | 317 | 1 | 1 | 78.9 |
| Christian Ponder | 23 | 37 | 184 | 2 | 2 | 70.1 |
On a positive note, Cassel, who will be the Vikings' No. 2 quarterback, performed better than Webb did last season.
But on a negative note, Ponder did not show any improvement over last preseason. He also failed to establish any kind of connection with his receivers, especially Greg Jennings.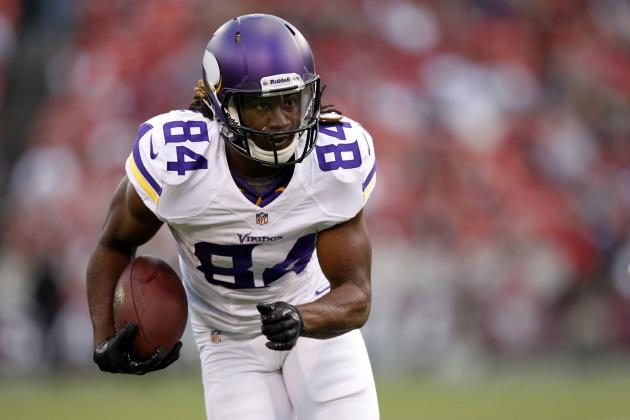 Cary Edmondson-USA TODAY Sports

The Minnesota Vikings knew heading into the draft they needed help at wide receiver. General manager Rick Spielman made sure the Vikings addressed that need by drafting Cordarrelle Patterson in the first round.
Considered one of the top receivers in the draft—NFL Draft Scout ranked him third and Walter Football had him second—Patterson brings a lot of versatility to the Vikings, something they desperately needed after trading away Percy Harvin.
Patterson did not disappoint. On his very first touch of the preseason, he returned the opening kickoff 50 yards. He had two more opportunities and finished with a total of 90 yards. He also caught eight passes for 84 yards and ran the ball once for four yards.
The expectations are extremely high Patterson in 2013. I doubt any more pressure could be heaped onto the player seen as the replacement for Harvin, the Vikings' best receiver the past three seasons, and wearing the same number as Randy Moss, the franchise's second-leading receiver.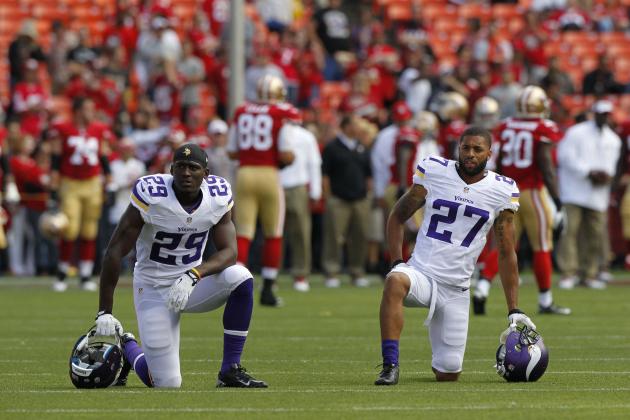 Cary Edmondson-USA TODAY Sports
Rookie Xavier Rhodes (29) and third-year player Brandon Burton (27) are two of the Vikings' young cornerbacks.
Recognizing that cornerback was a position of need, the Minnesota Vikings had 10 cornerbacks on the roster during training camp. The only position that boasted more players than cornerbacks was wide receiver.
After releasing Antoine Winfield, the secondary took a huge hit in experience. Winfield, always one of the team leaders in tackles, provided quiet leadership for the defense.
For the current crop of corners, Chris Cook takes over as the elder statesman—with only three seasons of experience.
There are two things working against Cook. He has yet to play an entire season, and he does not have a turnover to his credit—neither an interception nor a fumble recovery.
Minnesota Vikings 2013 Cornerback Experience

| | | | | |
| --- | --- | --- | --- | --- |
| Player | Experience | Games | Starts | Preseason Snaps |
| Chris Cook | 3 seasons | 22 | 18 | 52 |
| A.J. Jefferson | 3 seasons | 32 | 14 | 104 |
| Marcus Sherels | 3 seasons | 33 | 3 | 72 |
| Brandon Burton | 2 seasons | 14 | 1 | 119 |
| Josh Robinson | 1 season | 16 | 6 | 74 |
| Xavier Rhodes | Rookie | — | — | 85 |
Combined, this group only has 117 games of experience and only three interceptions—two of them by Josh Robinson last year as a rookie. They will need to grow up quickly as they face some of the best wide receivers in the NFL in the NFC North.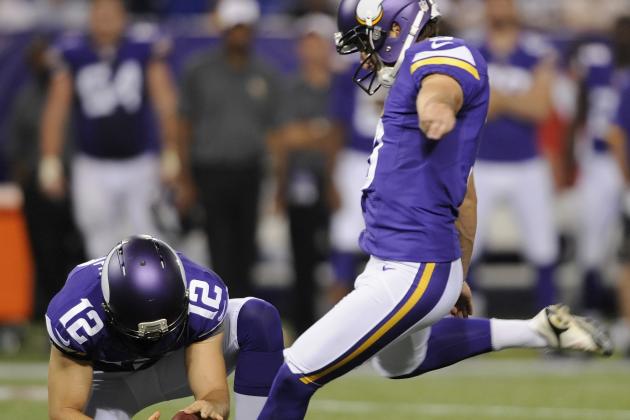 Hannah Foslien/Getty Images

Last year when the Minnesota Vikings drafted kicker Blair Walsh from Georgia in the sixth round, I thought it was a poor selection, a wasted draft pick on a position best filled with undrafted rookies.
In college, Walsh converted only 76 of 103 field-goal attempts—a 73.8 percentage. During the 2012 preseason he was better than that, making nine of 12 attempts. All three of his misses came between 40 and 49 yards, and he did not attempt a field goal from greater than 50 yards.
Once the regular season began, Walsh was a much better kicker. He finished the season making 35 of 38 field goals, and he was perfect beyond 50 yards. His 10 field goals beyond 50 yards set a new NFL record.
During the 2013 preseason, Walsh was once again less than perfect. He finished 4-of-6 in field-goal attempts, missing both attempts between 40 and 49 yards.
Blair Walsh's Performance: Preseason vs. Regular Season

| | | | |
| --- | --- | --- | --- |
| | FG Made | FG Attempted | Percentage |
| Preseason | 13 | 18 | 72.2 |
| Regular Season | 35 | 38 | 92.1 |
Here's hoping the trend holds and Walsh has another record-setting season.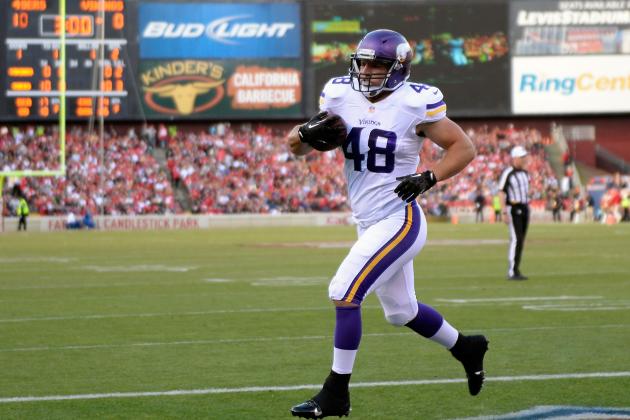 Thearon W. Henderson/Getty Images

Sometimes making an NFL roster is more about who isn't allowed to be on the roster than about earning a spot during training camp and the preseason.
With Pro Bowl fullback Jerome Felton signing a three-year extension this offseason, there was really no need for another fullback on the roster. When the Vikings signed undrafted rookie Zach Line to the 90-man roster, it seemed like it was more to add an extra fullback to take some snaps with the second team than to actually provide some competition for Felton.
When the NFL announced a three-game suspension for Felton for his DUI arrest last summer in Hennepin County, it cleared the way for Line to make the team.
It didn't hurt that Line, the leader in yards from scrimmage for Southern Methodist University the last three seasons, performed well in the preseason. He finished tied for the team lead in touchdowns with running back Joe Banyard, each with two touchdowns. His first was on a short pass from Matt Cassel that he took 61 yards to the end zone—the team's longest play of the preseason.
It will be interesting to see what the Vikings do when Felton is eligible to return to the lineup. There are three possibilities:
Line is released and the Vikings sign him to their practice squad.
Felton is released and Line continues to serve as the team's fullback.
The Vikings make a move and trade Toby Gerhart or release Matt Asiata, and Line sticks as one of the three running backs on the team.
Like Asiata in 2012, Line was signed to the team as an undrafted fullback.