NBA Players That Are Perfect Trade Targets for Rebuilding Teams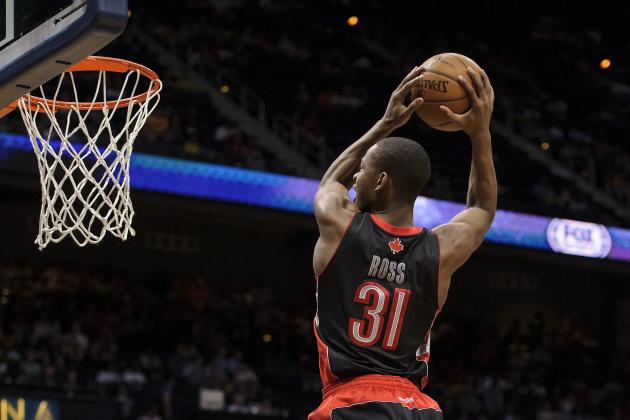 Paul Abell-USA TODAY Sports

When an NBA team is rebuilding, it has to do everything possible to ensure a more successful future and keep the fans happy. The latter can often be difficult, but it can be done by bringing in a new, exciting face.
That's the mentality of Phoenix Suns general manager Ryan McDonough, who said the following after trading away Caron Butler: "This deal gives us significant cap space as well as the flexibility to trade for another exciting player."
Other general managers should adopt this attitude, and if they do, they'll want to target one of these 10 players.
All 10 have significant upside and could be quality pieces moving forward, but they're more valuable to a rebuilding team than their current squad. Maybe they're in desperate need of a fresh start. Maybe they're blocked by too many established players in the rotation.
Each of them is a perfect trade target.
Begin Slideshow

»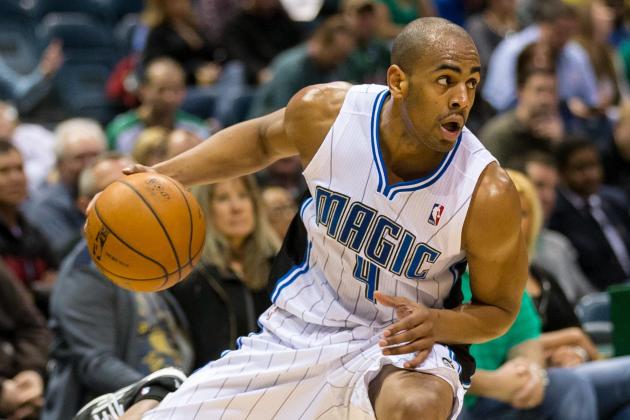 Jeff Hanisch-USA TODAY Sports

Team: Orlando Magic
Position: SG
Age: 27
2012-13 Per-Game Stats: 16.5 points, 3.7 rebounds, 3.2 assists, 0.6 steals, 0.2 blocks, 13.0 PER
The Orlando Magic don't have many reasons to keep Arron Afflalo if they get a key piece at a different position. With Victor Oladipo waiting to take over as the franchise shooting guard, Afflalo is completely expendable.
And while the Magic are supposedly going to play Oladipo at point guard (based on the results of summer league), they'll quickly realize that doing so isn't the best way to maximize the value of their latest top pick.
He's a shooting guard, and he's better than Afflalo.
That said, it's not too long ago that the 27-year-old was viewed as a top up-and-comer at his position. He possessed unique two-way talent, and it's not too late for him to tap into all that unrealized potential. If he's placed in a better situation, one in which he can be a complementary scorer while saving more energy for defense, he could still break out.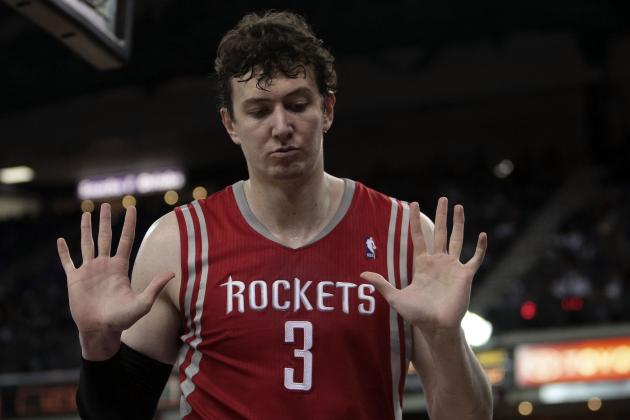 Kelley L Cox-USA TODAY Sports

Team: Houston Rockets
Position: C
Age: 27
2012-13 Per-Game Stats: 10.1 points, 11.7 rebounds, 0.9 assists, 0.6 steals, 1.1 blocks, 14.9 PER
With Dwight Howard and Marcus Camby also on the roster, the Houston Rockets don't have much of a need for Omer Asik. If they can swap him for a legitimate power forward, they'll become even more potent.
Houston can't afford to play D12 and Asik at the same time. The two big men are too redundant, and spacing would be a major issue with either of the two playing at the 4. You can find my full thoughts on that issue here.
That said, the Turkish center is still a piece worth building around.
He's an incredible defender—both in terms of team and individual point-preventing prowess. According to Synergy Sports (subscription required), Asik ranked only 195th in overall points per possession allowed, but that number is skewed way too far in the negative direction. After all, the big man had to clean up for Jeremy Lin and James Harden's defensive porosity throughout the season.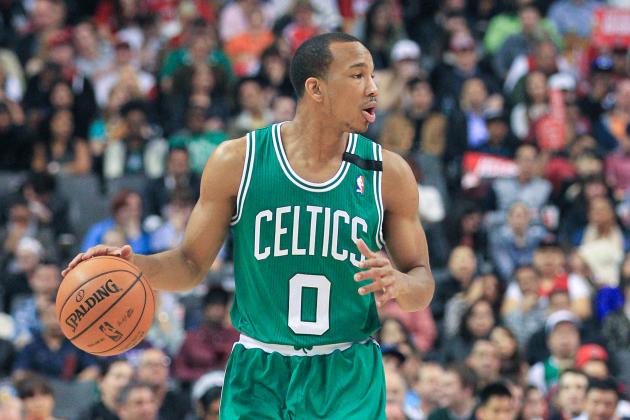 Kevin Hoffman-USA TODAY Sports

Team: Boston Celtics
Position: PG/SG
Age: 22
2012-13 Per-Game Stats: 9.2 points, 2.2 rebounds, 2.1 assists, 1.3 steals, 0.4 blocks, 8.8 PER
Of all the players featured here, Avery Bradley would be the toughest for a rebuilding team to acquire. The Boston Celtics don't have to trade the combo-guard, and they'll certainly feel compelled to hang onto him if he displays more offensive potential.
Bradley asserted himself as one of the premier backcourt defenders in the NBA during the 2012-13 season, primarily due to his tenacity from one baseline to the other. No player is safe when Bradley is on the court, and any lazy pass is going to be intercepted.
However, he struggled immensely when asked to function as the point guard in Rajon Rondo's stead. It just didn't work, and Bradley proved that he doesn't have NBA-caliber ball-handling skills.
Still only 22-years-old, Bradley has an incredibly high ceiling, but the right offer could move the Texas product to a different rebuilding team.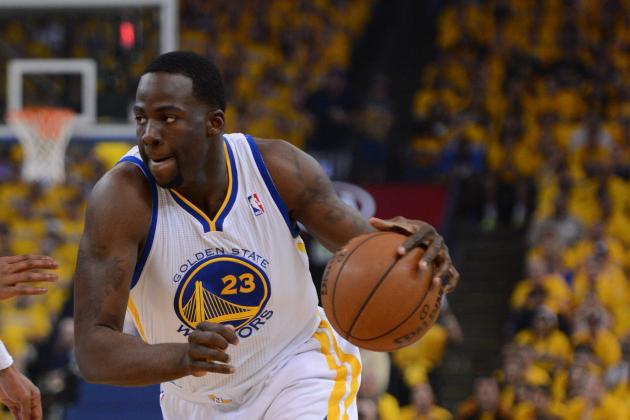 Kyle Terada-USA TODAY Sports

Team: Golden State Warriors
Position: SF
Age: 23
2012-13 Per-Game Stats: 2.9 points, 3.3 rebounds, 0.7 assists, 0.5 steals, 0.3 blocks, 7.1 PER
All indications point toward Mark Jackson and the Golden State Warriors loving Draymond Green.
He's a great leader, a stellar defender and a versatile offensive player whenever he's able to get out on the court. It's quite telling that the Dubs trusted Green to guard Andre Miller in isolation during the final seconds of a postseason contest coming down to the wire.
However, the acquisition of Andre Iguodala means that Green isn't going to earn any playing time. He's now stuck behind both Iggy and the Harrison Barnes on the depth chart, and each of those players needs to spend a lot of time on the hardwood.
Green would be better served elsewhere, as he still has plenty of time left to prove that he was a major draft-day steal.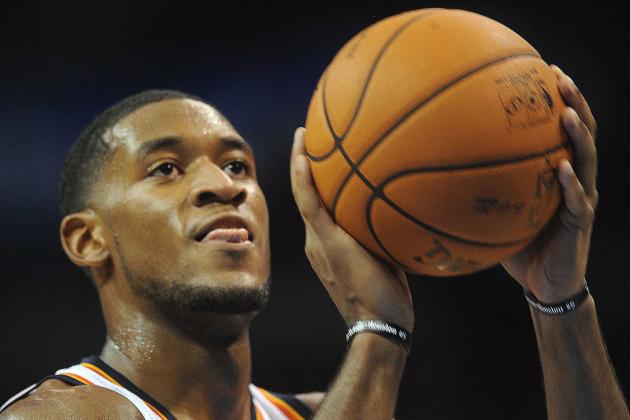 Mark D. Smith-USA TODAY Sports

Team: Oklahoma City Thunder
Position: SF/PF
Age: 21
2012-13 Per-Game Stats: 2.3 points, 1.6 rebounds, 0.3 assists, 0.1 steals, 0.2 block, 7.8 PER
From 2009 through 2011, Perry Jones III was viewed as a player who would go in the top five of the draft whenever he declared. He looked like he had that much potential for the Baylor Bears.
Then in 2012, DraftExpress started to drop him down the rankings. He fell out of the lottery in their projections during June of 2012, and medical red flags ended up letting him freefall to the Oklahoma City Thunder at No. 28 in the 2012 NBA draft.
His rookie season wasn't particularly impressive. While his per-minute numbers were solid and he played great defense, he shot only 39.4 percent from the field and was just never a very efficient player.
Unfortunately, he's not going to receive many more opportunities in 2013-14. Rotoworld currently lists PJ3 as the third small forward on the depth chart, and it's highly unlikely that Kevin Durant ever takes enough breathers for him to make his mark.
He's still full of potential, and a fresh start would do him wonders.
Chris Humphreys-USA TODAY Sports

Team: Denver Nuggets
Position: PF/C
Age: 24
2012-13 Per-Game Stats: 3.7 points, 2.4 rebounds, 0.3 assists, 0.5 steals, 0.5 blocks, 15.6 PER
Is Anthony Randolph ever going to get a shot to parlay his immense athleticism and upside into actual production?
The 24-year-old has only averaged more than 20 minutes per game once during his five professional seasons, and he's actually been consistently solid whenever he gets onto the court. Randolph recorded a career-low PER of 15.6 in 2012-13, and that was still above the league average.
At some point, it would be nice to see what he could do with a larger role in the rotation. And his best chance of that happening comes with a rebuilding team, not the Denver Nuggets.
Denver currently features Kenneth Faried, J.J. Hickson and Darrell Arthur at power forward, and JaVale Mcgee and Timofey Mozgov are going to be taking up the bulk of the minutes at center. There just isn't enough playing time to go around.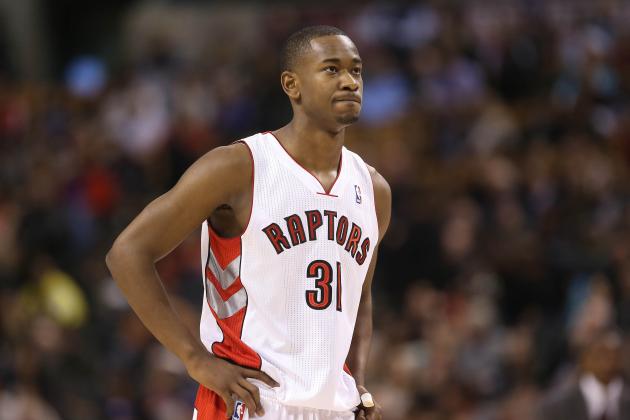 Tom Szczerbowski-USA TODAY Sport

Team: Toronto Raptors
Position: SG/SF
Age: 22
2012-13 Per-Game Stats: 6.4 points, 2.0 rebounds, 0.7 assists, 0.6 steals, 0.2 blocks, 10.4 PER
Terrence Ross seems to be a favorite of his head coach, at least based on this quote that Dwane Casey delivered to the Sporting News' Sean Deveney:
He probably has the most upside of all our guys from a potential standpoint.

The talent is there. There is not a better athlete in the NBA than Terrence Ross. But just, bringing it on a consistent basis is his own personal challenge. We pushed him as a coaching staff and work with him till the cows come home, but until he makes up his mind mentally that he is going to exert that same athleticism and effort on both ends of the floor, that's when he will make the next step...He has been working with a shooting coach this summer, trying to get that consistent, working on his shot. His ball-handling, his defense in pick-and-roll situations, he has been working on that all summer.
Don't think he's the only coach or general manager who has noticed Ross' hops. The dude can jump, and he loves nothing more than smashing the ball through the basket for two easy points.
But Ross is rather redundant on the Raptors.
With two insane athletes—Rudy Gay and DeMar DeRozan—already starting at the wing spots, Ross isn't really a change of pace off the bench. He's a high-upside player, but he's not different enough from the established starters.
And don't think that he won't be traded just because Casey likes him. General manager Masai Ujiri has proven time after time that he'll trade anyone at any time.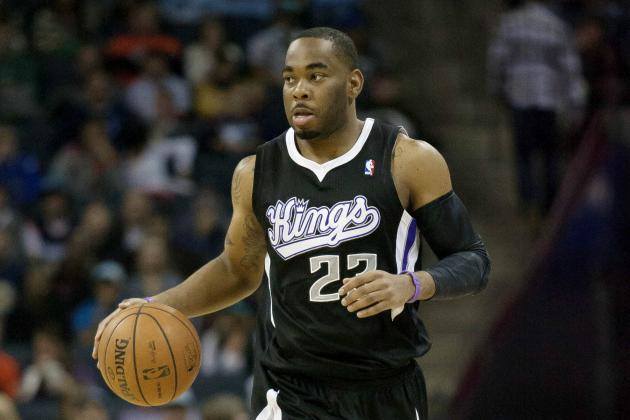 USA TODAY Sports

Team: Sacramento Kings
Position: SG
Age: 26
2012-13 Per-Game Stats: 12.7 points, 2.5 rebounds, 1.3 assists, 0.8 steals, 0.1 blocks, 16.3 PER
The Sacramento Kings don't need Marcus Thornton.
But a rebuilding team could almost certainly make good use of him as a secondary scorer. That's about all he brings to the table, but those struggling teams typically need to figure out ways to put points on the board, and Thornton is a premier stopgap option.
Plus, the Kings would presumably give him up for a fairly cheap asking price. With Ben McLemore waiting to take over as the shooting guard of the future, the 26-year-old is going to see his role drastically reduced during the 2013-14 season.
According to Synergy, Thornton scored 1.02 points per possession last year, which actually ranked him as the No. 39 qualified offensive player in the Association. It would be a shame for that type of production to just go to waste.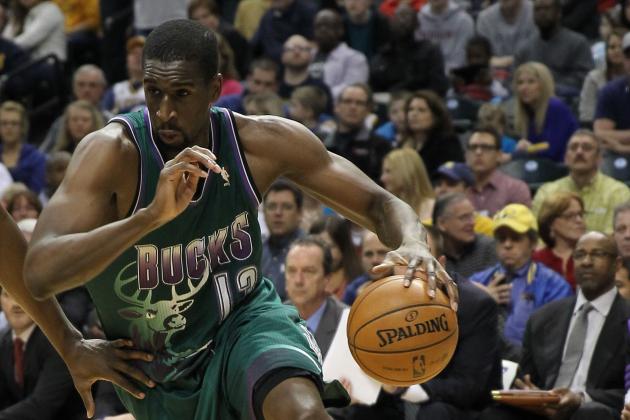 Pat Lovell-USA TODAY Sports

Team: Milwaukee Bucks
Position: C
Age: 26
2012-13 Per-Game Stats: 4.3 points, 3.3 rebounds, 0.6 assists, 0.5 steals, 1.1 blocks, 12.0 PER
The Milwaukee Bucks have to figure out a way that they can unclog their frontcourt logjam.
Ersan Ilyasova and John Henson both need playing time at power forward. Larry Sanders is quite established as the starting center after his breakout campaign, but Zaza Pachulia (one of the most inexplicable signings of the offseason) and Ekpe Udoh should each be able to play major minutes as well.
Not all of them can. Five guys is perfect for a burger joint, but it's too many people for a frontcourt rotation. One of them has to go, and Udoh is the easiest option to move.
The 26-year-old center is a defensive stud, and it's time that he gets a bigger chance to prove that. According to Basketball-Reference, the Bucks allowed 2.8 fewer points per 100 possessions when Udoh was on the court during the 2012-13 campaign.
And yes, he usually replaced Sanders, a defensive stud in his own right. Only three of Udoh's 10 most-used lineups included both himself and the shot-blocking phenom.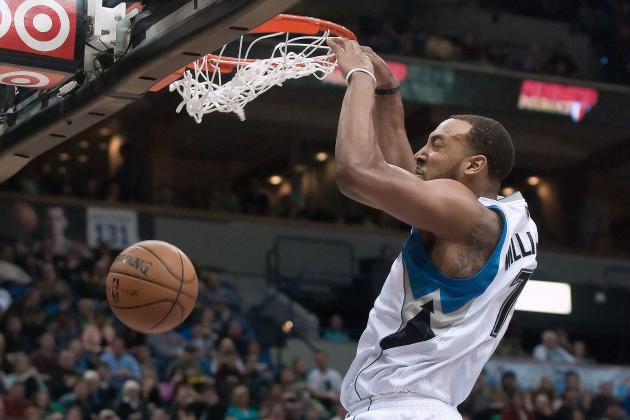 Greg Smith-USA TODAY Sports

Team: Minnesota Timberwolves
Position: SF/PF
Age: 22
2012-13 Per-Game Stats: 12.0 points, 5.5 rebounds, 0.6 assists, 0.6 steals, 0.5 blocks, 14.5 PER
Derrick Williams definitely improved during his second NBA season, even if he's still not even close to justifying the No. 2 pick that the Minnesota Timberwolves used on him in 2011.
Courtesy of Basketball-Reference, here are his per-36-minute numbers and efficiency stats over the first two seasons of his career:
| Season | Points | Rebounds | Assists | Steals | Blocks | TS% | PER |
| --- | --- | --- | --- | --- | --- | --- | --- |
| 2011-12 | 14.8 | 7.9 | 1.0 | 0.8 | 0.8 | 49.9 | 12.9 |
| 2012-13 | 17.5 | 8.1 | 0.9 | 0.8 | 0.7 | 51.5 | 14.5 |
See, improvement, but still not much. His PER remains below the league average of 15, and he hasn't figured out how to let that efficiency that made him so special at Arizona translate over to the NBA level.
A chance to play more minutes and learn on the job would serve Williams well, and he's not going to get that on a 'Wolves squad that hopes to compete for a solid berth in the postseason. Although he's only behind Kevin Love at power forward, that's still not a great spot to be in.
Williams has been in the trade rumors before, and that won't change as his career progresses.