Mayweather vs. Canelo: Alvarez's Focus on Money's History Will Spawn Epic Fight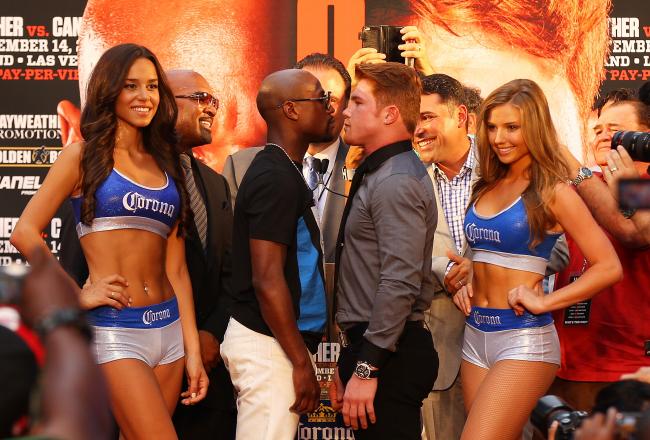 Mike Stobe/Getty Images
When Floyd "Money" Mayweather (44-0, 26 KOs) takes on Saul "Canelo" Alvarez (42-0-1, 30 KOs) on Saturday, Sept. 14 at the MGM Grand in Las Vegas, Alvarez will be much more prepared for the fight than the Mayweather camp will be expecting.
Money has the edge as an undefeated legend in the sport, but Canelo's commitment to studying Mayweather's previous fights will be the ultimate test.
With Alvarez absorbing every move his opponent has made over the course of his career, he is completely ready for what Mayweather has to offer.
This fight has the earmarks of an instant classic.
When asked about what he has learned from studying tapes of old Mayweather fights, Alvarez told Luis Sandoval of BoxingScene.com his mindset heading into the fight:
I think [his previous opponents] get desperate. They want to rip his head off. They want to hit him everywhere and tear his head off but I don't think that's how you do it. There's different ways to win and September 14th you'll see how.
Canelo has shown utter confidence throughout the buildup to this fight. While almost every challenger who took on Mayweather had the same mindset, Alvarez looks to be going the extra mile to ensure that he will not be surprised by anything thrown at him.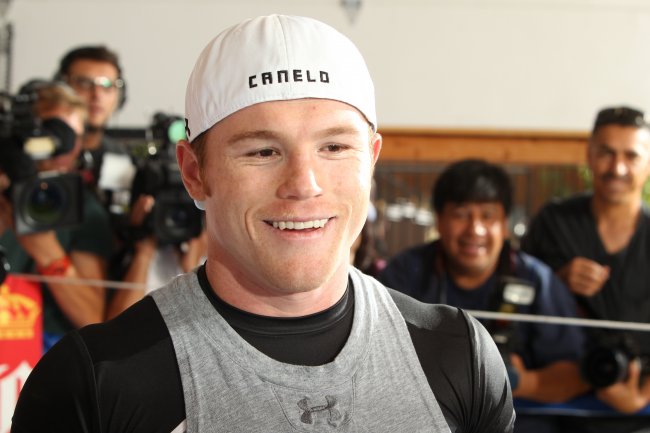 Alexis Cuarezma/Getty Images
Knowing his enemy is the majority of the battle for
Canelo

,
and his focus on technique will be second nature if he knows exactly what Mayweather will do before he even makes a move.
Alvarez is not trying to repeat history; he is trying to make his own.
The Mexican superstar went on to talk about the lessons he has implemented from the previous fights he studied on tape and how he will use the game plans of fighters like Miguel Cotto to formulate a technique that can defeat Mayweather:
Cotto did a great fight in two to three rounds but ultimately he would lose his head and fall into Mayweather's game plan and that's when Mayweather would hit him. When he stuck to his game plan he penetrated his guard and hit him good. He fought a real good fight but obviously he didn't fight the whole fight like in the rounds where he penetrated the guard. The rounds varied and that's what made him lose but he fought a good fight and that's where you can learn and take things away from that fight. I think Cotto gave him a good fight, he fought him well. Oscar De La Hoya. For me Oscar De La Hoya won their fight. Jose Luis Castillo gave him a good fight. A lot of people say he won that fight but to me, honestly, he didn't win that fight but he did give him a good fight. I think those are the fights where his opponents have been able to penetrate his guard and he had difficult times.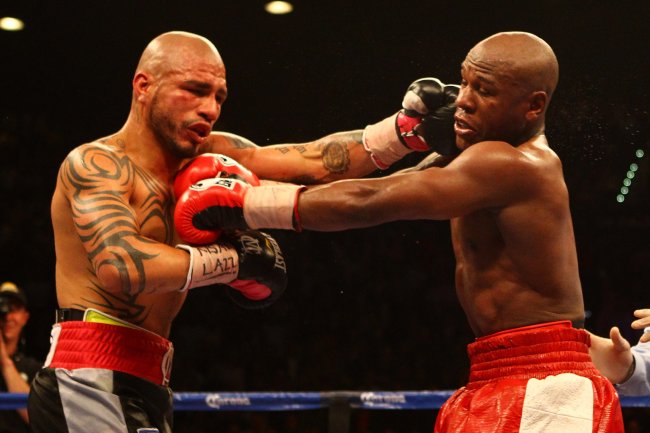 Al Bello/Getty Images
By using
using the fights of Mayweather's past as guides for what not to do in the ring in September,
Canelo
is giving himself a chance to beat Money.
There is no guarantee that Alvarez will win this fight, but watching what
didn
't work in the past and avoiding that at least shows the young fighter is willing to do whatever it takes to give Mayweather an approach he
hasn
't dealt with yet.
If Canelo can implement the lessons learned in Mayweather's toughest fights and put it all together in a perfect showcase of speed, power and defensive striking, the Mexican star has a chance to walk out of this match victorious.
It's a long shot, but Alvarez is mentally prepared for the challenge.
This article is
What is the duplicate article?
Why is this article offensive?
Where is this article plagiarized from?
Why is this article poorly edited?