Lamar Odom Arrested and Charged for DUI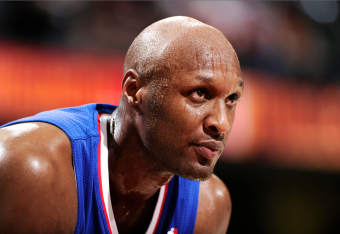 NBA forward Lamar Odom, who's currently a free agent after spending last season with the Los Angeles Clippers, was arrested for DUI early Friday morning after getting pulled over for driving too slowly.
TMZ provides the details:
The bust occurred in the San Fernando Valley at 3:54 AM. Lamar—who was driving a white Mercedes SUV—was popped by the California Highway Patrol and taken to a nearby station, where he was booked and is being held on $15,000 bail.
UPDATE: Thursday, Sept. 26
TMZ's Staff reports shocking details into Lamar Odom's current lifestyle amidst his tumultuous downward spiral:
Lamar Odom is holed up in a private home in a gated community 100 miles from L.A. ... and his life is now revolving around smoking crack and partying with 2 young women -- and he's intimate with one of them.

[...]

We're told Lamar is so paranoid ... he insists the driver only buy small quantities of crack at a time, so as not to draw too much attention to him -- and that means frequent trips to score the drug.

[...]

Our sources say Lamar is extremely paranoid about getting caught. He believes people -- not the 2 girls -- are watching him so he's using a phone app that allows him to text people but the texts are automatically deleted once the texts are read. The app also notifies Lamar if they try and screenshot the message.


TMZ's Staff earlier reported that a warrant could be out for Odom's arrest tomorrow, Friday, Sept. 27:
Lamar Odom could be a wanted man Friday ... TMZ has learned.

TMZ broke the story ... Lamar was arrested last month for DUI. His arraignment is set for Friday. He's not required to show up in court to enter a plea -- his lawyer can do the trick.

Here's the problem. If no one shows up, the judge will issue a bench warrant for Lamar's arrest. And based on what we know, if cops find Lamar ... they will also find plenty of illegal drugs.



UPDATE: Friday, Sept. 13
TMZ provides developments on Lamar Odom's DUI arrest:
"Lamar Odom has just been charged with 1 count of DUI"
UPDATE: Saturday, Aug. 31
Sean Deveney of Sporting News passed along a statement from an unnamed NBA general manager discussing Lamar Odom's NBA future:
I would say he is beyond toxic at this point. Just going by what he is giving you on the court, he would have been a risk anyway, maybe someone you give a partial guarantee to just to see if he can turn things around. But with the circus that's around him off the court now, no way. I think that's the end of Lamar Odom in the NBA. It's a shame.
UPDATE: Friday, Aug. 30
From Ben Bolch of the Los Angeles Times:
Lamar Odom will be required to submit to a mandatory evaluation by the director of the NBA's anti-drug program if the veteran free agent is convicted of driving under the influence, according to terms of the league's collective bargaining agreement.
UPDATE: Friday, Aug. 30
USA Today's Jeff Zillgitt provides more details on Lamar Odom:
Odom posted bail, set at $15,000, and was released at 8:33 a.m., according to Los Angeles County Sheriff's Department records. He is scheduled to appear in court Sept. 27.
Limited further information about the ongoing situation was included in the report. It's the latest twist in what's developed into a bizarre offseason for the former Sixth Man of the Year Award winner.
Mark Medina of the Los Angeles Daily News reported earlier in the week that teams, including the Clippers, are starting to shy away from Odom due to allegations of drug addiction:
Amid reports that Odom has suffered from drug addiction, it appears fewer and fewer teams are interested in his services. After planning to officially sign veteran forward Antawn Jamison Wednesday at the veteran's minimum worth $1.4 million, the Clippers no longer are interested in resigning Odom, according to a league source familiar with the team's thought process.
If that was already starting to become the case for Odom, news of a reported arrest for DUI certainly isn't going to help his cause. In fact, his future in the league is cloudier than ever while front offices await more details about the latest incident.
The TMZ report states Odom showed signs of intoxication during the traffic stop and proceeded to fail multiple field sobriety tests. Beyond that, all that's known is the arrest was described as "driving under the influence of alcohol and/or drugs."
More will have to become known before any final judgments can be made about the developing situation, but it certainly doesn't come off well for Odom. He's been in the spotlight for all the wrong reasons lately.
Right now, his basketball future will have to take a backseat until these personal concerns gets sorted out. When that could happen remains to be seen.
This article is
What is the duplicate article?
Why is this article offensive?
Where is this article plagiarized from?
Why is this article poorly edited?