Mourinho, Maradona and More: 10 of the Best Manager Celebrations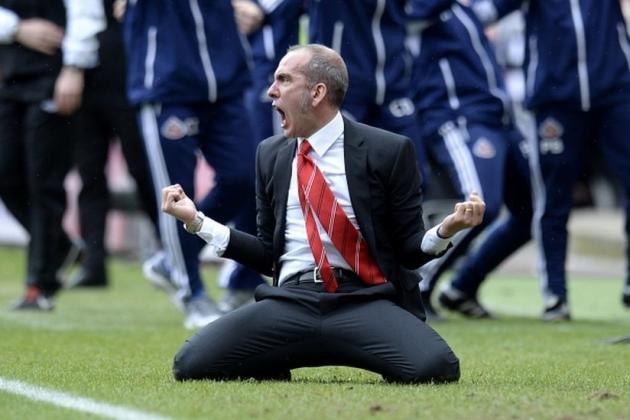 Being a manager isn't easy. When things go wrong, he is the first person to be blamed, and when something fantastic happens on the field, the players usually take the glory.
Sometimes, the man in the dugout needs to let off some steam, particularly when he has been under intense pressure. With this in mind, here are 10 of the best managerial celebrations, ranging from the bizarre to the downright hilarious...
Begin Slideshow

»
On Wednesday evening, Czech champions Viktoria Plzen earned a spot in the Champions League by overcoming Slovenian side Maribor in their playoff tie.
In order to convey his glee, coach Pavel Vrba pulled off the kind of tumble that wouldn't look out of place in a children's gymnastics class. Still, not bad for a 49 year old.
With Bayern Munich, Manchester City and CSKA Moscow in Plzen's group, don't expect to see too much celebrating like this in the coming months.
Sam Allardyce is from Dudley, but that didn't stop him embracing his inner cowboy when Brett Emerton scored a late winner for Blackburn against Blackpool in September 2010.
Jose Mourinho is quite partial to ruining a good suit in the name of excessive celebration.
The Special One took to his knees during an epic Chelsea Champions League clash with Barcelona in 2005, and once again, more spectacularly, when his Real Madrid side scored a late winner against Manchester City in last season's Champions League.
Since he is so special, Mr. Mourinho can enjoy the privilege of two entries in this countdown.
When Internazionale beat Barcelona in the 2010 Champions League semi-final—on their way to an overall victory—Mou celebrated the full-time whistle by running over to the Italian fans with his finger held aloft. Even a party-pooping Victor Valdes couldn't stop the Portuguese manager from expressing himself.
On the night when England lost 3-2 to Croatia and failed to qualify for Euro 2008, most of Wembley was thoroughly depressed.
One happy man, however, was Croatia coach Slaven Bilic, who had absolutely no idea how to physically express his joy when substitute Mladen Petrić scored the winning goal in the 77th minute.
Sunderland had six games left to fight for their Premier League survival last season when they visited fierce rivals Newcastle at St James' Park.
Against the odds, they came out 3-0 winners and manager Paolo Di Canio made his tailor wince by hitting his knees when Adam Johnson scored the Black Cats' second.
Nowhere has a celebration said "I've just kept my job!" quite like this.
Argentina's tumultuous 2010 World Cup qualification campaign was put back on track with a 2-1 win over Peru in October 2009.
When veteran Martin Palermo put the ball in the net in injury time, the coach who had brought him back to the international game after a one-year absence threw his ample belly toward the wet turf.
The meeting between Manchester City and Luton Town on the final day of the 1982-83 season was tense. Top-flight new boys Luton needed a win at Maine Road to stay up, while City would be safe with a draw.
Yugoslavian substitute Raddy Antić saved the Hatters with a late goal, prompting manager Dvaid Pleat to perform an iconic jog across the pitch.
Man City, meanwhile, were relegated after 17 years in the top flight.
Arsene Wenger probably hasn't spent much of his life on the dance floor—we imagine the disco entry prices were deemed too expensive—which explains this comically bad dancing when Arsenal defeated Villarreal in the 2008-09 Champions League quarter-finals.
This probably belongs in a celebration fail list, but Hamilton manager Billy Reid's finest moment is too good not to share.
When Marco Paixao put Hamilton 2-1 up over Scottish rivals Motherwell, Reid tried to jump on on the dugout—at which point he landed squarely on his back.
To make matters worse, Motherwell equalised three minutes later.