Green Bay Packers: Biggest Snubs and Surprises from 53-Man Roster Cut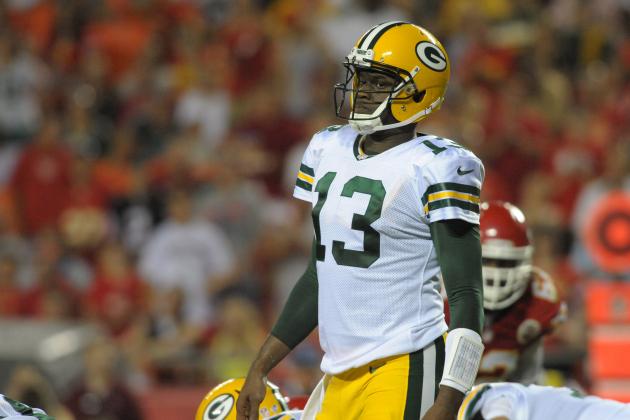 Denny Medley-USA TODAY Sports
Quarterback Vince Young was one of this year's biggest surprise cuts for the Green Bay Packers.
The Green Bay Packers and every other NFL team were forced to get down to their final 53-man roster over the weekend. Anytime there are so many cuts in a short period of time it's safe to say that there will be snubs and surprises.
Obviously the biggest snub was quarterback Vince Young, who took to Twitter to announce the fact that he'd been released. Outside of Young, and some other big names, the Packers released players who underwhelmed during camp, couldn't stay healthy or got outplayed during training camp battles.
Here is a look at five snubs and five surprises from the Packers' cuts to get down to their final 53-man roster.
*Here is a full list of the Packers' released players.
Begin Slideshow

»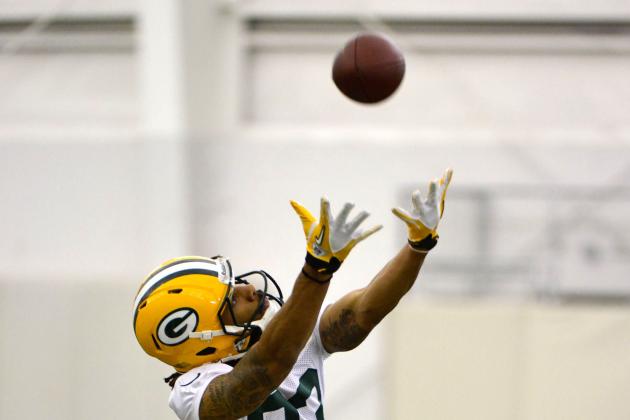 Benny Sieu-USA TODAY Sports

With starting wide receivers Jordy Nelson and Randall Cobb sitting out much of camp with injuries, the door was opened for some younger receivers to make a big impact. The receiver who took advantage the most was undrafted free agent Tyrone Walker.
Walker impressed throughout camp, even getting praise from head coach Mike McCarthy just a few weeks ago according to Paul Imig of FoxSports.com. McCarthy had this to say about Walker:
Tyrone Walker, he has really put together a real consistent last couple weeks. Obviously, he had a good performance against the (Arizona) Cardinals. He's just a really good route runner. He has excellent body language. He's very easy to read, which is important, particularly from a quarterback's perspective, getting the timing and the anticipation with him.
It wasn't just camp where Walker performed. Over the four preseason games, he recorded 11 receptions for 86 yards. Those numbers don't jump off the page, but considering the overall struggles of the Packers' offense throughout the preseason, they are actually pretty solid numbers.
While the Packers are certainly deep at receiver with loads of talent, it still seems like Walker should have been given a chance on the final roster due to his consistent play throughout training camp.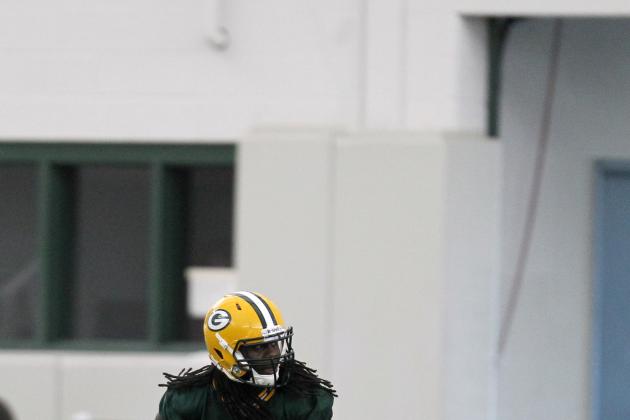 Mike McGinnis/Getty Images

Few would argue that the Green Bay Packers' defense is going to be the weak link for the 2013 season. There is certainly the potential for this unit to be very good, but there is just as much, if not more, potential for this team to struggle again.
That's why waiving a young and talented linebacker like Manning is rather surprising. With only Brad Jones and A.J. Hawk as legitimate starting inside linebackers, Green Bay could have potentially used someone like Manning if there was an injury to either Hawk or Jones.
The Packers must have felt pretty good about rookie linebacker Sam Barrington to make such a surprising move like waiving Manning.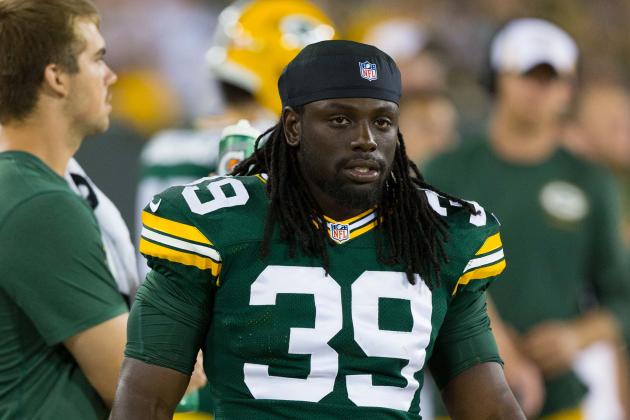 Jeff Hanisch-USA TODAY Sports

It's likely that running back Angelo Pease is the least-known player on this list. Pease was an undrafted free agent who made quite the splash in camp.
Back in May, Tyler Dunne at the Milwaukee-Wisconsin Jounal Sentinel touched on how impressed head coach Mike McCarthy was with Pease. Two months later, Dunne wrote again on the definite possibility of Pease making the final roster.
It's clear that Pease was quite the pleasant surprise in the early portion of camp. However, even with DuJuan Harris out for the season and the early struggles of Johnathan Franklin, Pease obviously didn't do enough to stick with the Green Bay Packers.
Pease certainly has the talent to help a team in the future, but it won't happen this year with Green Bay.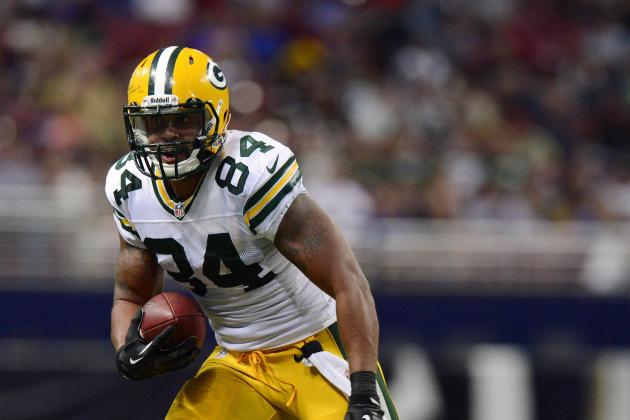 Jeff Curry-USA TODAY Sports

Based on his career production, it isn't surprising that tight end D.J. Williams was cut by the Green Bay Packers. He only had nine receptions for 70 yards during his two seasons with the Green Bay Packers.
However, the reason Williams' release is so surprising is because of his youth and upside. Coming into the NFL during the 2011 draft, Williams was viewed as a versatile tight end who could become a rather dominant H-back.
Unfortunately, he never saw the field enough and wasn't a good enough blocker to see enough time on the field to reach that upside. Still, Green Bay giving up on him after only two years is rather surprising.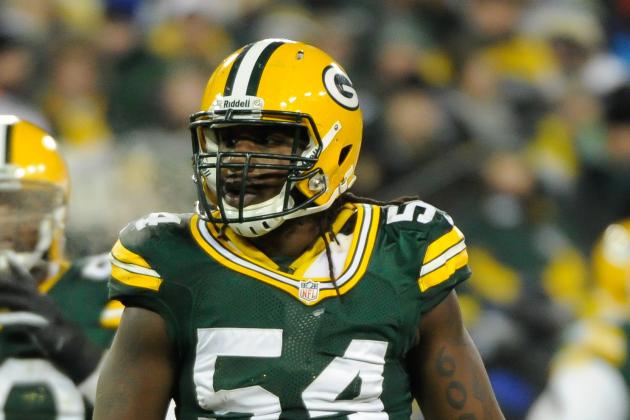 USA TODAY Sports

When outside linebacker Dezman Moses was called upon last year to fill in, he performed rather well. He started seven games and finished the 2012 campaign with 27 total tackles, four sacks and a forced fumble.
Those aren't bad numbers for an undrafted rookie who was thrown into the starting lineup in the middle of the season. Even if Moses wasn't going to start this year, he still had some value backing up an injury-prone player like Nick Perry.
While Moses certainly had plenty of room to grow in a number of areas, it still feels like Green Bay didn't give him enough time to do just that. He'll now have that chance with the Kansas City Chiefs according to Chiefs360.com.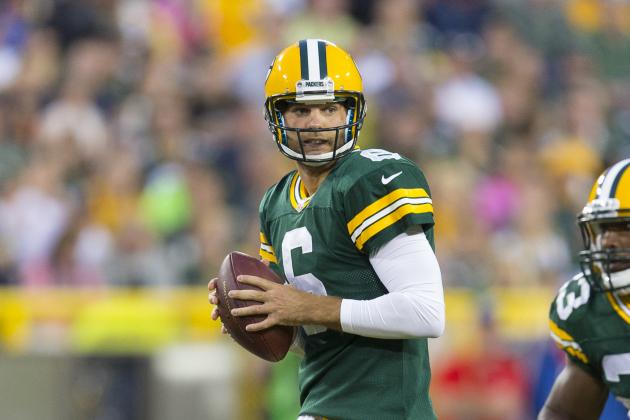 Jeff Hanisch-USA TODAY Sports

Considering that Graham Harrell was the backup quarterback to Aaron Rodgers last year, it was rather surprising to see him cut so soon after Week 3 of the preseason. Of course, Harrell wasn't overly impressive when called upon last year to replace Rodgers (he fumbled the ball away in the red zone), but he still had the experience as an NFL backup.
Harrell really struggled throughout the preseason, which is what probably led to his release from the team. He completed less than 55 percent of his passes, throwing one interception and zero touchdowns. Those simply aren't good enough statistics when battling for a backup quarterback spot.
Still, Harrell's experience was expected to be enough to make him a likely candidate to stick on the final roster. Now Green Bay will be featuring a new backup to Rodgers after this surprising move.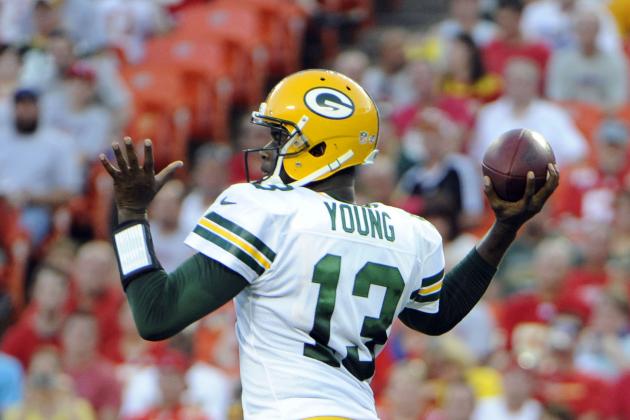 John Rieger-USA TODAY Sports

While Graham Harrell's release was a surprise, Vince Young getting cut was a major snub. Many expected Young to be the backup quarterback following a strong performance in Week 3 of the preseason against the Seattle Seahawks.
Unfortunately, Young's struggles the following week against the Kansas City Chiefs where he only completed 46.7 percent of his passes obviously gave the Green Bay Packers some concerns. It wasn't just that Young struggled with his accuracy, but it was also that he failed to get any type of momentum going on a consistent basis.
However, even with those struggles in one game, Young's athleticism and experience seemed like it would have been enough to keep him on the roster. It obviously wasn't, and now Young will need to wait to see if another team will give him a chance to resume his NFL career.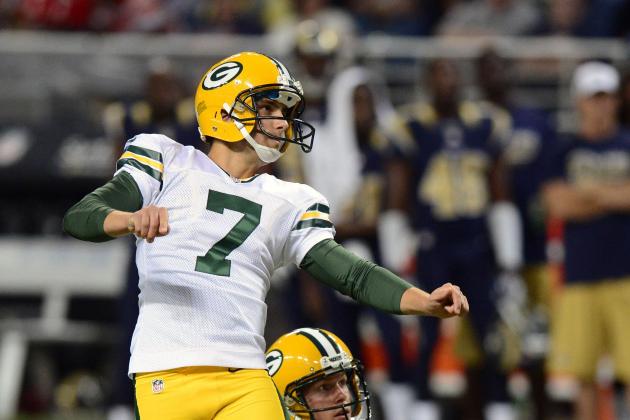 Jeff Curry-USA TODAY Sports

Last year wasn't exactly a banner year for kicker Mason Crosby. He hit only 63.6 percent of his field-goal attempts, finishing the year 21-of-33.
The Green Bay Packers decided to bring in some competition for Crosby this offseason, with Giorgio Tavecchio being the biggest perceived threat to Crosby's job. Tavecchio seemed to be keeping with Crosby throughout all of training camp.
However, the biggest reason that Tavecchio being waived was a surprise was due to the fact that it seemed like the entire Packers fanbase had lost faith in Crosby. That clearly doesn't matter to Green Bay's coaching staff since Crosby looks poised to be the starting kicker for at least another year.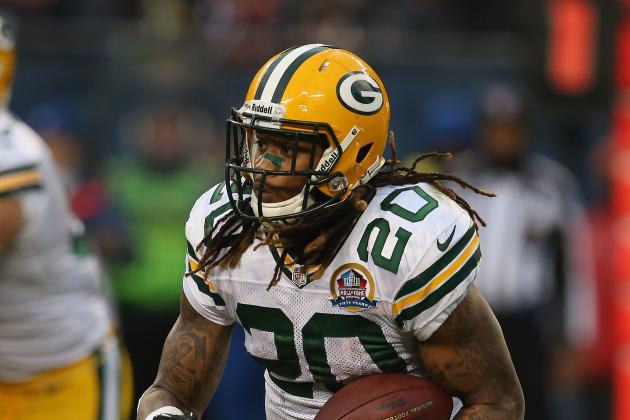 Jonathan Daniel/Getty Images

When the Green Bay Packers were forced to put DuJuan Harris on Injured Reserve, it gave running back Alex Green another chance to prove his worth.
Green's ability in the run and pass game, along with his recent assignment in the return game, made it seem like he'd join Eddie Lacy and Johnathan Franklin in the backfield. However, Green struggled throughout the preseason and training camp.
He was never able to jump over either Franklin or oft-injured James Starks for playing time. If the Packers would have given him more opportunities, he likely would have been able to make a bigger impact.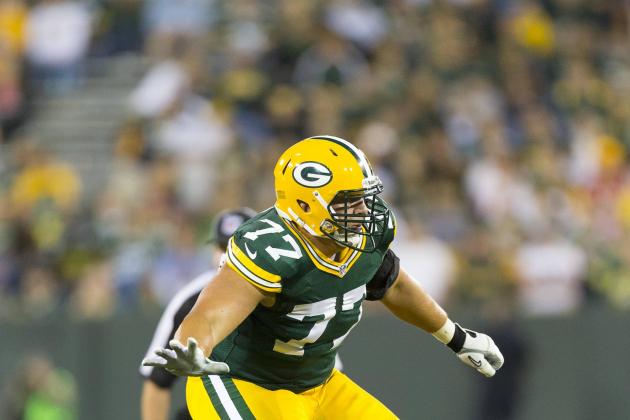 Jeff Hanisch-USA TODAY Sports

The reason that offensive tackle Andrew Datko's release is so surprising is because of the lack of depth that the Green Bay Packers have along the offensive line.
The main reason that Datko was likely released was due to his final performance against the Kansas City Chiefs. In that finale, Datko allowed three hurries and two sacks against mostly backups.
Still, with Bryan Bulaga sidelined for the season and Marshall Newhouse not exactly an All-Pro player, Datko was a potentially intriguing player for Green Bay to develop. However, the Packers will now be relying on Newhouse, David Bakhtiari, Kevin Hughes and Don Barclay to play offensive tackle.