6 Teams Set to Struggle in Serie A This Season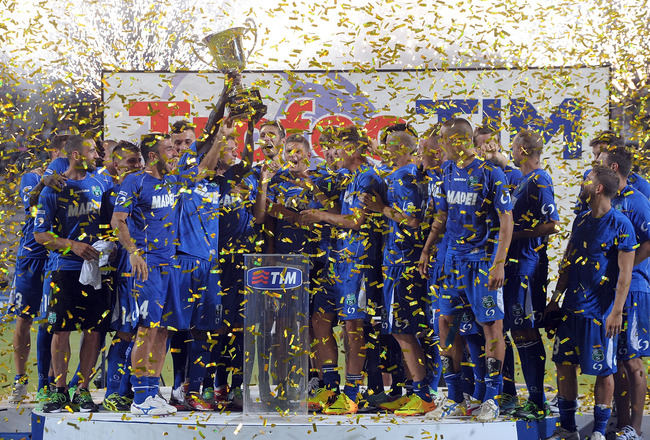 Dino Panato/Getty Images
There are plenty of new faces in Serie A this year. All of the big teams have strengthened, with several squads adding some star power ahead of the new campaign.
Juventus' new boy Carlos Tevez is scoring already, while Fiorentina expect big things from Mario Gomez. Roma and Napoli, in particular, have brought in a lot of fresh blood—including several players and new managers in the shape of Rudi Garcia and Rafa Benitez.
It's not all high-profile signings and glamorous appointments in Serie A, however. Many of the league rookies are at the other end of the food chain: the freshly-promoted sides from Serie B who can look forward to a steep learning curve and a long season.
But, will it just be the Serie B graduates who'll struggle? Or are there tough times ahead for some of Serie A's more established sides, too?
Livorno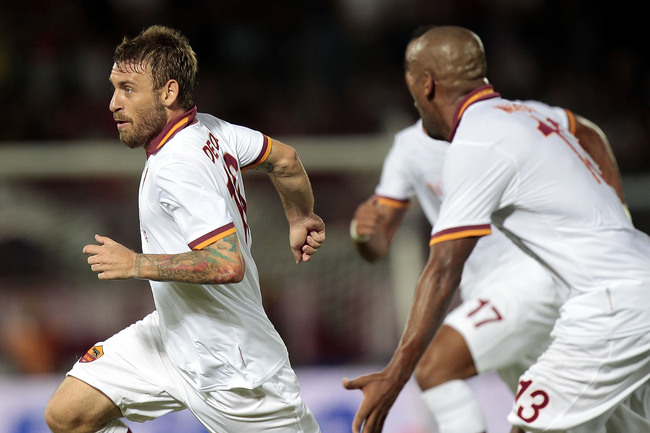 Gabriele Maltinti/Getty Images
Poor old Livorno didn't get much time for a honeymoon on their return to Italy's top flight.
The port city side welcomed Roma on the opening weekend of the championship, and the Lupi pulled no punches.
Rudi Garcia's side is still far from the finished article, but the Giallorossi were several classes above the Labronici, who were shipwrecked by a wonder-strike from Daniele De Rossi and a goal from Alessandro Florenzi.
Not the most auspicious of starts. And having won just seven games all season the last time they were in Serie A, the Livorno faithful will know that they can expect more than a few more results just like it.
Davide Nicola's side finished third in Serie B last term, and looks much the same as it did last year. Leandro Greco is a solid addition, but on the whole the squad looks short on both experience and talent. And obviously, any side not good enough to win in the second division is going to struggle against even mediocre opponents in the league above.
Combine that with the fact that Nicola has no Serie A experience, the best that Livorno can hope for is a steep learning curve and a fight for survival. If they're not quick to learn, however, their time at the top could be over before it's even begun.
Sassuolo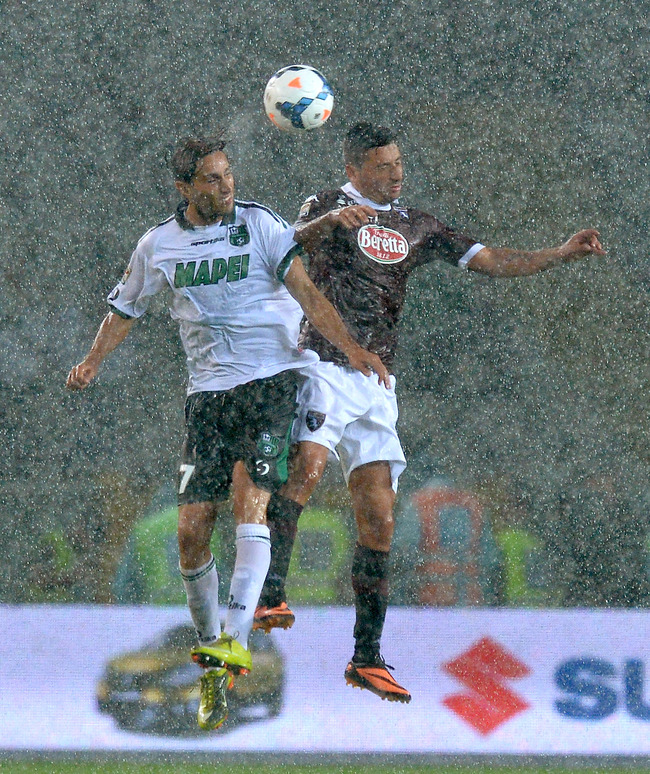 Tullio M. Puglia/Getty Images
It might seem a little negative to dump last season's Serie B winners in with this year's strugglers in Serie A, but it's hard to see things going well for Sassuolo.
For one, this is uncharted territory. The team has never been in Serie A, hardly surprising for a side from a small town in Emilia-Romagna, which now has the honour of being the smallest town to ever be represented in Italy's top league.
By way of an example, if the entire population of the city was to attend a game in Rome's Stadio Olimpico or Milan's San Siro, they'd only fill the stadium halfway.
In terms of Serie A experience, they've added Ezequiel Schelotto to the side, but not everyone would consider that a good thing, as well as Francesco Acerbi. The latter struggled to get a game at Milan and has never looked capable of playing well at the highest level, so his addition is another that is questionable.
Up front, things look a little better, with the young Domenico Berardi. The 19-year-old is hotly tipped and has already aroused the interest of several big European clubs, but if he can somehow fire this Sassuolo side to safety, he'll have really proved his talent to future suitors.
Hellas Verona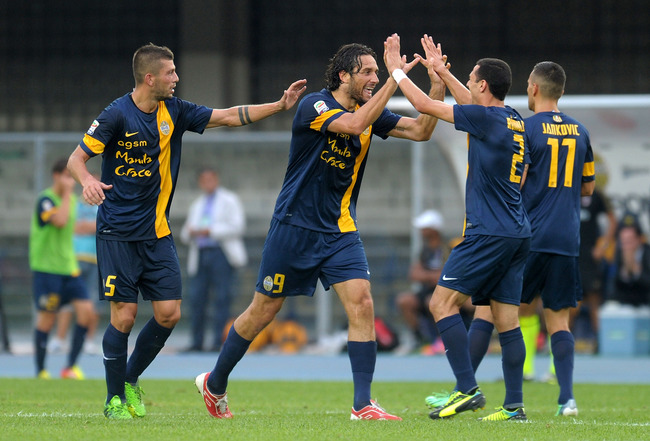 Dino Panato/Getty Images
Will Hellas Verona really struggle? Hard to say. For much of the league's history, the Mastini were Verona's top team, and their fans at least still believe that Serie A is their rightful home.
Their rivals Chievo Verona are nicknamed "the Flying Donkeys" after an old taunt from the Hellas fans, who used to joke that Chievo would only be in Serie A when donkeys flew.
Northern Italy is yet to see any airborne mules, but it is now Chievo, who are the settled force in Serie A and the 1985 Scudetto winners, who have to prove their worth.
A season-opening win against Milan showed that they have the potential—and that Luca Toni can still score with the best of them—but, over the course of a long season, their squad will be stretched and their abilities thoroughly examined.
The likes of Massimo Donati, Alessandro Agostini, Bosko Jankovic and the aforementioned Toni all have bags of Serie A games under their belts, so despite being a little light on quality Verona should have the wherewithal to hold on to valuable points when their rivals falter. And young players like Matteo Bianchetti and Michelangelo Albertazzi might seize the opportunity to impress on the big stage.
It won't be easy, but Hellas look the most likely of the promoted sides to stay up.
Genoa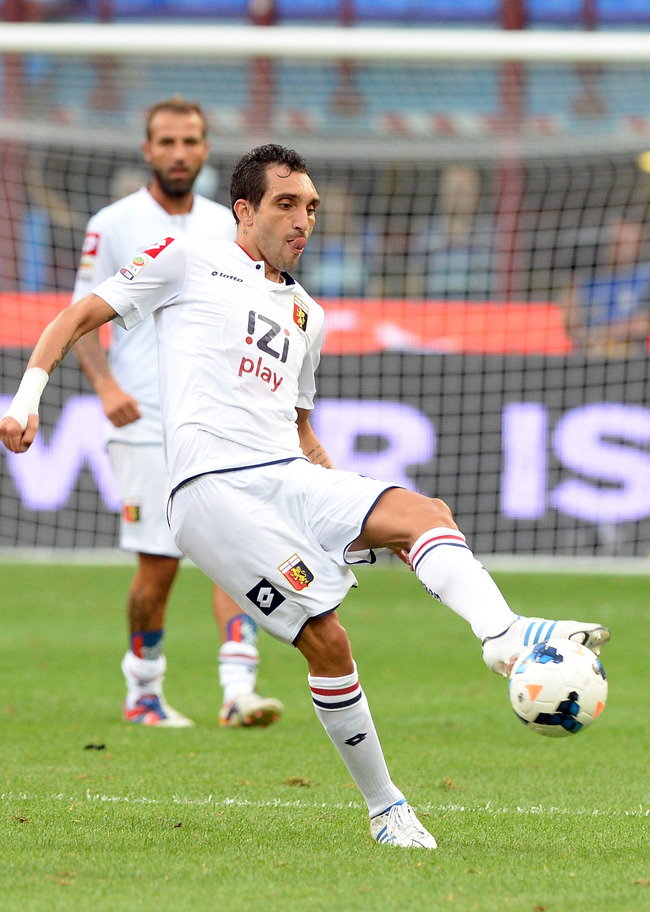 Claudio Villa/Getty Images
Genoa finished just above the drop zone last season—below three teams who all had points deducted for various reasons. In all, they won just eight games, failing even to beat whipping boys Palermo.
They managed a win against Pescara towards the end of the season, but were beaten in the first fixture. Not something you want to happen against a side that lost a massive 28 matches and bagged just 22 points.
They went through three managers—Luigi De Canio, Luigi Delneri and Davide Ballardini—and were dreadful under all of them, despite having a fair amount of talent in the squad.
In the hope of rectifying the problem, the club has promoted former Lazio midfielder Fabio Liverani from his job coaching the youth team to the senior bench. Liverani has no experience and will be weighed down by high expectations. You get the feeling that someone at Genoa is hoping to unearth a Vincenzo Montella—but that's easier said than done.
Torino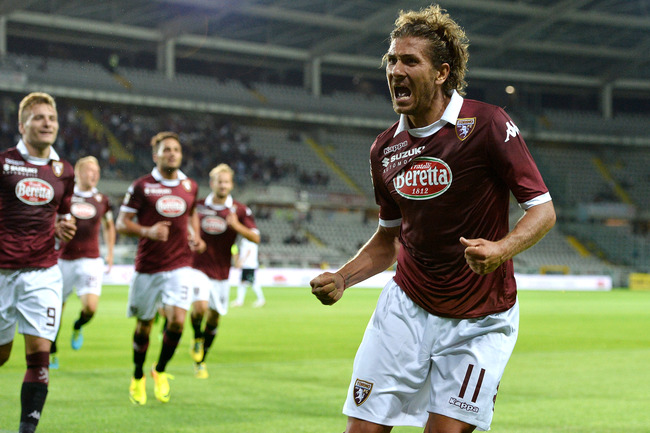 Tullio M. Puglia/Getty Images
Torino are a likeable side, but they were only marginally better than the woeful Genoa last term and there's little to suggest they'll be much better in 2013-14.
The Granata started the season well with a win against Sassuolo, but that was an encounter everyone in the league will expect to win. Tougher times are to follow.
They've lost several players and not really reinforced. Jean-François Gillet is suspended for match-fixing and Mario Santana has left for Genoa. Neither will be missed too much, perhaps, but they were important members of the squad and, at this level, were talented enough to be difficult to replace.
Two losses that will be felt, however, are captain Rolando Bianchi, now of Bologna, and star defender Angelo Ogbonna, who wears the black and white stripes of Juventus on the other side of Turin.
Some remaining players like Alessio Cerci are useful, but Giuseppe Sannino's squad is light on talent.
It's hard to know how the manager will fare either. Sannino did well at Siena, but last season endured two difficult periods at Palermo, who ended up being relegated. The 56-year-old will be desperate to avoid the same fate in 2014.
Juventus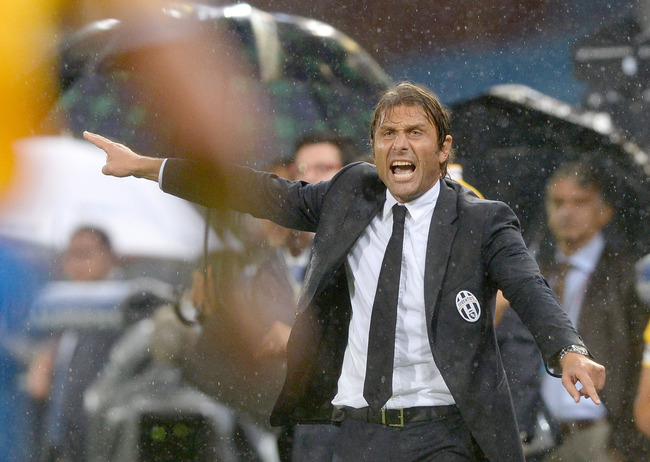 Claudio Villa/Getty Images
OK, so Antonio Conte's men are not going to be worried about relegation. So why rank the title favourites as possible strugglers?
Juventus have set the bar incredibly high, and this year have genuine aspirations in the Champions League as well as a desire to make it three-in-a-row in Serie A.
They've got one of the best squads on the continent and a manager whose reputation is only matched by a handful of other coaches. That said, a Europe/league double is no easy task and there's a danger that it might stretch the Old Lady beyond breaking point.
Aside from Roberto Mancini's Inter, who won their consecutive titles under questionable circumstances, no team has managed a hat-trick of titles since Fabio Capello's Milan in the early 90s. Before that, it was the Grande Torino side of the 1940s.
On top of that, Conte's looking to win the Champions League as well—something only Jose Mourinho and Capello have ever achieved with an Italian club.
If anyone can do it, it's the Bianconeri. And for the neutral it promises to be enthralling viewing. But for the team, it ain't gonna be easy. The obvious difference between Juve and the rest of this list is that they've created their own challenges. A real struggle? It's all relative.
Keep Reading