The Tim Tebow controversy in New England is no longer an issue.
Tebow will make the Patriots' final 53-man roster.
After not appearing in Week 3 of the preseason during the "dress rehearsal," the most polarizing third-string quarterback in the history of life put together a strong performance in the final week despite being hampered by those around him.
Tebow needed to show some semblance of progression against New York after only completing 26 percent of his passes entering the game. He did just that, and as the stats show, Tebow made leaps as a passer in the preseason finale:
Tim Tebow 2013 Preseason

| | | | | | | |
| --- | --- | --- | --- | --- | --- | --- |
| Opp | Cmp | Att | Pct. | Yds | TD | INT |
| PHI | 4 | 12 | 33.3 | 55 | 0 | 0 |
| TB | 1 | 7 | 14.3 | -1 | 0 | 1 |
| NYG | 6 | 11 | 54.5 | 91 | 2 | 1 |
NFL.com
The highlight of Tebow's night came when he hooked up with Quentin Sims on 52-yard touchdown:
To top things off, Tebow even received a handshake from starter Tom Brady after the stunning performance per ESPN's Ed Werder:
And Tim Tebow finishes with a TD pass and congratulatory handshake from Tom Brady. BB has interesting decision to make #TebowTime

— Ed Werder (@Edwerderespn) August 30, 2013
Tebow said after the game he was "not sure" if he made the final roster but that he thinks he has improved, per Jeff Howe of the Boston Herald:
I think I've improved in a lot of ways...One, learning this offense. Two, understanding more of the decision making, getting the rhythm, understanding all the guys that I'm playing with and just getting this offense down as well.
Tebow can rest easy about his roster status. The NFL is all about improvement, and he finally showed just that against New York.
Not only was Tebow impressive, the odds he overcame thanks to the iffy offensive line that allowed him to be sacked four times in five plays speak volumes. Tebow was running for his life all night but still managed to pull off the comeback victory, 28-20.
It's hard to see the Patriots moving on from Tebow now, especially with the value he offers on the practice field. Tebow is a prototypical read-option threat at quarterback, which is the craze that happens to be sweeping the NFL at the moment.
New England will see plenty of the read-option this year against the New York Jets and the Buffalo Bills, both teams that should be running it with rookie quarterbacks in Geno Smith and EJ Manuel, respectively. Miami also dabbles in it with second-year player Ryan Tannehill and fans everywhere know what Cam Newton is capable of in Carolina as one of the primary reasons the trend is taking over the league.
Tebow is a valuable asset for the first-string defense to prepare for those potential seven contests against the read-option.
Add in a hint of a strong performance, and the Patriots not only have an outstanding prep tool but a quality special teams player and arguably the best third-string quarterback in the NFL.
Tebow's performance against the Giants was typical Tebow. He was spotty on some throws, excellent on others and he predictably pulled off the fourth-quarter victory. It was a performance that will save his roster spot, but it's not the only positive in his corner.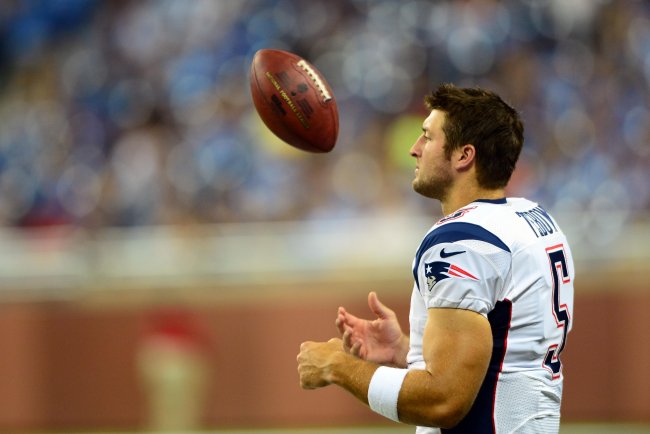 Andrew Weber-USA TODAY Sports
Will Tebow make the final roster?
No one is saying Tebow should ever see the field next season, especially not in special packages like the New York Jets attempted last year.
Head coach Bill Belichick is smarter than that.
But Belichick is also smart enough to realize Tebow has plenty of value to offer and there is maybe, just maybe, some potential in taking the time to groom Tebow.
The media circus that comes with Tebowmania can be a distraction, but Belichick has handled it fine to this point. New England may be one of the only franchises fans won't hear Tebow chants if the starting quarterback has a bad game.
There are plenty of reasons to make room for Tebow on the final 53. Belichick knows this, and when the final 53 is announced, expect to see Tebow's name on the list.
Follow B/R's Chris Roling on Twitter for more news and analysis @Chris_Roling