Wyoming vs. Nebraska: 10 Things We Learned from Cornhuskers' Win
Troy Babbitt-USA TODAY Sports

It was far from easy, but the Nebraska Cornhuskers held off a late push from the Wyoming Cowboys to begin the season with a 37-34 win.
A slow start to the second half combined with consecutive touchdowns for Nebraska was too much for Wyoming to overcome, but the Cowboys gained more yards than the Cornhuskers and shredded a secondary that was considered to be the strength of Nebraska's defense.
In the end, the Cornhuskers are 1-0 and the Cowboys are 0-1, but Nebraska has plenty to be concerned about moving forward. With that being said, there are 10 things we learned from the shootout.
Begin Slideshow

»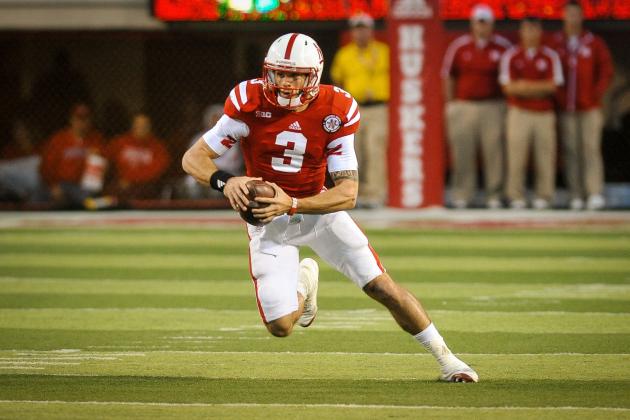 Eric Francis/Getty Images

For all the talk that fellow Big Ten signal-caller Braxton Miller has garnered regarding the Heisman Trophy, there have been whispers about Taylor Martinez having an outside shot at the award. For that, two things will need to happen—Nebraska needs to keep winning, and Martinez needs to rack up big-time numbers.
Well, his Heisman chances nearly took an unrecoverable blow on Saturday night. But the Cornhuskers escaped with a victory and Martinez put up solid numbers, passing for 155 yards, three touchdowns and one interception while also rushing for 80 yards.
The issue here is that Nebraska was far more successful when running the football. The knock on Martinez has always been his throwing motion and his struggles throwing the football. If that issue rears its ugly head once again in 2013, the Cornhuskers could run into some problems, and Martinez will essentially eliminate himself from Heisman contention.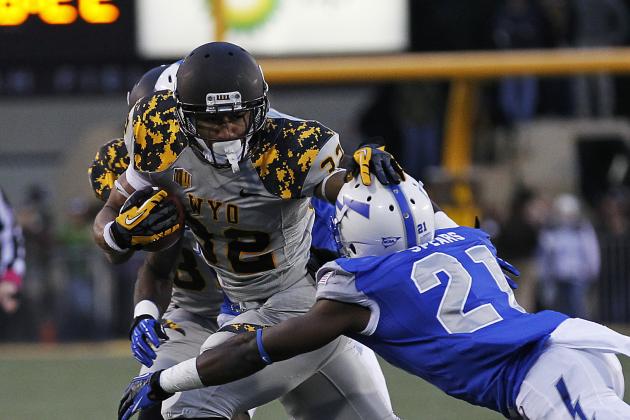 Troy Babbitt-USA TODAY Sports

And it doesn't hurt when you have a dual-threat quarterback like Brett Smith.
With No. 1 tailback D.J. May out for the season, it was Shaun Wick and Brandon Miller splitting the running duties in the backfield for the Cowboys. Combined, they rushed 21 times for 128 yards and a score.
That successful running attack was aided by an incredible passing performance by Smith. When nobody was open, Smith would tuck it and run himself—he scrambled for 92 yards on eight carries to bolster Wyoming's rushing stats even more.
There's no question Nebraska had an easier time running the football, but the Cowboys took advantage of an iffy front seven to keep a balanced attack throughout the game.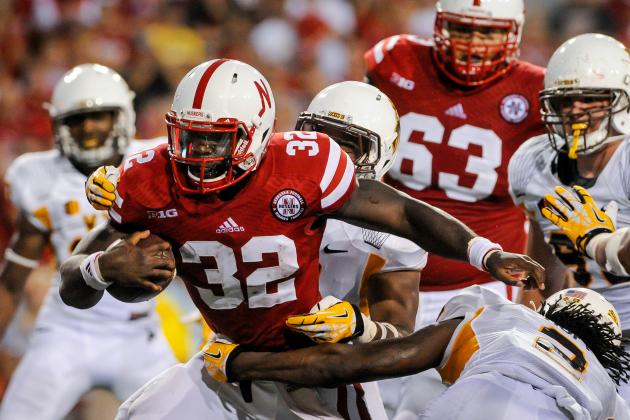 Eric Francis/Getty Images

Even though the Cornhuskers had some issues up front on defense, they weren't nearly as glaring as Wyoming's inability to stop the run and get pressure on the quarterback.
Nebraska torched the Cowboys on the ground, rushing for 375 yards thanks to the efforts of Ameer Abdullah, Imani Cross and, of course, Martinez. At bizarre times, the Cornhuskers would go away from the run game, and it cost them dearly late in the fourth quarter when Martinez was picked off.
Still, Nebraska dedicated itself to the run game after halftime and it paid off, as it built what wound up being an insurmountable lead in the third quarter.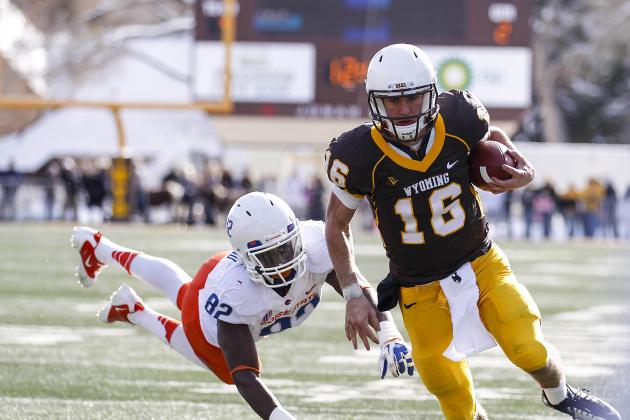 Troy Babbitt-USA TODAY Sports

Not too many could have seen this one coming, but Brett Smith's experience and poise were evident Saturday night, and it helped him outperform one of the best quarterbacks in the country.
It was Smith's arm that did the talking for the Cowboys. The senior quarterback went 29-of-43 for an eye-popping 383 yards and four touchdowns while throwing an interception. Meanwhile, Martinez only managed 155 yards through the air and was out-rushed by Smith by 12 yards.
Granted, Smith was forced to go to the air often late in the game because his team was in a hole, but quite frankly, he looked better than Martinez and deserves some national recognition this season for what he accomplished against Nebraska if nothing else.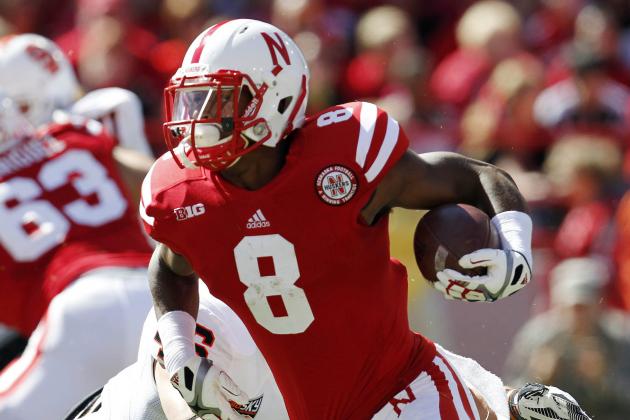 Bruce Thorson-USA TODAY Sports

Yes, Ameer Abdullah (as expected) received the bulk of the carries for the Cornhuskers, but it was Imani Cross who put up better numbers than Abdullah.
In six fewer rushes, Cross nearly gained as many yards as Abdullah, averaged 8.1 yards per carry compared to Abdullah's 6.0 average and also scored two touchdowns.
Overall, both had successful nights, as Nebraska's offensive line had its way with the front seven of Wyoming. As long as the Cornhuskers continue to have success with a running back-by-committee approach—both Abdullah and Cross reached the century mark in rushing yards—expect to see both receive their fair share of carries.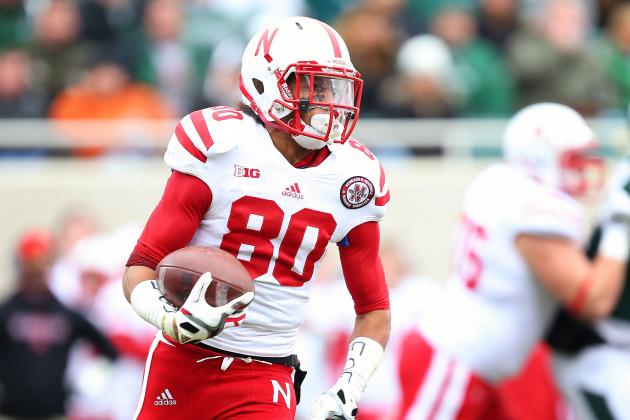 Mike Carter-USA TODAY Sports

Kenny Bell (junior), Jamal Turner (junior) and Quincy Enunwa (senior) all made their presences known against the Cowboys despite Martinez only throwing for 155 yards.
Bell led the way in receptions and helped keep the chains moving for Nebraska, catching seven passes for 57 yards. Jamal Turner hauled in the Cornhuskers' first touchdown and brought in four catches himself. Enunwa complemented his fellow receivers nicely, proving to be a legitimate red-zone threat—two of his three receptions went for touchdowns.
That kind of experience and talent in the passing game will go a long way in helping Martinez this season, and it showed on Saturday night.
Eric Francis/Getty Images

Nebraska still has experience at place-kicker with senior Pat Smith, but it now has a freshman punter in Sam Foltz. Turns out this Foltz kid has a leg—he booted five punts and averaged 45.6 yards while pinning the Cowboys inside the 20-yard line twice and avoiding a touchback.
Smith wasn't tested much, knocking through a 24-yard field goal, although he did miss an extra-point attempt that could have wound up costing the Cornhuskers late. Hopefully for Nebraska's sake, that was a one-time fluke.
Otherwise, Nebraska's special teams unit didn't allow any big plays, and as they seem to be every year, special teams remain a strength for the Cornhuskers.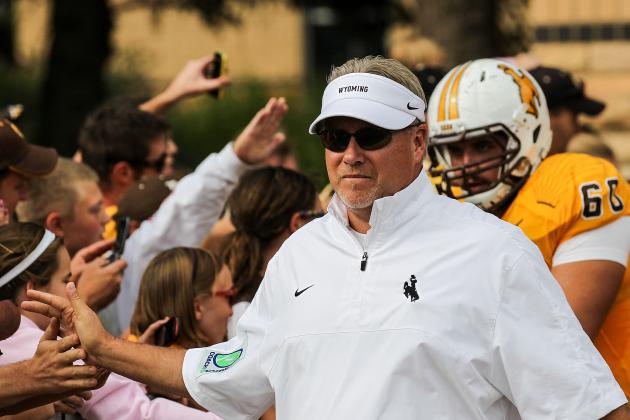 Troy Babbitt-USA TODAY Sports

Despite being four-touchdown underdogs, Wyoming came into Memorial Stadium and gave the Cornhuskers more than they bargained for.
Every time it looked like the Cowboys were down for the count, they fought back. They showed no quit and even had the ball at the end of the game with a chance to take the lead after being down by 16 points in the fourth quarter.
The Mountain West Conference features some solid teams like Boise State and Utah State, and Wyoming will have to play both of those teams on the road. But it's a schedule the Cowboys can manage for the most part, and considering it just gave a ranked team all it could handle, Wyoming is a team to take seriously and should have a bowl game in its future.
Bruce Thorson-USA TODAY Sports

Some discipline issues hurt the Cornhuskers on third down, halting drives and helping keep Wyoming in the ball game. All in all, Nebraska was called for 10 penalties that tallied 84 yards.
That's not the kind of performance you want to see from the No. 18-ranked team in the country, especially at home. Fortunately for Nebraska, the Cowboys saw plenty of yellow flags thrown their way as well.
It was the first game of the season, so some miscues are understandable, but cleaning up the penalties should definitely be an area of focus moving forward for the Cornhuskers.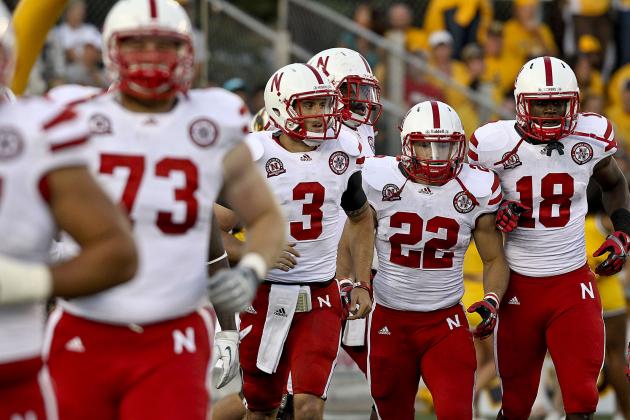 Troy Babbitt-USA TODAY Sports

The Wyoming Cowboys—the Wyoming Cowboys—put up 602 yards—602 yards—on the Nebraska Cornhuskers. That is rather alarming and shows that Nebraska is picking up where it left off a season ago.
In the last two games of the 2012 season, the Cornhuskers gave up 115 points to Wisconsin and Georgia. To kick off 2013, they were barely able to hold off Wyoming. Week 3 was supposed to be Nebraska's first test, but it turns out it's already been tested.
Until Nebraska proves otherwise, it is the same team it was last season—a team with a Swiss cheese defense and a plus-offense that isn't ready for the big stage.