What's New for the Houston Texans in 2013-14?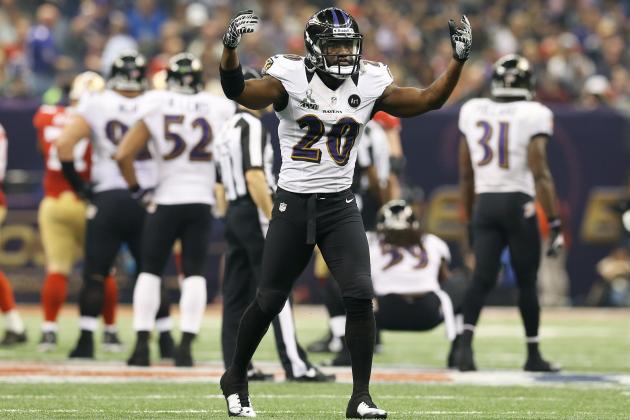 Mark J. Rebilas-USA TODAY Sports

The Houston Texans wrapped up the preseason with 24-6 win over the Dallas Cowboys on August 29. The ultimate composition of a 53-man active roster will be set when final cuts are announced later today.
The changes in this team compared to last year's edition primarily involve the comings and goings of players. Most of their unrestricted free agents left town, but management attempted to offset those losses with the addition of perennial Pro Bowlers safety Ed Reed and punter Shane Lechler. DeAndre Hopkins and D.J. Swearinger were drafted to fill holes left by the departures of wide receiver Kevin Walter and strong safety Glover Quin.
Gary Kubiak is in his eighth season as head coach, the third-longest tenure in the NFL after Bill Belichick of the New England Patriots and Tom Coughlin of the New York Giants. Those familiar with the Texans and its leader know little will be different in philosophy or scheme on either side of the ball.
The offense will still rely on their one-cut, zone-blocking run game to set up the play-action pass. The defense, as coached by third-year defensive coordinator Wade Phillips, will continue to use 3-4 personnel in the front seven along with a lot of man coverage in a Cover 1 look for the secondary.
The job for the 2013 Texans is to figure out how to utilize its new personnel to their best advantage. This effort is coupled with the elevation outside linebacker Whitney Mercilus, right guard Brandon Brooks and kicker Randy Bullock to the starting lineup. But there is more to consider than what has been covered here.
Begin Slideshow

»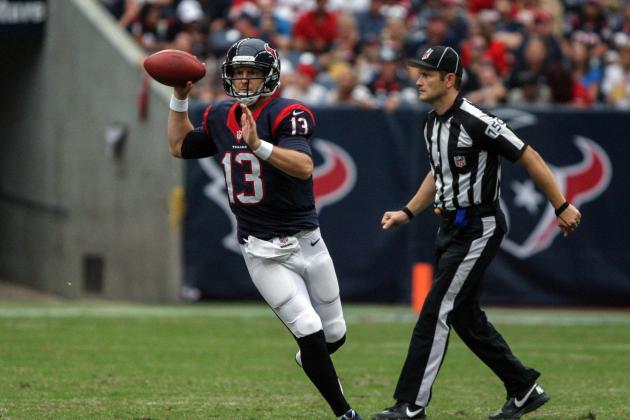 Troy Taormina-USA TODAY Sports
T.J Yates
Fortunately, this one does not concern the oft-criticized Matt Schaub. It happens to revolve around just who will occupy the No. 2 slot on the depth chart.
T.J Yates and Case Keenum were both impressive in the preseason, though they feasted on second- and third-stringers to the tune of 121.8 and 106.7 passer ratings, respectively.
Keenum is an alumnus of the University of Houston, which makes him the sentimental favorite. Yates is the more rational choice based on his game experience over the final eight games of 2011, including the first playoff win in franchise history.
If Keenum went back to the practice squad, he would be claimed almost immediately. Yates has trade value due to the woeful state of the backup quarterback position around the league.
This is the kind of decision most organizations would love to face. The likeliest conclusion to this competition would amount to no decision at all. Both players will end up on the active roster to start the season, with Yates on the 46-man game-day roster.
Andre Johnson had a remarkable season in 2012 for a 31-year-old wide receiver. A check with Pro Football Reference shows his 112 receptions are second to Rod Smith's 113 catches in 2001 for a player of the same age.
While Smith never exceeded the century mark again, Johnson is still expected to shoot for triple digits. Paul Kuharsky of ESPN.com noted that 58.1 percent of all wide receiver targets for the Texans were intended for No. 80 last year.
It may not have been a cry for help, but when asked if he would like Texans to draft another receiver, Johnson replied in the affirmative.
"I'm all for it. I've asked for it for awhile. The more weapons we have, the better it'll be for the team."
His wish came true on draft day when DeAndre Hopkins became a Texan. This qualifies as a new development because Hopkins is the first receiver taken with Houston's top pick since you-know-who was selected in 2003.
He joins a receiving corps that is long on potential but short on production. Lestar Jean, Keshwan Martin and DeVier Posey have a combined total of 22 career catches, which makes you wonder if that potential will ever be realized. A mitigating factor for this trio is that each member is in his second season at one of the most difficult positions in the NFL.
Another is that they have not gained the trust of their coach and quarterbacks. Jean and Martin have been targeted at a moderate rate in the preseason, with 32 passes thrown their way. Both have had trouble securing the ball, but that has not prevented Jean from scoring in three of the four exhibition contests.
Posey had to come back from an Achilles tear in the divisional round of the playoffs in January. The fact he was able to suit up for the Cowboys game is a testament to the wonders of modern medicine and the extent of his dedication.
Hopkins sat out the final two games with a concussion, a worrying situation in light of another head injury suffered in a car accident prior to the 2012 Orange Bowl. His availability for the regular-season opener on September 9 will depend on whether he passes the final stage of the NFL concussion protocol.
For the 2013 campaign to run any longer than the previous pair, at least two of these four players have to step up and turn the outside passing attack into something more than a one-man show. Andre Johnson not only needs the help, the all-time leading receiver of this team deserves it.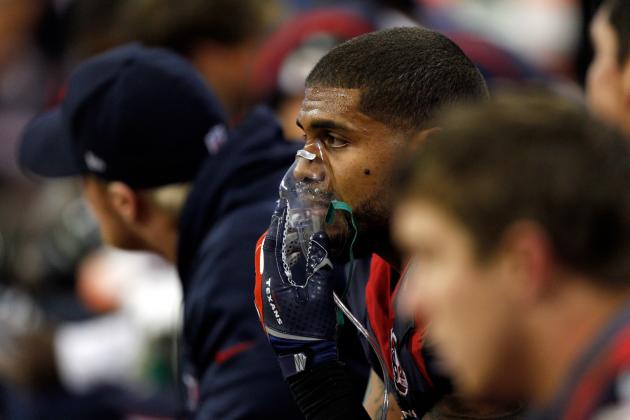 Bob Levey/Getty Images

The observant NFL fan is well aware Arian Foster carries the ball more than the average back. But do they realize how much?
His league-leading 351 rushing attempts in 2012 may rank 55th all-time but was the heaviest single-season workload for a back since 2009. The 1,115 touches he has had in the last three regular seasons are also the most in the NFL over that time span.
Does this explain how the calf strain Foster suffered during OTAs turned into a back injury that kept him from getting any reps in preseason games? Maybe not, but it has diminished his value in the eyes of many of his biggest fans.
That would be reflected in the fantasy football world by what is known as Average Draft Position (ADP). Defined as the "average overall draft slot that has been used to draft each player" according to the Fantasy Sharks website, Foster was a top-five running back in 2012 by most scoring systems.
Due to his recent injury history, his ADP has taken a big hit. In a poll taken by Fantasy Pros, 82 percent thought Foster would not meet expectations in 2013. To put it in football terms, Fantasy News at CBSSports.com has him rushing for an average of 1,271 yards and 10.7 touchdowns.
No one on the Texans' coaching staff is going to consult these sources for advice. If they are not already concerned about the wear and tear on this critical offensive weapon, they should be.
Jamey Eisenberg, senior fantasy writer at CBSSports.com, charted out the decline of most of the running backs that have surpassed the Curse of 370 threshold. The 406 total touches Foster had in 2012 puts him in dangerous territory, one where he cannot remain this season.
The formula for winning the Super Bowl no longer requires regular-season dominance. How your team performs in the playoffs is more important than how you get there.
Keeping Foster fresh for the postseason means keeping him on the bench for longer stretches. He signed a five-year extension last season, so let him watch Ben Tate run for the big free-agent contract this time around.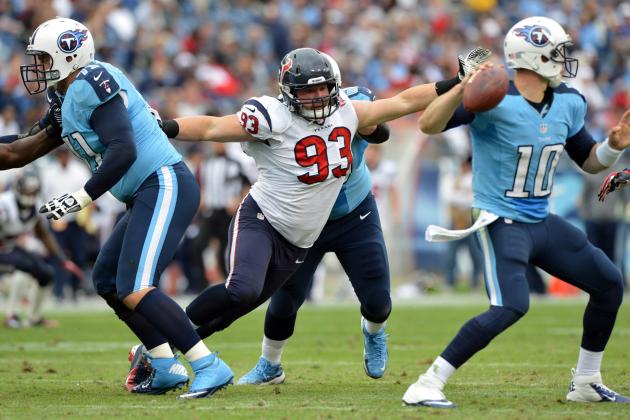 Don McPeak-USA TODAY Sports
Jared Crick
On the defensive side of the ball, J.J. Watt was the biggest story in the NFL last year. His transcendent statistics are even more extraordinary when the lack of depth on Houston's defensive line is taken into account.
They went into the season with six players on the line and were down to four healthy ones by the postseason. Nose tackle Shaun Cody had a bad back that limited his effectiveness for most of the schedule. Defensive end Tim Jamison tore his Achilles tendon in Week 6 and was lost for the rest of the year.
Defensive end Jared Crick benefited from Jamison's absence and had enough snaps to show some real promise. He has continued to develop during training camp to the point that the role as the first D-lineman off the bench could be his. After the New Orleans Saints game, Gary Kubiak said,
He and Timmy [defensive end Tim Jamison] are both playing but I think Crick has really stepped forward as a player and has really kind of established himself in a lot of ways as our fourth [defensive lineman].
Nose tackle Terrell McClain was signed when David Hunter went on injured reserve during the bye week. He played for a handful of reps while Cody was sidelined by his balky back. McClain was invited to training camp with little hope of gaining a roster spot.
Then he lit up the Minnesota Vikings for 2.5 sacks. His play during the next two games was good enough that he sat out the preseason finale against the Cowboys. Texans beat writer John McClain (no relation) of the Houston Chronicle has him making his projected 53-man roster.
Jamison has fully recovered and is expected to supply the same stellar spot duty he has in the past. When combined with starters Watt, Antonio Smith and Earl Mitchell, this position group has the most talent in the history of the franchise.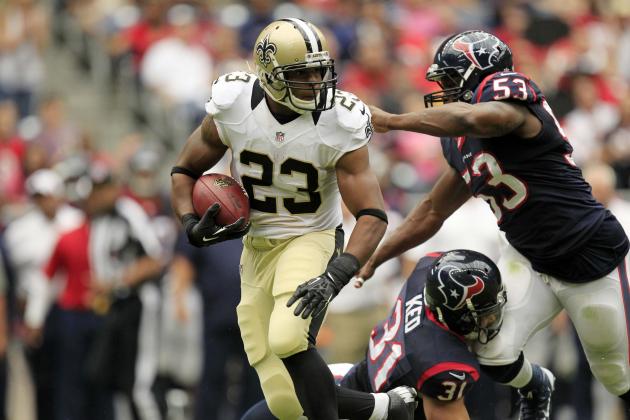 Thomas Campbell-USA TODAY Sports

Mr. Cushing, meet Mr. Mays. Mr. Mercilus, meet Mr. Montgomery. Mr. Reed, meet Mr. Williams. Mr. Dobbins…well, you get the idea.
No area on the team faces more uncertainty than the linebackers. Brian Cushing and Brooks Reed are the only holdovers among the starters from 2012. Outside linebacker Connor Barwin flew the coop and inside linebacker Bradie James was shown the door.
In their places, Whitney Mercilus was promoted after spending his rookie year as a backup outside linebacker. And inside linebacker Joe Mays was plucked off the streets after being released by the Denver Broncos. Just for good measure, Sam Montgomery of LSU and Trevardo Williams from Connecticut were picked in the third and fourth rounds of the draft as developmental pass-rushers.
Reed is now the grizzled veteran of the bunch even though he is in just his third season as a Texan. Mays may be going into his fifth season, but has started fewer games in his career than Reed.
Darryl Sharpton was supposed to start next to Cushing but cannot seem to recover from getting dinged up. Enter Mays, who was Bronco's starter as a 4-3 middle linebacker until he broke his leg in Week 6. His nine missed tackles in those six games, as recorded by Pro Football Focus (subscription required), would have led the league if they accrued at the same pace for the entire season.
Hopefully that is all behind him, unless you want to count his whiff on Pierre Thomas in the New Orleans game (above).
A pleasant surprise has come from just up the road from Houston in the person of outside linebacker Willie Jefferson from Stephen F. Austin University. Tania Ganguli of ESPN.com has correctly noted how the undrafted free agent has outplayed draft choices Montgomery and Williams.
Jefferson has a long way to go before he learns all the skills required of a 3-4 outside linebacker. It's been said you can't teach speed, and this fellow has it in abundance.
It did not show on his pro day, with a deceptive 4.73 in 40-yard time. What he has is football speed, and he spent much of the preseason shooting past blockers. If Jefferson ever figures out what to do once he gets past them, quarterbacks beware!
Mercilus injured his hamstring on July 29 and has been nothing more than a spectator during the preseason. Deepi Sidhu of HoustonTexans.com reported he returned to practice on August 30, giving him 10 days to prepare for the opener.
The failure to bring enough pressure from the edge hurt the defense as the 2012 season wore on. Mercilus will be counted on to do what Barwin could not.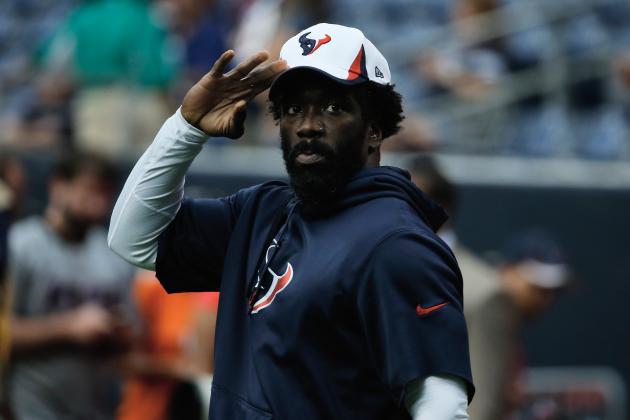 Scott Halleran/Getty Images

The former Baltimore Raven is on his way to Canton as a first-ballot inductee. But first, Reed has to make a stop in Houston to put the finishing touches on his legacy.
As the top free safety of the last decade, his abilities on the field are well known. He will turn 35 on September 11, an age where most players at his position have retired.
The years have taken their toll, apparently on his hips more than elsewhere on his body. He underwent surgery on April 30 to repair a torn labrum and has spent the last four months recovering.
When a team signs a player on the downside of his career, they are paying for his experience as much as his physical skill. The Texans hope to get this from Reed and more.
They were seeking a guru, sensei, wise man, call it what you will. A scholar of the position that would be willing to pass his knowledge on to the next generation. A player that could teach rookie safety D.J. Swearinger the finer points of coverage and reading the quarterback.
They could not hope to get the same player that intercepted eight passes in 2010. A quick look at Pro Football Focus would show that Reed had six games last season where opposing quarterbacks had a passer rating of 118 or higher against him.
Now they would just like to know when he will be able to practice. Today is the deadline for the Texans to take Reed off the physically unable to perform (PUP) list and Tania Ganguli of ESPN.com reports they will do so.
If his availability is unknown at this point, at least he will not be forced to sit out the first six weeks of the season. We can be certain Reed will give all he can, even if it is just the wisdom of his years.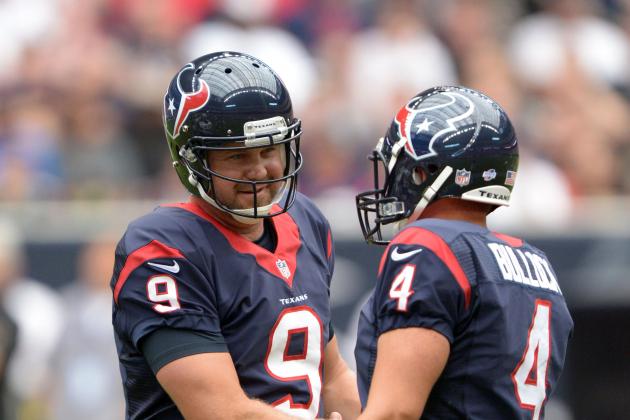 Kirby Lee-USA TODAY Sports

There is an old sports adage that states, "Since you can't fire the players, you might as well fire the coach."
In the case of Texans' special teams coach Joe Marciano, this adage is not always true. He managed to keep his job in spite of the pitiful performance of his coverage teams last season.
The simple act of tackling the return man became an unwanted adventure with unknown results. Houston ranked 27th in kickoff return yardage and was in the bottom half for average yardage per punt return.
Instead it was the players who got the boot. Specifically two players, punter Donnie Jones and kicker Shayne Graham, were not offered contracts for the 2013 season.
In Graham's case it was understandable, since he was just a one-year replacement for Randy Bullock. Donnie Jones was an above-average punter that played for the veteran's minimum salary. His replacement was none other than the rather expensive but very accomplished Shane Lechler ($1.8 million average yearly salary per Spotrac).
The strategy seems to be keeping the ball out of the hands of the return man or out of his reach altogether. The preseason indicates this may be a good decision.
Bullock has had touchbacks on 12 of his 17 kickoffs for a 70.5 percent average. That is more than double Graham's mark of 30 percent in 2012. Unfortunately, opposing teams are still busting off returns that puts their offense in business around midfield. This lingering problem has yet to be addressed.
Lechler has punted just five times as a Texan, but one in the first quarter of the Cowboys game showed his exceptional touch. It was not a cloud-busting boomer, but a pooch kick that bounced straight in the air and died on the Dallas five-yard line. Obviously, there was no chance for a return.
To summarize, the kicking has improved, but the tackling has not. The adventure will continue as long these two essential phases of the game are out of balance.