Tiger Woods at Deutsche Bank Championship 2013 Tracker: Day 1 Live Highlights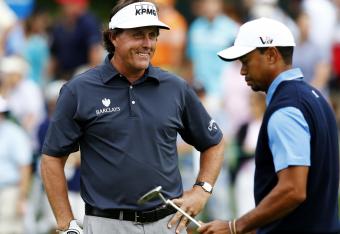 Jim Rogash/Getty Images
Phil Mickelson has set the bar high in the second FedEx Cup playoff event of the year.
That's because he fired a 63 in the opening round of the Deutsche Bank Championship at TPC Boston and that has given him the top spot on the leaderboard. Tiger Woods wants the championship himself, and he fired a solid 68, but he has a lot of ground to make up if he is going to catch Phil.
Adam Scott, the Masters champion and the winner of The Barclays last week, never got it going and struggled to a two-over-par finish with a score of 73.
With Phil at the top of the leaderboard and Tiger trying to run him down, it should be an exciting weekend in Boston.
How did Lefty shoot a 63? It was all about the scorching work he did on the back nine.
Phil Mickelson scorches back 9 at TPC Boston. Posts opening rd 63.

— Kelly Tilghman (@KellyTilghmanGC) August 30, 2013
Left a few out there, could have easily been a 66. Lotta golf left though, he's still in it. RT @JBogatz your thoughts on the round?

— GC Tiger Tracker (@GCTigerTracker) August 30, 2013
Tiger shot a 68, but you wouldn't know it from his expression. He missed several birdie putts that he should have made, including a pair on 17 and 18. He didn't putt terribly—he had four birdies—but he left opportunities out on the course.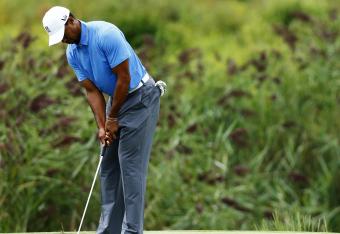 Tiger's birdie was tougher than it looked, and it slid by on the right side. He wanted that birdie quite badly. Mickelson didn't hit a good par putt, but he did not make a mistake on the bogey. Phil with a beautiful 63, while Tiger settles for 68. Adam Scott has to accept a two-over-par round of 73 and then build on that for tomorrow.
Tiger hits a solid iron to the back of the green and it rolls back towards the flag. He should have 10 feet for a closing birdie opportunity. Mickelson makes it to the green, and that's a remarkable achievement considering where his tee shot was.
Mickelson hits the ball out of the thick brush, and he should have a decent third shot at the green. Tiger is still waiting to hit his second shot.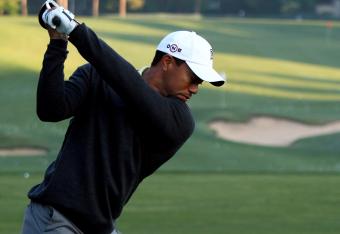 Tiger busts a big drive on the finishing ninth hole. He's straight down the middle and should have a relatively easy approach to the 472-yard hole.
Phil, who has been nearly perfect throughout the round, unleashes a huge hook and he is in the hazard. He could give one or more strokes back on this hole.
Phil moves to nine-under with his birdie at the eighth hole. It looked like the putt might lip out, but it caught the far edge and dropped.
Tiger had a two-level putt and he had the right speed, but the ball never broke and it stayed out to the right. He made his par.
The 59 watch is over, but it's still a stellar round for Phil.
It's so disappointing when a player doesn't shoot 59 these days #Phil

— Robert Lusetich (@RobertLusetich) August 30, 2013
Tiger, Phil and Adam all go for it on the 213-yard, par-3 eighth hole. Tiger flies it right at the hole, but it has too much distance and he goes about 20 feet by the flag.
Phil's tee shot catches the ridge on the green and rolls towards the flag. He should have eight feet for his birdie.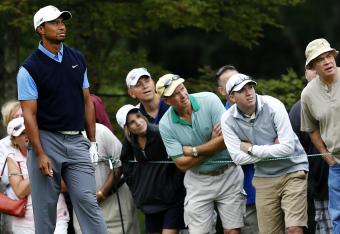 Tiger with a super chip and he has no more than 6 feet uphill for a birdie. Phil hit a good but not great approach. He's about 20 feet sidehill for a birdie. It was tracking well, but ran out of speed and he has to settle for a par.
Tiger slid the putt by on the right. He went for it aggressively, but he misread it. Nothing to be happy about with that effort after three great shots.
Huge crowds following Tiger, Phil and Adam. Not leaving many fans for the rest of the threesomes on the course at TPC Boston.
Tiger will have an easy chip from just in front of the green on the 606-yard monster seventh hole. Excellent chance for a second straight birdie. Phil also has a shot at a bird, but he has quite a bit more work to do.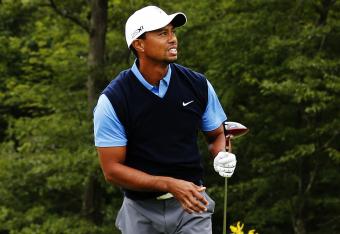 Tiger follow up his birdie at the sixth hole with a huge drive on the long seventh hole. It's 300 yards-plus, and it's down the middle. Phil's drive is on the left side of the fairway, and it's not as far. Remember, Phil doesn't even have a driver in his bag. He uses a 3-wood on these long holes.
Great read by Tiger on the sixth and he rolls in his birdie putt on the sixth. He moves to three-under par and pulls within five strokes of Lefty.
Tiger hits a beautiful shot to the green and ends up perhaps 12 feet from the hole. However, you would never know it from his body language. He looked disgusted as the ball flew to the green. Perhaps he wanted to get it eight feet from the hole.
Mickelson makes the green, but he's probably 40 feet from the flag.
The sixth is another long par 4, and it will warm Tiger, Phil and Adam up for the 600-yard monster seventh hole. Both Woods and Mickelson hit big drives on the sixth.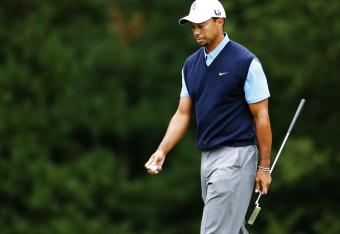 Tiger had a chance for a birdie at the fifth, but his 22-foot birdie putt rolls well past the hole. He has to settle for another par. Same thing for Mickleson, who needs four birdies in the last four holes to get his 59.
Tiger hammers a big drive on the 466-yard, fifth hole.
Takes fairway wood at 5th, finds right center of fairway. Approach never leaves the pin...that was a good one. Birdie opp upcoming.

— GC Tiger Tracker (@GCTigerTracker) August 30, 2013
While he might not be going as low as Phil right now, Tiger has missed plenty of birdie opportunities today.
Feels that way. RT @jsammons80: @GCTigerTracker sounds like this is going to be a wouda, coulda, shoulda round

— GC Tiger Tracker (@GCTigerTracker) August 30, 2013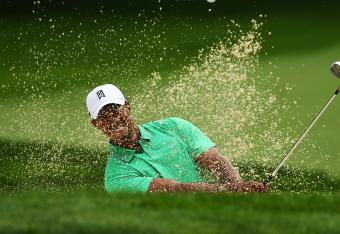 He tries to flop the ball over the bunker, but it lands in the hazard. He makes a nice out and he makes his par. The other two players in the group also make par.
After a long wait at the fourth hole, Tiger does not find the green on this hole. Instead, he pulls it to the left. If he makes a birdie, it will be the scrambling variety.
Eagle opportunity on the par-4, 298-yard fourth hole. Tiger has a chance to drive the green on this one.
Tiger may have been 40 feet from the hole, but he made his two-putt for the par. So did Mickelson (-8) and Scott (+1).
This article is
What is the duplicate article?
Why is this article offensive?
Where is this article plagiarized from?
Why is this article poorly edited?