Players Who Must Step Up for Phoenix Suns This Season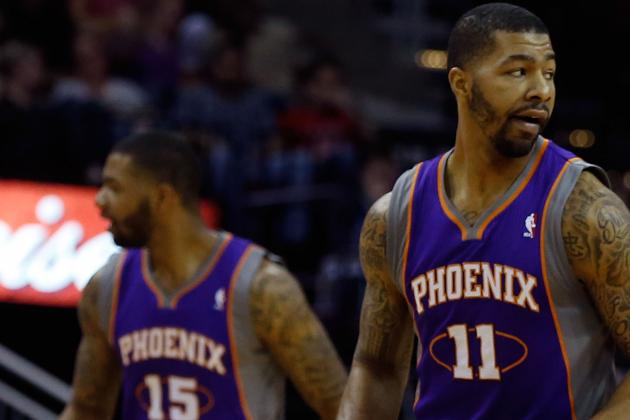 Scott Halleran/Getty Images
The Morris twins will both need to step up for the Suns this season.
A brand new season of NBA basketball will soon be underway, and the Phoenix Suns are ready to embrace what will be a new era for this franchise.
The Suns made many changes over the course of the summer, including hiring a new general manager, a new head coach, acquiring more players and unveiling new jersey designs and logo.
Phoenix is ready to rebuild, and while the current level of talent on the roster may be lacking, the Suns are building a bright future in addition to developing chemistry and discovering their identity as a team.
For this entire franchise, a new year brings hope. With some hard work and a little bit of luck, some players should be able to show signs of improvement.
Here are five players who should step up their game this season.
Begin Slideshow

»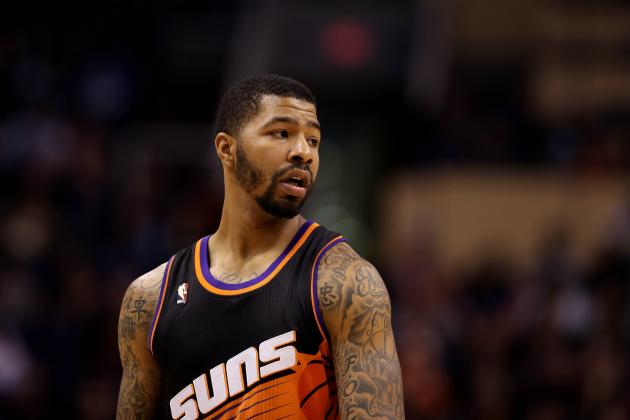 Mark J. Rebilas-USA TODAY Sports

Ever since being selected as the 13th overall pick in the 2011 draft, Markieff Morris' level of performance for the Suns has been underwhelming.
However, this could be the season that Morris proves he is capable of starting at the NBA level.
With Luis Scola gone, Morris is set to be the starting power forward on the depth chart. Unless either Channing Frye or Marcus Morris are able to shine this season, Markieff should be able to keep that spot.
Contrary to popular belief, Markieff has done relatively well when given starting minutes. Last season, in 13 games where he played at least 30 minutes, Morris averaged 15.2 points, 7.8 rebounds and 1.6 blocks per game while shooting 51 percent from the field and 50 percent from downtown.
Considering those numbers, perhaps Markieff can still be the team's future starting power forward. However, he has a lot of work to do before the Suns are ready to commit a few more years to him.
First of all, Markieff is an incredibly inconsistent shooter. He can be the best shooter on the court when he is on a hot streak, but he can also mindlessly chuck up long-range shots again and again to no avail. For example, in April of last season, Morris was on fire, knocking down 13 of his 20 three-point attempts. But on the other hand, there were also months such as January, where he shot just 5-for-27.
Additionally, he absolutely must work on his defense. New head coach Jeff Hornacek may not be as interested in building a defensive-minded team as Lindsey Hunter was, but that doesn't excuse Markieff from his often atrocious defensive play. Last season, Morris allowed opposing power forwards to average 17.5 points and 9.9 rebounds per 36 minutes, along with sporting a 55 percent effective field-goal percentage.
If Morris is to be a part of the Suns' long-term plans, he can no longer be a defensive liability. Hopefully this is the year he puts it all together and takes a big step forward. But if not, perhaps Phoenix will give up on him soon enough.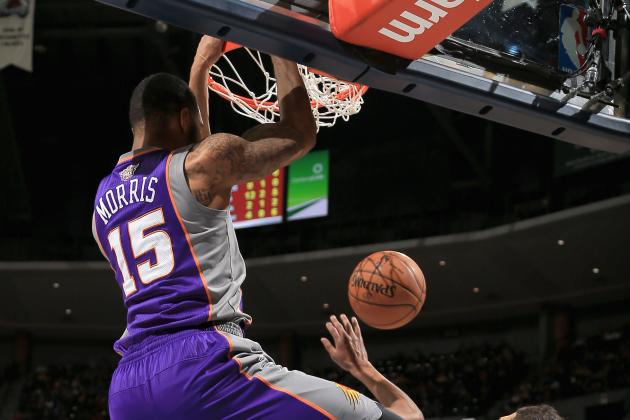 Doug Pensinger/Getty Images

While we're at it, Markieff Morris is not the only Morris twin who should improve this season. When Marcus Morris was acquired by the Suns at the trade deadline in February in exchange for a second-round pick, he seemed like an absolute steal.
However, he then proceeded to struggle the entire second half of the season, posting averages of 5.7 points and 2.5 rebounds per game while shooting just 41 percent from the field. He began to lose minutes and fall out of the rotation to the point where he averaged just 12 minutes of play over his final 10 games.
This season, Marcus should have the opportunity to play a big part in the rotation. He may not be a starter, but he can provide valuable minutes at both small forward and power forward as well as above-average three-point shooting that the Suns desperately need.
But just like his brother, Marcus also has to work on both consistency with his shot as well as defense. Additionally, he is not an exceptional rebounder or passer, and seems to be fairly one-dimensional at this point.
Morris certainly has potential, but if he isn't able to address any of these major issues with his game, he may be doomed to remain a role player for his entire career.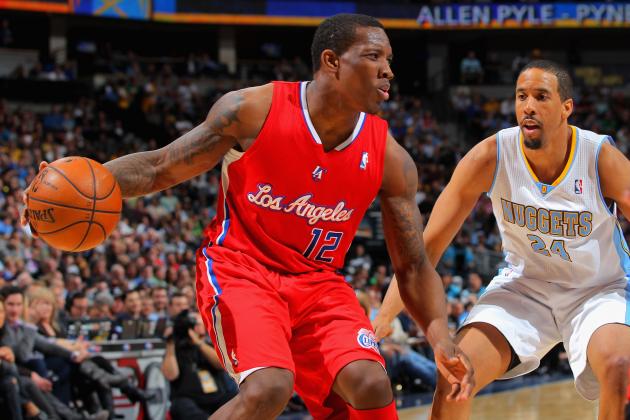 Doug Pensinger/Getty Images

This will be Eric Bledsoe's first season as a full-time starter. That being said, don't expect him to immediately be a superstar.
However, the potential is certainly there. Bledsoe will share the backcourt with Goran Dragic this season, and those two could be centerpieces of the franchise for years to come.
Bledsoe is simply an unstoppable freak of nature. He is one of the most athletic players in the NBA, allowing him to throw down emphatic fast-break dunks and rack up steals defensively.
But is Bledsoe's athleticism his only great attribute? If he cannot improve his shooting, passing and perimeter defense, is he anything more than a highlight reel? Can he be more than just a spark off the bench?
This is Bledsoe's last year on his rookie contract, so his performance this season will greatly affect his future in the NBA. If Bledsoe can establish himself as one of the better guards in the league, he could sign an offer sheet of several years at over $10 million annually.
On the flip side, if he fails to live up to expectations, he could go back to being a sixth man or fringe starter.
But the Suns will surely give Bledsoe every opportunity to succeed this season. Without any true go-to scorers on the roster, the ball will either be in Dragic's or Bledsoe's hands most of the time. With plenty of minutes, touches and shot attempts, there's no reason to believe why Bledsoe couldn't average at least 16 points, five rebounds, five assists and two steals per game, if not more.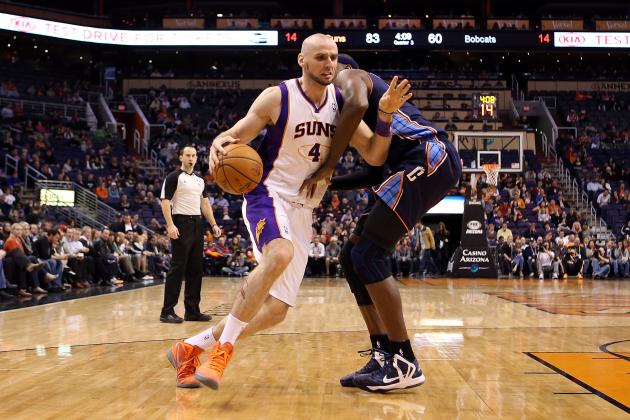 Christian Petersen/Getty Images

Marcin Gortat's future with the Phoenix Suns is still uncertain. After drafting Ukranian center Alex Len with the fifth overall pick, you could say that Gortat is now expendable. After all, he is a 29-year-old with an expiring contract who may not be interested in re-signing with a rebuilding team like the Suns. In that case, it's better to trade him now and get some value than wait for him to walk in free agency and receive nothing.
But no matter where Gortat plays this season, he is playing to impress NBA GMs across the country. Gortat is just the sort of veteran center that a lot of teams could use, but his value may have dropped after his production slipped last season. Now, he's trying to earn another lucrative contract.
And there's no reason to believe that he is incapable of doing so. With Luis Scola and Jermaine O'Neal out of the picture, Gortat is really the only consistent low-post scoring option that the Suns have. He will be their go-to scorer down low once again.
It's true, Dragic, Bledsoe and Marshall won't run the pick-and-roll as well as Nash did. However, Dragic and Marshall are both still great distributors, and they will give Gortat his touches this season. Gortat's usage percentage slid to 17.2 percent last year, but expect it to go back up. And when that happens, the improved production is inevitable.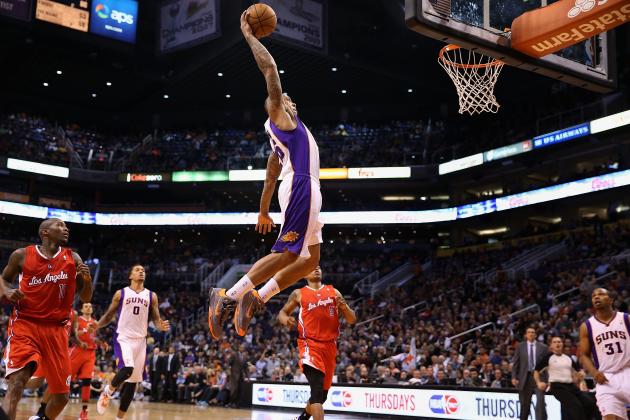 Christian Petersen/Getty Images

Last season, Shannon Brown lost his rotation spot completely under Lindsey Hunter due to a number of reasons.
The most obvious was the fact that the Suns were trying to start a "youth movement," and gave more minutes to prospects near the end of the season. However, another major factor was Brown's poor play. He did manage to score 10.5 points per game and shoot 42 percent from the field, which is the same number he produced in 2011-12 with Steve Nash on the court.
And yet, a closer look at the statistics reveal that 2012-13 was Brown's worst season in a long time. He shot just 28 percent from three-point distance—a new career low—and his field-goal, three-point, effective field-goal and true shooting percentages have all steadily declined in the past several years. Additionally, his free-throw percentage dipped below 80 percent for the first time since 2008.
Throughout his entire career, Brown has always been known for his poor shot selection. But last season, he was one of the more inefficient offensive players the NBA had to offer—and Suns fans are not pleased.
Still, perhaps he will be given another chance. Eric Bledsoe will start at shooting guard and rookie Archie Goodwin will receive minutes, but Brown is more likely to be a part of the rotation than Malcolm Lee or Gerald Green. He should receive some minutes at the start of the season.
Now, this is his last chance. He will try to recover from a disastrous season and once again work his way into the rotation.
But if Brown fails, and his contract expires at the end of the season, then good luck to him finding another NBA gig so easily.