There's no doubt about it: It's going to be a dogfight for the NL Central until Game 162 this season. The Cincinnati Reds are only 3.5 games out of first place and have just as much of a chance at claiming the NL Central title as the Pittsburgh Pirates or St. Louis Cardinals.
Some might strongly disagree after the Reds' particularly painful losses earlier this week against the Cardinals. And it might be even harder to believe after Brandon Phillips went berserk on beat writer C. Trent Rosecrans, as reported by Cincinnati.com.
Even with the recent debaucheries, the Reds can still take this division. There's no reason to hit the panic button yet—especially since it was only a few weeks ago everyone thought this was the Pirates' division to lose.
Here are a few reasons the Reds have the edge heading into the final month.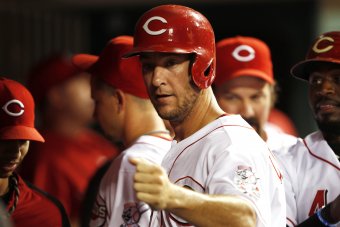 Frank Victores-USA TODAY Sports
Ryan Ludwick's Return to the Lineup
The organization has been waiting patiently for Ryan Ludwick's return after his lengthy stint on the disabled list. His lackluster slash line of .227/.292/.341 doesn't give the appearance of a late-season helper.
However, there's a lot more good than bad having Ludwick in the lineup. While he was off to a slow start, Ludwick is starting to find his bat speed. In his last 10 games, Ludwick has a .303 average with three RBI, 10 hits and one home run.
Ludwick also brings a presence to the plate. After he hit 26 home runs last season, pitchers are still very cautious with the big right-hander. He certainly brings more authority to the lineup than Xavier Paul or Derrick Robinson.
The veteran is also a great clubhouse guy. If there's anyone to motivate this team—it's Ludwick.
Dusty Baker is finally able to use the lineup he envisioned during spring training. Although it's an extremely small sample size, the Reds' new lineup certainly worked against ace Adam Wainwright, with Phillips back in the 2-hole and Ludwick batting fifth.
It will be interesting to see if Baker tries his luck again, but it's still important keeping Ludwick in the lineup.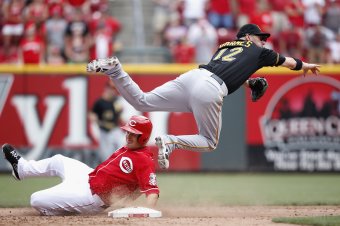 Joe Robbins/Getty Images
Remaining Schedule
This is where things can get pretty tricky. The Reds certainly don't have the easiest remaining schedule. They are playing the majority of their last 28 games at home and own a 41-24 record at Great American Ball Park.
This is how the race for the Central Division breaks down:
| | | | | |
| --- | --- | --- | --- | --- |
| | Home | Away | Games vs. Winning Teams | Games vs. NL Central Contenders |
| CIN | 16 | 12 | 13 | 10 |
| PIT | 14 | 15 | 10 | 12 |
| STL | 15 | 14 | 15 | 10 |
While there's no clear-cut team with a significant advantage, the Reds can still use their home schedule to get ahead of the division.
More importantly, the Reds have six of their nine final games against the Pirates, which could be enough to push them ahead.
With the Pirates going 7-12 in the last 19 games—the Reds could climb the NL Central ladder.
A lot will depend on how well the three teams play against each other.
Due for a Hot Streak
The Reds haven't necessarily run on all cylinders this season. The club also hasn't had a winning streak past eight games. However, all it would take is one hot streak in September to win the Central.
It's doubtful any team runs away with this division. It will come down to who plays the best baseball in the next month.
The Reds have the ability to do so in September, though the club's numbers have moved back and forth the entire season:
| | | | | | |
| --- | --- | --- | --- | --- | --- |
| | AVG | OBP | SLG | H | RBI |
| April/March | .245 | .327 | .377 | 236 | 116 |
| May | .265 | .350 | .431 | 242 | 131 |
| June | .234 | .300 | .375 | 218 | 92 |
| July | .260 | .331 | .399 | 234 | 110 |
| August | .238 | .318 | .378 | 196 | 102 |
With the up-and-down team statistics, the Reds appear to be on pace to improve next month.
Consistency with the offense has been one of the biggest questions. However, some players have brought up their numbers in August.
Zack Cozart hit .282 and led his club with 14 RBI this month. Another player getting hot is outfielder Chris Heisey.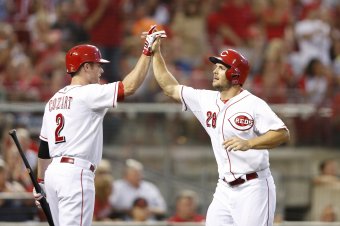 Joe Robbins/Getty Images
While Ludwick's presence is a benefit to the lineup, Heisey has earned more playing time. In his last 10 games, Heisey is hitting .350 with six runs, six RBI and three home runs.
Besides the first series against the Cardinals, the Reds have gone on modest three-game winning streaks after each series against the Redbirds.
If the Reds can continue their dominance at home and get hot with their revamped lineup—there's no reason the club can't come out on top in the exciting NL Central race.
All statistics courtesy of MLB.com unless otherwise noted.
Have a reason why you think the Reds will win the NL Central? Comment below or follow me on Twitter for all things baseball!